The first quarter of the NFL season is in the books. The L.A. Rams look like the team to beat. Patrick Mahomes is the real deal in Kansas City. The New England Patriots are back on track after a 1-2 start. The Pittsburgh Steelers are struggling without Le'Veon Bell. And the Super Bowl champion Eagles are 2-2.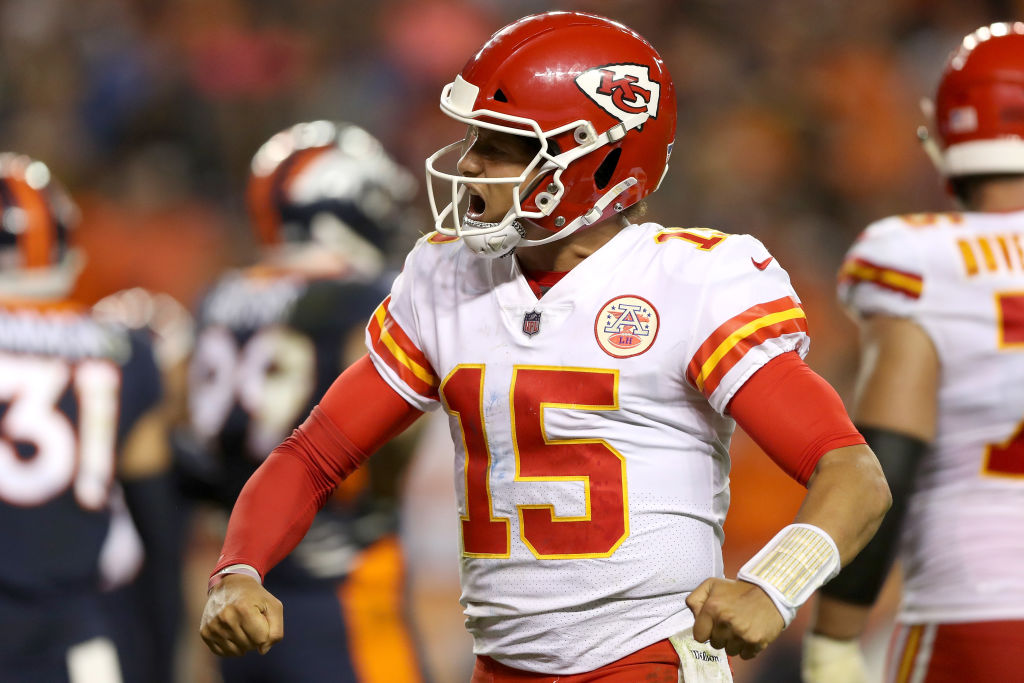 Can Mahomes handle the Jags?
Week 5 is highlighted by Jacksonville and Kansas City. The Jaguars and the best D in the league visit Arrowhead Stadium for a showdown against the undefeated Chiefs.
GAME OF THE WEEK
Jacksonville Jags (3-1) at Kansas City Chiefs (4-0): What happens when the best offense (36.3 ppg) meets the top defense (14 ppg allowed)? The Jags' #1 priority is to stop QB Patrick Mahomes (14 TD, 1200 passing yards), who pulled off some late-game heroics against the Broncos on MNF. The Jags will be without Leonard Fournette (hamstring), but Blake Bortles is facing a soft K.C. defense.
THINGS GONNA GET UGLY IF YOU DON'T WIN
Minnesota Vikings (1-2-1) at Philadelphia Eagles (2-2): The Vikes are trying to steal a road win while the Eagles are still recovering from their Super Bowl hangover. QB Carson Wentz (3 TD, 1 INT) is still shaking the rust off, but the Eagles cannot afford to lose this one.
Atlanta Falcons (1-3) at Pittsburgh Steelers (1-2-1): If you're a fan of either of these teams, you know it's do or die this week. Big Ben has been airing it out (186 attempts) during Le'Veon Bell's holdout. The Falcons found a new weapon with rookie wideout Calvin Ridley (6 TD in only 15 receptions), but struggle in the red zone due to inept play calling.
Green Bay Packers (2-1-1) at Detroit Lions (1-3): Aaron Rodgers (7 TD, 1 INT) vs. Matt Stafford (8 TD, 5 INT). Always a fun QB match up even if Rodgers is nursing a bad knee.
HOME DOG ALERT
Baltimore Ravens (3-1) at Cleveland Browns (1-3): Bakermania came crashing down to reality in an overtime loss to the Raiders. Rookie QB Baker Mayfield is going to feel the pain in this smashmouth division game where the Browns are +3 dogs.
THE "I CAN'T BELIEVE THEY ARE 3-1" BOWL
Miami Dolphins (3-1) at Cincinnati Bengals (3-1): Miami didn't look good in a blowout against the Patriots. Cincy keeps finding a way to win. One of these teams will be 4-1. Insert shrug emoji.
#BILLSMAFIA
Tennessee Titans (3-1) at Buffalo Bills (1-3): The only highlights from Orchard Park will be table slam videos from the Bills Mafia tailgate. The better question is the over/under on the number of inebriated fans diving off the roof of an RV and onto a flaming table.
WEST COAST ACTION
Oakland Raiders (1-3) at Los Angeles Chargers (2-2): More Raiders fans will be in attendance than Chargers fans. It's essentially a home game for the Raiders in this shootout with Derek Carr (6 TD, 7 INT) vs. Phil Rivers (11 TD, 2 INT).
Los Angeles Rams (4-0) at Seattle Seahawks (2-2): The Legion of Boom is never more, but Seattle still has the loudest stadium in the NFL. Seattle's lackluster offense (21.3 ppg) should take notes watching Sean McVay's juggernaut (35 ppg). Even if the Seahawks contain Jared Goff (11 TDs), they still have to stop Todd Gurley (6 TD, 4.3 yards per carry).
YOUS GUYS ARE THE WORST TEAM IN NEW YORK!
Denver Broncos (2-2) at New York Jets (1-3): The Broncos are coming off a Monday Night loss against the Chiefs and they'd love to take out their frustrations on the LOLJets and rookie QB Sam Darnold.
New York Giants (1-3) at Carolina Panthers (2-1): The Panthers are coming off a bye, which is bad news for the Giants. Rookie RB Saquon Barkley (260 yards rushing, 3 TD, 27 receptions) is the shining star on a team that's in full-blown rebuild mode. The Jets and Giants share a home stadium and they only have 2 wins combined. After this week they'll still have two combined victories.
SNF/MNF: THE GET UNSTUCK GAMES
Dallas Cowboys (2-2) at Houston Texans (1-3): The Battle of Texas on Sunday Night Football. The Cowboys stole a win last week. The Zeke and Dak Show finally woke up from a deep slumber, but they head to Houston where J.J. Watt (5 sacks) is waiting to tear them apart.
Washington Skins (2-1) at New Orleans Saints (3-1): High-five to everyone who has Alvin Kamara (6 combined TDs, 275 rushing yards, 35 receptions) on their fantasy roster. Can anyone stop Kamara? Drew Brees is on the cusp of his 500th touchdown pass. Only Peyton Manning and Brett Favre threw more TDs. The Skins are coming off a bye but expect a shootout against the Saints in the Superdome on Monday Night Football.
DON'T EVEN BOTHER WATCHING
Arizona Cardinals (0-4) at San Francisco Niners (1-3): Avoid this stinker.