It's Lucky Week 13, or Unlucky Week 13 depending on how you look at it. The playoff hunt intensifies with several teams meeting their fate at the end of this week. The lucky few will continue their march to a postseason berth, while the unlucky start planning their vacations. With the bye weeks complete, it's a full slate of games. Only a handful of teams have a mathematical chance at the playoffs, but even fewer will actually go. The majority of the league is dunzo with a couple of teams in total denial.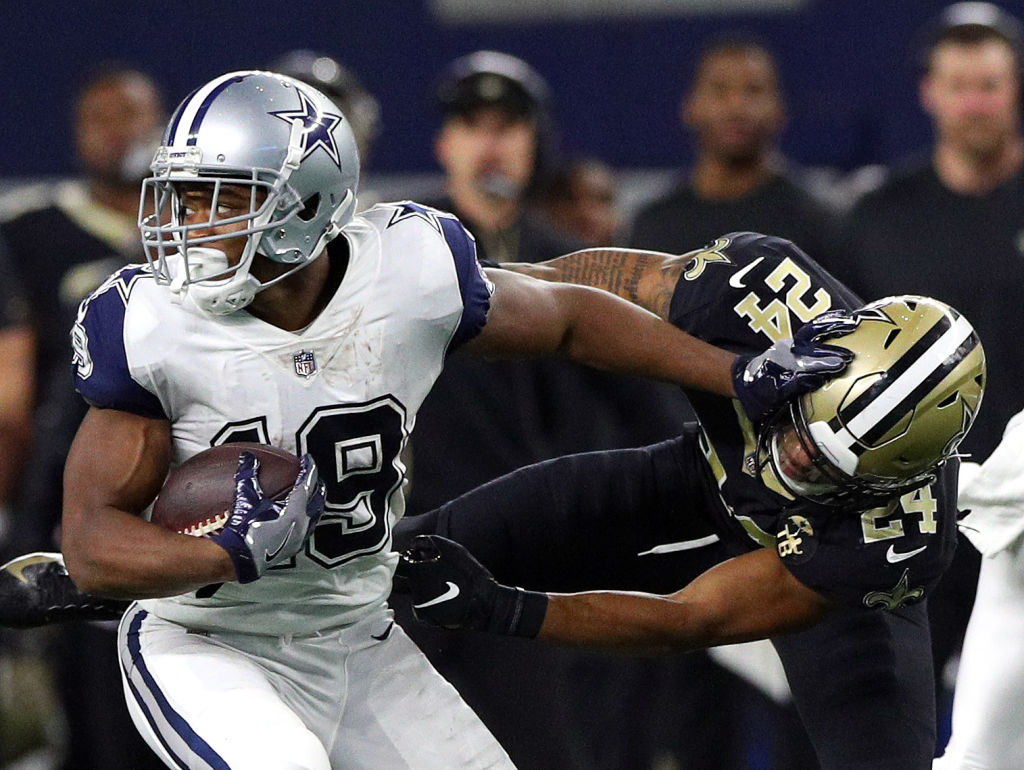 The bookies made a huge adjustment this week with five games dangling double-digit point spreads. Almost half of the games have a line of a touchdown or more, and there are at least seven home dogs this week. Heck, one of the dogs already won when the Dallas Cowboys stopped the New Orleans Saints' ten-game winning streak with a 13-10 win on Thursday Night Football.
GAME OF THE WEEK: RIVERS AT THREE RIVERS
LA Chargers (8-3) at Pittsburgh Steelers (7-3-1)… QB Class of 2004 Reunion! Near-Perfect Philip Rivers vs. Sloppy Big Ben. The Chargers are playing without Melvin Gordon, but they have plenty of capable offensive weapons. After two sub-prime performances, the Steelers know they have to be sharp against Phil Rivers and company. The Steelers were stunned in Denver last week by the Broncos. Either the Broncos are better than we thought (that's a big "if"), or Pittsburgh didn't bring their A-game to Colorado. Sibling rivalry game this week with the Watts and Pouncey clans rumbling. Mike vs. Maurkice in the Pouncey in the Battle of Centers. Oh, two Watt brothers are going up against each other with fullback Derek Watt vs. linebacker T.J. Watt.
BLAZE ON
LA Rams (10-1) at Detroit Lions (4-7)… Two of the best young coaching minds are featured with rookie head coach Matt Patricia hosting sophomore coach Sean McVay. A former rocket scientist turned defensive whiz, Patricia and his magic pencil will try to draw up a game plan to slow down McVay's juggernaut of an offense. Dunno if that's possible with the Lions' current squad. Matt Stafford and the Lions' dormant offense averaged a putrid 16.2 points over their last five games. They are 1-4 in that span, with their only win a 20-19 victory gifted to them by the inept Carolina Panthers.
BEAR FLU
Chicago Bears (8-3) at New York Giants (3-8)… Mitchy or no Mitchy, this is a layup for Chicago. Eli Manning might want to call in sick for this one. Da Bears are gonna crush Da Eli and the G-Men. Da Bears D is extra-stingy these days and allowed only 11.8 points per game during their five-game winning streak.
GRONK EATS PURPLE THINGS
Minnesota Vikings (6-4-1) at New England Patriots (8-3)… Tom Brady is undefeated at home this season including a big win against the KC Chiefs. The Vikes bounced back from an ugly loss and the Patriots won a couple ugly games in a row. Hey, it's what Belichick's crew does this season. The Pats play ugly on the road. They are 3-3 away from Masslandia. Ugly is hip this late in the season. Every game can't be Rams/Saints or Chiefs/Rams. Sometimes you gotta get down and dirty. Gronk is finally back to his old self. Will we see the return of Godzilla against the Purple People Eaters?
MENDOCINO COUNTY LINE
Kansas City Chiefs (9-2) at Oakland Raiders (2-9)… The Chiefs had an extra week to prep for this game against one of the worst teams in the NFL. Patrick Mahomes and company could easily score 50 points in this game. Maybe more. They could hit the over by themselves. Chucky can't wait until this nightmare is over and he wakes up in the Presidential suite in Las Vegas. There was a time not too long ago where you'd blindly bet a double-digit home dog. In this case, you'd have to be crazy to fire away at the Raiders even with them getting 16 points in Oakland. Oh, the times they are a-changing.
MAMA, DON'T LET YOUR BABIES GROW UP TO BE COWBOYS
Cleveland Browns (4-6-1) at Houston Texans (8-3)… The Browns rid themselves of a toxic coach and OC and feel cleansed like a crystal-toting Reiki Healer fresh off a trip to Burning Man. Baker Mayfield played at the same high school in Austin as Drew Brees, so this is a Texas homecoming for the rookie QB. Mayfield looked sensational the last couple of weeks, but now he faces a real defense. The Texans are ranked #4 in DVOA and ranked #5 in points allowed with 20.2 ppg.
KEEP PRESSING IT, ANDREW
Indianapolis Colts (6-5) at Jacksonville Jaguars (3-8)… The Jags finally benched Blake Bortles and sacked their OC. But it's like 12 weeks too late. The Jags are without RB Leonard Fournette, who is sitting out a game for fighting. The Colts are a streaky team. Lose four. Win five. Ride the streak. Luck is en fuego. The Colts are one of the teams on the upswing. They might not catch the Texans in the AFC South, but they could backdoor a Wild Card spot.
LIVELY UP YOURSELF
Baltimore Ravens (6-5) at Atlanta Falcons (4-7)… The Falcons had a couple of extra days of rest after getting smoked on Turkey Day. But that's not enough to stop the Jackson Lightning Machine. Although Joe Flacco practiced this week, rookie QB Lamar Jackson should get the start for a third week in a row. This game went to a pick'em at one point.
INSANE IN THE MEMBRANE
Carolina Panthers (6-5) at Tampa Bay Bucs (4-7)… The Bucs are bad. They won only two games in their last nine. Here's a scenario: Cam and CMAC crush in the first half and the Panthers go up by twenty points until starting QB [Pick one: Winston/FitzMagic] gets benched at halftime in favor of backup [Pick one: Winston/FitzMagic], who rallies the Bucs with four touchdowns, yet only to lose on a 60-yard field goal from Graham Gano.
NEW SPEEDWAY BOOGIE
Denver Broncos (5-6) at Cincinnati Bengals (5-6)… The Broncos dominated the rap, Jack! They looked halfway decent against the Steelers. If even the Broncos only play half as good, they'll still beat the Bengals. Andy Dalton is out for the rest of the season with a thumb injury. It's a min-wage backup against the Broncos D. Good luck with that. Without Dalton, the Bengals are a home dog… er home cat… this week.
SPOONMAN
San Francisco Niners (2-9) at Seattle Seahawks (6-5)… The Seahawks are 0-3 against California teams this year, but this one should be an easy win for Russell Wilson and company. The Niners are thinking more about Christmas lists than watching game film. Meanwhile, the Seahawks smell a Wild Card spot.
#BILLSMAFIA INVADES SOUTH BEACH
Buffalo Bills (4-7) at Miami Dolphins (5-6)… Here come the Buffalo Bills. Seriously. They have a gnarly defense, ranked #2 overall in DVOA, and rookie QB Josh Allen has been improving. After starting the season a shocking 3-0, the Dolphins are 2-6 since then. Over the last three games, the Dolphins averaged a terrible 14 ppg and that includes a 13-6 home win over the LOLJets. The Bills are worth a look here.
DENIAL, WISCONSIN
Arizona Cardinals (2-9) at Green Bay Packers (4-6-1)… Mike McCarthy should start pilfering office supplies in case he gets canned before Christmas. OK, enough snark. Here's a hopeful stat: The Packers can't win on the road, but Aaron Rodgers has not lost a home game this season. The Packers are 4-0-1 at Lambeau and it's getting colder and colder. The Cardinals knew they were dunzo weeks ago. The Packers are in denial if they think they have a chance at the playoffs. Cue the Jim Mora rant.
HOPE YOU BET THE UNDER
New York Jets (3-8) at Tennessee Titans (5-6)… Two low-scoring teams not expected to discover offense any time soon. The Titans score 17.7 points per game and give up 20.3. And the Jets are the LOLJets. Todd Bowles is a dead man walking. The Jets are waiting for the season to end to fire their head coach.
GOTTA GET UNSTUCK GAME OF THE WEEK
Washington Redskins (6-5) at Philadelphia Eagles (5-6)… The Eagles should be dunzo, but a weak division means they're still in the hunt for the NFC East title. None of that matters if they lose to the Skins. But if the Eagles win, the plot thickens. Especially after the Cowboys upset the Saints on TNF.
---
Pauly McGuire is a writer specializing in sports betting. He's covered the NFL, NBA, college basketball, MLB, and the Olympics for numerous outlets. He's the former co-host of the Everything Is Bettable podcast with Jesse May. You also might remember Pauly as the creator of the Tao of Poker blog. He was a partner in one of the first daily fantasy sports sites, Fantasy Sports Live.