The potential Super Bowl 53 match-up between the Chiefs and Rams was moved from Mexico City to Los Angeles. After a couple of concerts and soccer matches, the pitch at Estadio Azteca was left in poor condition and not suitable for a professional football game. Instead of potentially risking injuries on a crappy field, the NFL canceled their annual game in Mexico City. The Rams were slated as the home team in the Mexico game and the L.A. Coliseum is empty on Monday Night, so the mega-hyped game will be played under the bright lights of Hollywood.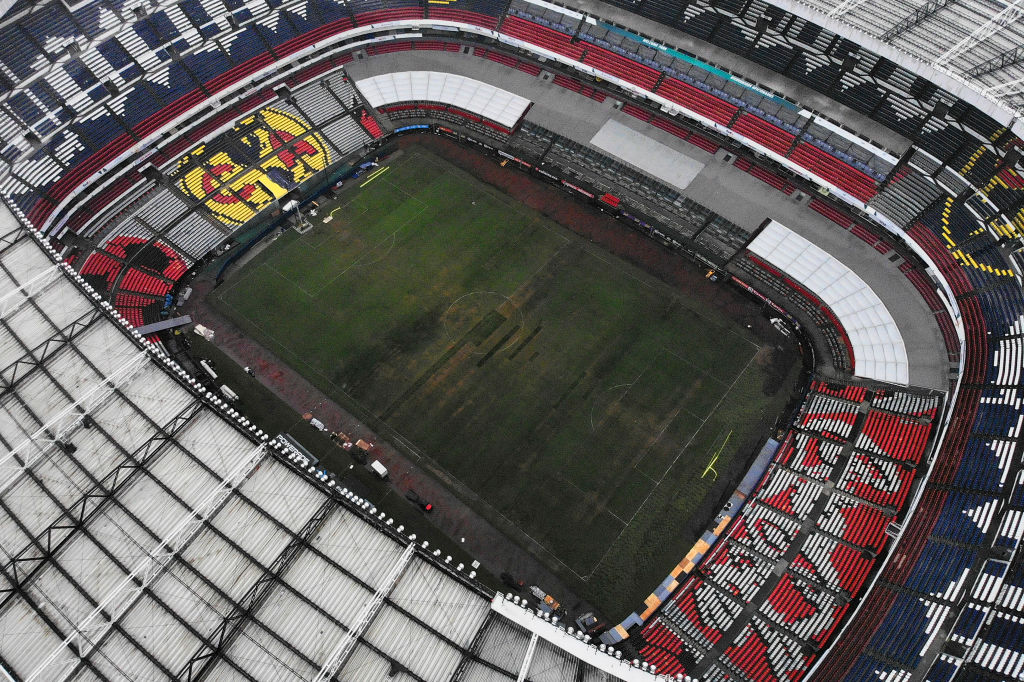 You want us to play HERE?
Oh, and there's a few other games happening in Week 11 too, but none of them will be as exciting as Rams/Chiefs. The byes end next week, but Week 11 has six teams resting up.
SUPER BOWL 53 PREVIEW: PEACHES AND CREAM
Kansas City Chiefs (9-1) at Los Angeles Rams (9-1)… I love a good hype train. This one is speeding out of control, like that Grateful Dead song about Casey Jones jacked up on nose candy. The Rams and Chiefs on Monday Night Football is a potential prelude to the Super Bowl in Atlanta. Both teams trained in Colorado this week to prep for the high altitude of Mexico City. Since the field in Mexico City was FUBAR, two of the most efficient offenses in the history of modern football will meet at sea level. The Rams are a FG favorite now that this is a legit home game. The total is 63 points. It seems like such a square bear bet to hammer away on the over, but this will be like the Rams/Saints game where the team that scores 40 first will win the game. [Flash forward to Tuesday when the Rams lose 9-6 on a last-second field goal in overtime and bookies are loading up their yachts with boxes of money].
DEVIL'S HAIRCUT
Houston Texans (6-3) at Washington Redskins (6-3)… Did you know this is a game between two first-place teams? DeShaun Watson and the Texans won six in a row, but will have to steal a win in DC to make it seven straight. The Skins only score 19.6 ppg, but Alex Smith finds a way to win close games. The Skins only scored more than 21 points once in their last 6 games, which is even more problematic considering Houston allows only 20.4 ppg, or seventh best in the NFL. The Skins have a deceptively good defense. I bet you didn't know the Skins (19.4 ppg allowed) were tied for fourth for fewest points with the Bears. Only the Oakland/Arizona stinker has a lower total. It was 43 but started to fall below 42.
YOUR LAST CHANCE NOW
Philadelphia Eagles (4-5) at New Orleans Saints (8-1)… The Eagles will be running around all day trying to keep up with Drew Brees, Mike Thomas, Alvin Kamara, Mark Ingram, and the ghost of Dez Bryant. If the Eagles really want to make the playoffs and defend their Super Bowl title, then this is a must-win game for Carson Wentz and company. The Eagles might not have enough firepower to keep up, but they have a lot of motivation to keep it close.
NEW POLLUTION
Dallas Cowboys (4-5) at Atlanta Falcons (4-5)… Matty Ice vs. Dak and Zeke. Looks like a fun game on paper. In reality, it's two teams that expected so much more of themselves, yet are struggling to keep their heads barely above water. Which one of them sinks to the depths of despair, and which one keeps their postseason aspirations alive for another week? The Cowboys are hard to back on the road with a 1-4 record. They only score 16.2 ppg on the road, or a full 4 points fewer than inside the Jerry Dome. The over has hit in six out of the last eight Falcons games, and in three out of the last four Cowboys games.
LOSING MY EDGE
Denver Broncos (3-6) at L.A. Chargers (7-2)… Hipsters universally love to claim ownership of the next big thing and there's nothing more hipster in LA right now than the Chargers. With everyone else in town fawning over the Rams, the Chargers have become the cool team in LA. That's dangerous territory. Then again, with one more win, they'll have a better record than the Patriots. Only means the Chargers are set up to fail. The Broncos are fresh off a bye with an underrated running game that has been improving every week.
WALLY PIPP FLACCO
Cincinnati Bengals (5-4) at Baltimore Ravens (4-5)… Flacco or no Flacco, that's the question. Whether it's nobler to be in the pocket with or without Lamar Jackson. Does it really matter who the QB is in this smashmouth football division game? Flacco has had a meh season. Despite the obvious lack of experience, perhaps Jackson is an upgrade on offense? We'll find out who steps onto the field Sunday.
APEX PREDATORS
Carolina Panthers (6-3) at Detroit Lions (3-6)… When the Lions look bad, they look awful. If Carolina hadn't played so erratic the last couple weeks, they'd be favored by a touchdown. The Panthers had a couple extra days to prep for this game after getting spanked on TNF by Big Ben and the Steelers. Christian McCaffrey continues to rack up salacious numbers week after week. Congrats if you drafted CMAC.
MIXED BIZNESS
Tennessee Titans (5-4) at Indianapolis Colts (4-5)… The AFC South race is heating up. The Jags knocked themselves out of the race, but this key game will give either team a leg up in trying to catch the Texans. Frank Reich and Andrew Luck (26 TDs) are looking like a perfect tandem with the Colts averaging 28.9 ppg (ranked #6 overall). Mike Vrabel and Marcus Mariota are fresh off a (shocking) win against the Patriots. It's like the Pats sent out their JV in Nashville. The Colts won three in a row and can catch the Titans off a wicked Brady-Belicheat-Beatdown hangover.
HOME CAT ALERT: PAPER TIGER
Pittsburgh Steelers (6-2-1) at Jacksonville Jaguars (3-6)… The Le'Veon Bell drama is in the rearview mirror. The Steelers are on a roll and now it's payback time. The Jags knocked the Steelers out of the playoffs last season and now it's time for Big Ben and company to run all over the Jags on their home turf. With Leonard Fournette back in the lineup, the Jags are a live home dog here.
QUE ONDA GUERO
Tampa Bay Bucs (3-6) at NY Giants (2-7)… The Giants won a game and are now a favorite at home! The Bucs are a team on the brink of shutting it down for the rest of the season. Saquon Barkley said he had a goal to win 8 games in a row and make the playoffs. The kid is one of the best players in the league as a rookie. I lost faith in FitzMagic and became a devout believer in Saquon.
ONLY DEGENS ARE WATCHING
Oakland Raiders (1-8) at Arizona Cardinals (2-7)… The lazy narrative is that Jon Gruden and the Raiders smell a win so they'll bring it against the Cardinals and Chosen Rosen. But that's putting lipstick on a pig. Only degens will be watching this ugly one.
GOTTA GET UNSTUCK GAME OF THE WEEK
Minnesota Vikings (5-3-1) at Chicago Bears (6-3)… Fun match-up for Sunday Night Football. The Vikes struggle to win in Chicago, but weird things happen in these NFC North division games, so you never know what sort of shenanigans could take place. If the Bears want to be taken seriously as a threat, they have to win this one. The Vikes solved their kicking woes, but the Bears are on thin ice after Cody Parkey shanked four off the uprights. I hope he got his chakras realigned, lit sage around his cleats, and bathed in healing crystals because if he misses any more kicks, the superfans are going to cut him up and grind him into sausage.
---
Pauly McGuire is a writer specializing in sports betting. He's covered the NFL, NBA, college basketball, MLB, and the Olympics for numerous outlets. He's the former co-host of the Everything Is Bettable podcast with Jesse May. You also might remember Pauly as the creator of the Tao of Poker blog. He was a partner in one of the first daily fantasy sports sites, Fantasy Sports Live.