We're at 33 players and done for the evening. A few short of a hundred folks will restart at 10:00am tomorrow morning and we'll play down to the Platinum Pass. How we got there is a bit of a story in itself.
We were on the stone bubble (34 players), going hand for hand as tournament director (and PCA stalwart) Rebecca Carabino watched from the center of the four tables. The dealer at Chris's table announced an all-in. We stepped over and saw that the gentleman in the #2 seat had shipped about 13k chips – not a huge stack. Chris thought for a moment and then announced a call (he had 4-5x the all-in amount). It folded around, and as the two players were about to turn their cards up, the dealer told them to hold their fire until the other tables had completed their action.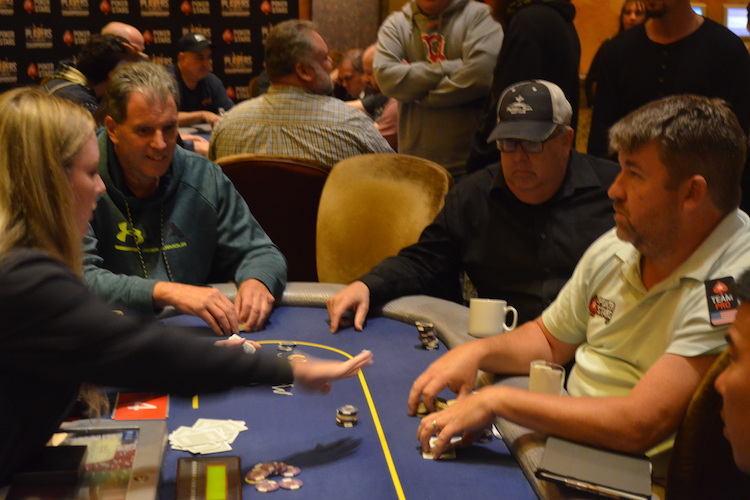 Don't turn them up yet
So they just had a nice chat about the New England weather.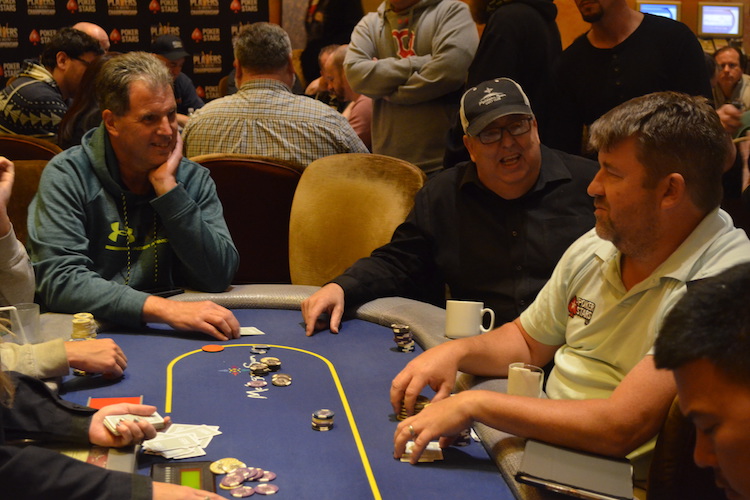 Oh c'mon – give us a hint of what you have.
Pretty quickly Rebecca confirmed the other tables were done and instructed them to turn their cards up. The all-in player had K7. Chris had KK. Again. I personally saw him have pocket kings three times today and I really didn't watch that much. The board ran out without a miracle for the very friendly guy in the #2 seat and we were done.
Chris is taking a 54 big-blind stack into tomorrow's Day 2 finale. See you there.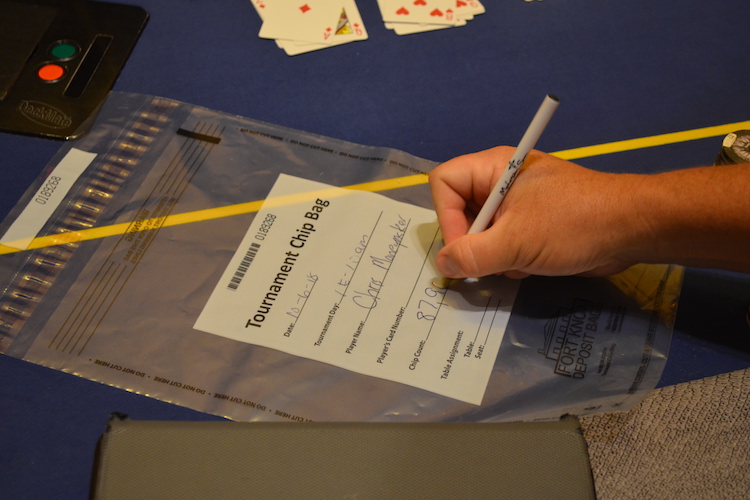 Batting .800 for cashing in my own events. Pretty sweet
—–
Late update:
Exactly 98 players are advancing.
Two players will receive a min payout of $100.
26 (#71-96) will receive $200
20 (#51-70) will receive $225
10 (#41-50) will receive $250
10 (#31-40) will receive $300
10 (#21-30) will receive $350
5 (#16-20) will receive $425
3 (#13-15) will receive $525
3 (#10-12) will receive $650
#9 – $900
#8 – $1137
#7 – $1431
#6 – $1718
#5 – $2156
#4 – $2890
#3 – $3737
#2 – $5857
#1 – $3000
Wait. Just $3k for first? Well yeah. And that, um, Platinum Pass thing.