A bomb pot. I'm absolutely not making this up. They were down to three players here at the Moneymaker Tour event at the Seminole Hard Rock in Hollywood. Andrés Risquez, Jaman Burton, and (yes) Chris Moneymaker. Jaman said, "Let's do a bomb pot." For those of you who aren't familiar with the concept, everybody puts in a fixed number of chips and they go straight to the flop. To our knowledge, they've always been reserved for cash games. But Jaman is never reserved. So with the Platinum Pass going to either Andrés or Jaman, and payouts of $4.9k, $8.4k, and $14k to resolve, they decided, "What the hell, let's have a 150k bomb pot." (Blinds were at least theoretically 50k/75k). Welcome to the Moneymaker Tour, where the bizarre is run-of-the-mill.
Maybe, though, bizarre isn't the right word. I think the right word is "lighthearted", "good-natured", "convivial", indeed, fun. The bomb pot was just one aspect of the most relaxed easy-going final table I've ever seen. Especially considering there was a $30k prize package sitting at the top.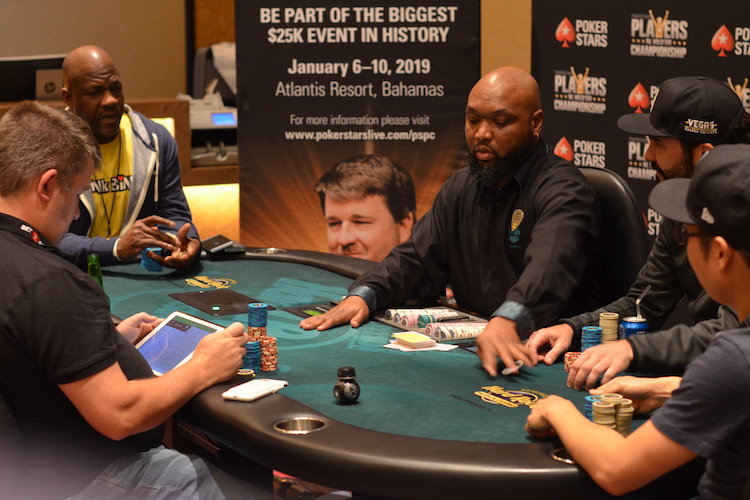 Y'all wanna just stick our chips in and flip for it?
Once again, Chris cashed in his own tournament, this time coming to the final table with an imposing chip lead. According to him, this makes seven cashes in 11 stops of the Moneymaker Tour. Anytime somebody tells you the man can't play poker…
Anyway, for regulatory reasons, they couldn't do a chop and then play for the Platinum Pass. So we had a weird dynamic where the guy who had all the chips could win the cash up top ($14k worth) but not the Pass. Thus it continued as people busted out; then Chris flopped two pair, Andrés turned a set, and the chips were completely redistributed.
Ultimately, we were down to the three aforementioned players. Honestly, we'd have been happy to see any of them win. Chris is, well, Chris; it's hard not to root for him. Jaman is a popular poker vlogger, whose sense of humor was perfectly suited to Chris's schtick. Sadly, most of his jokes can't be repeated on this blog; suffice it to say they were awesome. And Andrés, well, when we got ready to the take the group photo with Chris this morning, Andrés was the first person up there, parked himself right next to Chris and smiled like he'd just won a Platinum Pass. Nine hours later he did just that.
Chris saw off Jaman on a gruesome hand in which both flopped diamond flush draws and all the money went in, with Jaman's Ad6d crushing Chris's Td5d. That was right until the ten of hearts hit the river. Instead of a double up that would have brought him right into the thick of things, Jaman was out. Andrés saw that ten and raised clenched fists. No matter who won the tournament, he and a Platinum Pass were going to the Atlantis.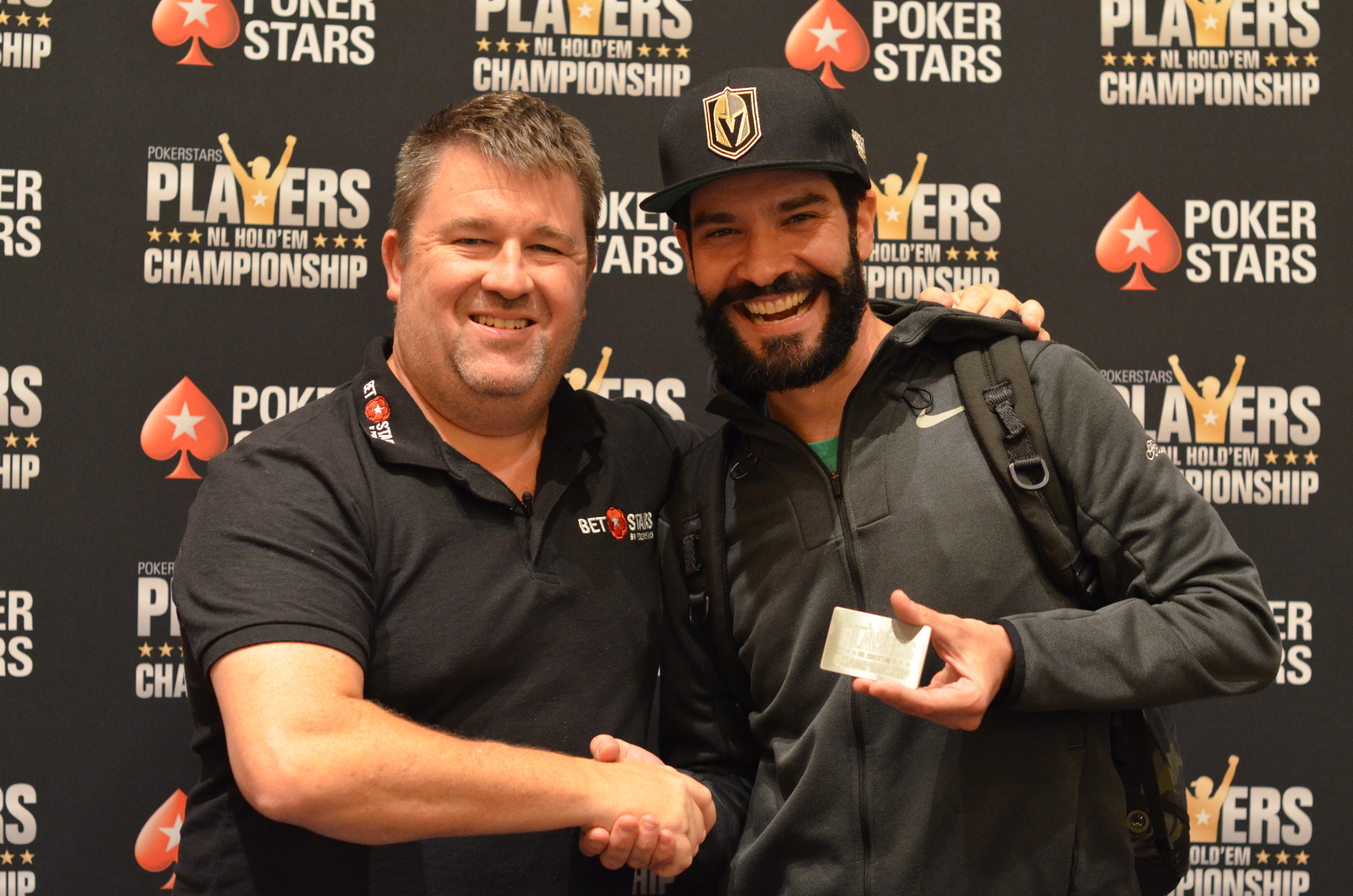 Way to bust that other guy, Chris.
As it turned out, he managed to bust Chris as well, so along with the Platinum Pass, he got $14,000 in first prize money.
When you watch Jaman's vlogs, you'll understand why we thought he'd make a great winner. When you watch the interview with Andrés, you'll understand why we know he's a great winner.
It's been an amazing three and a half months; the ending here at Seminole Hard Rock couldn't have been more fitting. It was crazy, fun, and produced a dynamite winner; it was the perfect finale to an extraordinary tour.