I wish you could have seen and heard the crowd. I've seen WSOP crowds and EPT crowds aplenty, and they certainly have their appeal. But this crowd, man, they wanted John Mokhtari to win so badly. He plays here at Lucky Chances "almost every day", and they love him. He looks like your grandad, or your favorite great-uncle.
He's not the most aggressive poker player you'll ever meet, but nobody enjoys winning a pot more than he does. Not that he celebrates per se, but he lights up.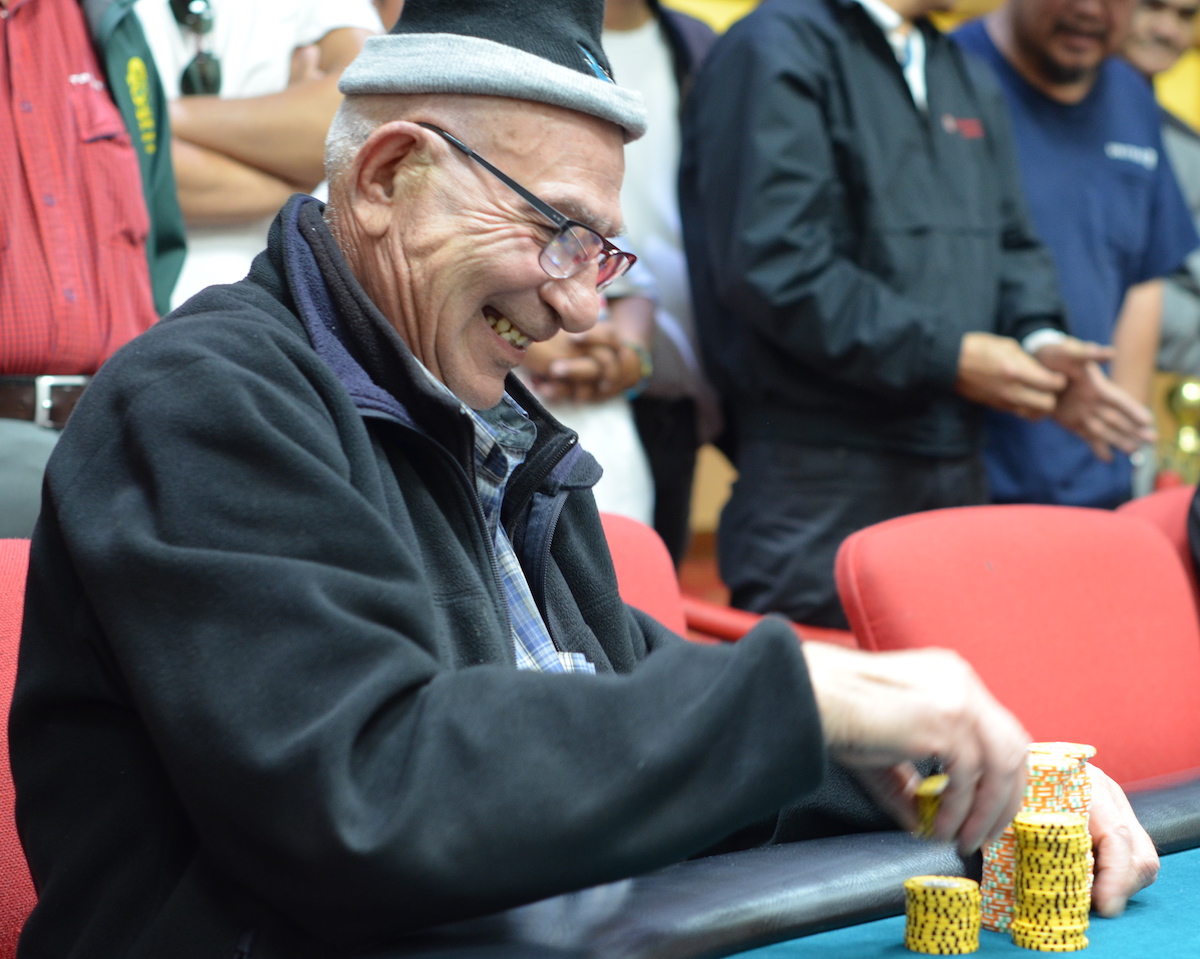 Poker can be fun when you win big pots.
And they particularly loved that he had come into the Day 2 event with 19,000 chips – an entire six big blinds. One all-in after another, and suddenly he had a few chips. As the more aggressive players clashed with each other, John nursed his chips down to the final table. And then slowly climbed the ladder as one after another competitor was gone. Before we knew it, there were four left, and they quickly decided to do a deal. Nipun Ajmani got about $11,900; Curtis (CJ) Magleby about $11,600; Cheng Yang (who came out from Queens, NY for the event) got $11,100; Jahangir (John) Mokhtari got $11,100. Oh, and there was the little matter of this to sort out: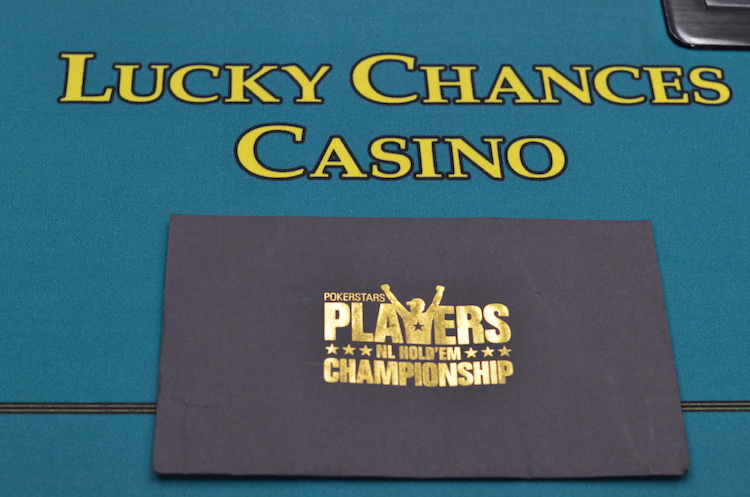 Let's each take $11k-ish and race for that black envelope
Nipun was the first to fall, and we were down to three. Then came the big pot.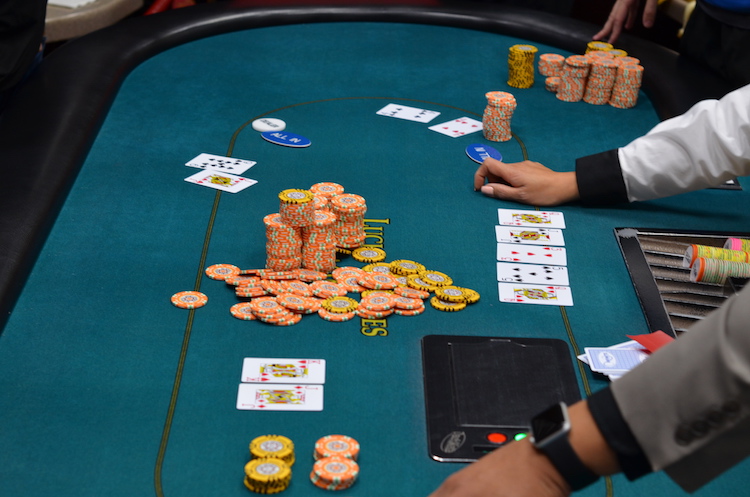 Sometimes, it's just a flip.
The last little bit of money went in on the flop; had CJ's pocket fours stood up, we would have been done right then and there. But things happen, and the jack on the turn busted Cheng and made John the chip leader.
Now we had a heads-up match between two men. CJ is a computer science student at Santa Monica College in L.A., getting ready to transfer to UCLA. John started playing "French style" poker in Iran in 1956, before CJ's parents were born. I love poker.
Separated by two generations, joined by the love of a card game.
CJ, a student from L.A., wasn't done yet. He crawled back into the chip lead by a hair. But then he shoved with an ace and John woke up with pocket queens. Nothing surprising happened and CJ was down to a couple of blinds. He then happily shoved with A3 but ran into John's A8. Again, the board changed nothing, and Jahangir Mokhtari, formerly of Iran, now of Belmont, California, was the champion of the Moneymaker PSPC Tour at Lucky Chances.
The crowd completely lost their minds. You'd have thought that Oprah had just walked in the room and given everybody a car. Or due to some terrible misunderstanding, we'd just given a Platinum Pass to everybody on the rail. John stepped outside to call his wife. Then we dragged him back inside for pictures and forms.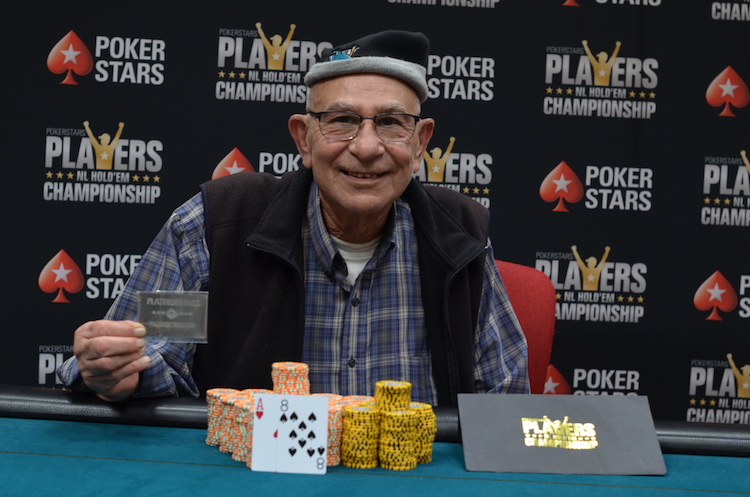 Look what I found under all these chips…
I asked him for an email address. "I don't use a computer – but we can call my wife and she'll give you her email address." I asked him if he had any favorite poker players he was looking forward to playing with. He said "I have a favorite player but I can't remember his name. But he's a Persian guy, like me." "Antonio Esfandiari?" "Yeah – that's the one." I'll be sure to introduce you two to each other at the Atlantis.
We'll have video up shortly and you'll get a little better sense of what it was like here. But man, the crowd cheering for him. I wish you could have seen and heard it…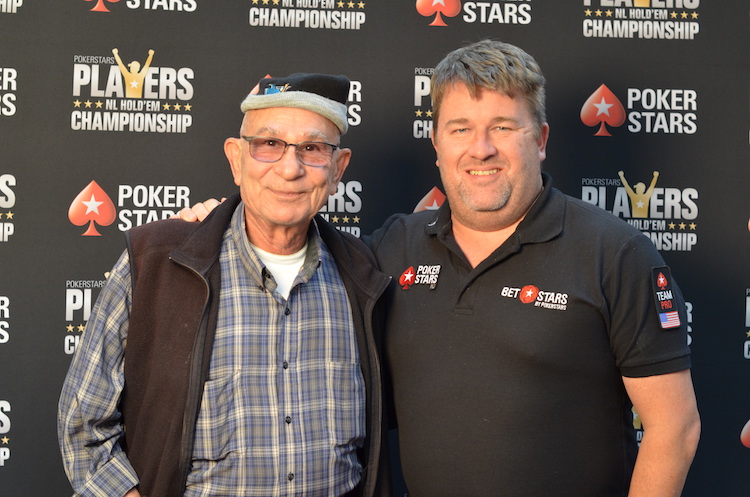 We promised you video, and video you shall have: