Fresh off a wildly successful weekend at Stones in Sacramento, the Moneymaker PSPC Tour has rolled just a hundred miles west to the San Francisco Bay Area. Specifically, we're at Lucky Chances in Colma, California, which is otherwise best known for its collection of huge cemeteries, serving the dearly departed of various tribes (Chinese, Italian, Jewish, Serbian, Pet (I'm not making this up), Greek Orthodox, etc).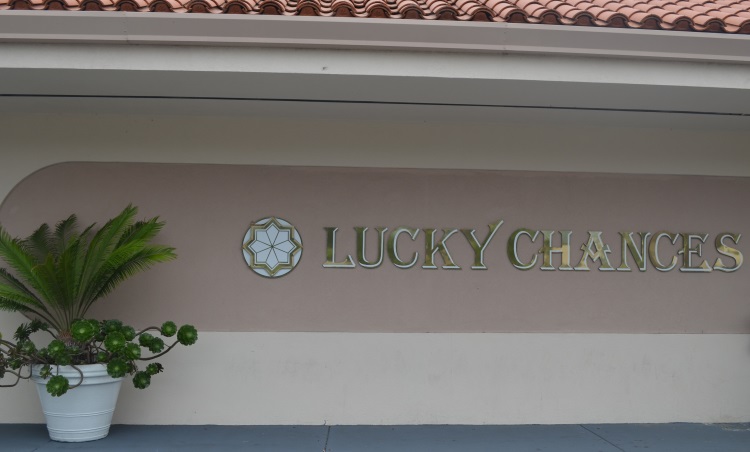 Next stop on the Moneymaker Tour
But the action is anything but dead [Note to editor: no, I couldn't help myself] inside the building. They have a bustling 24/7 28-table poker room, along with the "California" games that emulate traditional casino action (long story, don't ask). We've just wrapped up the first of six days of qualifiers, with the grand finale a week from today. They're advancing 10% of field each day so with today's 235 entries (182 unique runners and 53 rebuys), 23 players bagged chips for next Sunday.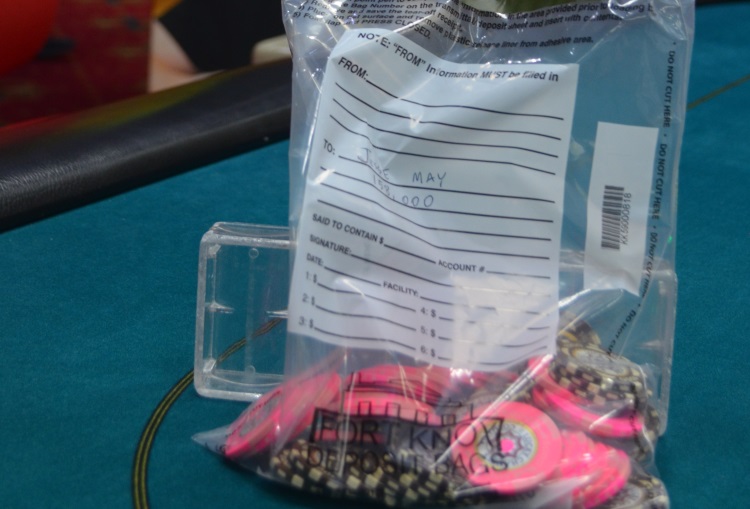 What every qualifier participant wants
If you have really good eyes, you may notice that the owner of this chip bag is "Jesse May". Old school poker fans will recognize the name. But unless that Jesse May has truly become a master of disguise and reinvention, it's not him. Jesse May the Other is, however, in second chip position (158k) after Benny Cruz, who's sitting on 241k. They'll bring at least that many chips into Sunday (you can play multiple qualifiers and take your best stack into the final).
Lucky Chances is putting every dollar of the $86 buy-ins into the prize pool (that's right – rake-free), and they're expecting on the order of 1,000 entries over the week. So the first place finisher is likely to get $15k or more, along with the $30k Platinum Pass. Gonna be a big day for somebody here in the Bay Area.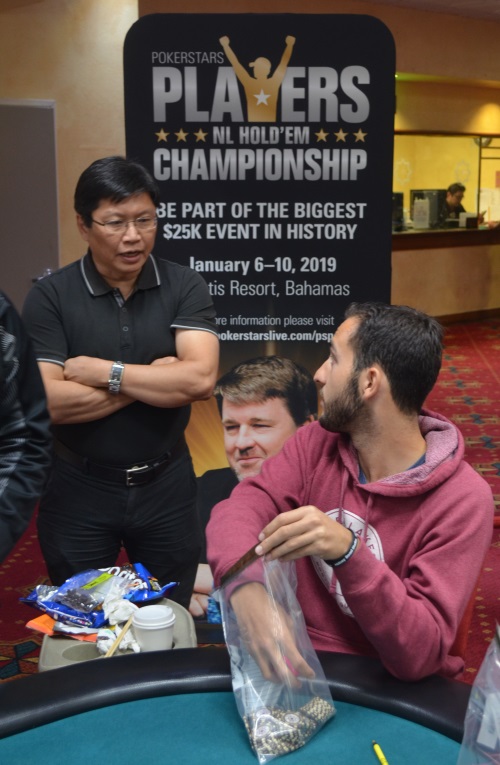 Could be one of us – why not?
By the way, if you're thinking about coming out here for the event (there's plenty of time to plan your road trip or book flights), I want to dispel a myth about California weather. Specifically San Francisco Bay Area weather, of which Mark Twain once said "The coldest winter I ever spent was a summer in San Francisco". The fog here is legendary, and when it rolls in, it freezes the tourists who have bought what TV is selling about this state. Exhibit A:
Bay Area sunshine. The fountains are coals to Newcastle
Pack your coat and hat, but get here. It's going to be an event to wake the dead [Note to editor: ibid]