The Super High Roller poker scene has made for fascinating viewing over the past couple of years as the roll-call of regulars has expanded, contracted and expanded again to accommodate the established beasts, the wealthy businessmen and the new, brightly-burning stars. This week at EPT Barcelona, where the €100,000 Super High Roller just played to its champion, a frantic opening to the final day left us with an intriguing three-handed battle between representatives from each of the camps.
From the board room, there was Iran's Ahadpur Khangah, a chairman of an group of engineering firms, who had belied his "amateur" status to hold the chip lead for vast portions of this event. Of the new stars, there was Matthias Eibinger, a 25-year-old Austrian, who first emerged on the Super High Roller scene only this year and hit the ground running with a win and a runner-up finish at the Aria earlier this summer.
But then there was the established monster: Mikita Badziakouski, a Belorussian player many consider to be the best in the world at the moment, currently on a seemingly unending streak of success. Badziakouski won back-to-back Super High Roller events on the Triton series, and there was no one in Barcelona capable of stopping him adding more silverware to his already creaking trophy cabinet.
Badziakouski saw off both Eibinger and Khangah by 5.30pm today and picked up the first prize of €1.6 million, beating Khangah into second. It was a cooler that ended it, but it was red-hot action throughout today's five hours of play before Badziakouski wrapped it up.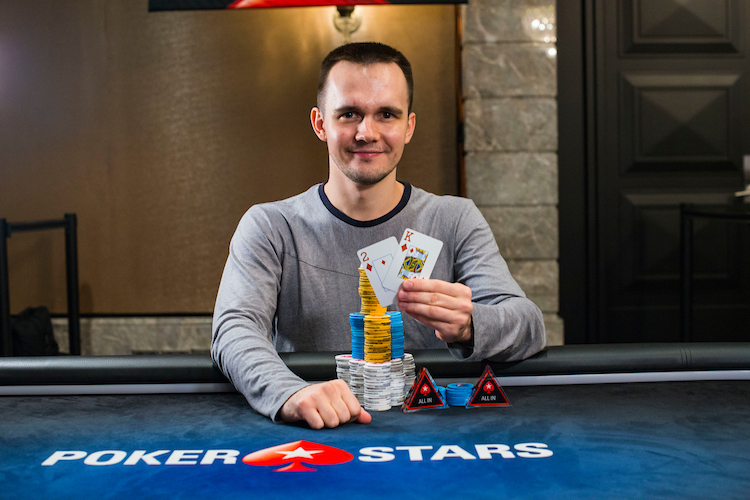 Champion (again) Mikita Badziakouski
In early stages, this seemed to be Eibinger's to lose as he blitzed through today's final table, knocking out anyone who dared to tangle with him. But then he was made to take a dose of his own medicine as the veterans seized control. A brief heads-up battle ended with Badziakouski hitting two pair when Khangah had top pair. That was that.
"It feels great to win my second high roller of the year, I've been running pretty hot lately," Badziakouski said. "I've just been lucky and that's it."
He added: "The dynamics were kind of the same as others [high rollers] as we have the same structure, this one had a long bubble though. We were playing nine-handed for three or something hours and then it all went really fast."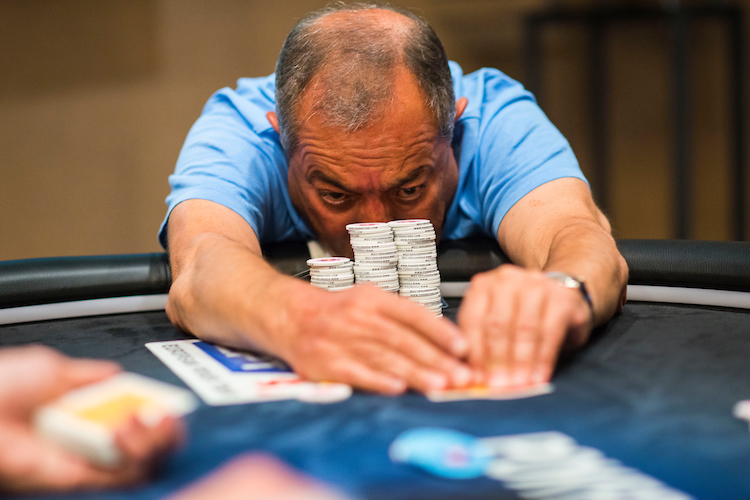 Terrific showing from businessman Ahadpur Khangah
He was right about that. A long session on Day 2, which slowed dramatically towards its end, meant nine players returned for today's final, although only seven were due to be paid. It meant high anxiety but relatively short stacks–and it then meant a hasty rash of eliminations either side of the bubble bursting.
Cary Katz and Byron Kaverman fell on the unfortunate side of the fence, both victims of Eibinger's happy ability to hit cards despite trailing when the money went in. (He had the monster stack, so had every right to be applying the pressure in marginal spots.)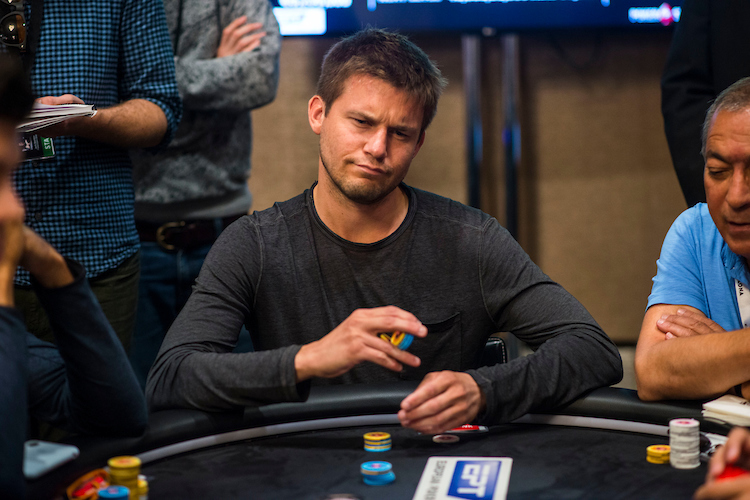 Bad news for Byron Kaverman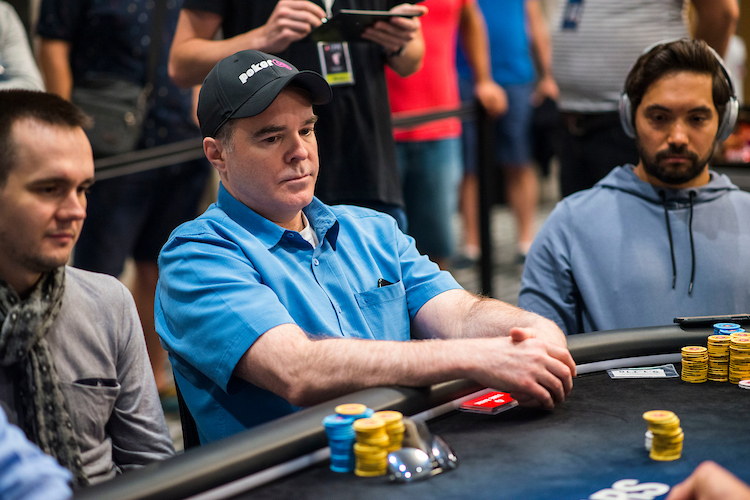 Cary Katz: Brutal run-out ends his day
All the details of how it played out hand-by-hand can be found on the live updates page, though it's clear we won't be getting any clicks on that from the Katz or Kaverman households.
It left seven all guaranteed a €275,050 payday, but it didn't take long for four of them to learn their name wasn't on the trophy after all.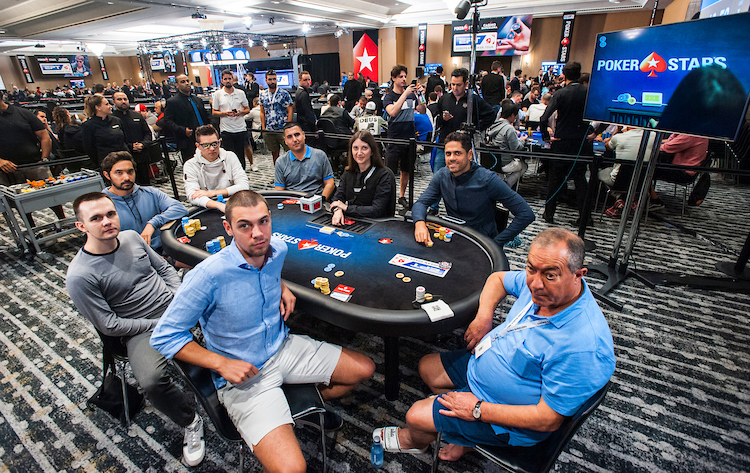 In the money players (clockwise from left): Mikita Badziakouski, Timothy Adams, Matthias Eibinger, Jean Ferreira, Benjamin Pollak, Ahadpour Khangah, Rui Ferreira
Two Ferreiras — Jean, from Canada, and his not-brother Rui, from Portugal — fell in seventh and sixth, respectively, before Benjamin Pollak and Timothy Adams hit the rail in fifth and fourth.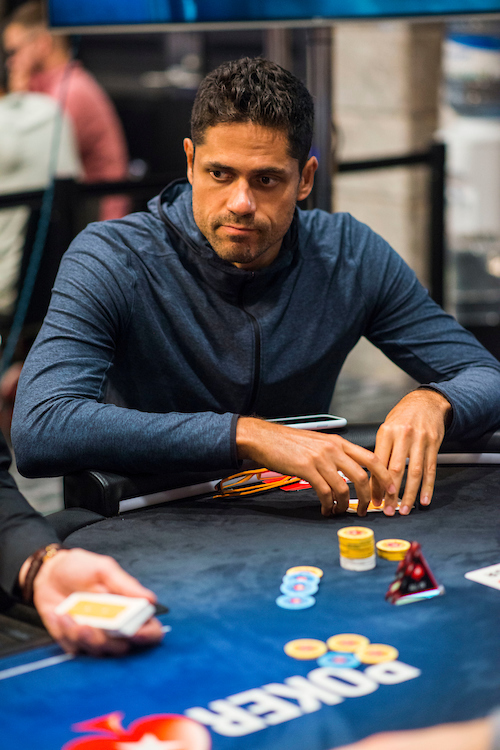 No more Benjamin Pollak, survival bid ends
All of this carnage took place before the first break of the day, but with Eibinger, Khangah and Badziakouski all well stacked, there was always the chance of a drawn out three-handed encounter.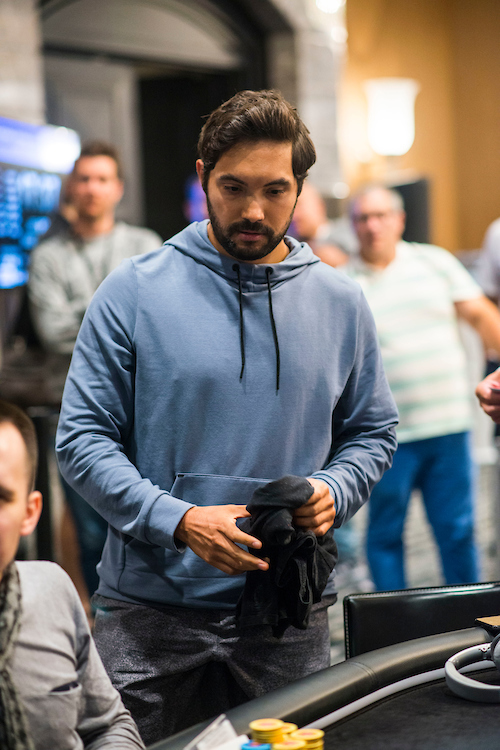 Time to say goodbye to Timothy Adams
But even that wasn't really to be. Badziakouski dished out some pain on Eibinger when he turned two pair with A♠2♠ when Eibinger's bigger ace was outdrawn. That was worth more than a million to Badziakouski.
Then Khangah took his chance to punish Eibinger, when Khangah's J♥9♠ ended better than Eibinger's 10♣3♥, despite the latter hitting two pair on the flop. That's when the money went in, but Khangah hit a better two pair on the turn, which sent Eibinger out.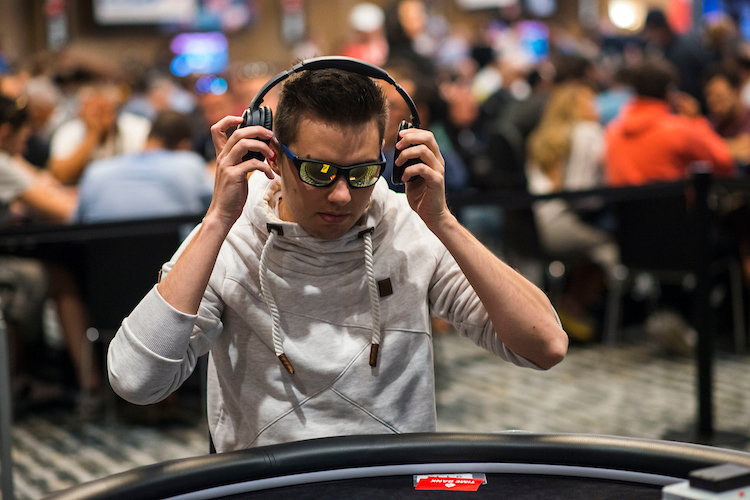 The music stops for Matthias Eibinger
We have definitely not seen the last of Eibinger. He is clearly here to stay. He won his seat here in a satellite, but is appearing more and more regularly at the major events and now has an additional €759,680 in his bankroll.
Khangah and Badziakouski, however, have €1.192 million and €1.65 million more respectively after the two of them ended heads up. Khangah had been battling a horrific cough for most of the tournament, in addition to the best players in the world, but seemed to have conquered all of that by this afternoon. He wasn't coughing half so much today, and all of those so-called superstars were laid to waste. Except one.
"It was a pleasure playing with you and such a nice result for you," Badziakouski said of Khangah, describing the businessman's play as "impressive". But there was nothing much Khangah could do when he got his money in holding K♥5♣ and was up against Badziakouski's K♦2♦. The problem was that the board read K♣Q♠9♦2♣ by that point, and the 7♣ river changed nothing.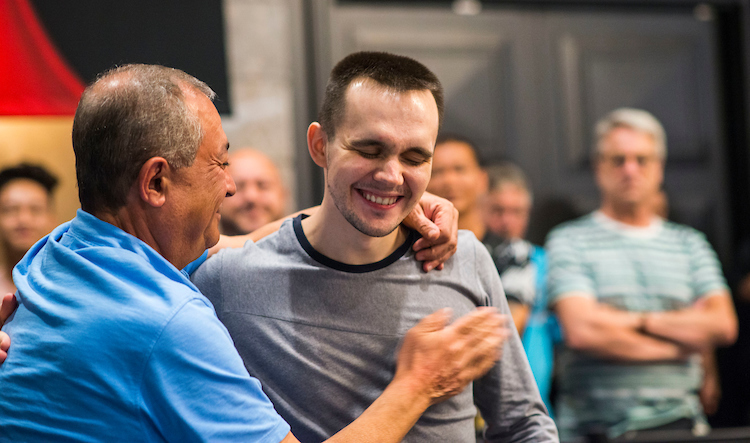 Champion Mikita Badziakouski embraced by Ahadpur Khangah
So that's it for Badziakouski, who has turned into the dominant High Roller force recently, particularly in events that Justin Bonomo doesn't enter. It'll no doubt be the Main Event for both of them now, which happily you can follow here on PokerStars Blog for the rest of the week.
EPT Barcelona Super High Roller
Dates: August 25-27, 2018
Buy-in: €100,000 (€98,000 + €2,000)
Entries: 54, including 14 re-entries
Prize pool: €5,239,080
| POS | NAME | COUNTRY | PRIZE |
| --- | --- | --- | --- |
| 1 | Mikita Badziakouski | Belarus | €1,650,300 |
| 2 | Ahadpur Khangah | Iran | €1,191,900 |
| 3 | Matthias Eibinger | Austria | €759,680 |
| 4 | Timothy Adams | Canada | €576,300 |
| 5 | Benjamin Pollak | France | €445,300 |
| 6 | Rui Ferreira | Portugal | €340,550 |
| 7 | Jean Ferreira | Canada | €275,050 |
Photography by Joe Giron/PokerPhotoArchive.