The opening flight – Day 1A – of the Manila Megastack Main Event is in the books and it is Lithuania's Marius Zalpys who has powered into pole position after the sixteen 30-minute levels were all done and dusted.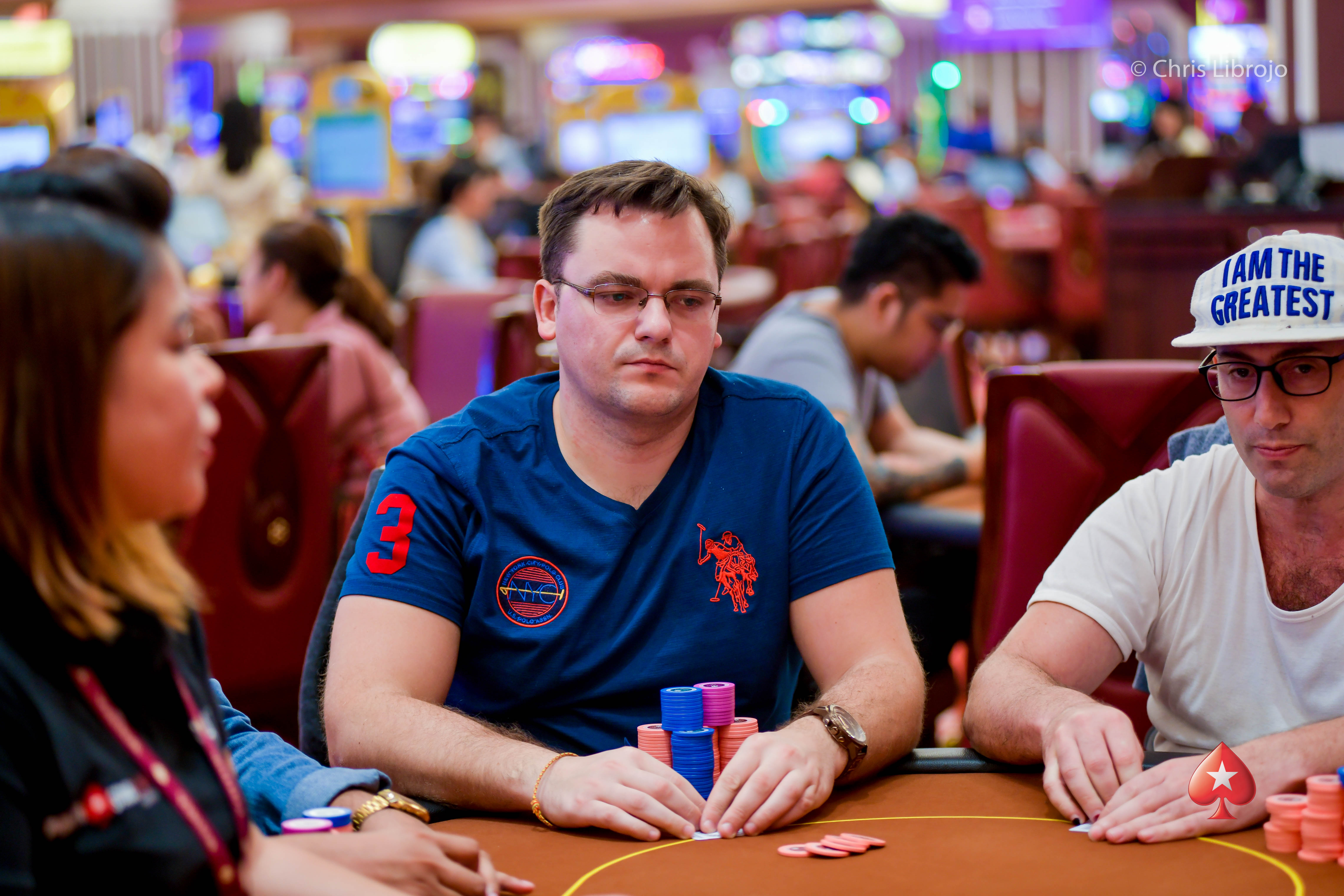 Manila Megastack 10 Day 1A Chip Leader Marius Zalpys
With the tournament utilising the Big Blind Ante format, offering umlimited re-entry and boasting an aggressive structure, chips changed hands with a great deal of frequency, big stacks rose and then crumbled, and then some of the shorties managed to spin it up. A total of 167 players (139 uniques) ponied up the ₱30,000 entry fee, though by the time all was said and done only 34 managed to successfully circumnavigate the tournament minefeild.
While local poker hereos Martin Gonzales and Flo Campomanes made spirited attempts to take the top spot, as did China's Jiabin Wang, none could beat Zalpys, who bagged up a sizable 381,000.
Zalpys flew under the radar for much of the day, stacking up slowly but steadily and only came to our attention after scooping a huge pot against a tablemate that put his stack over 300,000.
With close to $175,000 in live tournament winnings, this is clearly not Mr. Zalpys' first rodeo, and he used his monster stack to bully his table and chip up further. By the time the chip leader had to draw for the last number of hands, Zalpys was the man miles ahead on a stack of close to 400,000.
Gonzales gave it a damn good go though, powering into an early lead and remaining near the top of the counts for the majority of play, bagging up 300,000 in total. Campomanes also finished strong, concluding play with a stack of 159,000.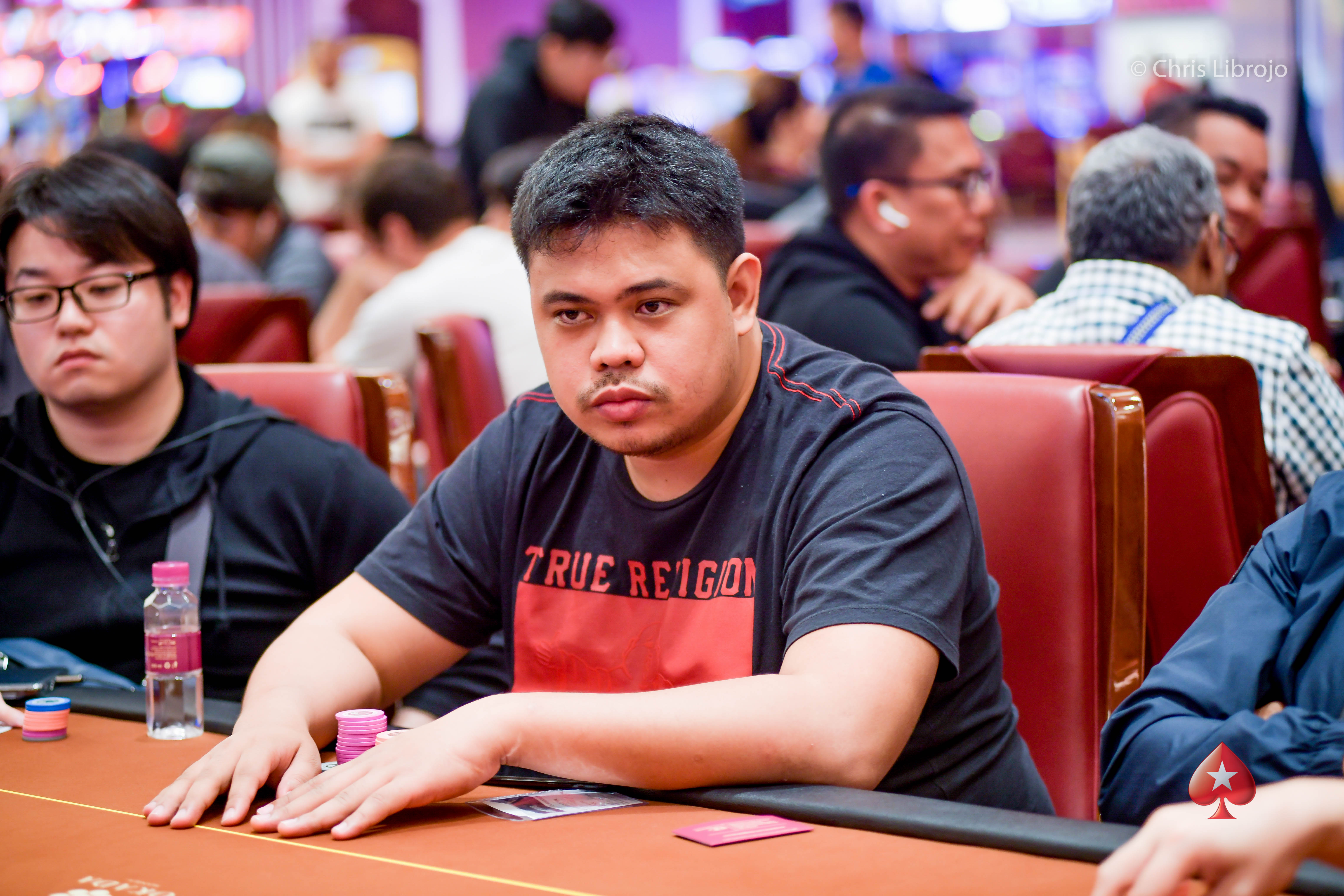 Martin Gonzales
Wang was another player who sat atop the counts for a large portion of Day 1A, climbing into contention midway through Level 10 and remaining in the top three for the rest of play. Wang will be bringing a stack of 256,000 into the final day – Day 2 – when it gets going at 1pm on Sunday, December 16.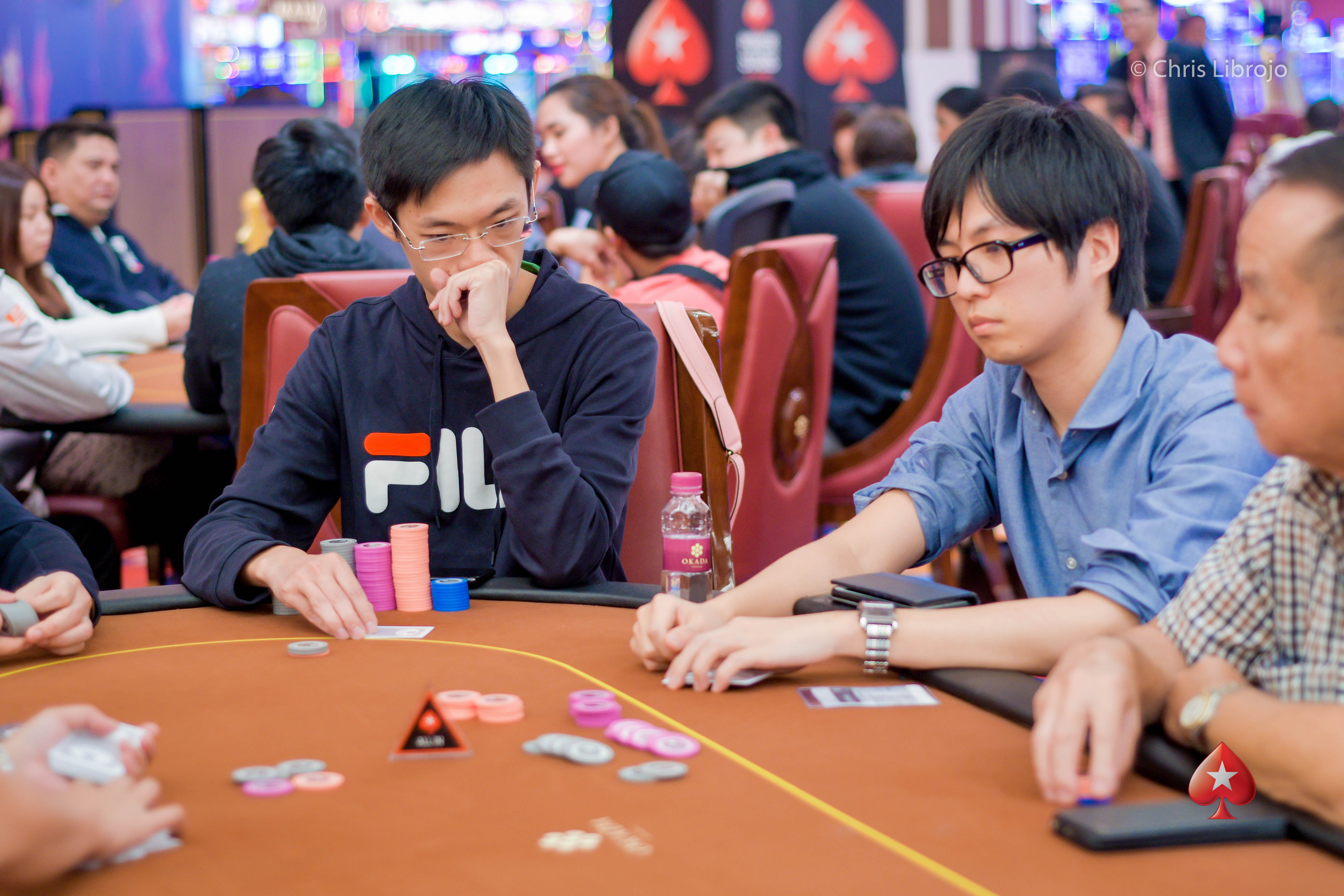 Jiabin Wang (left)
The USA's Steve Cody enjoyed a rollercoaster ride of a day, entering late and tripling up to over 100,000, only to drop all the way back down to close to the 30,000 starting stack before spinning it back up to finish the day on 150,000.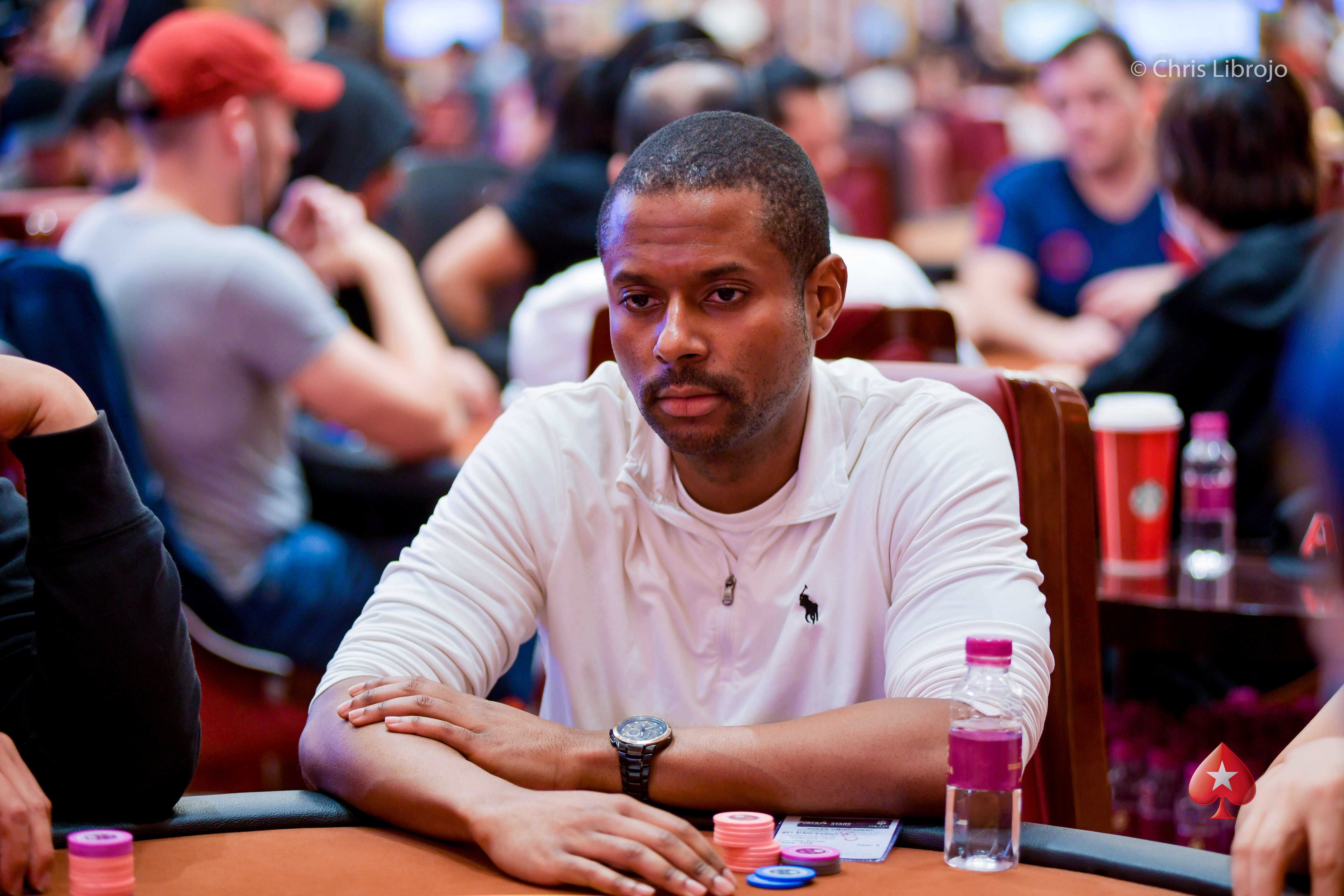 Steve Cody
Another notable to bag big was Sweden's Roger Spets, who came into Day 1A fresh of a victory in the two-day ₱55,000 NLH Freezeout which was good for ₱1,046,000. Spets carried the run good over into the Main Event, doubling up early and not looking back to finish play with a stack of 204,000.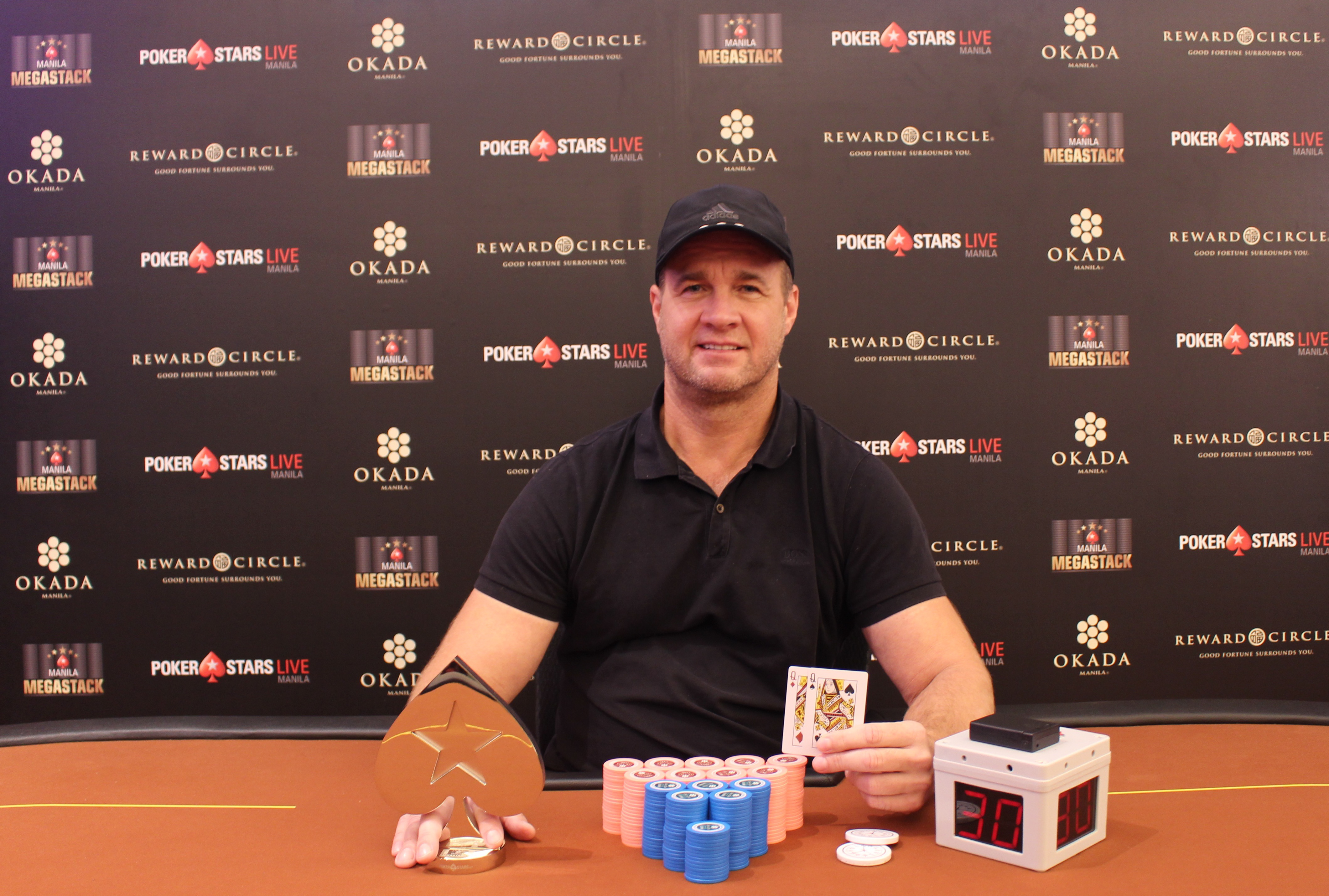 Event #17 ₱55,000 NLH Freezeout Champion Roger Spets
Another Scandinavian who has enjoyed a great deal of success in Manila having won two High Roller's here is Norway's Henrik Tollefsen. Unfortunately, this time around Tollefsen was unable to lock up a Day 2 berth after grinding a short stack for a large part of the day. While it looked as though the Norwegian might finish strong, a string of lost coinflips saw Tollefsen get short and he departed shortly before the last five hands were announced.
Other notables to come up short included Richard Marquez, who had aces cracked in painful fashion against China's Pingyu Lin, holding queens, who rivered a full house after spiking a queen on the river. Lin bagged up 117,000 while Marquez will have to try his luck tomorrow.
Day 1B kicks off at 2pm local time on Saturday, December 15 and will follow the same format as Day 1A with sixteen 30-minute levels and late registration remaining open until the end of Level 9 at 6:50pm. Join us then as we see who has the poker chops to make the second and final day of the Manila Megastack 10.
You can view all End of Day chip counts here.
Scroll down to peruse all the action as it happened.
2:15am: Last level of the day
Level 16 – Blinds 2,500/5,000 (BB ante 5,000)
This is it folks, the last level of the day. The tournament clock reads 45 players out of 167 entries, but there are bound to be more bust outs over the next 30-minutes. Stay tuned and we'll bring you the last of the action.
2am: Tejada wins three-way to bust Glasspool
Level 15 – Blinds 2,000/4,000 (BB ante 4,000)
The field is now down to 45 with the UK's Rob Glasspool becoming one of the latest casualties. Down to his last 10 big blinds just before the last break, Glasspool was biding his time for that all-important double and while he found ace-king with which to make a stand, sometimes the cards just don't fall your way.
In what proved to be a bit of a setup hand Glasspool got the last of his chips in and while the Brit found himself flipping with Katsuhiro Mori's pocket tens, Filipino Francis Tejada was also in the hand and had woken up with pocket kings.
The cowboys held to send Glasspool out, drop Mori down to 190,000 and shoot Tejada up to 65,000. Soo Jo Kim is another notable no longer in the running.
1:35am: Sick river for Marquez, Cho doubles though Tollefsen
Level 14 – Blinds 1,500/3,000 (BB ante 3,000)
Richard Marquez's Day 1A is over, courtesy of tablemate Pengyu Lin. The man they call 'Hot Sauce' (no, we still don't know why) went out in style, in what proved to be a spicy hand, though it is one that Marquez will not remember fondly.
The Filipino cash grinder went out swinging, getting all his 50,000 chips in pre-flop with the best of it holding A♣A♠ while Lin held the ladies – Q♠Q♥ to be exact.
The 5♠J♦5♥ flop kept Marquez in the lead, as did the 5♦ turn, but the Q♦ river spelt disaster for the Filipino, who did not look happy. Lin though, was over the moon and is now up to around 95,000.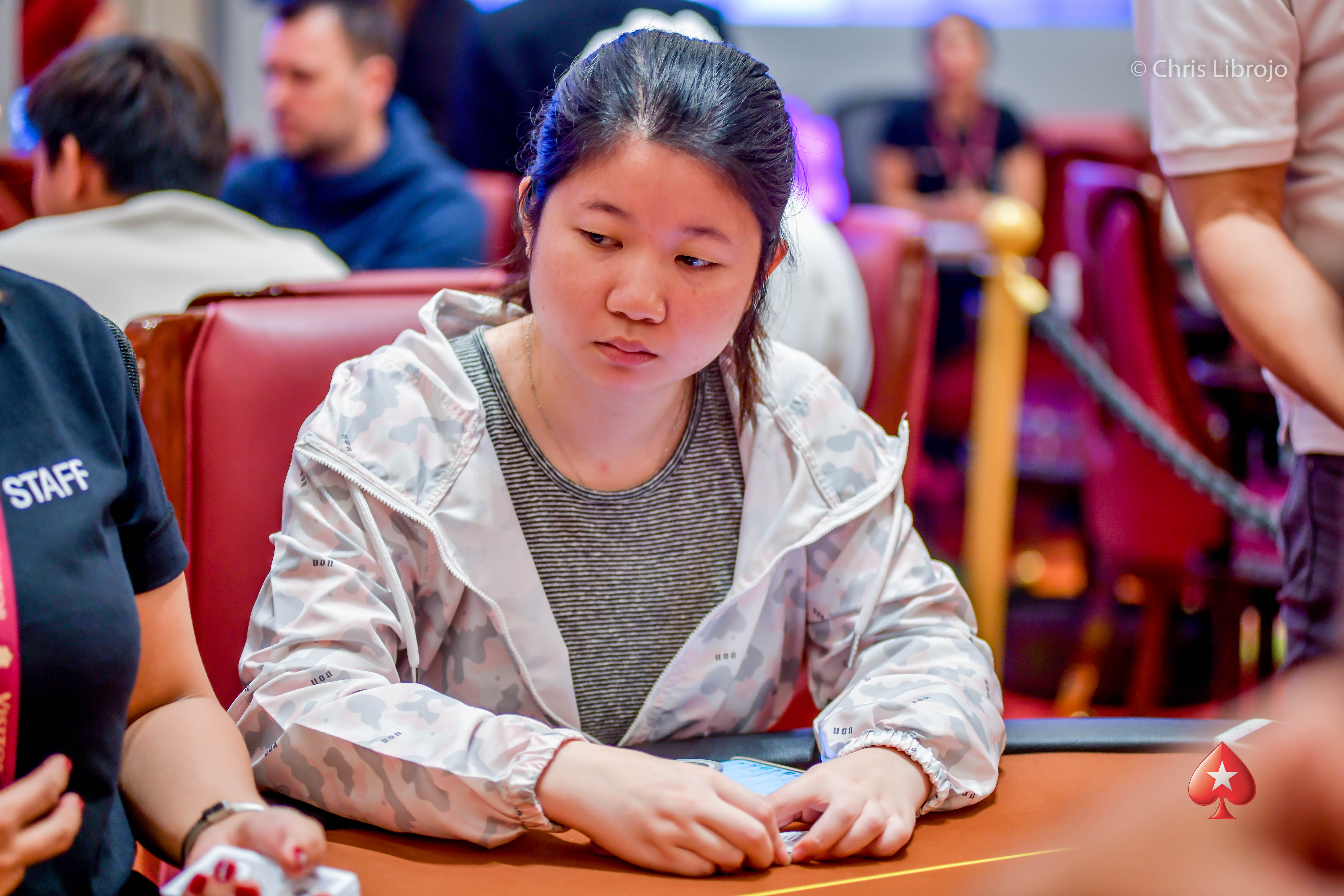 Pengyu Lin hit the perfect river against Richard Marquez
Another player who has managed a timely double is Japan's Shingo Cho, who scored a much-needed double up through Henrik Tollefsen. It was another pre-flop all-in with the short-stacked Cho shoving for 13,000 with 4♦4♥ and Tollefsen looking him up from the button with A♦Q♠.
Cho binked his set on the 10♥4♣6♦ flop, with the 7♠ turn and 8♦ river granting him the double to around 30,000. Tellefsen had been busy since last we checked though and was still left with 120,000 after the hand.
1:15am: Great call from Gonzales
Level 14 – Blinds 1,500/3,000 (BB ante 3,000)
Poker is not all about catching good cards, though that obviously helps, being able to make the thin calls is also a necessary skill and one that Martin Gonzales just displayed with a great call against tablemate Haegyu Lee.
We picked up the action on a flop of 4♣6♣3♦ just as Lee (middle position) checked it over to Gonzales (cutoff), who fired out a half pot sized bet of 10,000. Lee made the call and the dealer burned and turned the 2♥, which brought checks from both players.
The 8♣ river completed a possible club flush and now Lee decided to lead, firing out a bet of 30,000. Gonzales mulled it over for a good couple of minutes and counted out his stack (he had 160,000 behind) before shrugging and making the call.
Lee sheepishly rolled over A♣J♠ for the bare ace of clubs with a jack kicker and Gonzales triumphantly tabled A♦K♣ for what proved to be a great call with just ace-high, out pipping Lee to take the pot. That puts Gonzales up to around 220,000 – very close to what Jiabin Wang is sitting on and the two are tied for the top spot.
Breaktime
The 63 remaining Day 1A Main Event players are off on their last 10-minute break of the day. When they return just three 30-minute levels remain between them and a chip bag.
12:30am: Wang leading
Level 13 – Blinds 1,000/2,500 (BB ante 2,500)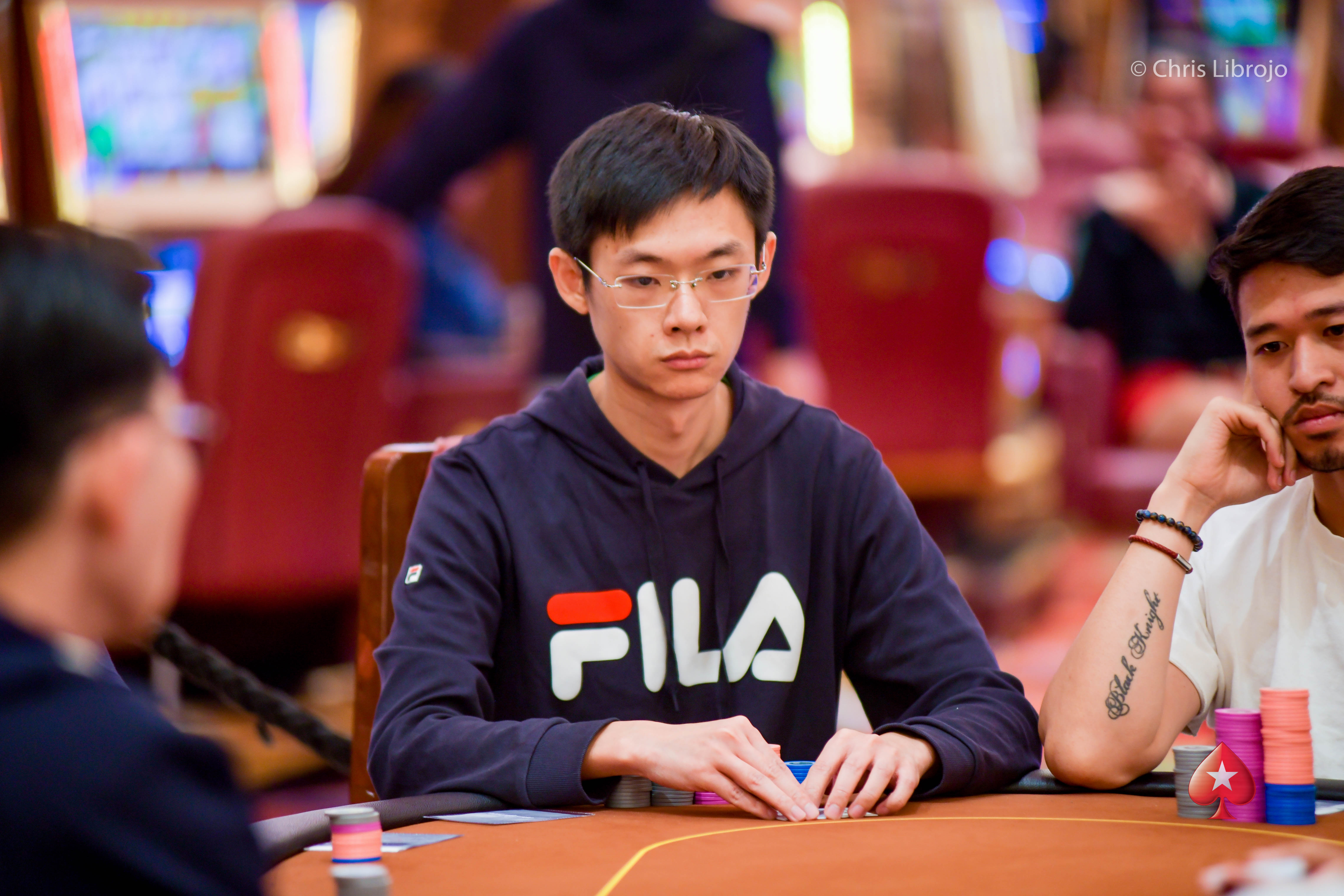 Jiabin Wang
Jiabin Wang is pulling ahead of the rest of the field and is the only player in possession of a stack in excess of 200k – 206,000 to be exact. A recent table move has seen Wang move to the direct right of hometown hero Flo Camponmanes, who is also deep-stacked with around 160,000 in front of him. Should the pair tangle in a hand, the winner will have a stack of monster proportions – especially when you consider the fact that the average stack is coming in at 79,500.
Just 63 of the 167-strong Day 1A field remain in contention as Level 13 gets underway with other notables in the running with decent-sized stacks including Martin Gonzales, who has not been sitting on his laurels and has chipped up to 170,000.
Japan's Katsuhiro Mori has popped up on our radar with a stack of 167,000, and Sweden's Roger Spets is utilising the confidence following victory in the ₱55,000 NLH to spin his stack up to 100,000.
Both Rob Glasspool and Steve Cody are still in action, with Glasspool dropping some chips and sitting with 80,000, and while Cody is someway off the 100k stack he enjoyed earlier, the US player has climbed back up to 51,000 from the 35,000 he was sitting on earlier.
Henrik Tollefsen now has chips, around 60,000 of them so is still under the average, but he has the chops to spin this up should he not fall afoul of variance.
Anthony Abram is also still in the running, though his stack remains close to the 30,000 he began play with, and Japan's Maiko Kori has slumped to 25,400. That's better than Ricardo Torres though who has gone from the giddy heights of a six-figure stack to busto and has hit the rail. Torres will have to try his luck again tomorrow.
12:00am: Marquez folds out Campomanes
Level 12 – Blinds 1,000/2,000 (BB ante 1,600)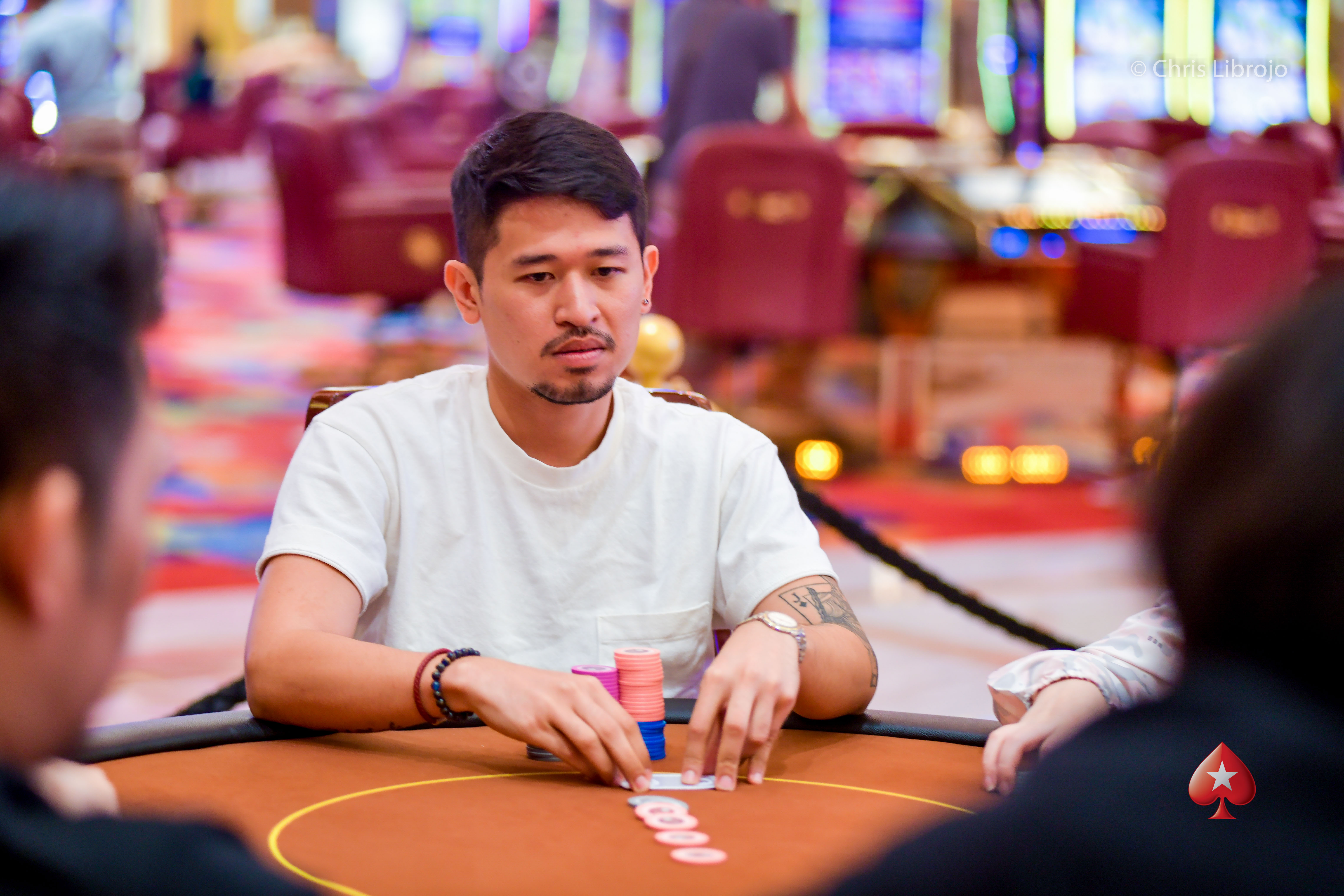 Flo Campomanes
As Level 11 comes to a close, several big stacks are rising from the rest of the field. One of these belongs to Flo Campomanes, whom we caught getting into it in a hand against Richard Marquez.
It was Marquez who was the initial aggressor, making it 3,400 to go from late position with Campomanes defending from the big blind and checking the 2♦10♠10♦ flop over to Marquez, who tossed out a single blue 10k-chip.
Campomanes flashed the 2♥ before pitching his other card into the muck, leaving Marquez to pull in the pot and climb to around 39,000. Campomanes still has heaps though, and is sitting on a stack of around 150,000, which makes him one of the contenders for the chip lead presently.
Korea's Haeguy Lee is another with a six-figure stack, and we caught the Korean player pushing one-time frontrunner Martin Gonzales off a hand. We picked up the action on the turn with the community cards spread 2♣3♦J♠10♠ with close to 30,000 in chips already in the pot.
Both Lee (big blind) and Gonzales (middle position) checked the turn and the dealer peeled off the A♥ river. This saw Lee lead for 14,500, just a smidge under half pot and after some time chewing it over Gonzales mucked.
Lee has around 125,000, while Gonzales is still up there with 112,000 or so.
Steve Cody's earlier run good has taken a turn for the worse, with the New Yorker down to 35,000 after losing a big flip with jacks against an opponent's ace-queen.
Cody's Hong Kong-based partner in crime, Rob Glasspool, is fairing slightly better and has not long moved table to that of Ricardo Torres. Glasspool is sitting on close to 90,000, while Torres has dropped down the counts and is sitting on around 45,000.
11:45pm: Torres takes one
Level 11 – Blinds 800/1,600 (BB ante 1,600)
Ricardo Torres has dropped some chips since last we caught him in action but has not long won some back from Lawrence Pedro.
We picked up the action on the river with 23,000 and change in the pot and the board spread 7♦6♣4♣10♣5♥ just as Torres (big blind) plonked down a stack of 75,000. Being as Pedro only had 14,500 behind the bet was around 60,000 too much, but it was enough send Pedro deep into the think tank, where he remained until a clock was called.
Sixty seconds later Pedro's cards were in the muck and Torres was raking in another pot to climb to 98,000.
Martin Gonzales is still very much in the running, dropping back a few chips to sit on a stack of 101,000, while Steve Cody has also had a small reversal of fortune, dropping back down to around 70,000 or so.
Henrik Tollefsen is super short with around 10,000 so will need to get something going soon. One of the field's other Scandinavian players, Roger Spets is chugging along nicely though and has run his stack up to over 70,000.
11:25pm: Registration closed, Wang in front
Level 10 – Blinds 600/1,200 (BB ante 1,200)
Registration is now closed for Day 1A of the Manila Megastack with the total number of entries coming in at 167. Of these 94 remain in contention with a further five 30-minute levels left to play out following this one.
Rather than curbing the rampant action, the end of the late entry/re-entry period has not slowed down the pace of play any, if anything it has ramped up to new heights.
One of the players who has managed to take advantage of all this carnage is China's Jiabin Wang, whom we caught railing the unfortunate Dongyoon Seo. The pair had got into in pre-flop with all the chips going in, Seo's 4♣4♠ up against Wang's A♣K♥ with the latter spiking the ace on the turn to win the race and send Seo packing, at least for Day 1A – he can always try his luck again tomorrow for Day 1B, which kicks off at 2pm local time on Saturday, December 15.
10:50pm: Breaktime
The 105 surviving Main Event players are off on another 10-minute break.
10:35pm: Cody climbs the counts
Level 9 – Blinds 500/1,000 BB ante 1,000)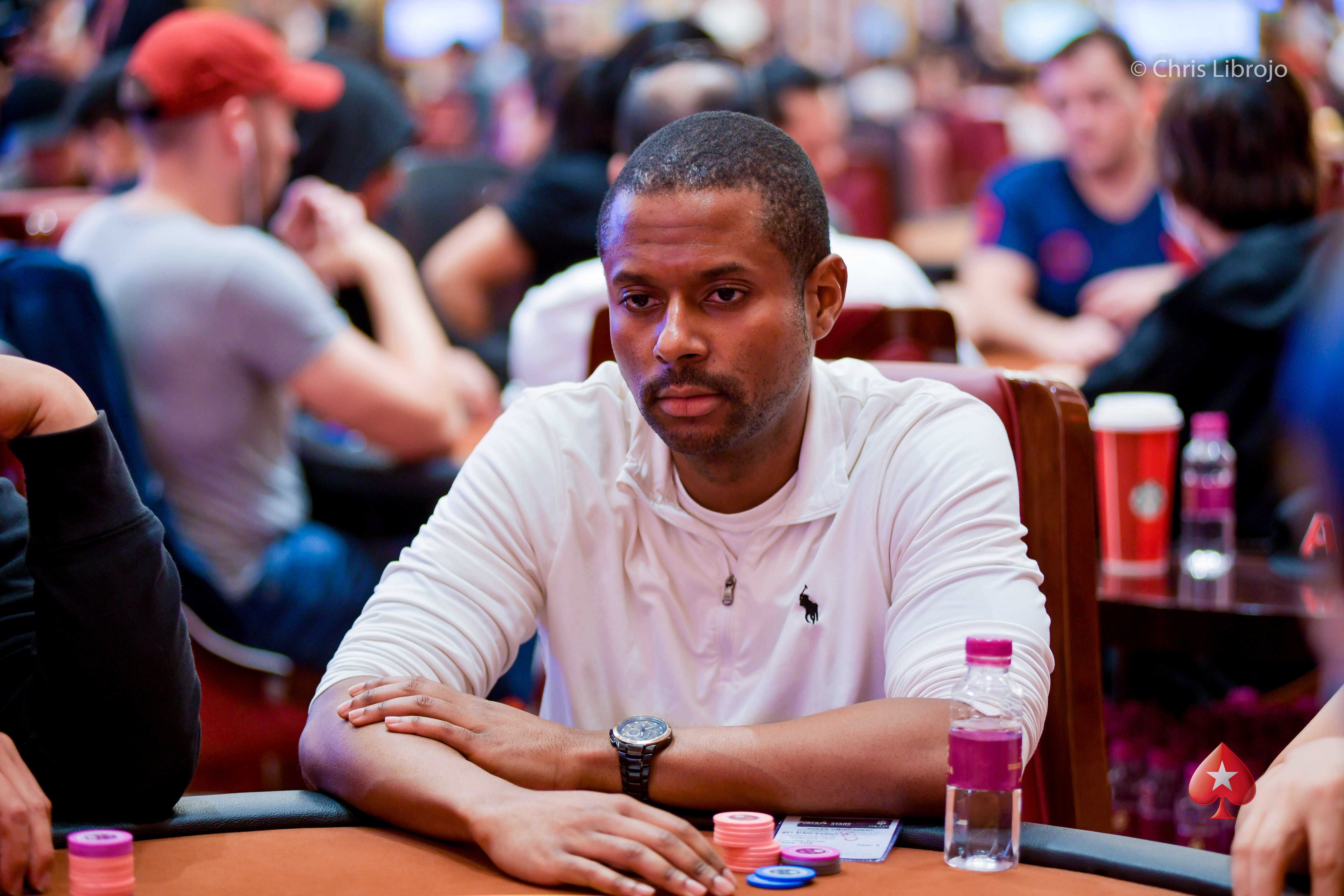 Steve Cody
With late registration closing after the end of this level, there have been a couple more late arrivals and the ante only format is making what is usually a fast-paced tournament move at almost break-neck speed. The number of total entries has risen to 162, with 105 of these still in action, though one of the latest entries is responsible for at least two of some of the bust outs.
Hong Kong ex-pats Rob Glasspool (UK) and Steve Cody (USA) have made their way over to Manila for Megastack 10 and both are now in action. Of the pair, it is Cody the man who has wasted no time rocketing up the counts, gunning down at least two players during his climb.
Not long after sitting down and the Virginia Beach native, who has over $30,000 in live tournament cashes, became involved in a sizable three-way all-in confrontation after a great deal of pre-flop action.
It all started with a raise from early position to 3,600 with a player in the lo-jack making the call before Cody juiced it up to 12,500 from the cutoff.
This sparked the fuse on an explosion of action, with the original raiser moving all-in for close to 50,000 with pocket queens, the player in the lo-jack made the call for his tournament life with pocket nines, and Cody snap called with pocket kings. There was no queen or nine and Cody took the lot.
Barely had the US player finished stacking his newly won chips and they were all in the middle once more with Cody raising from the button and calling the big blind's shove of ~20,000.
This time Cody had woken up with A♣A♥, which was ahead of his opponent's speculative 9♦8♦. The 6♣7♣6♥ flop was a sweaty one, but running clubs on the 3♣ turn and J♣ river saw Cody's hand hold and he's now up to 95,000.
Martin Gonzales has a stack in excess of 110,000, while Ricardo Torres has also been busy and has run his stack up to a little over 100,000.
Other notables with chips include the aforementioned Rob Glasspool (68,000), Japan's Maiko Kori (78,000), Sang Hwang (45,000) and Anthony Abram has climbed back up to starting stack.
10pm: Spetz in the hunt for second Megastack 10 title
Level 8 – Blinds 400/800 (BB ante 800)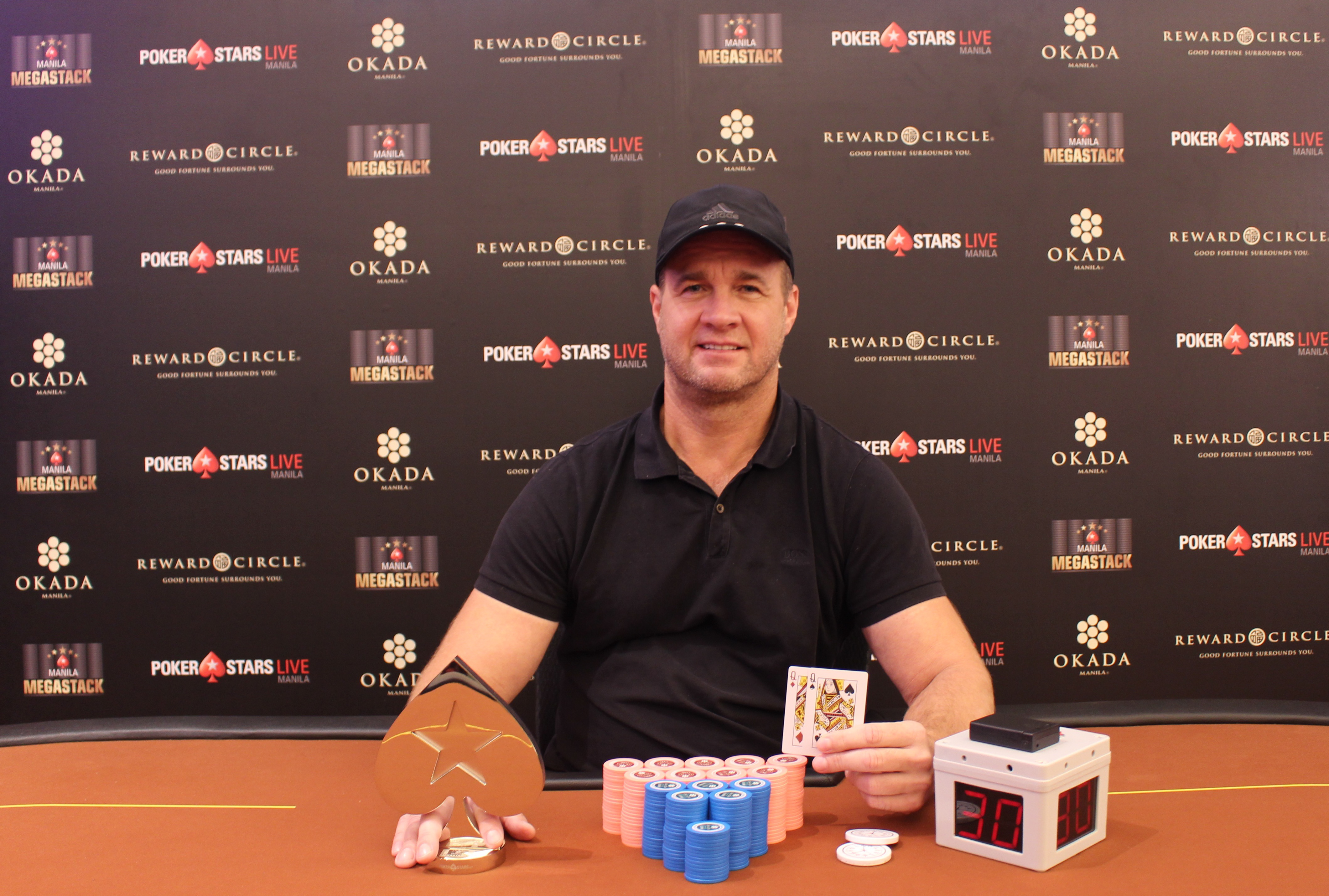 Event #17 ₱55,000 NLH Freezeout Champion Roger Spets
Sweden's Roger Spets is coming into Day 1A of the Main Event in some hot form, having just taken down the ₱55,000 two-day NLH Freezeout for a cool ₱1,046,000.
It did not take the Swede long to get into the thick of things and was all-in from the button for 15,000 when we caught him in action. There was already 28,000 in the pot and all the community cards were out, reading: 7♣5♦2♣10♦7♥.
Spets opponent, E.Marzan, was on his feet contemplating making the call, and there was a decent-sized rail crowded around to see how this sizable pot would play out. With 29,000 behind, it was a big decision for Marzan, and all but Spets would be disappointed when the Filipino player decided to give it up.
That pot puts Spets in a decent position, with a stack of 43,000 with which to make a second title run, while Marzan dropped down to 29,000 after the hand.
9:40pm: Kori straightens out Abram
Level 7 – Blinds 300/600 (BB ante 600)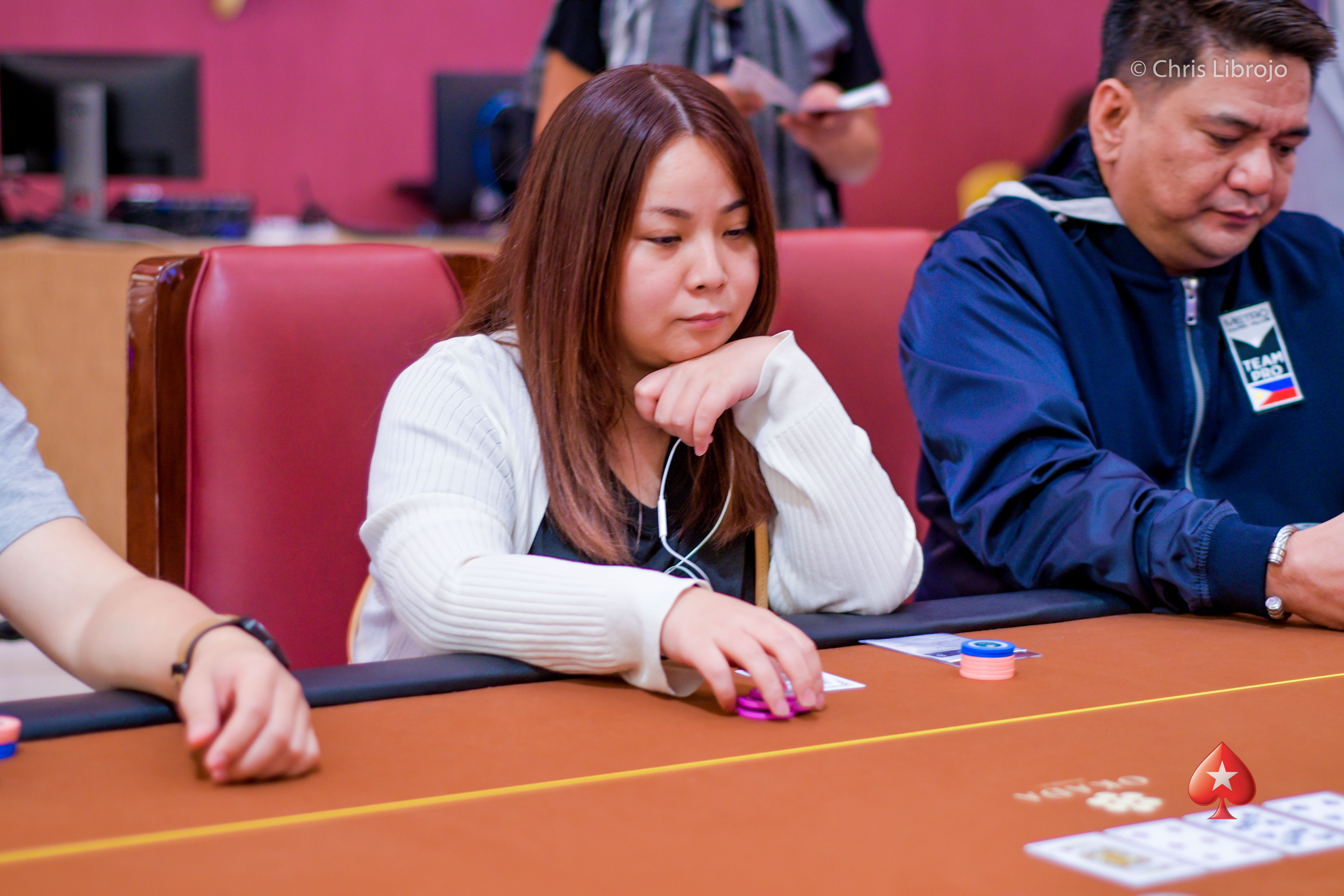 Maiko Kori
We caught the tail end of an interesting pot that played out between Australia's Anthony Abram and Japan's Maiko Kori that saw the latter win a decent pot.
We picked up the action on the turn with the community cards spread 5♠K♥10♣A♥ with around 8,500 in the pot. Kori (cutoff) had bet out close to half pot with Abram making the call from the small blind.
The 5♣ paired the board and Abram checked the action over to Kori, who thought long and hard before stacking up a multi-coloured pile of chips and sliding them into the centre of the table for a bet of 5,000.
The Aussie made a quick call, making us think this was his plan coming into the last street, but could only tap the table and muck when Kori rolled over Q♠J♠ for the turned nut straight.
That pot puts her up to 48,000 while Abram dropped to below starting stack on 20,700.
9:25pm: Campomanes and Tollefsen in
Level 7 – Blinds 300/600 (BB ante 600)
We caught Flo Campomanes in action for the first time, with the Filipino player all-in and at-risk from the big blind for 15,100 after a player in middle position had opened the action for what looked to be 2,000 or so.
Campomanes opponent ummed and ahhed over the decision, but eventually elected to play it safe and muck, leaving Campomanes free to scoop in the pot. Every little helps when you're short and that pot pushed Campomanes up to over 17,000.
Henrik Tollefsen
Another player in action is Norway's Henrik Tollefsen who is currently sitting at #12 on the Norway All Time Money List. Tollefsen runs well in Manila having previously won two High Roller titles; one back at 2015 APPT Manila for $56,931 and one more recently at Manila Megastack 9 back in May, which was good for another $28,110.
Tollefsen will be looking to add to his eight live tournament titles and over $1.1 million in live tournament winnings, but is sitting with a below average stack at the moment with around 25,000.
9pm: Gonzales scores double knockout to extend lead
Level 6 – Blinds 300/500 (BB ante 500)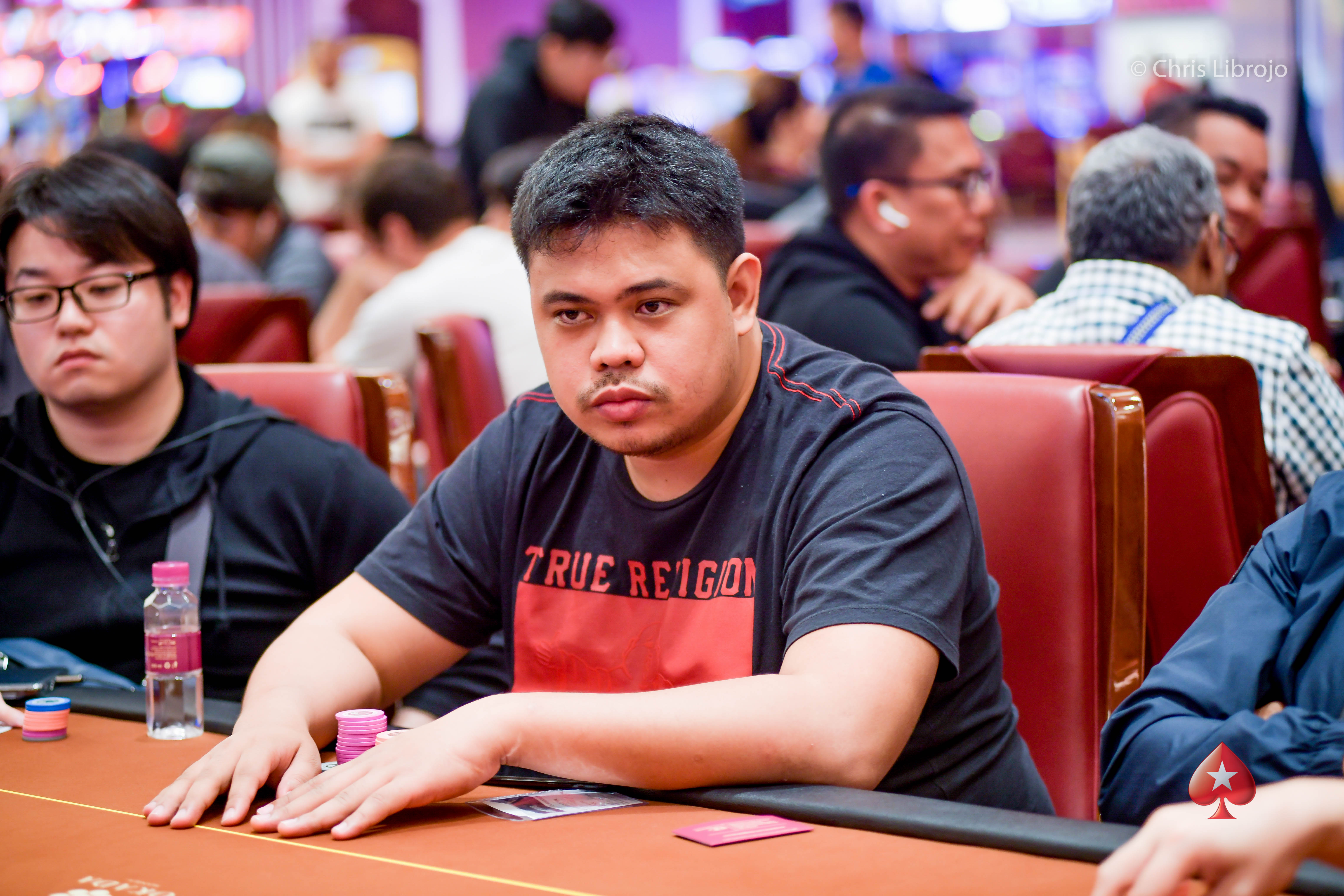 Martin Gonzales
If the following hand is an indication of how Martin Gonzales has been running so far, we can see how he has managed to chip up so effortlessly.
The first hand that we have managed to catch the Filipino player in action was a real doozy, unfortunately, Gonzales' opponents hit the rail so fast we were unable to get names, but the action played out as follows:
The player under-the-gun opened the betting with a raise to 3,000 and action folded around to the small blind, who decided he wanted to play for more and three-bet to 7,300.
Gonzales gave him the eye before deciding to slide in the call. This did not complete the betting though, with the original raiser choosing to go for broke and moving all-in for 20,300 in total. This brought quick calls from both other players and the hands were revealed.
Under-the-gun Player: A♥4♥
Martin Gonzales: J♣J♥
Small Blind Player: A♦K♦
Gonzales looked happy to see one of the decks three other aces in his opponent's hands as opposed to still in the deck, meaning his jacks had one less overcard to worry about.
The 6♣10♠4♠3♥3♦ was just what the doctor ordered. Gonzales scored two kills with one shot and stacked up to close to 100,000 making him chip leader by quite some margin, with the average stack coming in at 32,000.
8:35pm: SJ Kim in, Gonzales in early lead
Level 5 – Blinds 200/400 (BB ante 400)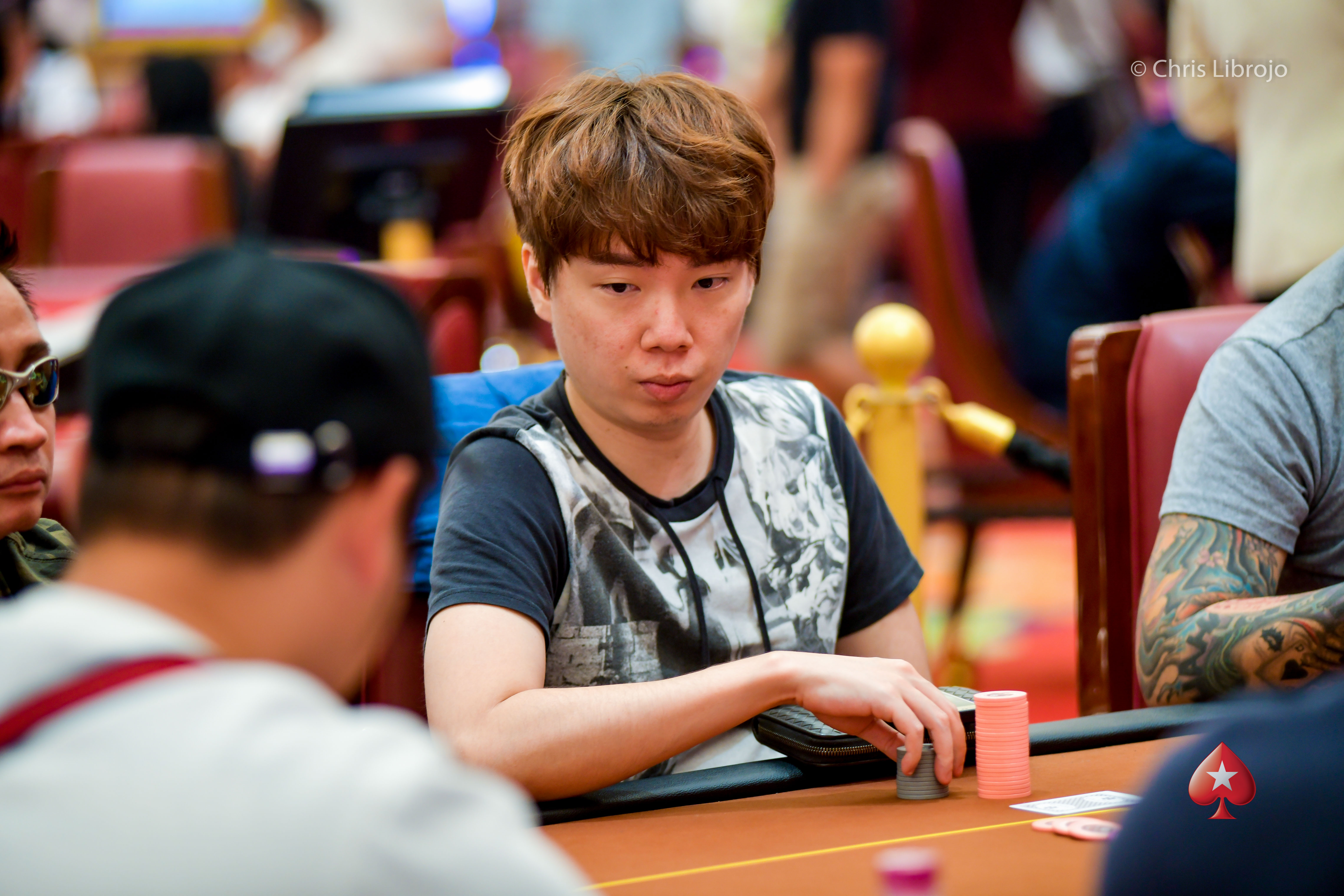 Soo Jo 'SJ' Kim
Players have wasted no time, getting right back into the thick of things straight after the break.
One man we missed on our pre-break prowl of the poker room is Korea's Soo Jo 'SJ' Kim, who with over $676,000 in live tournament winnings is currently ranked #5 on the Korea All Time Money List. Kim will be looking to pad out his impressive list of accolades and five PokerStars LIVE titles with another score here at Manila Megastack 10.
However, Kim's stack is currently moving in the wrong direction and shrunk a little further at the hands of E. Marzan after the pair tangled in a hand. It was not a particularly exciting one if we're honest, with Kim defending his big blind against a Marzan late position raise. There was no betting until the river with the 10♦3♦9♥A♦7♠ runout getting checked all the way before Marzan decided to fire for 2,000 on the end. Kim mucked quickly, dropping below starting stack to 27,500 while Marzan climbed to what looked to be close to 45,000.
The man sitting on the most presently is the Philippines Martin Gonzales, who we have yet to catch in action today. Be that as it may, Gonzales has run his starting stack up to the giddy heights of 60,000 and appears to be the man to catch.
8:10pm: Breaktime
The 115 Main Event players are off on their first 10-minute break of the day, stick around and we'll bring you more action when play resumes shortly.
7:50pm: Battle of the Hwangs
Level 4 – Blinds 200/300 (BB ante 300)
There are currently 109 players in contention out of 115 entrants, though the fast-paced nature of the format and the reckless abandon some players are showing in splashing the chips around means this figure is going to fluctuate wildly as play progresses.
One of the larger stacks emerging from all this carnage is Korea's Sang Hwang, who is sitting pretty on a stack of close to 50,000. Not bad at all considering the fact that the average stack is coming in at close to 32,000.
We caught Hwang in action against namesake Seokchul Hwang after the former and one other player limped in pre-flop. Sitting on the button, Sang Hwang juiced it up to 800 with both limpers tossing in the extras to take play three-way to a flop of Q♦10♣8♦.
After the first limper checked, Seokchul Hwang threw out a single blue chip without saying a word – meaning a bet of T10,000.
"Is that 10k?" queried Sang in disbelief, "why so much?" he pondered.
"I don't know, no English," replied Seokchul, giving nothing away.
Sang mulled it over before flashing [asqs] and pitching it into the muck to drop some, but is still on around 50,000 and appears to be one of the larger stacks at present. Seokchul Hwang now has 23,000 at his disposal.
7:30pm: Marquez and Casey Tangle Again
Level 4 – Blinds 200/300 (BB ante 300)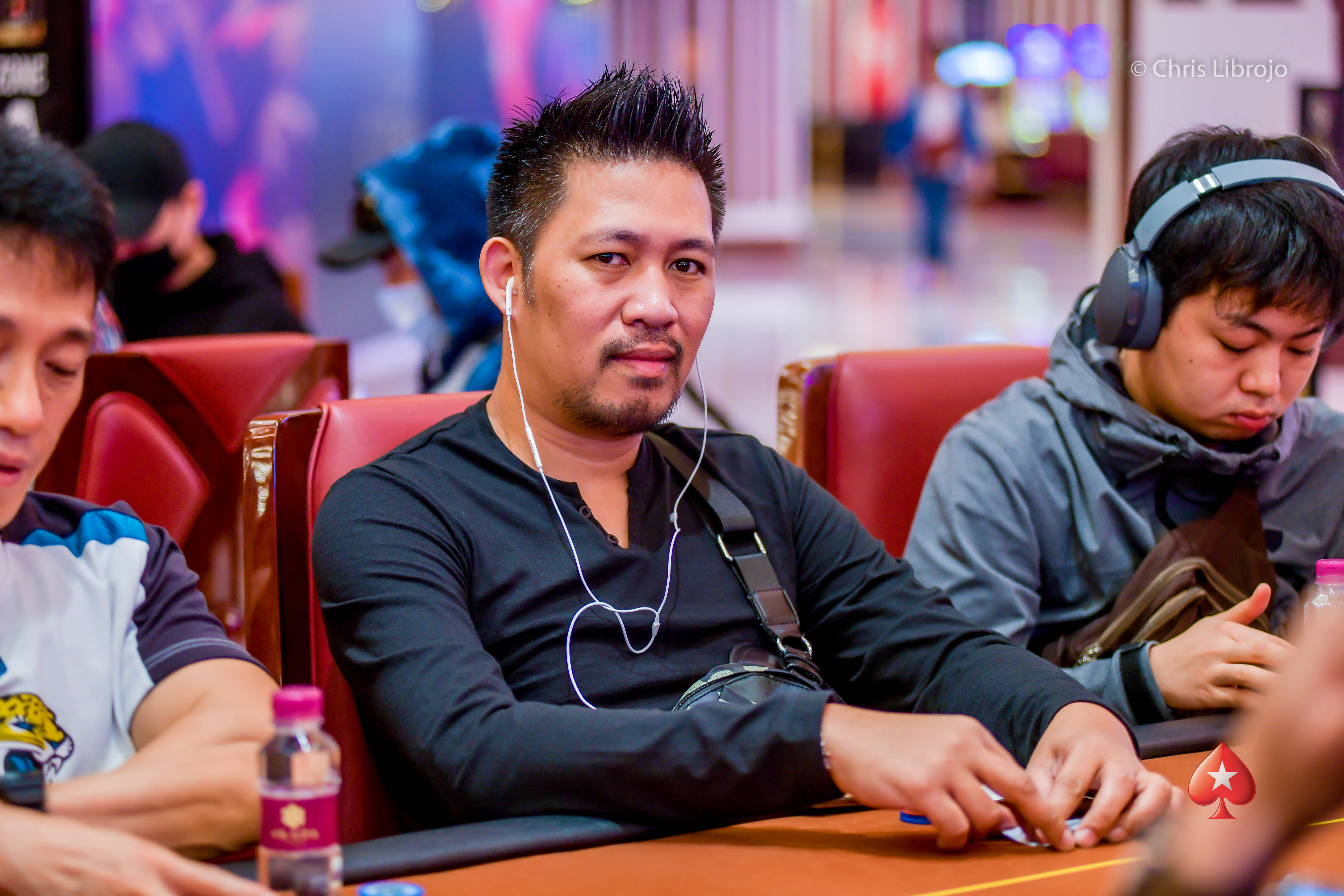 Richard 'Hot Sauce' Marquez
We caught Richard Marquez and Gerald Casey battling again in another pot that played out eerily similar to the last – reaching the river but with no showdown.
We missed the opening betting but picked up the action on the turn with the board reading J♣10♣7♥6♠ just as Marquez (under-the-gun) fired out a bet of 4,000 with Casey making a quick call.
This brought the pot up to close to 16,000 and the Q♠ landed on the river to complete the board.
Marquez reached for betting chips once more, splashing out a sizable bet of 6,800.
Casey shook his head sadly and threw his hand away leaving Marquez to drag in yet another pot – he's now up to 45,000 or so, while Casey has 31,000.
7:10pm: Field growing
Level 3 – Blinds 100/200 (BB ante 200)
The number of entries has increased to 101, though some early exits have seen the field decrease slightly to 98.
This event is utilising the Big Blind Ante format, meaning that the player in the big blind posts all of the antes in addition to the big blind, speeding up play somewhat – handy in aggressively structured formats like this one.
6:45pm: Level up and some familiar faces
Level 2 – Blinds 100/200 (BB ante 100)
The blinds have climbed (they'll be doing that a lot with 30-minute levels) and the field has grown to 85. One of the new arrivals is Peter Plater, and the last time we caught the Australian in action in Manila he was in the process of taking down the ₱215,000 High Roller Shot Clock at the 2017 PokerStars Festival Manila for ₱3.1M ($61,429).
While it is still far too early to tell how Mr Plater's fortunes will fair over the coming few days, the Perth native is once again in action and at the felt, though is still on his starting stack of 30,000.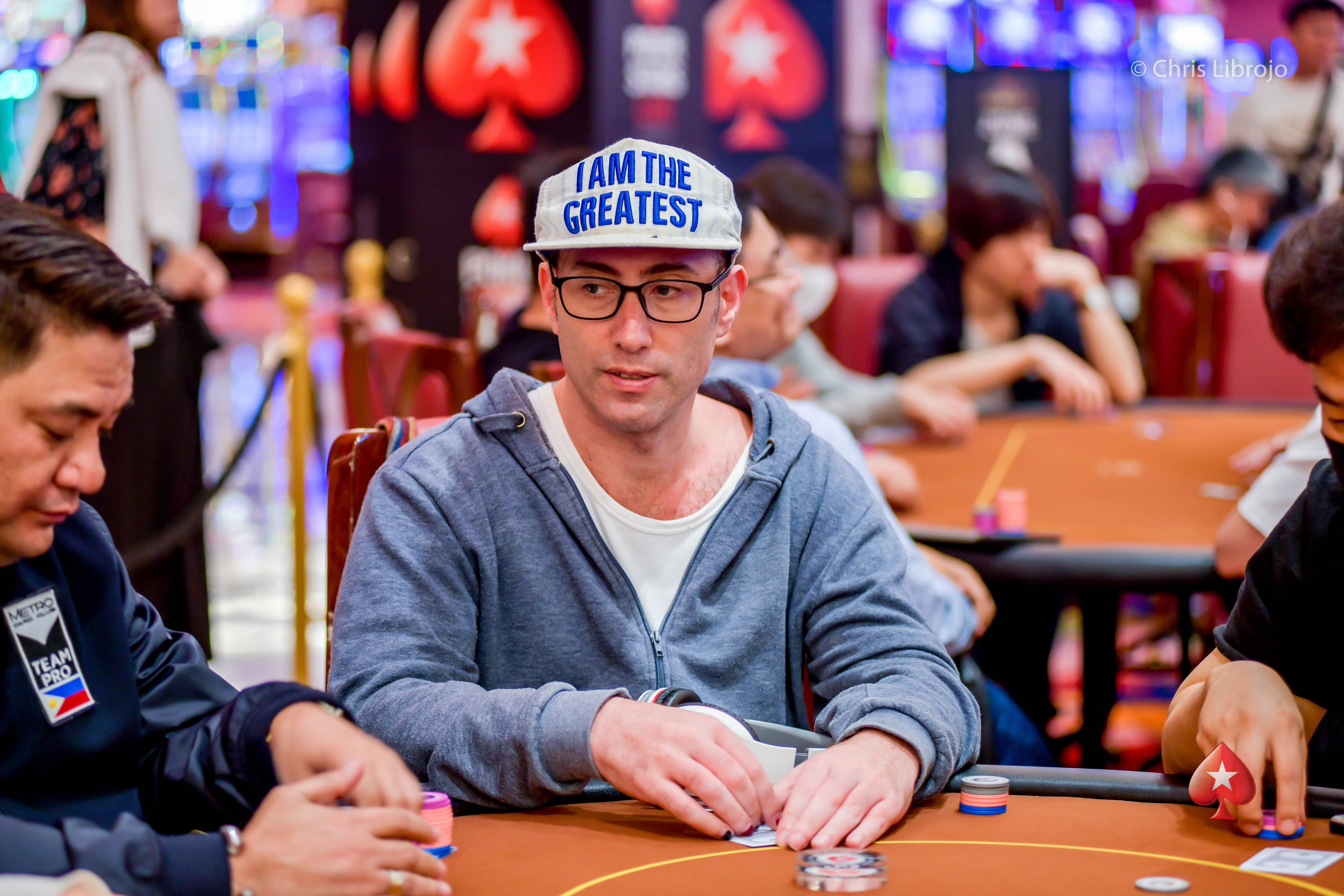 Anthony Abram
Anthony Abram is another Aussie in the running and also boasts decent poker results across the Asia Pacific region with cashes from Macau, Vietnam and the Philippines on his resume, including a PokerStars LIVE title in the ₱5,000 NLH Turbo back at Manila Megastack 9 for total live winnings of over $47,500.
Philippines native Ricardo Torres is another familiar face at the PokerStars LIVE Manila events, and is sitting over on table four along with Trifie Montebon, another regular with the pair boasting combined live tournament winnings of close to $100,000.
Both are sitting on close to starting stack, but then it's still early days and they have until around 2am local time to spin their stacks up and make Day 2.
6:15pm: Cards in the air
Level 1 – Blinds 100/100 (BB ante 100)
After a slightly delayed start, cards are in the air for the Manila Megastack 10 and so far 75 players are in action, but this figure is expected to grow as the late arrivals trickle in.
Notables in the field at present include Richard 'Hot Sauce' Marquez, who has already taken down a spicy pot against the USA's Gerald Casey. Marquez was already scooping in the chips as we wandered past just as Casey mucked, but there were quite a few in the pot with Marquez now sitting on close to 42,000 or so, while Casey has a little under 20,000 of his 30k start stack left.
With over $166,000 in live tournament winnings and a PokerStars LIVE title won back in December 2017's Manila Megastack 8, Marquez is a regular fixture at the PokerStars LIVE Manila card tables. While we have no idea why his nickname is 'Hot Sauce' we will endeavour to find out as the tournament progresses – watch this space.
5pm: Welcome to the Manila Megastack 10
Greetings poker aficionados, and welcome to the tenth instalment of the Manila Megastack Series, held for the first time at the luxurious Okada Manila, the new home of PokerStars LIVE Manila. Running from December 7-16 the Manila Megastack 10 boasts some big guarantees, with ₱17 million on offer over 26 scheduled events.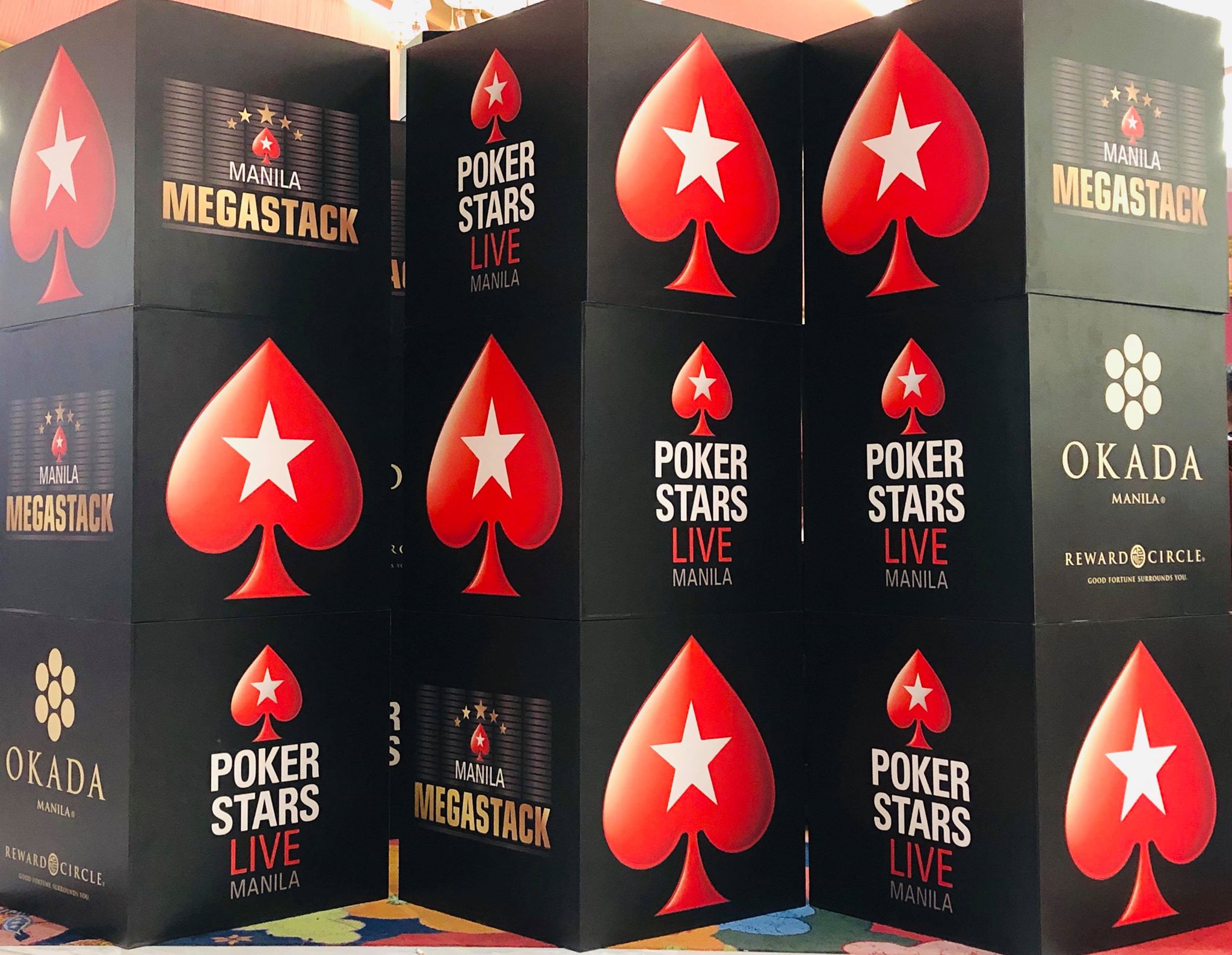 Manila Megastack 10 at the Okada, Manila
As of December 14, Manila Megastack 10 has already awarded ₱12,280,452 in prize money over 16 events, with a further 10 scheduled events left to play out before the end of the series.
The most important of these is of course, the ₱30,000 Main Event with its ₱10M guarantee, which will be starting at 6pm local time (GMT+8).
Last time out back in May it was Singapore's Ignatius Meng who won all the marbles, all ₱4 million of them after seeing off spirited challenges from the 696-strong field.
Whether that sizable number can be bested is anyone's guess, but it will be fun finding out and there is sure to be some great poker on display over the next three-days so sit back, relax, make sure your tray tables are safely stowed and buckle in for the poker rollercoaster ride.
Day 1a will play sixteen 30-minute levels (approximately 8 hours) with play scheduled to conclude around 2.30am. Players will begin play with a 30,000-chip starting stack and with unlimited re-entries allowed for the first nine levels of each starting flight, the sky really is the limit for those with deep enough pockets.
Stay tuned as the cards will be in the air shortly and we'll bring you all the tournament thrills and spills as they happen.
PokerStars Blog reporting team on the Manila Megastack 9: Ben Wilson. Photography by Chris Librojo.