On the face of it, it's just like any other any other Platinum Pass Adventure challenge.
A chance to win a Platinum Pass worth $30,000, and trip to the PokerStars Players Championship in January.
And it's there you could win that life changing money.
But what if that life changing money was for someone else? What if it was for anyone supported by a charity you cared deeply about?
Because that sentiment is at the heart of Daniel Negreanu's Platinum Pass Adventure.
And it's what makes Daniel's Platinum Pass Adventure unlike any other.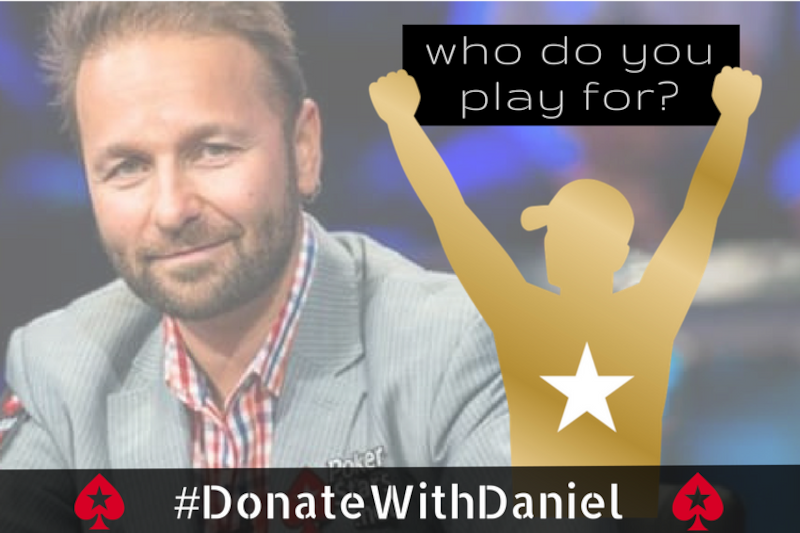 Got a cause you're prepared to play for? Daniel Negreanu wants to hear from you
This might not be a contest for everyone…
He wants you to commit to giving half of your winnings, whether that's a min cash or first place, to the charity you care most about.
As Daniel himself asks: Who do you play for?
Let's be clear, this isn't a contest for everyone.
You might be thinking that half is too much to give away, especially as you stand to win millions. And that's fine. We still hope to see you at Atlantis in the Bahamas.
But if you're one of those players who's already thinking what good that money could do, even as they read this, then Daniel Negreanu wants to hear from you.
But you need to act quickly. Because the closing date for entries is this Sunday.
Before we get to how to enter, check out this video from Daniel first. He has a few pointers.
Tell us about the charity that's important to you
To win this unique Platinum Pass Adventure, you need to create a video no longer than two minutes and 20 seconds (2:20).
Don't worry about production values or getting a good camera. The one on your phone is fine.
In your video, you need to introduce yourself, and the charity you want to play for at the PSPC. It could support anything you feel strongly about. Then tell us exactly why you support this great cause.
Once you've created your video, share it on Twitter using the hashtag #DonateWithDaniel.
You also need to email your video with some details about yourself to have your entry accepted.
This part is important, so check out Daniel's Platinum Pass Adventure page for all the details of how to enter and where to send it.
And remember to act fast. You only have until Sunday 30 September to get your video submitted.
Then what happens?
After submissions close this Sunday, Daniel will host a vlog a week later to announce his top five shortlist. He'll also explain why he picked them.
Then on October 13th, Daniel will release one final vlog announcing the winner of the Platinum Pass.
The charities chosen by each of the four other finalists will receive $1,000 each. But if you win, you'll be on your way to the Bahamas in January.
Once you're there you'll get some coaching from Daniel. Not to mention a lot of people back home cheering you on.
So, get started. Check out Daniel's PPA page for the details, get your camera, and answer that question: Who do you play for?