On the surface, they've little in common. But poker and busking could easily be part of the same breed – albeit those 'eccentric' cousins hovering by the food table at family events. We've played some poker in our time. And we've spent the past seven years busking around the world as a duo, both in name and nature.
By Ben Bruant and Will Cashel AKA duo
On this eventful journey, chronicled here, we've noticed many similarities – here's one for each year:
1. It's not about the money
Of course it is. If poker wasn't about money, the winning WSOP chips would be cashed in for jelly babies. It was a motivating factor for us too. As trained classical musicians (we met at music college), we realised we were destined for a life of penury unless we took the matter into our own hands. It was time to get out on the streets.
2. If you can't spot the sucker…
Google 'poker strategy' and you get a quarter of a billion results. Tactics are vital in busking too. It's a dog-eat-dog world – one that would drive even Dame Judi Dench to skulduggery. We've been fooled on many occasions, most recently at the Edinburgh Festival. Buskers meet every morning at an agreed time to bid for the best spots. When three fellow musicians passed on the message that it was a 10am start the next day, we (and a dozen others) took them at their word. Until we arrived and the organisers informed us we were half an hour late and all the prime locations were taken.
3. Daylight robbery
A bad beat is hard to stomach – the colour drains from your face at the injustice of life as your pile of chips disappears into another person's arms. We have a similar feeling when people nick our money. Literally. It happened again recently with a guy on a bike in Reading. During the middle of our version of Adele's Rolling in the Deep, he skidded up, scooped a pile of notes from our case and whizzed off down the street. By the time we'd unplugged ourselves from our guitars, he was gone. At which point, two crowd members immediately withdrew money from a cash machine and insisted we took it. Most people are lovely like that.
4. I'll follow the sun…
Poker is unpredictable and the same is true of busking – it's the enemy of routine. Which can be fun or maddening. You can make a fortune in five minutes and then never see another penny that day. So you have to learn to make quick judgement calls. One stormy morning in Mannheim, Germany, we decided to drive to Basel (raining), then Lyon (raining) and finally all the way to Marseille (sunny – except by then it had gone down). The next morning was a scorcher – a potentially perfect Insta moment. But it was the day after the Euro 2016 football riots so the place was deserted, apart from a healthy police presence. And they weren't feeling especially generous towards tourists.
5. Salt of the earth
Interesting characters. You see them at the poker table. We see them every day. Some think it's fine to talk in your ear at full volume throughout an entire set. Maybe it is. But it's quite hard when they demand full political discourse. We're also popular with drunken tramps. They're usually the first people to greet us when we arrive in a city at the crack of dawn to reserve our spot. They are always friendly and appreciate listening to our opening set – they don't get to hear much music elsewhere. But by lunchtime, they're often a lot worse for wear. Our music – flamenco-inspired versions of modern and classic tracks – is instrumental. We've never sought a lead vocalist – and, if we did, our ad probably wouldn't read: 'Wanted: inebriated, tuneless, aggressive vagrant. Must shout and sway wildly into crowds. Brown paper bag essential.'
6. You're trying to seduce me…
Despite the hard slog and occasional misery, there's an intoxicating quality to busking, just as there is to poker. First there's the crowd. There's nothing quite like stopping people in their tracks with a performance. Their warmth, generosity and good nature make everything worthwhile. We've had some enthusiastic well-known visitors too – including Sir Michael Caine, Ricky Gervais and Tom Hardy. Broadcaster Jon Snow has seen us twice – once in Edinburgh and another time in London when he deliberately cycled back to us across Trafalgar Square after hearing our music. (Note to Mr Snow's lawyers: he's never seen us play in Reading.)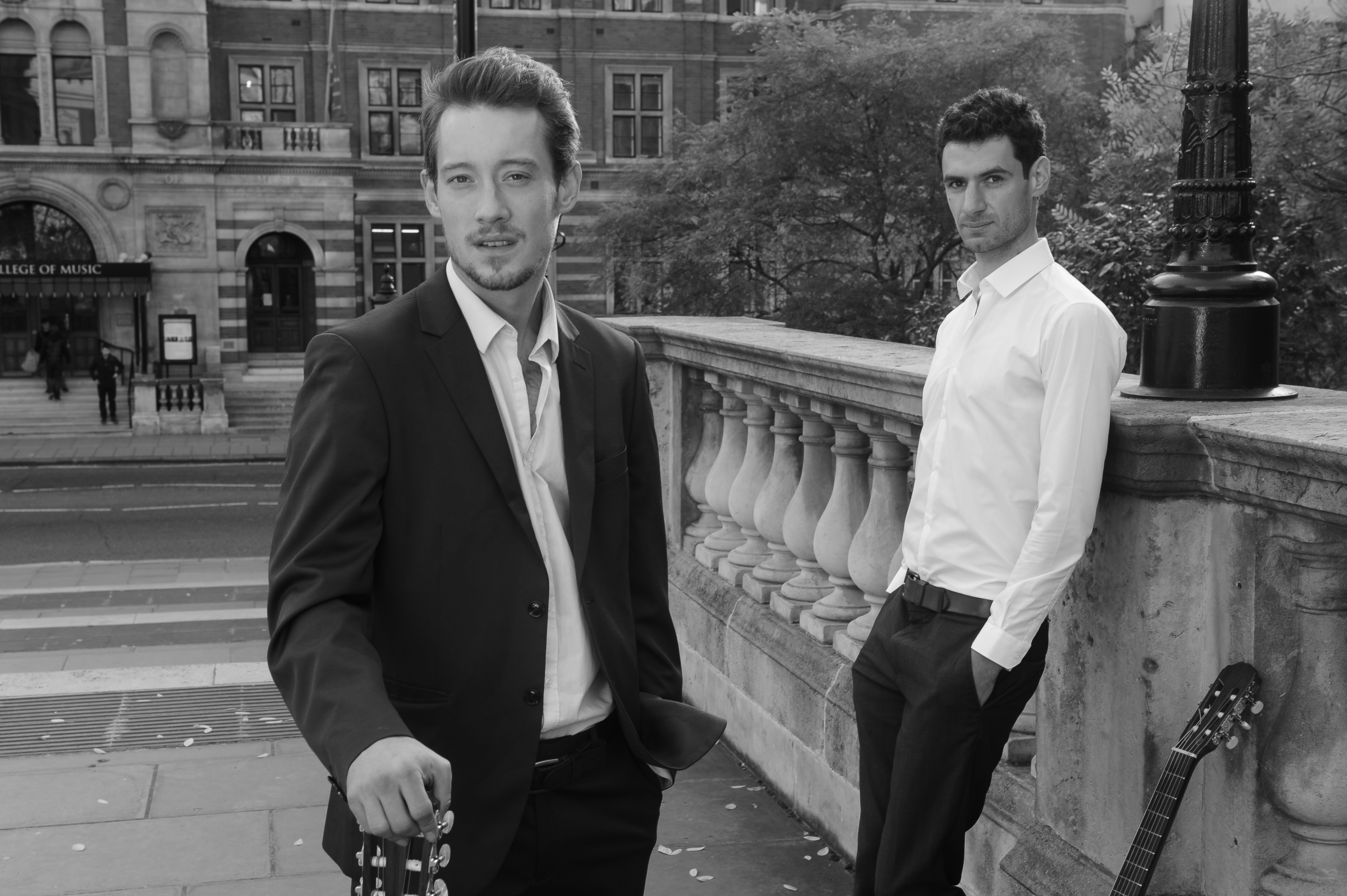 duo strike a pose
7. A pair of kings
We've also had a few of our own Royal flushes. Last year we were flown to St Tropez to play flamenco for the King of Spain. Given the fact one of us is English, the other French, His Royal Highness seemed to take it very well. Had he complained, we wouldn't have understood it anyway.
We also performed at a charity polo match and were told to be aware of famous players milling around. 'Not sure we'd recognise them, we're not really polo fans,' one of us said. 'Oh, you may have heard of No 9,' the organiser replied. 'He's called Prince William.'
Busking is full of surprises – but they don't come much bigger than that.