A look around the poker forums for the week's hot topics:
The highlight of last week on Reddit Poker was an "Ask Me Anything" with Jonathan Little — one of the game's most respected pros, and a prolific source of strategy books and videos.
As is customary for Little, he branched off from the simple text-based Q&A approach and made an original video in answer to one question, as well as providing countless links to other content in which he breaks down the precise situations described by his inquisitors. (He even gave his very specific advice on a single hand of $2-$5 hold'em uploaded to a hand replayer.)
---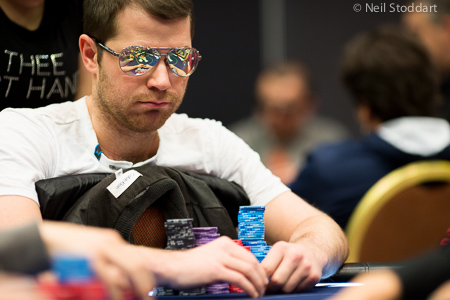 Jonathan Little: Ask him anything
---
One of Little's strengths as a poker coach is his keen sense that not all players have the same goals in mind, and that one of the first steps in attempting to improve is to identify what you want to achieve. "Your study routine should be very different if you actually want to be the best player in the world and are willing to devote your life to it compared to if you want to study 1 hours each week and lose less," Little says, for example, in reply to "Soebr"'s question about establishing a routine for self-study.
---
---
He is also very good at dispensing common sense without beating around the bush. "My general advice is to work hard to find a game you can beat for a large win rate that you can play a lot, and then play it a lot," Little says during a discussion emanating from a cash vs. tournaments question.
A lot of credit in this particular AMA has to go to some excellent question-setters, who manage to feed Little some terrific bait lines. "If someone told you they were better at cash than tournaments, what leaks would you expect them to have in their MTT game?" asked a poster names "Reetgeist", for example. Little sticks around to respond to follow up questions as well.
It's worth reading the whole thing through. Give yourself a couple of hours.
---
CHOPPING FOR THE TROPHY
The 2019 Aussie Millions came to an end last week in Melbourne, and New York's Bryn Kenney won the Main Event. Though there was nothing surprising about that — Kenney has 17 outright wins en route to $26.6 million worth of career cashes — the manner in which he sealed the title has started a debate on Two Plus Two.
---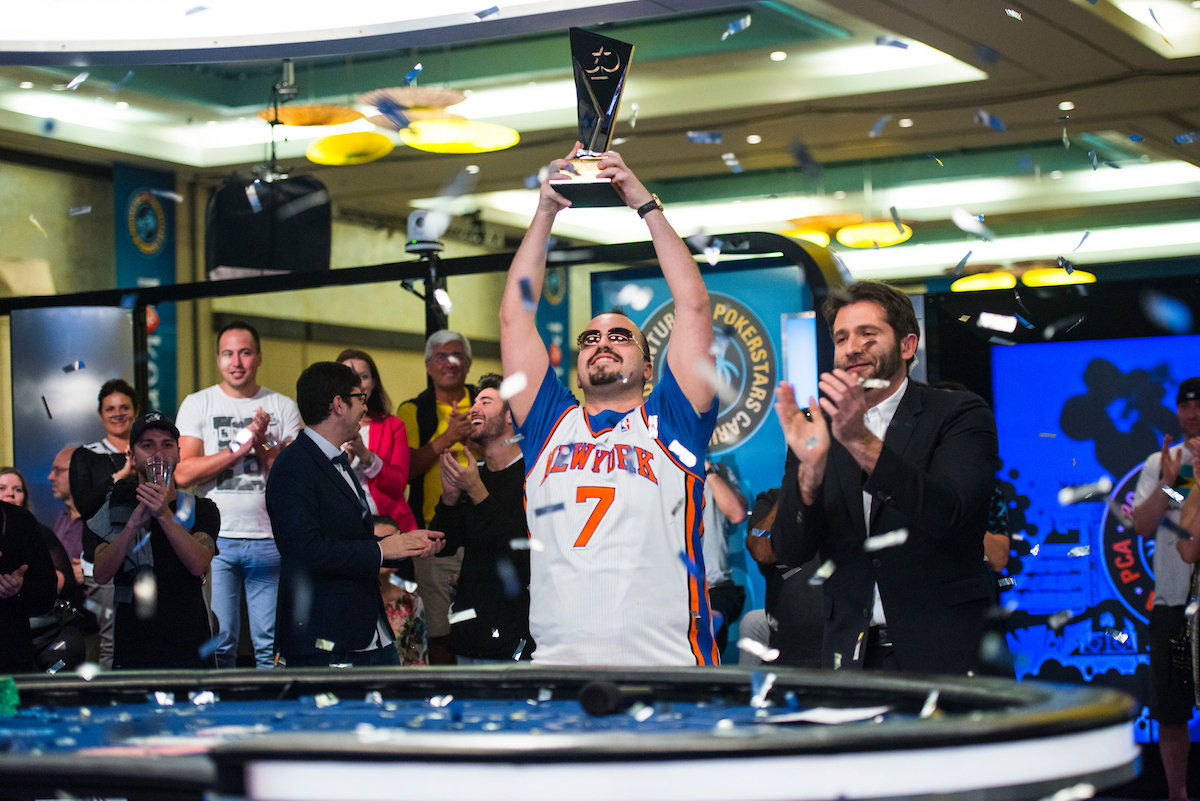 Nothing surprising about Bryn Kenney with a trophy, but…
---
Kenney took the trophy and the title when the last three players — Kenney, Mike Del Vecchio and Andrew Hinrichsen — agreed a deal to end the AUD $10,000 buy-in event. They stopped play immediately, rather than leaving a certain amount of money on the side to play for post-agreement. What's more, Kenney was only second in chips at the time the three players started talking about a chop, yet emerged with more from the negotiations. That secured him the title.
| POS | NAME | ORIGINAL PAYOUT | DEAL PAYOUT | CHIPS AT END |
| --- | --- | --- | --- | --- |
| 1 | Bryn Kenney | $1,850,000 | $1,272,598 | 8,890,000 |
| 2 | Mike Del Vecchio | $1,130,000 | $1,272,162 | 9,315,000 |
| 3 | Andrew Hinrichsen | $662,500 | $1,097,739 | 6,505,000 |
Cash amounts in Australian Dollars (AUD)
Blinds increasing to 100,000/200,000 at time of deal
Information from Poker News
Poster "SwoopAE" immediately declared Kenney's victory a "fake title" based on the fact that they did not play it out, adding "I have no idea why someone would want a title they didn't actually win." "FUrake" added: "Talk about hollow 'wins' lol, I could never claim I've won a tournament without actually doing so."
Kenney addressed the situation, both to Poker News reporters immediately after the event, and on Twitter. "I said that I wasn't interested in a deal unless I was going to win," Kenney said. "If we were going to play to win, then I'm happy to play to win. But if I'm going to make a deal then I feel like the tournament is sort of over. They were big pay jumps; I've played for this much before, but this must have been the biggest pay jump that they've both ever been involved in."
Del Vecchio hopped into the Two Plus Two thread himself, corroborating the details tweeted by Kenney and adding: "In the moment, staring nearly a million USD in the face, only having to give up a trophy sounded a lot better than grinding short handed until 4am, with huge ICM considerations because of an awkward pay out structure. I feel a bit bad only because of how anti-climactic it became, but at that moment ensuring a good payout that I was happy with was more important to me than putting on a show."
---
---
The situation again raised broader issues regarding live tournament chops, including questions of whether organisers should permit and facilitate them and whether a certain amount of money needs to be left on the side, along with the trophy. Chops are allowed at PokerStars events, but not permitted on the WPT or at the WSOP. However, most major tournaments at PokerStars live events, particularly those being streamed, demand a certain amount of the prize pool, plus the trophy, be excluded from deal making.
---
VELDHUIS vs. IVEY IN A TV CLASSIC
Redditer "EasyYard" posted an old clip from the sixth season of High Stakes Poker, which aired in 2010. Under the headline "Phil Ivey 6bets 52o vs Lex Veldhuis in High Stakes Poker" the hand in question shows Veldhuis finding what he describes as a decent spot to pick up some loose chips, only for Ivey to read the situation precisely as well, and muscle a chastened Veldhuis out of it.
Specifically, they're playing six-handed no-limit hold'em, with blinds at $400/$800. The line-up is:
UTG – Lex Veldhuis (STRADDLE $1,600)
UTG+1 – Dennis Phillips
CO – Barry Greenstein
Button – Phil Ivey
SB $400 – Andrew Robl
BB $800 – Daniel Negreanu
The action goes:
– Barry Greenstein raises to 5,500 in cutoff with Q♣T♦
– Ivey three-bets his button to 18,800 with 5♠2♦
– Both Robl and Negreanu fold the blinds
– Veldhuis has K♥J♥ and four-bets to 51,600
– Greenstein folds, and Ivey asks Veldhuis how much more he's playing. "One forty something," Veldhuis says. Ivey says, "I'm all-in." (He has Veldhuis covered by a lot.)
– Velduis folds, saying: "I thought you were just angry at Barry." "I am," Ivey says as he throws his cards away unseen.
– In the commentary booth, Gabe Kaplan says: "That is one of the great bluffs in the history of High Stakes Poker. What a move."
(As some early commenters point out, the headline is not quite accurate as Ivey's shove is a five-bet rather than a six-bet.)
Reddit analysis:
Typically old clips of Phil Ivey playing poker prompt an avalanche of awe from his many fans, and plays like this that make it easy to see why. But the board's subscribers break this one down with remarkable sobriety, led by a poster named "surviva316".
"Not nearly as crazy as the title makes it sound," surviva316 says. "6-handed game, UTG straddles, CO opens a standard hand, BU 3bs with air, super aggressive Euro straddler cold 4bs a decent hand, BU 5b shoves a little less than 4x. Doing it with 52o is obviously hilarious, but the circumstances make sense. The additional Ivey factor on live tells could easily push it into unsurprising territory if we had access to his thoughts."
---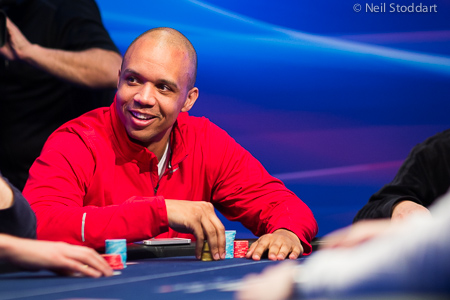 Classic Phil Ivey moment enthrals Redditers anew
---
Other posters pursue the theme of whether Veldhuis is "rolled" for the game, and whether Ivey was exploiting what might be considered scared money. Plenty of PokerStars Pros made their High Stakes Poker debut in this season of the show, and there's no secret that many of them will have been collecting some company money to wear the red spade on TV. This was likely far higher than both Veldhuis and Dennis Phillips had played before.
But after "surviva316" first brings it up, "polkapro" says "This would make it less likely he's putting in a cold 4b as a bluff though." In turn, Turbulent_Option says: "But more likely that he'd 4b/fold a hand like Lex has. An overrolled super aggro player might 4b bluff with KJxx, but then say fuck it and call getting >1.5/1."
There's plenty to sink your teeth into in the full discussion, which already has more than 100 comments. We'll talk to Velduis himself and get his opinion soon.
AND SOMETHING ELSE…