I want you to…no…I need you to stop whatever you're doing. I need you to close your eyes and hum like a monk until your mind is completely clear. I want you to enjoy that complete oneness with the universe, a cosmic blankness only possible in your mind.
Now…I want you to picture Spraggy in a bikini.
I'll give you a minute.
Okay, I'm sorry about that, but it felt like the only chance I had to save you from the shock that comes with seeing your man there all outfitted for an American beer commercial and smiling like it's the best he's felt since he had his thighs waxed.
I'm sorry about that, too.
Anyway, now that you're prepared, have a look below as Fintan and Spraggy pick the first contestant in their "As Random as it Gets" Platinum Pass giveaway contest. Monday's assignment was to photoshop a family photo of Fintan, Spraggy, and yourself at the PSPC.
Yep. That's how it turned out. People just peppering those boys with photoshops, and they chose the one of Spraggy ready for a Myrtle Beach spring break.
It's fitting in so many ways, I don't even need to overanalyze it. I spend a great deal of my time trying to come up with unfortunate positions to 'shop Spraggy into, and I hadn't hit Bikini Land yet. But here we are. I'm embracing it.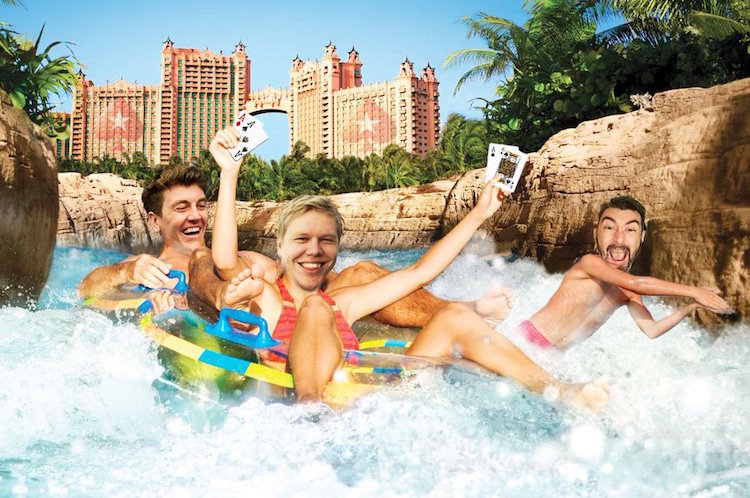 In any case, since you and I missed out on that chance, I want to make sure you're ready take another shot. Fintan and Spraggy are among the PokerStars ambassadors participating in the Platinum Pass Adventure. Andre Akkari and Felix Schnieders are running contests right now, too.
For now, though…I need you to clear your mind again. Get rid of the bikini thing.
Now, go visit Fintan and Spraggy's contest page.
---
Fintan and Spraggy's eventual winner will be one of more than 300 Platinum Pass winners who will be going to the PokerStars Players No-Limit Hold'em Championship. Want to see more? Meet them all on in our PSPC Platinum Pass Winners index.