Warning: These Twitch clips contain explicit language!
You know those "inspirational" quotes that you see people sharing on Facebook? Stuff like "If you believe, you can achieve", or "All our dreams can come true, if we have the courage to pursue them".
Yeah. Annoying aren't they?
But what's not annoying is when someone simply makes a prediction about their future success, and then works hard to make it happen. No Facebook sharing required.
Before he settled in for what would turn out to be a 12+-hour stream, Fintan "easywithaces" Hand let his friends know his intentions for the day:
Almost 11 hours of poker later, that prediction came true.
Hand took down the prestigious $530 Bounty Builder last night for $13,804 plus $14,089 in bounties. The combined $27,893 adds up to his largest ever career score, live or online.
Here's a look at how he did it.
---
With 60 of the 290 entries remaining, things started looking up when Hand shot from middle of the pack up to 12th place.
"Are we just gonna win the $530?"
When they reached the final three tables, Hand played a big pot. So big, in fact, that we had to split it over two videos. When the dust had settled though, Hand found himself in third place and with more than $1,000 in bounties locked up.
"Get the Fintan finger wags out for the lads!"
---
---
The final table saw Hand's stack bounce up and down, but after this elimination he settled near the top of the counts.
"$800 bounty, let's f**king go!"
And if you thought an $800 bounty was nice, wait until you see what Hand collected for eliminating the third-place finisher.
"What a f**king pot!"
With just one player left to get through, Hand held the chip lead. But with such a huge difference between first and second (roughly $15K), it wasn't going to be easy.
His opponent, "w1n@w4r", put up a good fight and took a 2:1 chip lead. But Hand was in the zone and made this great all-in call to double and take a dominating chip advantage.
"Get in! Let's go!"
After some back and forth, Hand finally managed to close it out to win his largest ever career score.
"What a f**king grind!"
"Oh my days, we won the $530 Bounty Builder and we only started playing this tournament a couple of months ago," Hand says in celebration. "Feels so f**king good."
We apologise for the bad language throughout this post, but when the person has just won close to $28K, we actually find it rather inspirational.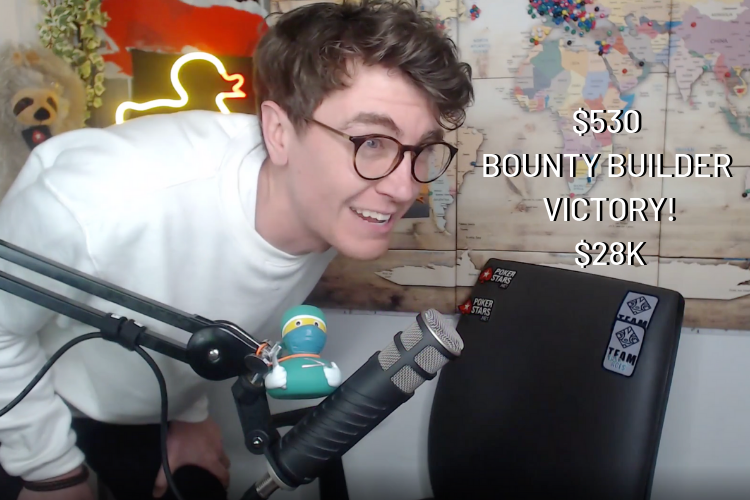 Congratulations on your biggest career score, Fintan
---
Opening a PokerStars account is easy. Click here to get an account in minutes.
---