You already knew the European Poker Tour (EPT) was coming back.
You already knew that it had spent a year under cover masquerading as the PokerStars Championship.
And you already know we missed it just as much as you the players did.
But on the eve of the first EPT Main Event of the season there are a few things you don't know Things that make the EPT poker tour about quality. And not just in the case of the players.
Did you know that a PokerStars tournament chip is practically indestructible?
They're made using a high-quality plastic injection process that not only makes it last longer, it provides the sound track to every live PokerStars tournament you've ever been to.
They're made by Gaming Partners International, who has been making poker chips for more than 40 years. Specifically, they're Bud Jones American-style chips. Designed just how we want them, in colours just how we want them, to feel how we want them.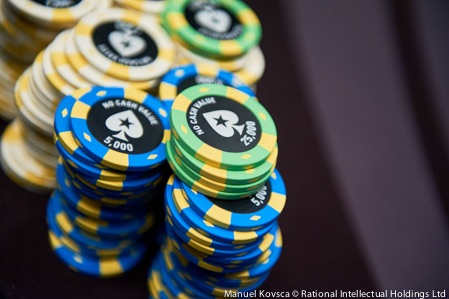 PokerStars chips are specially designed to be indestructable
We're a little obsessed with chip security
Poker chips are never left unguarded. That goes for whether they're used in a tournament, or kept locked up in storage.
During an event, only the chip controller has access to the room where they are stored, a room that is under CCTV surveillance.
They're counted into that room, and counted out of it. Three people verify the process along the way.
Did you know that the tables we use all come from the same place?
Bassano in Italy to be exact. They're made by TablesWin, a company that specialises in the type of fully customised tables we like to use – good to sit at, good to look at, and good to play on. They even have certificates to prove it.
You might be thinking: what difference does all that make?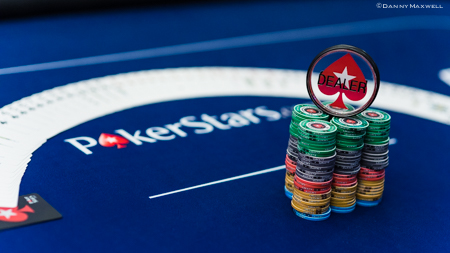 Each poker table is made to a specific design
Actually a big one. When a player moves from one table to another we want the same quality experience. Whether moving to another seat, or taking a seat around the final tale. And yes, that also includes a drinks holder.
It takes four articulated lorries to get the EPT on the road
Most of the equipment used for live events is stored in Kent, in southeast England. A team of drivers transport it from one event to another. The chips alone take up half a lorry.
For Sochi though they get the week off. We keep everything we need on site.
Want to take a guess at how many all-in triangles are taken to an EPT event?
It's 300. Theoretically at least, we can cater to most of the Day 1A field moving all in at the same time.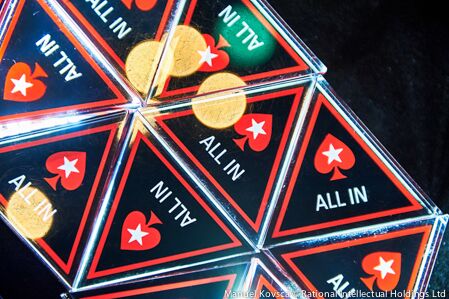 We take 300 all-in triangles to EPT events, which permits an almighty shove fest
Did you know every single card we use at an EPT is destroyed after the event?
The cards are made by Copag, one of the sponsors of the Tour. Based in Brazil, they've been making cards since 1908. So they know a thing or two.
The cards are designed specifically to have good "memory". That means you can bend them, or squeeze them quite hard without ruining them.
They're made of 100 per cent plastic PVC, which not only makes them good to play with, but good to deal too. Good "slip" as they call it. That keeps the dealers happy too.
The last touch is added by our design team. They work closely with our security manager to make them as impossible to mark as we can make them.
Not that we take any chances
We go through eight boxes of cards per tournament.
There are 144 decks in each of those boxes, which adds up to 1,152 decks in total. Or 59,904 cards.
Every single one of them is destroyed after the event.
The trophies are designed to be heavy
A trophy should be big. It should be striking in its appearance. And to the smiling person lifting it up.
No plastic acrylics or glass. If you drop an EPT trophy on the floor, the floor comes off worse, not the trophy.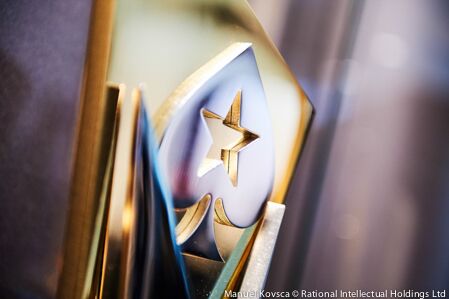 The trophies are designed to be heavy, abstract, and iconic
That was something like the brief designer Symeon Cosburn got to work with back in 2009.
With a blank sheet, after multiple variations on trophies, Cosburn started playing around with shapes for a while until he found something that worked.
Then he put a cherry on top. Well, a spade, and the result was the iconic shard design.
The only difference is between events, with variations of gold, silver and rushed metal.
It's simple, instantly recognisable, and a little abstract. It's still as iconic today as it ever was.
Which could also be said about the EPT itself. It starts tomorrow with live updates form EPT Sochi. Play starts at 12 noon (9am UK, 4am for the early risers on the East Coast) ith Day 1A of the Main Event.