Adventure, big prize money, and more await those playing the mega-satellite…
There are obvious reasons why you should try winning your way to EPT Sochi this weekend.
Then there are the less obvious ones.
---
Sorting one from the other is up to you if you're playing the 25-seat guaranteed satellite on Sunday. But when put together they're what make EPT Sochi unlike any other stop on the European Poker Tour.
Let's start with the obvious ones.
Like the RUB150,000,000 guaranteed prize pool (that's roughly $3 million). Then there's the field of mostly local players counting on some home field advantage.
Who else will prove them wrong?
Outside you'll find beaches, an exclusive resort town, bars (including an Irish one), great restaurants, to say nothing of the five-star Sochi Casino that hosts it all.
Mingle among the beautiful people
Then there are those things you don't get at a typical poker tournament.
Like being able to ski or snowboard down Winter Olympic slopes, or just see what the world looks like from the top of a mountain.
---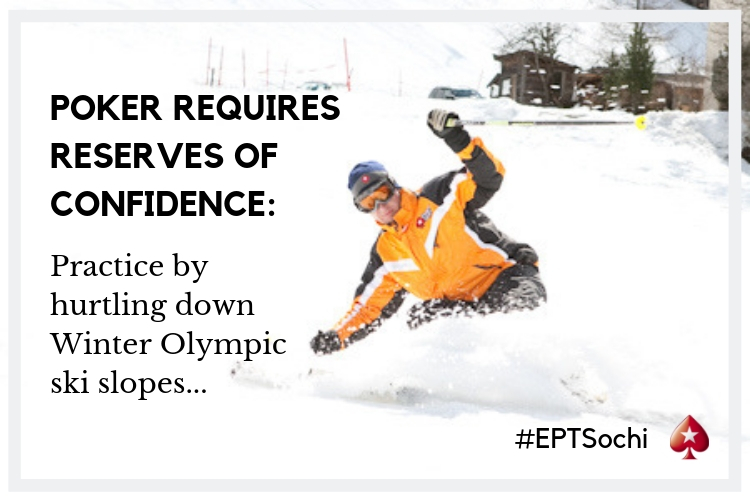 Join the beautiful people in Russia's winter playground. We'll help kit you out so you look the part….
---
We'll even help you get kitted out so you look just like the other beautiful people who use Sochi as their winter playground.
How to say Ship it! in Russian
Then there are the lesser known benefits.
For instance, your personality might undergo something of a transformation.
Unable to speak any Russian, and resorting to total silence, you'll enjoy a new reputation for being mysterious and enigmatic.
---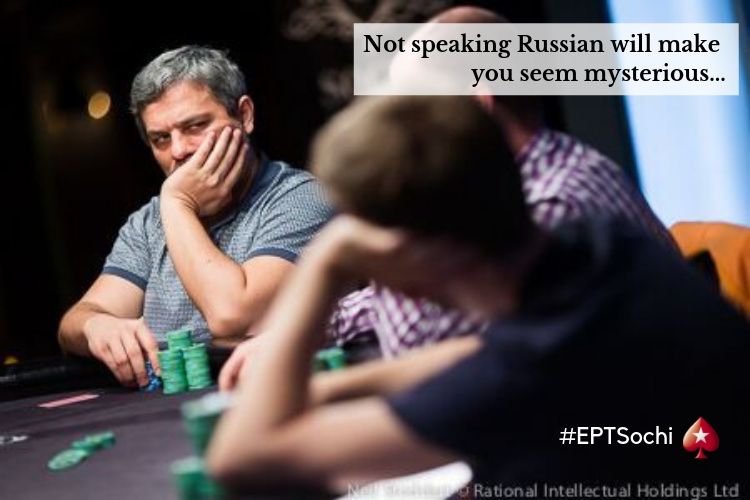 Take advantage of not speaking Russian by seeming mysterious. Pretend not to hear them when the speak to you in English…
---
If you're eager to try out this new-found confidence, we suggest exclaiming Odin raz! when you bust a player. Or Otpravim yego!*, if you feel like pushing your luck.
And why not use that to boost your social media and/or dating profile.
---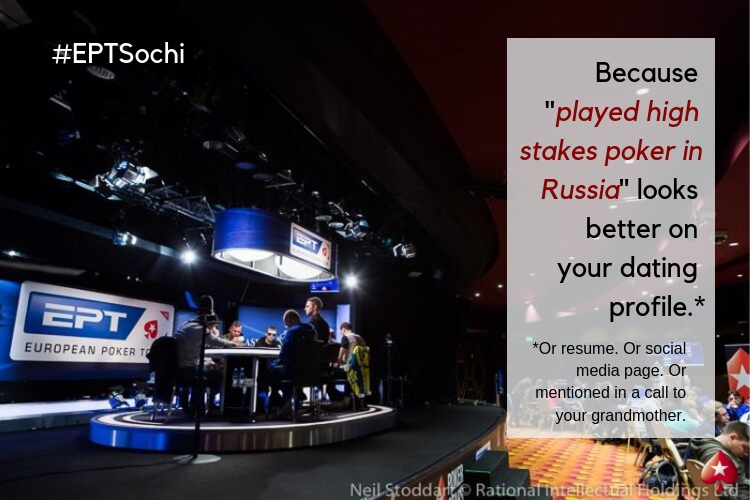 There are lots of reasons to win your way to EPT Sochi, including a few you might not have thought of…
---
Because let's face it. A reputation for playing the odd local tournament back home is one thing. But learning how to say, "ship it" against high stakes Russian players on the banks of the Black Sea… well you should write that in capital letters.
Win one of 25 seats this Sunday
So, if you put aside the geography (think Air Miles), the paperwork (we'll help with a quick and easy visa service), and the language barrier (see above), what's left is a trip full of opportunity.
Which makes the 25-seat guaranteed satellite, the biggest of its kind, unmissable.
It starts on Sunday at 13:05 ET/ 18:05 GMT, (the Trans-Atlantic sweet spot) on PokerStars.
For $215 you can buy-in directly, or satellite into that for as little as $11. Finish in the top 25 and you'll win a seat worth RUB191,800 (about $2,940).
Not a bad price, or destination, for poker players looking for value.
You can register now.
Otpravim yego! As you might say.
---
Find more details on the PokerStars LIVE homepage linked to on this page.
That's where you'll find information about the visa process, travel tips, as well as notes on accommodation and the tournament schedule.
*Roughly translated this means "Ship it!" Use with caution.