Day 2 of the PokerStars and Monte-Carlo©Casino EPT Main Event began with a full room of players hoping to win a Platinum Pass. It ended with decidedly fewer players bagging up chips with renewed hopes to earn a Platinum Pass — and, of course, a European Poker Tour Main Event title.
To give the end-of-day chip leader his due here at the start, it was David Peters. He'll return tomorrow to the biggest stack of 603,500 among the 120 players still in the hunt.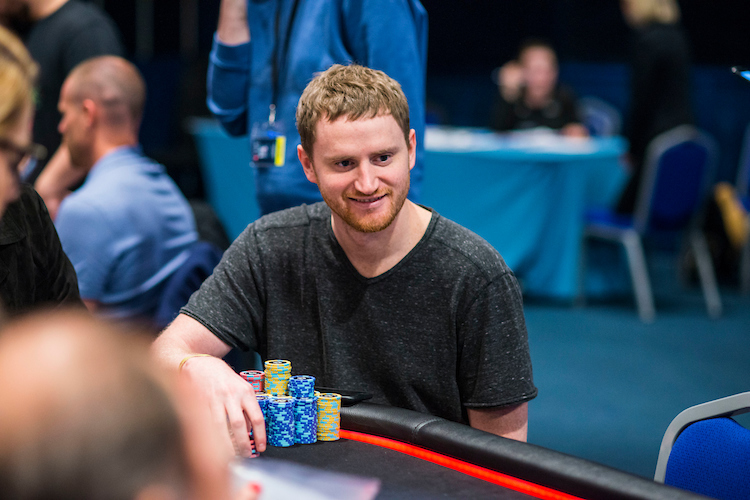 David Peters in a familiar spot — chip leader
The atmosphere to start Day 2 was positively giddy thanks to the rapid-fire, three-round "flipout" tournament in which everyone was able to participate. Paul Tedeschi managed to be the lucky one on his table each time to win the $30K Platinum Pass package and entry into the PokerStars Players No-Limit Hold'em Championship at the 2019 PCA.
Read here about Tedeschi's lucky start to the day.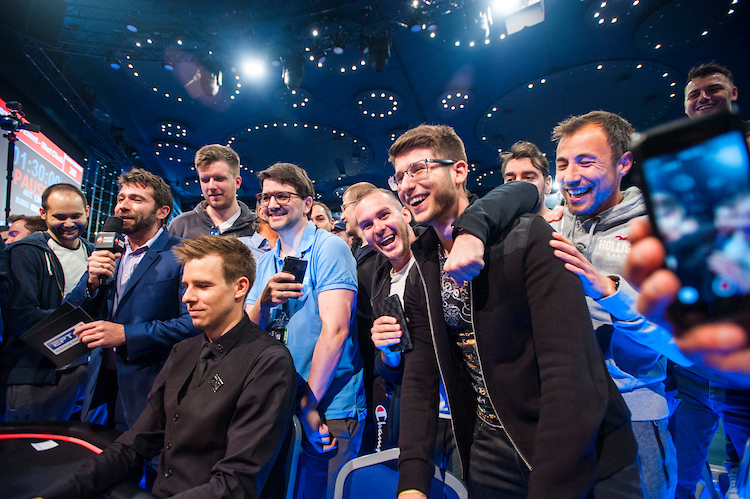 Paul Tedeschi: Latest Platinum Pass winner
After that, it was back to the tournament. There were 286 returners plus a handful of late reggers just before play began, bringing the overall total to 777 entries. That means a €3,768,450 prize pool, 111 places paid, and a €712,000 first prize.
The pace was rapid from the get-go, with the field swiftly whittling down under 200 players within the first level-and-a-half, then being trimmed all of the way down to just 125 by the end of three levels.
Among the beneficiaries of all those lost stacks were those who took turns sitting at the top of the counts today. First it was start-of-day leader Mark Demirdjian of Canada, then Javier Fernandez of Spain, then Ouassani Mansouri of Iran out in front. Then it was the American Nick Petrangelo steadily chipping up and up to take over the top of the counts briefly before his fellow countryman Peters enjoyed an end-of-day surge to grab the headline.
That stack of Peters is well clear of nearest challenger Maxim Panyak (494,500). Nicolas Dumont (483,000), Said Butba (475,000), Petrangelo (460,000), Mansouri (452,000), Dan Abouaf (440,500), Ali Reza Fatehi (435,500), and Demirdjian (395,500) will all also be among the most-chipped players to begin on Tuesday.
Antoine Saout, Ole Schemion, Gaelle Baumann, Erik Seidel, and Ryan Riess are also coming back tomorrow, as is Team PokerStars Pro Andre Akkari and Team Online's Randy Lew. (Full end of Day 2 chip counts and a Day 3 seat draw will be arriving here shortly.)
We should note Peters already has himself a Platinum Pass — won at the PCA earlier this year — and so that isn't such a motivation for him going forward. But the trophy and first prize is more than enough to encourage everyone coming back for Day 3. After coming close to a title at the EPT Prague Main Event at the end of 2016 where he finished third, Peters no doubt will be extra desirous to claim the top prize here.
They'll all reconvene in the Salle des Etoiles tomorrow at 12 noon with only nine eliminations to go until they reach the cash. We'll be back here then as well to find out who gets in the money, then which players position themselves most favorably to go for that other Platinum Pass and the EPT Monte Carlo Main Event trophy.
Until then, bonsoir! –MH
Main Event Day 2 Coverage Archive
• PLAYERS: 120 (777 entries inc 201 re-entries)
• CHIP COUNTS | SEAT DRAW | LIVE STREAM | PAYOUTS
• ALL EPT INFO | TOURNAMENT SCHEDULE
• DOWNLOAD POKERSTARS | Follow @PokerStarsBlog
---
6:20pm: Lampropulous and Lascar fall to end it
Level 14 – Blinds 1,500/3,000 (BB ante 3,000)
That's a wrap on Day 2, after two eliminations brought the field down to 120.
David Lascar was one of the casualties. We missed the action, but he was all in on the Q♠9♣5♦10♣K♣ board with A♦10♥ versus Jason Wheeler's K♥Q♦, and after a long two-time-bank river tank, Wheeler called to bust him.
Meanwhile, 2018 PCA Main Event champ Maria Lampropulous was playing her final hand versus Antoine Saout. She had opened to 7,500 and Saout defended his big blind with the Q♥7♣ to see a 10♣3♠7♠ flop. Saout opted to lead out for 8,000 which Lampropulous called, bringing the Q♣ on the turn.
Saout continued for 16,000 having hit two pair, only for Lampropulous to jam for 40,000. He would call, and Lampropulous was drawing only to jack with her A♠K♣. The river came the 10♦, and that marked her exit and brought the day to an end. Saout was up to around 350,000 after that one.
Full recap of a quick, exciting day of poker coming shortly. –JS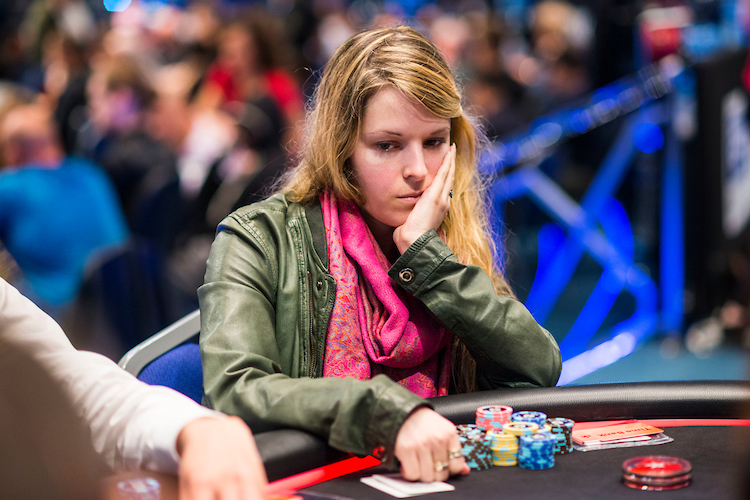 Maria Lampropulos out at the finish
6:15pm: No Panyak from Maxim
Level 14 – Blinds 1,500/3,000 (BB ante 3,000)
Maxim Panyak has move close to 500,000 (hardly to tell exactly due to his stacking style) after he refused to fold his pocket deuces to three barrels. Fair play, he was dead right.
Andre Haneberg opened to 6,500 from under the gun and was called by Panyak in the cutoff and Andre Akkari in the big blind. There board rolled out 4♣J♣J♠9♦3♠ with Haneberg emptying the clip with bets of 6,000, 14,000 and 32,500 on each street. Team PokerStars Pro Akkari folded on the flop but Panyak called all way with 2♥2♠. Haneberg dropped to 307,000 after he had to open K♠Q♣. –MC
6:10pm: Peters takes one out, grabs the lead
Level 14 – Blinds 1,500/3,000 (BB ante 3,000)
David Peters and Lucas Reeves butted heads a few times and only Peters made it out.
Peters raised to 11,000 from the cutoff the first time and Reeves three-bet to 35,000 from the button. The blinds got out of the way and a 5♥J♦A♠ flop hit the board. Peters check-called a bet of 25,000 and a 3♠ came on the turn. Both players checked that card and the 8♣ completed the board. Peters bet 80,000 and Reeves thought for a while before folding.
Then they went at it again a few hands later. Peters was in the hijack that hand, Reeves was on the cutoff and it got four-bet to 44,000 preflop. Players then checked to the river of a 9♥5♥8♦10♦A♥ board and Peters moved all-in. Reeves had about 135,000 behind and used up a timebank card before he called. Peters turned over A♣8♣ for two-pair while Reeves showed A♠K♣. The pot put Peters up to nearly 600,000, which puts him in the tournament lead. –AV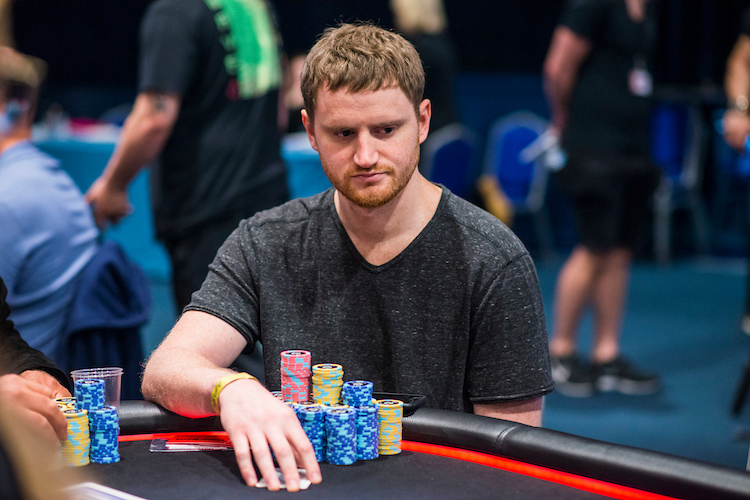 Here comes David Peters (again)
6:03pm: Falling short
Level 15 – Blinds 1,500/3,000 (BB ante 3,000)
The following players are among the latest bust-outs, falling agonisingly (well, painfully, at least) short of the money: Hubert "The Hube" Matuszewski, John Mooney, Borge Sandsgaard, Armando Di Giorgio and Alexandre Moreau.
At the other end of the leader board, Nick Petrangelo is our probably leader with about 510,000. — HS
6pm: Play resumes
Level 14 – Blinds 1,500/3,000 (BB ante 3,000)
They're back at it, but won't be for long as the plan is to halt play about 10 spots shy of the cash. That means just five more knockouts (or so) to go here on Day 2. –MH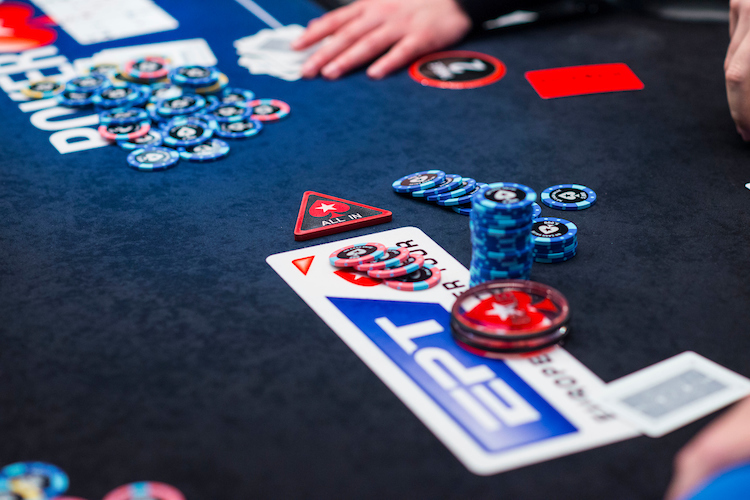 Just a few more of these left to happen on Day 2
---
Don't have a PokerStars account? Getting one couldn't be easier and could mean a trip to the next big PokerStars series. Click here to get started.
---
5:40pm: Break time
With just a few more knockouts to go before Day 2 will be stopped shy of the bubble, they've left again for another 20-minute break. –MH
5:39pm: Salter slumping
Level 13 – Blinds 1,000/2,500 (BB ante 2,500)
There was 9,000 in the pot and a 10♠2♦6♠ flop on the board. Samy Ouellani checked from the small blind and then Giuliano Bendinelli bet 5,500 from the big blind. Jack Salter was on the button and raised it up to 17,500.
Ouellani called, but Bendinelli folded and we got a 9♠ on the turn. Things slowed to a check and an A♣ completed the board. Ouellani then moved all-in for about 190,000 and he had Salter more than covered. Then he folded. Ouellani chipped up to 240,000 while Salter is down to 65,000. –AV
Salter sliding
5:38pm: Dearly departed
Level 13 – Blinds 1,000/2,500 (BB ante 2,500)
The unlucky-for-some Level 13 has now come to an end. It was certainly unlucky for these guys, as they are our most recent bust-outs: Michel Eid, Andrey Demidov, Nicola Grieco, Antonio Scalzi, Robert Kaggerud, and Ranno Sootla. –JS
5:37pm: Toma falls as Schemion rubs it in
Level 13 – Blinds 1,000/2,500 (BB ante 2,500)
Two hands, two eliminations on the table featuring all of Ole Schemion, Philipp Gruissem and Igor Yaroshevskyy. The table also featured Tsugunari Toma, but he was the second of the two players knocked out.
The two hands are linked as well by the manner in which the winners celebrated, with Schemion managing to put a rub-down on both Toma and Krisztian Gyorgyi, who won the first of the two coups.
To explain:
There was a real commotion emanating from Table 14, where Krisztian Gyorgyi span out of his seat and away from the table with a celebratory roar. But on further exploration, it emerged that Gyorgyi was counting his chickens before they'd hatched. He was jubilant only that his all-in shove with A♥A♦ had been called by Antonio Scalzi's A♠K♥. They hadn't yet even seen a flop.
Schemion told Gyorgyi that he'd need to come back to the table if he wanted his hand to still be live, and Gyorgyi did so, settling himself back down in time to see the dealer put the Q♦6♦J♠ out there. In other words, that was a gutshot draw now for Scalzi, and there were a few people who were now rooting for it to come in.
The 4♥ turn was actually safe for Gyorgyi, as was the 2♠ river. That meant that Gyorgyi's aces held and his 189,000 stack was now doubled, giving him about 390,000 with which to look to Day 3. He thumped his fist on the table in jubilation again, but at least now he had a lock on the hand.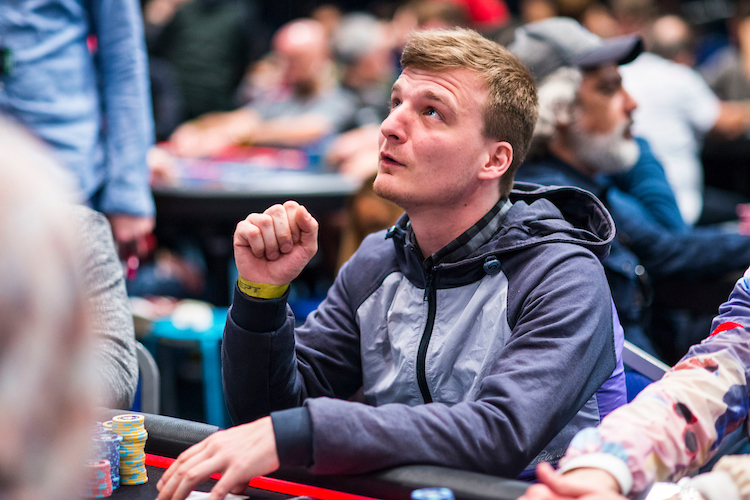 "Whew," says Krisztian Gyorgyi
On the very next deal, Toma moved all-in with his short stack from under the gun, then action folded around to Schemion who made a quick call in the big blind.
Toma's A♠7♥ was in real trouble against Schemion's K♦K♠ and the board of 9♠J♥J♣3♣Q♠ meant Schemion won. In clear imitation of Gyorgyi, Schemion punched the table in celebration, letting out a huge roar too. He then stood up, roared again, clenched his fists, high-fived Gyorgyi and Gruissem and convincingly made his point about excessive celebration.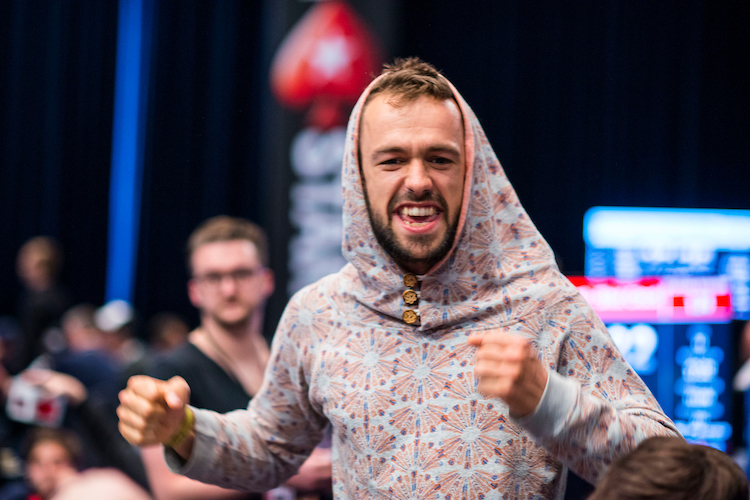 A Schemion shout
One hopes Toma realized this was a show rather than a needle at him. He silently made his way out the door. — HS
5:35pm: Akkari leaves Di Giorgio muttering
Level 13 – Blinds 1,200/2,400 (BB ante 2,400)
Armando Di Giorgio is quite unhappy with himself after playing a hand against Team Pro Andre Akkari.
Robert Kaggerud opened the action for 5,500 in the hijack. Akkari called on the button, as did Di Giorgio in the small blind and another player in the big blind. They all four checked the Q♠10♦8♠ flop, bringing the K♦ on the river. Di Giorgio led out for 17,000 this time, chasing the big blind and Kaggerud from the pot and drawing a call from Akkari.
The river card was the 6♠ and Di Giorgio checked. Akkari considered his move for about 15 seconds before betting 47,500 — about 80 percent of the pot. Di Giorgio looked very unhappy with this development and wound his shot clock almost all the way down before forcefully placing a stack of chips in the pot for the call. Akkari rolled over his cards and Di Giorgio looked completely disgusted — his turned Broadway straight with A♦J♠ had been sunk on the river when Akkari's A♠3♠ made the nut flush.
Di Giorgio, still muttering himself after the hand that followed, drops to 33,000 with that loss. Akkari, silent, is now on 190,000. –JK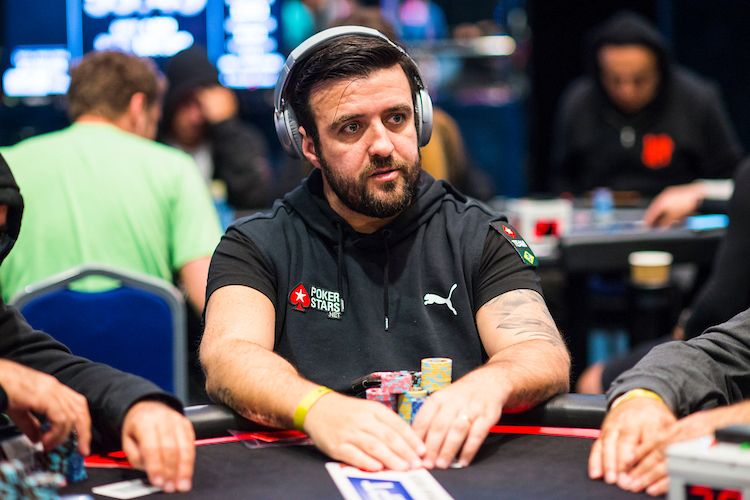 Di Giogio was Akkarivered
5:30pm: Steinbach and Hakim vanish
Level 13 – Blinds 1,000/2,500 (BB ante 2,500)
Frederic Steinbach and Jeffrey Hakim have both busted from Table 1.
Steinbach busted to the resurgent Vlado Banicevic after he gambled on a flush draw that didn't come in. The two players saw a 3♥A♠4♥ flop where the chips went in with Steinbach the player at risk.
Banicevic: A♣]3♥ for two pair
Steinbach: J♥10♥ for that flush draw we mentioned
The board ran out 7♠4♣.
As I was walking out of the room I heard what I thought initially was an echo, "Seat open, table one."
I looked back to see Jeffrey Hakim leaving from seat eight, so headed back over. No details on the hand but Rainer Kempe did the job and got back up to 210,000. –MC
5:25pm: The latest busts
Level 13 – Blinds 1,000/2,500 (BB ante 2,500)
Christopher Frank is out. He joins other recent knockouts Ivo Bartoletti, Stephane Dejean, Arnaud Peyroles, Mario Garrasi, Frederic Steinbach, Darie Vlad, and Quentin Lecomte among those coming within shouting distance of the money.
Speaking of, there are 132 players left, meaning 22 spots off the cash. The play is to stop things a bit before that — around 120 players — so the end of Day 2 is fast-approaching. –MH
5:20pm: A few for Lew
Level 13 – Blinds 1,000/2,500 (BB ante 2,500)
Randy Lew is closing in on 300,000 after taking down a few small pots.
Michael Eid raised to 7,000 from under the gun one hand and then Lew made it 17,500. Action folded back around to Eid and he called. The flop came Q♦5♥7♠ and Lew took it down with continuation bet.
Then Lew raised to 6,000 from early position Eid called from the big blind. The flop came down J♠4♣8♠ and Lew called another bet of 6,000. Both players checked the 8♦ on the turn and a K♦ completed the board. Each player threw in another bet of 6,000 and Lew took down the pot with a king while Eid mucked.
Ryan Riess then opened to 5,500 from under the gun two hands later and Adrian Mateos called from the small blind. Lew three-bet to 20,000 from the big blind and both his opponents folded. Lew is now up to 290,000. –AV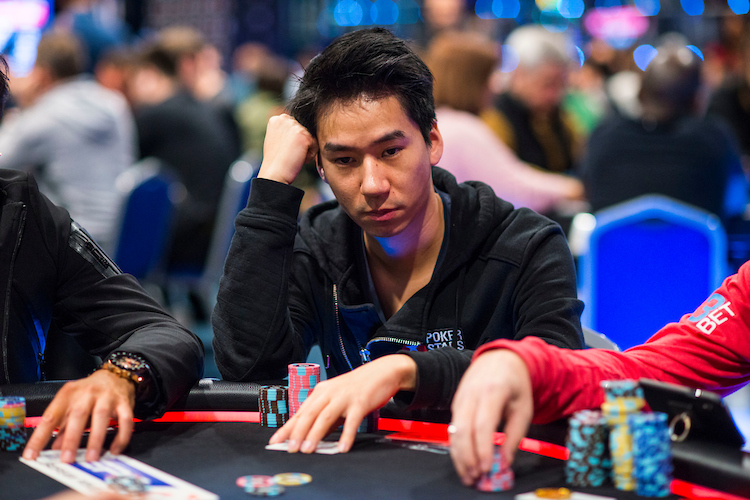 Lew trending upward
5:15pm: Bad times for Toma
Level 13 – Blinds 1,000/2,500 (BB ante 2,500)
Everything's not going so great for Tsugunari Toma right now, as he's just lost a 416,000 pot to Dan Abouaf.
Toma opened the button to 6,000 with no action in front of him, and Abouaf quickly raised it to 15,500 from the small blind. Philipp Gruissem was in the big, and he started studying Abouaf from inches away before decided to let his hand go.
Back to Toma, the Japanese pro four-bet it to 46,000. Even that was too small for Abouaf; he put in a five-bet to 115,500 by plonking in a 20-deep stack of 5K chips. Toma then moved all-in for 222,500, and Abouaf snap-called for 205,500 total.
Toma: A♦K♣
Abouaf: A♠A♣
It was about as bad as it could get for Toma's hand, but he did pick up some help on the 7♣8♦K♠ flop. Alas, no more help arrived on the 10♥ turn or 6♠ river, and Toma was left with just 17,000.
Abouaf now sits with the 416,000 stack, while Toma needs some run-good. –JS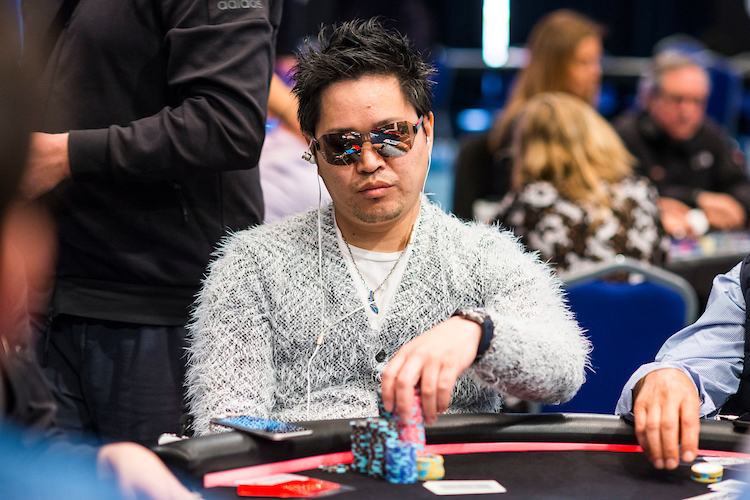 Tough times for Toma
5:10pm: When no one will listen, talk to yourself
Level 13 – Blinds 1,000/2,500 (BB ante 2,500)
The proliferation of cellphones, and hands-free technology specifically, has made it harder to determine whether someone is either a) on the phone, or b) a lunatic talking to themselves. It's a particularly difficult problem while riding on a London bus, where plenty of folk from both camps tend to congregate.
The problem spread to the poker room after a recent hand in which Michel Eid began a monologue immediately upon losing the pot to Anthony Blanchard. Eid had an earbud in, so could have been on the phone. But more likely he was actually talking to himself in frustration about how it played out.
Eid opened to 7,500 from early position and Randy Lew called in the hijack. Aleksandr Sheshukov called on the button and Blanchard called in the big blind.
The four players saw the 6♦K♥8♥ flop and Blanchard checked. Eid bet 10,000 and both Lew and Sheshukov folded. Blanchard called.
The 10♠ hit the turn and Blanchard now led out for 21,000. Eid called. Then the J♥ river completed a lot of draws. Two checks suggested neither of them was drawing, however, and indeed it was so.
Eid turned over his K♠Q♣ for flopped top pair. Blanchard showed his K♦10♦ for flopped top pair, turned two pair. That was good.
The hand put Blanchard up to 160,000 and left Eid muttering away like he was on the top deck of the No 35 from Shoreditch to Clapham Junction (via Camberwell). — HS
5pm: Gavin gaining big ground
Level 13 – Blinds 1,000/2,500 (BB ante 2,500)
Gavin O'Rourke has enjoyed a cracking Day 2 so far, increasing his 74,000 start-of-day stack up to 305,000.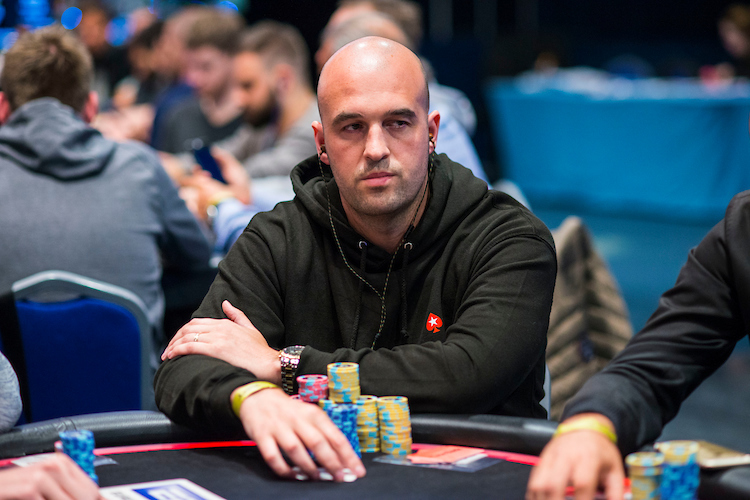 Gavin O'Rourke is rocking
Some of them came after he opened to 6,000 from second position, picking up calls from Liwei Sun (D) and Ermo Kosk (BB). All three checked the 2♠Q♦7♠ flop before Kosk led for 8,500 on the 4♣ turn. Both opponents called, and after the K♥ river it was O'Rourke who bet out for 22,000. Only Sun called but he mucked upon seeing the Irishman's A♠Q♠. Sun dropped to 112,000 and Kosk to 125,000. –MC
4:55pm: Ignatov doubles through Grieco
Level 13 – Blinds 1,000/2,500 (BB ante 2,500)
Nicola Grieco wasn't happy about the double-up. He was behind before the flop, ahead after, but then drawing dead on the turn.
Pavel Ignatov was down to just 19,000 and moved it all-in from the hijack that hand. Grieco called from the big blind and showed K♠10♦ to Ignatov's A♥9♥. The flop came down K♣4♥6♥ to give Grieco a pair of kings, but then a 5♥ came on the turn to give Ignatov a flush.
The 10♠ completed the board and Ignatov doubled to about 45,000 while Grieco was left with 60,000. –AV
4:52pm: Powerful Petrangelo
Level 13 – Blinds 1,000/2,500 (BB ante 2,500)
Nick Petrangelo started the day fifth in chips and he's been on the rise since. We haven't got a big hand with him, but not all big stacks are created that way. Sometimes you just have to grind it out.
Guntis Aleskins raised to 5,500 from middle position that hand and Petrangelo called from the big blind. The flop came 4♥4♦K♦ and Aleskins bet 4,000 when checked to. Petrangelo raised to 14,000 and took down the pot after Aleskins folded.
Every little bit counts. Petrangelo started the day with 213,000 and now he's up to 530,000. –AV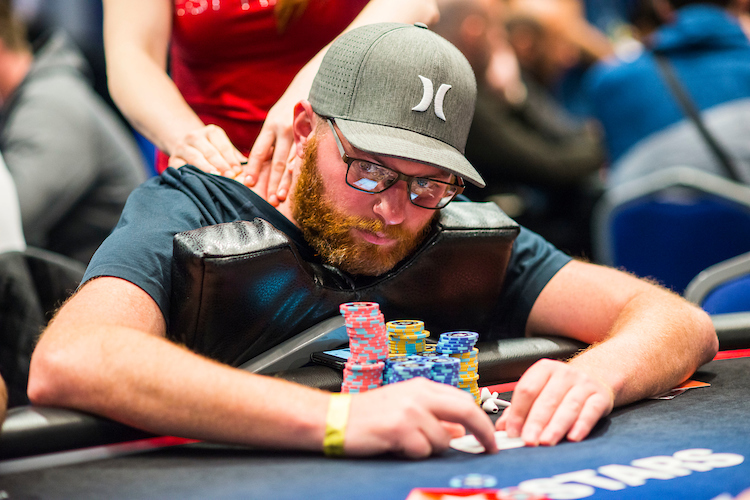 Nick "The Accumulator" Petrangelo
4:50pm: Kolonias crushing
Level 13 – Blinds 1,000/2,500 (BB ante 2,500)
Greek high roller reg Alexandros Kolonias is putting in a solid shift at the office today, having turned his 238,000 starting stack into 340,000.
Kolonias, known online as Mexican222, was tangling in a pot against Christopher Frank, and we picked up the action on a 2♠10♦9♦ flop. There was 19,000 in the middle, and Frank had checked it. Kolonias led for 10,000, before Frank popped it up to 27,000. Call.
The turn was the 3♠ and now Frank checked it to the last aggressor. Kolonias replied by putting out a stack worth 80,000 — more than Frank had behind — which forced the German to fold.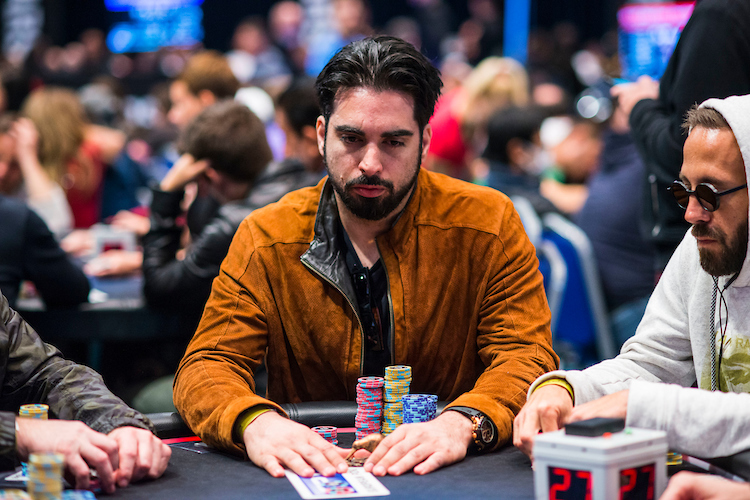 Kolonias cleaning up
Frank's left with 53,000. –JS
4:47pm: Same for Sam
Level 13 – Blinds 1,000/2,500 (BB ante 2,500)
Same old, same old, as far as Sam Greenwood is concerned. He's moved on up to around 190,000 chips now, which is more than enough to mount another charge at a major title.
His latest boost came with a knockout blow delivered to the hopes of Mamouni Smain. It was a standard coup: an early-position open from Greenwood, a jam for 56,000 from Smain and a call from Greenwood. (I think John Mooney might have also called Greenwood's open, but he was gone by the time most of the chips went in.)
Greenwood showed 9♣9♥ and Smain had A♣K♦. The flop of 7♣10♦8♦ was all over Greenwood, and Smain was drawing to a chop after the 9♠ turn. The 3♦ river didn't help.
Smain heads home and Greenwood heads up. — HS
4:45pm: Simunic doubles through Mateos
Level 13 – Blinds 1,000/2,500 (BB ante 2,500)
Adrian Mateos had a big stack before this hand. He's working with a little less after a flip against Josip Simunic.
Mateos opened the action in the cutoff for 5,500 and then moved all-in after Simunic re-raised to 18,500 on the button. Simunic quickly called off his last 103,500 and the two players turned their cards over:
Simunic: 10♠10♦
Mateos: A♥K♣
The board ran out 3♦8♠4♣4♦6♣ and the tens held to double Simunic to 205,000. Mateos drops to 140,000 with the loss. –JK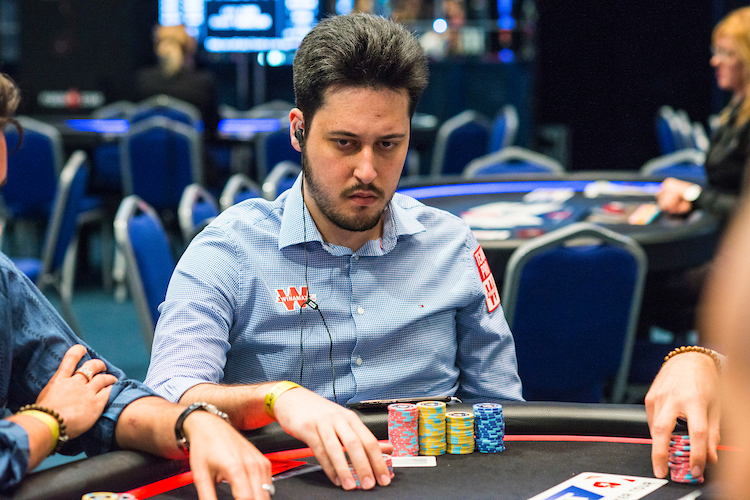 Mateos, refocusing
4:40pm: More eliminations
Level 13 – Blinds 1,000/2,500 (BB ante 2,500)
More busts to tell you about, among them Dario Sammartino.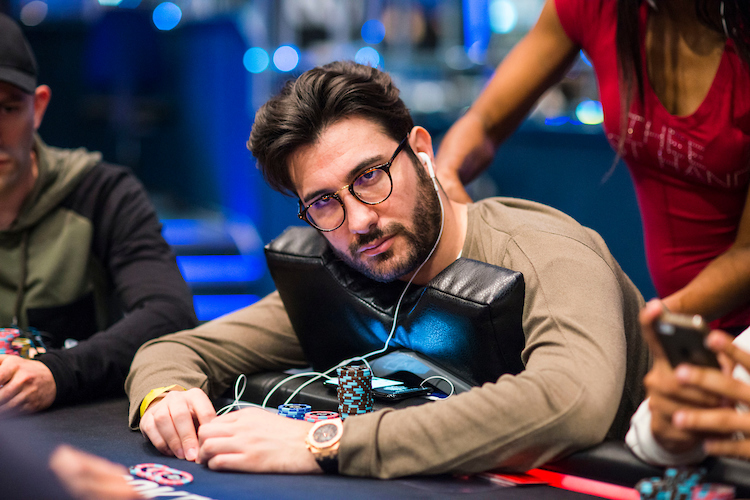 Worst-case scenario for Dario
Juri Mereu, Firas Nassar, Maya Geller, Andreas Eiler, Ghassan El-hoss, Volodymyr Drokin, Andrei Zarojanu, Colin Robinson, Alexander Donev, Michel Abecassis, and Thierry Brigitte are also among the fallen.
Just 150 players remain now — 40 off the cash. –MH
4:38pm: We lose Leo
Level 13 – Blinds 1,200/2,400 (BB ante 2,400)
Soon after the last break Team PokerStars Pro Leo Fernandez saw his Main Event run come to an end.
In his last hand, Fernandez open-raised all in for his last 25,500 and was quick-called by Matthias Tikerpe.
Fernandez had K♠J♠ but Tikerpe had woken up with Q♠Q♦. The board came 10♣10♥J♥6♦5♥, and Fernandez is out. Put Tikerpe on 59,000. –MH
4:35pm: Time well spent
Level 13 – Blinds 1,000/2,500 (BB ante 2,500)
Nadim Hage Ali had made it all the way to Level 13 — that's 14-and-a-half hours of poker — but found himself with precisely 30,000 chips. That's what he started with all that time ago when he first sat down.
Jan Bednar had a good bunch more when he opened a pot to 5,500 and then everyone else folded around to Ali, in the small blind. He looked down at six blue chips, which represented that 30,000 as economically as possible. (One of them was already pushed forward as the small blind.) Ali then watched his 30-second shot clock tick all the way down to zero as he pondered what to do.
Ali threw a time-bank card into the middle, then followed it with his 30,000 chips. He was all-in.
The player in the big blind folded, but Bednar called. And they went to the races.
Ali: K♣Q♦
Bednar: 6♠6♦
The dealer gave immediate gratification to Ali. She put the K♠Q♠7♥ on the flop. The A♥ turn and 2♠ river were an irrelevance, and Ali moved up to 64,800.
That time in the tank? That was time well spent. And he still has another two time-bank cards to do whatever he wishes. — HS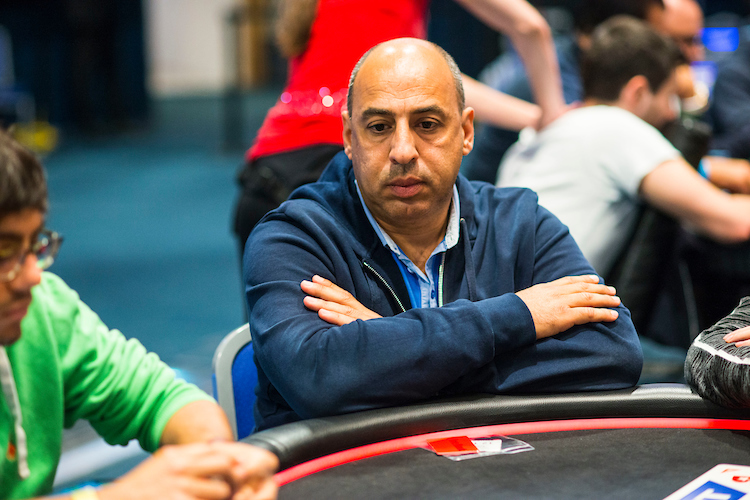 The dream alive for Nadim
4:30pm: Lucky start, unlucky middle
Level 13 – Blinds 1,000/2,500 (BB ante 2,500)
Paul-Francois Tedeschi's Platinum Pass-winning day has come to an end, in the Main Event at least. We've been told he was all-in with ace-nine versus pocket eights, and there was a nine on the flop. Unfortunately for the Frenchman, an eight hit the river to send him packing.
After a very lucky start (winning the Platinum Pass flip-out), and an unlucky middle (busting the Main), how will the rest of Tedeschi's day go? There are some side events running, so time well tell. –JS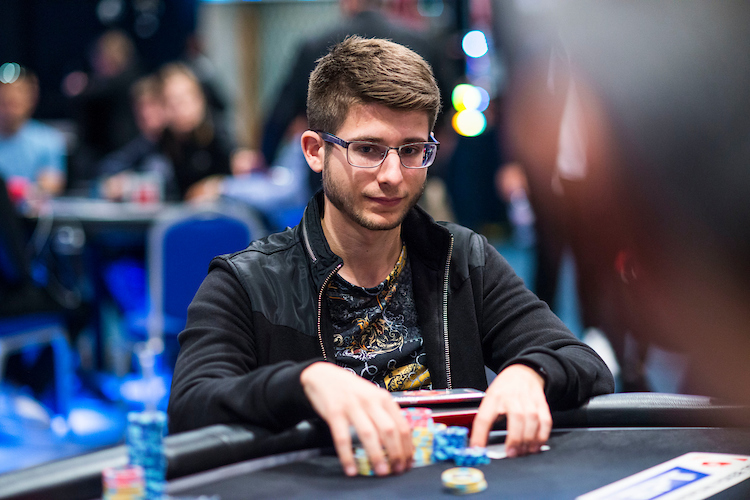 Despite missing the money, a profitable day for Tedeschi
4:25pm: Banicevic banks in the blinds
Level 13 – Blinds 1,000/2,500 (BB ante 2,500)
Vlado Banicevic was in the big blind and down to 28,000, one of those awkward stack sizes you're not sure you should attack or not.
One by one his opponents folded until the action had reached Rainer Kempe in the small blind. He had the gumption to attack and was immediately called by Banicevic after he checked his holding.
Kempe: 10♠7♦
Banicevic: A♣7♥
The German star was dominated and failed to find a way out of the tangle as the board ran K♥5♥K♣3♦2♠. He dropped to a still impressive 235,000 so alles ist gut in the world of Kempe. –MC
4:20pm: The man called Dumont
Level 13 – Blinds 1,000/2,500 (BB ante 2,500)
Best to avoid playing pots against Nicolas Dumont right now. The man can't seem to lose.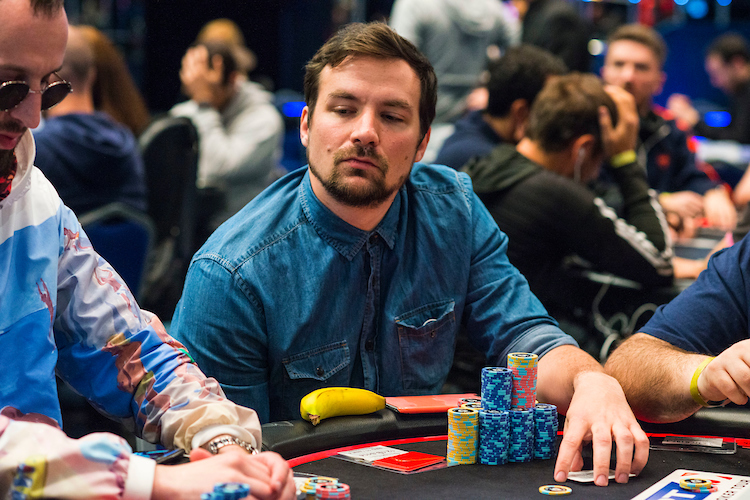 You're probably doomed against Dumont
First he eliminated Denis Timofeev, cracking pocket aces with his pocket kings.
Then he eliminated Thomas Lilamand, with all the money going in on an 8♦4♥3♠ flop. Lilamand had 10♥10♦ for an overpair while Dumont held A♦4♦ for middle pair. The turn was the 9♦ giving Dumont the nut flush draw to boot, and the 5♦ river completed it.
Lilamand, stunned, made a slow exit, while Dumont could only smile as he saw his chip stack rise to around 500,000. –JS
4:15pm: Vogelsang sinking
Level 13 – Blinds 1,000/2,500 (BB ante 2,500)
Christoph Vogelsang has only about 1,000 more than his starting stack after folding to a shove against Francois Evard. "Why didn't I just check?" Vogelsang muttered.
The hand in question began with a button raise from Vogelsang, the high roller regular, and a defend from Evard in the big blind. Evard checked the A♥2♣8♥ flop, prompting Vogelsang to bet 4,000. Evard called.
The turn was the 3♣ and though it seemed innocuous, this was where the action started. Evard checked, Vogelsang bet 15,000 and Evard moved all-in.
It was here that Vogelsang chastised himself for the bet, and he then got a count of Evard's stack. It was 49,000 total, which just about covered Vogelsang's 36,000 (including the 15,000 he had already invested on fourth street).
Vogelsang passed, leaving himself what looks like 31,000. It also looks like a long way back. — HS
4:10pm: Randy wrangles one
Level 13 – Blinds 1,000/2,500 (BB ante 2,500)
Team PokerStars Online Pro Randy Lew is up to 230,000 after knocking out Thierry Brigitte. Brigitte raised from early position that hand and Lew three-bet it up to 18,500 from the big blind.
Brigitte then moved all-in for about 80,000 and Lew called. Brigitte turned over 10♦10♣ and Lew was in the lead with J♦J♥. The 7♦4♥Q♦2♥5♣ board brought no help for Brigitte and he busted. Lew on the other hand rose to about 230,000. –AV
4:05pm: Big stack report
Level 13 – Blinds 1,000/2,500 (BB ante 2,500)
A tour of the tournament room just now helped us locate big stacks at the moment, and to confirm that start-of-day leader Mark Demirdjian continues to sit in first position as the field gets whittled down.
Mark Demirdjian – 565,000
Ouassini Mansour – 415,000
Ali Reza Fatehi – 390,000
Maxim Panyak – 385,000
Javier Fernandez – 360,000
Nick Petrangelo – 310,000
Said Butba – 305,000
Gary Miller – 300,000
There are 168 players left to start the new level, meaning they are 57 eliminations from the money. –MH
---
Don't have a PokerStars account? Getting one couldn't be easier and could mean a trip to the next big PokerStars series. Click here to get started.
---
3:45pm: Break time
That's the end of Level 12. We're refreshing the chip count page through the next 20 minutes and can tell you that there are 168 players remaining. — HS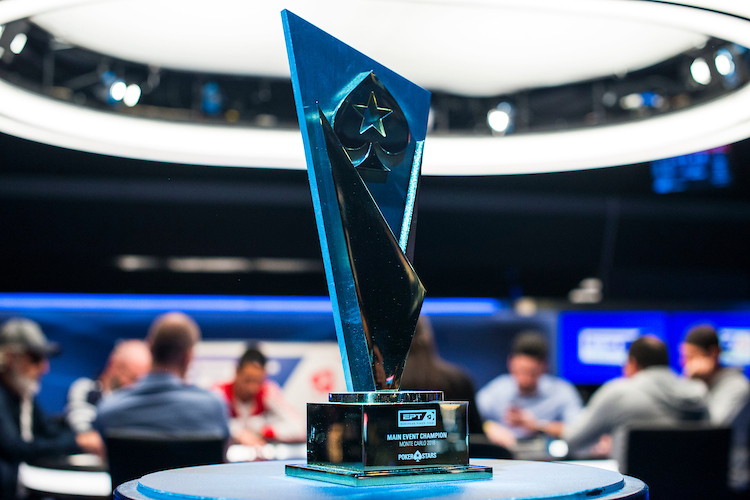 Main Event trophy
3:40pm: Calling Christoph
Level 12 – Blinds 1,000/2,000 (BB ante 2,000)
Poor Christoph Vogelsang, nobody wanted to call him. There he was, all alone in early position shoving in his stack and getting no callers. He tried again from under the gun and no one called either.
Then Vogelsang finally got some action from the big blind. Wei Huang started that hand with a raise to 4,000 from the hijack and Markkus Koplimaa called from the button. The small blind folded and Vogelsang thought for a bit. Then he moved all-in for 26,500. Huang folded but Koplimaa called.
Koplimaa turned over 6♣6♠ and Vogelsang showed 10♦10♣. Vogelsang improved to a set of tens on the river of a 3♦7♥4♦8♦10♥ board to really cement the double up.
No wonder no one wanted to call Vogelsang. He's now up to about 60,000 and will probably cool it on the all-ins for a little bit. –AV
3:37pm: Au revoir, mes amis
Level 12 – Blinds 1,000/2,000 (BB ante 2,000)
Catching up on the bustouts, Team PokerStars Pro Fatima Moreira De Melo was among the most recent wave of eliminated players, joining Jack Sinclair, Julian Thomas, Isaac Haxton, and Govert Metaal on the rail.
Also no longer in the hunt are Paul Linton, Fabio Sperling, Hassan Ezzeldine, David Tovar Lasierra, Xixiang Luo, Jeffrey Charles Colpitts, Kuvshinkov Vadim, Siarhei Ahapau, Franck Makaci, Xixiang Luo, Christian Aris, Raffaele Carnevale, Akseli Paalanen, Jean-Louis Perez, Christian Aris, Nikola Damcevski, Milos Lalvoic, Aryeh Leon Rose, Ghassan Bitar, Snjezana Milisa, Adrien Delmas, Maroun Jazzar, and Varlamov Dmitry Vladislavovich. –MH
3:35pm: Chisu knocks out Coren Mitchell, Linton
Level 12 – Blinds 1,000/2,000 (BB ante 2,000)
Vicky Coren Mitchell couldn't have asked for better cards to risk her tournament life. Unfortunately she didn't have enough chips to prevent the hand from being shown down three-handed, and that proved to be her demise.
Coren Mitchell opened the action all-in on the button for 24,500. Paul Linton called all-in from the small blind for slightly less, juicing the pot enough for big-stacked Romanian Danut Chisu to call from the big blind.
Coren Mitchell: A♥A♣
Linton: 2♠2♥
Chisu: A♦6♣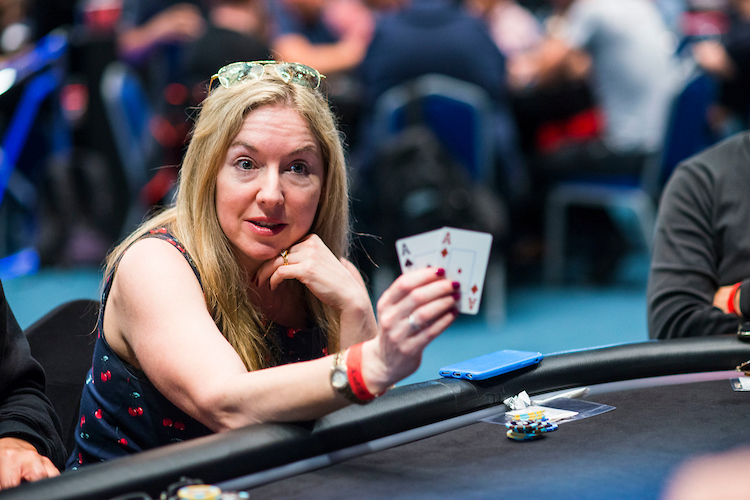 Victoria Coren Mitchell: Pictured when she also had aces, on Day 1
Coren Mitchell was still good after the 6♦4♦9♠ flop, but Chisu made trip sixes on the 6♥ turn. The 4♣ on the river sent both sent Coren Mitchell and Linton to the rail, boosting Chisu's stack to 245,000. –JK
3:33pm: Igor, Ole & Tsugunari
Level 12 – Blinds 1,000/2,000 (BB ante 2,000)
Reading time: 30 seconds
Igor Yaroshevskyy opened for 4,500 from middle position and Ole Schemion called from the small blind. Tsugunari Toma called as well from the big, then all three checked after both the Q♣7♣J♠ flop and 8♦ turn.
The river brought the 7♥. Schemion checked, Toma bet 10,500, and Yaroshevskyy folded. Schemion quickly called, and when Toma showed 10♦7♠ for trips, Schemion mucked.
Ole Schemion: This goes into themuck
Toma has 135,000 now, Schemion 155,000, and Yaroshevskyy 175,000. –MH
3:30pm: Shot clock update
Level 12 – Blinds 1,000/2,000 (BB ante 2,000)
Reading time: 30 seconds
The "shot clock" over on Table 24 had stopped working for a moment, though a staff member was over in a flash to reset it and all was well again. The momentary disruption brought to mind how the use of the 30-second clock today — a first for EPT Main Events — has appeared to go especially smoothly to this point.
While the "high rollers" on the tour have been using the shot clock for quite some time, we imagine a number of players in this Main Event are encountering it for the first time. Players generally haven't been using time bank cards so much as yet, only needing the initially allotted 30 seconds to make their decisions. Indeed, a half-minute seems to be plenty in most cases.
And whether it is because of the shot clock or the big blind ante, or a combination of the two, the pace has been brisk as they are already down to 184 players. –MH
3:27pm: When two Platinum Pass winners go to war
Level 12 – Blinds 1,000/2,000 (BB ante 2,000)
David Peters and Paul-Francois Tedeschi, our Platinum Pass flip-out winner from earlier, have found themselves sat on the same table. They may well find themselves on the same table next January too, as Peters is also the owner of a Platinum Pass.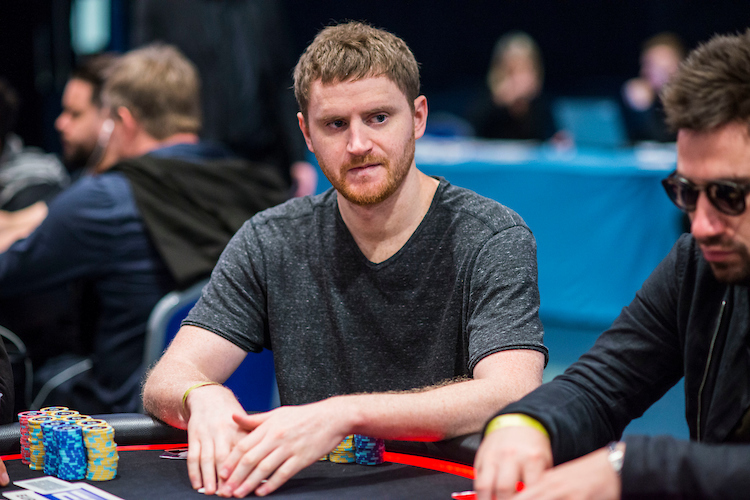 David Peters: Platinum Pass winner
The Super High Roller reg won his in a random draw at the PCA (resulting in some playful boos from the crowd, as Peters would have been a dead cert to play a $25K anyway).
They just clashed in a pot, the result of which really seemed to surprise Tedeschi. He got things going by opening to 5,000 in early position, which got one caller before Peters called from the small blind. The J♠K♦4♣ saw Peters check, letting Tedeschi in for a 9,000 c-bet. After a fold, Peters called again.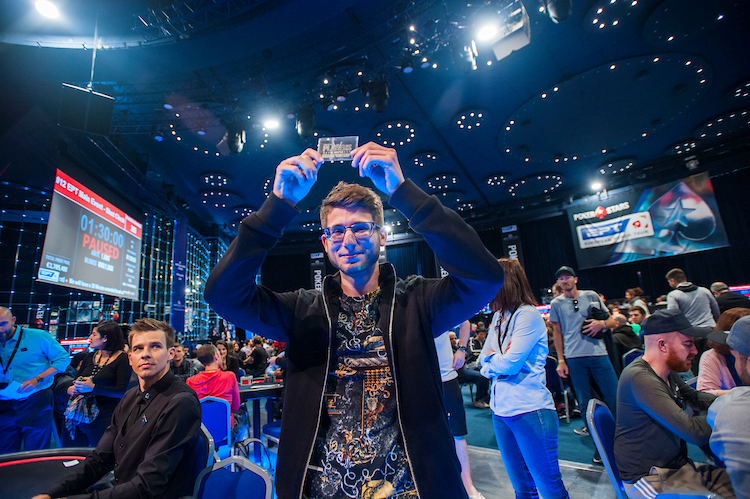 Paul Tedeschi: Big moment this morning
The 5♥ turn inspired no more action, so after two checks the dealer laid the 3♣ river. Peters now took his time before announcing a bet of 34,000, and before he could even get the chips in the middle Tedeschi had snap-called.
Peters flipped over 5♦4♦ for two pair, and Tedeschi looked stunned. He smiled, then started laughing a little as he handed his cards to the dealer face down.
Tedeschi drops to 66,000 after that one, while Peters rises to 196,000. –JS
3:25pm: Newey doubles
Level 12 – Blinds 1,000/2,000 (BB ante 2,000)
Paul Newey had a pretty good hand for a short-stacked player under the gun: 8♦8♥. So he did what most short-stacked under-the-gun players would do: move all-in.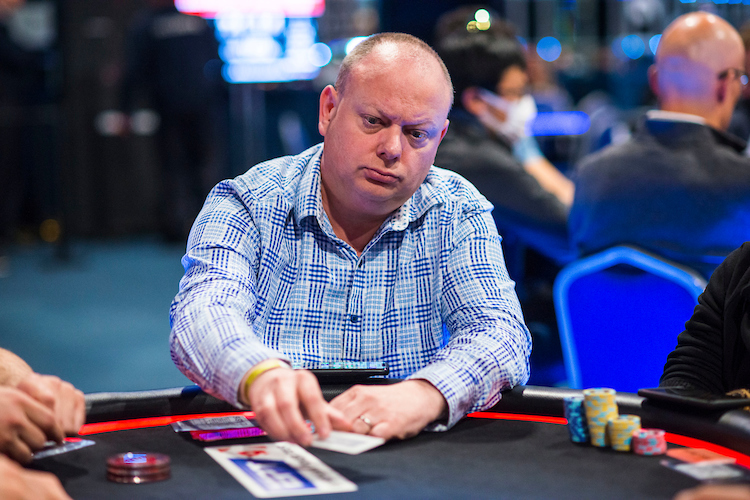 Paul Newey: Gets the chips in
Action folded around to Frederic Steinbach on the big blind and he called. Newey showed his eights and Steinbach showed a better pair with J♦J♥. Newey then hit a set on the flop of a 10♦3♦8♠7♠4♥ board and he doubled up to 75,000 while Steinbach dipped to 35,000. — AV
3:20pm: Gruissem dominates Damcevski
Level 12 – Blinds 1,000/2,000 (BB ante 2,000)
Philipp Gruissem is up to about 140,000 after dominating and taking out Nikola Damcevski. David Tovar Lasierra started that hand with a raise to 4,000 from the button and Damcevski called from the small blind.
Gruissem then three-bet to 16,000 from the big blind and Lasierra got out of the way. Damcevski called all-in and we had a showdown. Damcevski showed A♥4♦ and Gruissem turned over a dominating A♦6♠. The 2♠8♣K♠5♦10♥ left Gruissem in the lead and Damcevski out of the tournament. — AV
3:15pm: Another batch of bust-outs
Level 12 – Blinds 1,000/2,000 (BB ante 2,000)
This little lot's hopes of an EPT Monte Carlo 2018 Main Event title are now up in smoke:
Stanislav Koleno, Timothy Adams, Jean Koja, Daniel Dvoress, Claudio Di Giacomo, Jose Manuel Fernandez, Xia Lin, Alain Goldberg, Sylvain Loosli, Martynas Valantiejus, Karim Souaid, Mickael Mamou, Clemente Carreira, Philipp Salewski, Sara Nassar, Lucien Cohen, Zoltan Szabo, Georgios Vrakas, Alan Garcia, Roman Emelyanov, Andrei Boghean and David Eggenberger. — HS
3:10pm: Khoury cruising
Level 12 – Blinds 1,000/2,000 (BB ante 2,000)
Mazin Khoury is having a good day at the tables. We dropped by to see him raising to 7,000 in the big blind after Erik Seidel limped from the small blind. Seidel called and the flop came 10♠Q♦2♣. Seidel check-called 6,000 on the 10♠Q♦2♣ flop but bailed after he checked the 7♠ turn and Khoury fired another 22,000.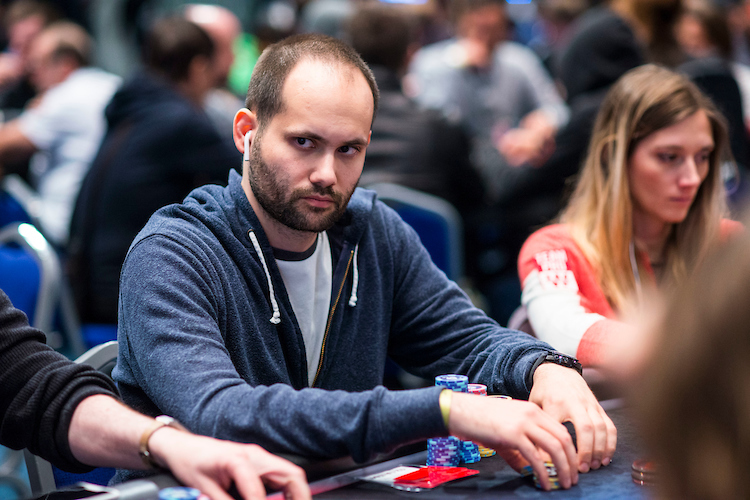 Mazin Khoury: Building
Khoury is up to 320,000, and Seidel sits on 140,000. –JK
3:08pm: Fours favor Fernandez
Level 12 – Blinds 1,000/2,000 (BB ante 2,000)
Javier Fernandez continues to enjoy an active Day 2. He dropped a few chips during the first part of this level, but just won some back in a hand in which he flopped a set of fours and busted Karim Souiad. Fernandez is at 380,000 right now.
Andrei Boghean — one of Day 1B's leaders and a big stack to start today — was at the same table as those two, but he's also been recently eliminated. –MH
3:05pm: What's on the line…
Level 12 – Blinds 1,000/2,000 (BB ante 2,000)
Tournament officials have revealed the details of the prize pool. A min-cash is worth €9,400 and 111 players will be paid. But here's the most important details:
PokerStars and Monte-Carlo©Casino EPT Main Event
Dates: April 28 – May 6, 2018
Buy-in: €5,300
Entries: 777 (inc 201 re-entries; 2 no-shows)
Prize pool: €3,768,450
| POS | PRIZE |
| --- | --- |
| 1 | €712,000 |
| 2 | €434,000 |
| 3 | €308,000 |
| 4 | €232,000 |
| 5 | €184,000 |
| 6 | €139,050 |
| 7 | €99,900 |
| 8 | €68,300 |
3pm: Twist ending, down to 200
Level 12 – Blinds 1,000/2,000 (BB ante 2,000)
Sometimes things just go your way…until they don't.
Things seemed to be going pretty well for Stanislav Koleno considering he was pretty short to start the day. He'd nearly doubled his start-of-day stack of 17,000 to 33,000 and then he got it in again.
Koleno had A♠8♣ and had Gary Miller, his lone caller, dominated after Miller turned over A♣7♦. The flop came K♦10♥Q♦ and things were still looking good. The 4♥ only increased Koleno's chance of doubling up, but then a 7♣ came on the river to end it all. Koleno hit the rail while MIller chipped up to 250,000.
With Koleno's elimination we're now down to a smooth 200 players. –AV
2:55pm: Beaten to the punch
Level 12 – Blinds 1,000/2,000 (BB ante 2,000)
I was just about to bring you the news of Mark Demirdjian's ascent to more 500,000, but I now see that my colleague, poker's Martin Harris, has beaten me to it.
While I was at Demirdjian's table, I did catch a hand between PokerStars Festival London champ (and Platinum Pass winner) Dragos Trofimov and Dinesh Alt though, so at least this post isn't totally pointless.
Trofimov, who also had a deep run in the National event here this week, opened under the gun to 4,000, and it folded around to Alt in the big blind. He defended to see a 2♣9♣5♠ flop, on which Alt checked and Trofimov continued for 7,000. Call.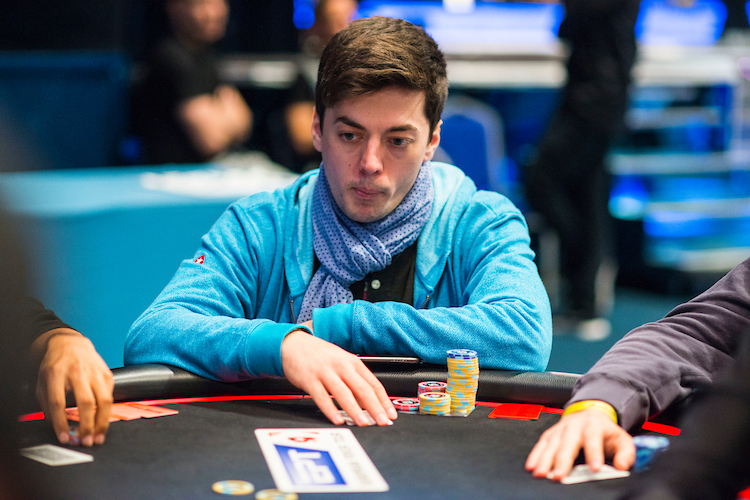 Dragos Trofimov: Fold to stay alive
It would then go check check on the 6♣ turn, leading to the 3♦ river. Alt now moved all-in, putting Trofimov to the test for all of his 31,000. He gave it up though, bringing Alt up to 85,000. –JS
2:50pm: Salewski sunk
Level 12 – Blinds 1,000/2,000 (BB ante 2,000)
Benjamin Chicheportiche raised to 4,500 from the hijack, then Philipp Salewski reraised all in his below average stack from the next seat over. It folded back around to Chicheportiche who called and turned over A♣J♥ while Salewski showed A♠Q♣.
Alas for Salewski, the 3♠9♣6♦4♥J♠ board ended with a jack that paired Chicheportiche, and Salewski is out. Chicheportiche has 105,000 now. –MH
2:45pm: Demirdjian over half a milly
Level 12 – Blinds 1,000/2,000 (BB ante 2,000)
Checking in just now on start-of-day chip leader Mark Demirdjian, he was calling from the button after Ali Chaieb raised to 5,500 from middle position. The flop came 7♠J♣Q♣ and Chaieb continued for 7,500. Demirdjian paused just a beat, then raised to 25,000, and Chaieb called. Both players then checked the A♥ turn.
The river was the 7♠, and Chaieb led out this time with a bet of 16,000. Demirdjian thought about 10 seconds, then actually didn't look too happy about calling, but he did. Chaieb showed his K♦K♣ for kings and sevens, but Demirdjian actually had sevens full of jacks with J♥7♥ to claim the pot.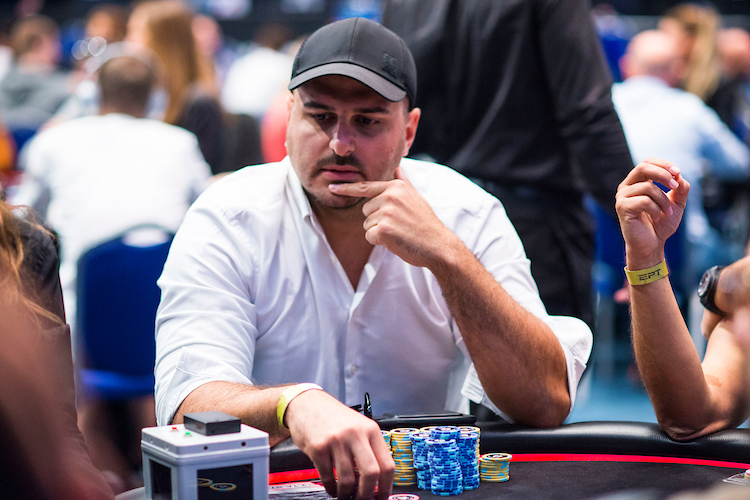 Mark Demirdjian: Leading still
Chaieb slips to about 60,000, while Demirdjian is now up to 505,000 and appears to have moved back into the lead. –MH
2:40pm: Bit2Easy
Level 12 – Blinds 1,000/2,000 (BB ante 2,000)
If you were to ask a random, seasoned pro who they think the best no limit hold'em players in the world are right now, more often than not the response would be: "Those who play high stakes online cash games on PokerStars."
If that is the consensus, then the UK's Luke Reeves is certainly one of them. Perhaps better known by his online screen name Bit2Easy, Reeves battles the game's most feared cash players including OtB_RedBaron, LLinusLLove, Trueteller and the like on a daily basis. That is, when he's not travelling to the occasional poker stop.
Reeves is here in Monte Carlo grinding his way through the Main Event, although in the two pots we just saw, he only had small roles to play.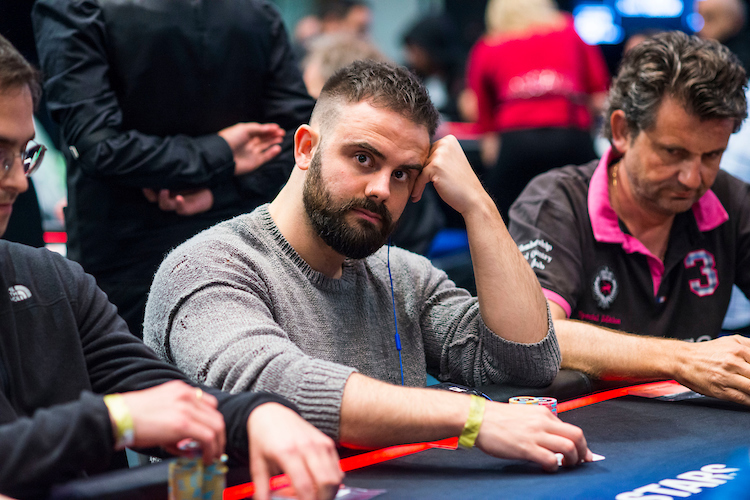 Luke Reeves: High stakes beast
The first one we caught began with Reeves opening under the gun to 4,500. He got called in two spots by Sonny Franco (hijack) and Clemente Carreira (button), bringing a Q♠9♣K♥ flop. Everyone checked it to the A♦ turn, and Reeves checked again. Franco now led for 5,500, and only Carreira stuck around.
The A♦ river completed the board, and saw Franco fire again for 20,500. That got a fold, and won him the pot.
Onto the next one, Akseli Paalanen opened to 5,000 in the UTG+1 seat, which Franco called to his left. Carreira came in from the cutoff, and Reeves defended his big blind. Four ways to the K♣J♣10♥ flop, it checked to Franco who led for 2,000. That shook off no one, and it was still four ways to the turn.
The dealer laid the 4♦ and it checked to Franco again. He upped his sizing to 17,000 this time, and three folds quickly followed.
Reeves was left with 83,000, Franco is up to 164,000, Carreira is down to 18,000, and Paalanen sits with 60,000. –JS
2:35pm: Badziakouski bombs the river
Level 12 – Blinds 1,000/2,000 (BB ante 2,000)
Mikita Badziakouski barely missed a cash in the Super High Roller two days ago. He has a chance to make up for it here in the Main Event and he's making the most of it right now.
Badziakouski opened for 4,000 UTG+1 and got calls from Davidi Kitai on the button and Jose Fernandez in the small blind. Fernandez checked to Badziakouski on the J♥8♠7♥ flop, then called his 6,000-chip bet after Kitai folded.
The turn was the 3♥. Fernandez checked, and Badziakouski took about 15 seconds to check behind him. That brought the 5♣ on the river and Fernandez checked one more time. This time Badziakouski moved all-in, putting Fernandez to a decision for his last 25,000 chips. The Spaniard didn't look happy at all and eventually tossed his cards into the muck.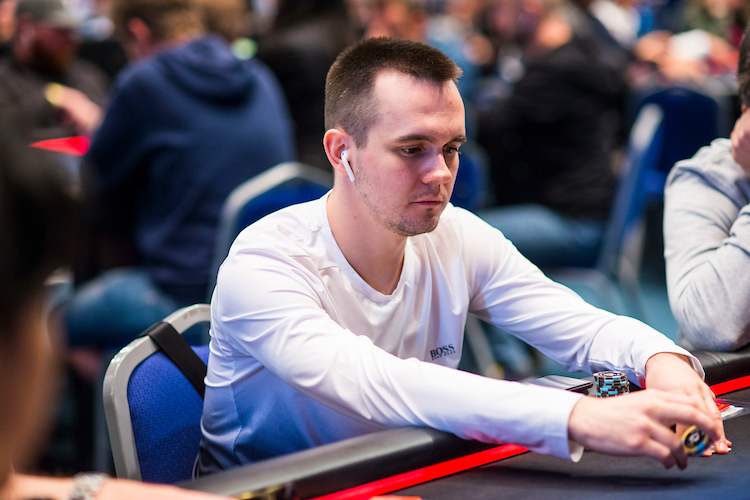 Mikita Badziakouski: Moving up
Badziakouski climbs to 193,000 with the win; Fernandez drops to about 22,000. –JK
2:30pm: Florian forcing a fold
Level 12 – Blinds 1,000/2,000 (BB ante 2,000)
PokerStars qualifier Florian Maurer is closing in on 300,000 after taking most of Lily Kiletto's chips. We arrived to a 7♠K♦4♦ flop and there was already about 12,000 in the pot. Jack Salter checked from under the gun and Maurer made it 5,500 from the hijack.
Kiletto called from the cutoff and Salter also threw in a call. The 9♦ came on the turn and Kiletto made it 17,000 when action checked to her. Only Maurer called and a 7♣ completed the board. Kiletto bet 40,000 and Maurer moved all-in. Kiletto folded and was left with 35,000 while Maurer chipped up to 295,000. –AV
2:25pm: Juanda's run ends with picked-off bluff
Level 12 – Blinds 1,000/2,000 (BB ante 2,000)
I just came upon a big hand involving John Juanda and Eric Sfez, one in which Juanda was playing from the blinds and Sfez from middle position. The board showed Q♣8♣10♥8♠K♦, and Juanda had just made a big all-in bet of around 110,000.
No idea how things got to that point, which is a shame because it might have been interesting to have seen it. Sfez had to think a while before calling, and as soon as he did Juanda patted the table and nodded as he rose from his chair, knowing that the 7♦5♦ with which he'd bluffed couldn't be good.
Sfez had A♥8♦ for trip eights, and with that big pot he trips up the counts with a stack of 330,000. –MH
2:15pm: More out the door
Level 12 – Blinds 1,000/2,000 (BB ante 2,000)
It's not easy to cash a European Poker Tour Main Event, as this star-studded list of recent eliminations will suggest. All of the following are now out:
Ramin Hajiyev, Sebastien Guinand, Jens Vinther, Marius Toverud, Mikhail Korotkikh, Fred Weiss, Justin Bonomo, Hayg Badem, Arthur Conan, Samuel Kiourktchian, Jorge Galavis, Hani El Assaad, Seth Fischer, Tom Hall, Vladimir Troyanovskiy, Shiguang Zeng, Carlos Gonzalez, Yog Wang, Pascal Hartmann, Jose Gonzales, Marcin Chmielewski, Rustam Hajiyev, Ouri Cohen and Roberto Muso.
Team Pro's Celina Lin is also on the scrapheap, as well as former EPT champion Martin Finger. — HS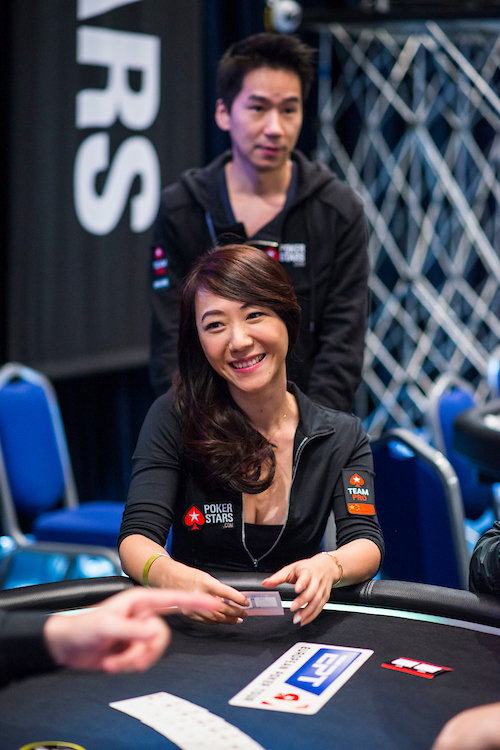 No more Celina Lin
---
Don't have a PokerStars account? Getting one couldn't be easier and could mean a trip to the next big PokerStars series. Click here to get started.
---
1:56pm: Break time
That's the end of Level 11 and players are now taking their first 20-minute break of the day. — HS
1:55pm: Flopping quads and chipping up
Level 11 – Blinds 800/1,600 (BB ante 1,600)
Thomas Pettersson raised to 4,500 from under the gun and Mattias Tikerpe called from the cutoff. Ivo Bartoletti was on the big blind and went along for the ride as well.
The flop came down 6♣10♠6♥ and Bartoletti bet 5,000. Both players called and a J♣ came on the turn. Bartoletti upped the bet to 12,000 and Petterson quickly called. Tikerpe thought for a while, used a time bank card and thought some more. Then he folded. It was a good fold, since it turned out Pettersson had flopped quad sixes.
Bartoletti checked the 4♥ on the river and Pettersson made it 19,500. Bartoletti thought for a while and called. Petterson showed 6♦6♠ and a shocked Bartoletti mucked. Pettersson is now up to about 100,000 while Bartoletti dipped to 50,000. –AV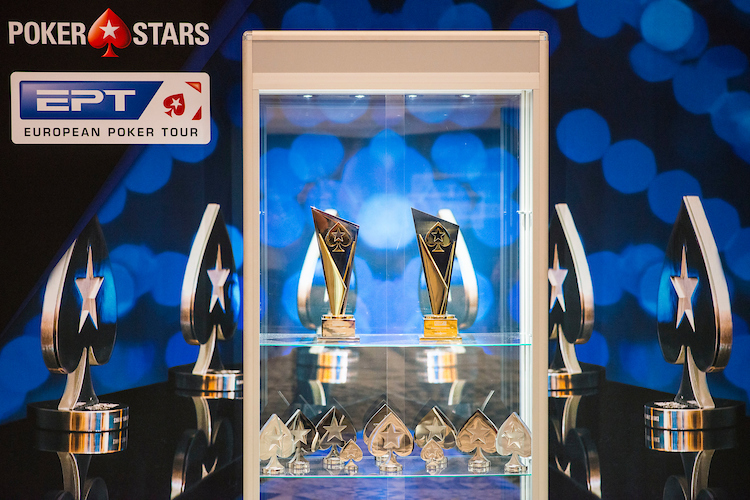 Trophy Case at EPT Monte Carlo
1:54pm: A pair of champions playing big pairs
Level 11 – Blinds 800/1,600 (BB ante 1,600)
With the day's first break approaching, 2013 WSOP Main Event champion Ryan Riess raised to 3,000 from early position, and after getting an idea of his remaining stack, his neighbor to the left, two-time EPT Main Event champion Vicky Coren Mitchell, reraised to 10,000. It folded back around and Riess pushed all in for 26,900 total, and Mitchell called right away.
Riess: A♦A♠
Mitchell: J♦J♥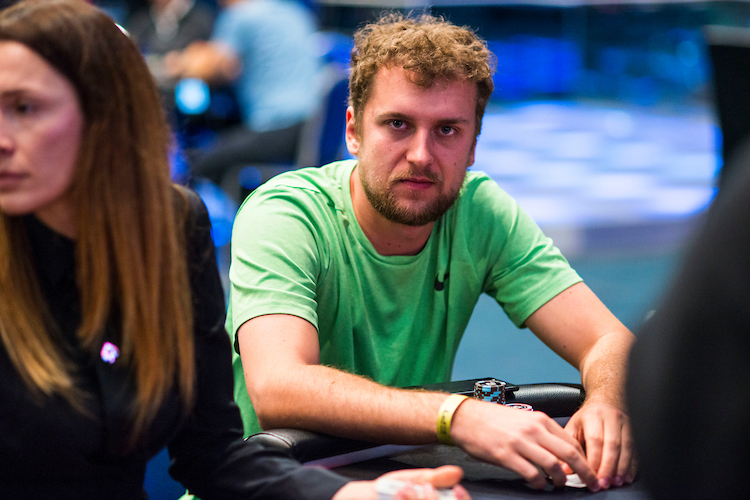 Ryan Riess: Aces for the double
The 6♠9♣K♦ flop and Q♠ turn provided the jacks another way to spoil the aces, but the 3♦ was safe for Riess and he has about 56,000 now. Mitchell takes close to 50,000 to the break. –MH
1:53pm: Fatehi fills up, knocks out Cohen
Level 11 – Blinds 800/1,600 (BB ante 1,600)
Ali Reza Fatehi bagged up the biggest stack with 289,300 yesterday and has picked right up where he left off. His latest victim is France's Ouri Cohen.
Cohen opened for 3,500 under the gun and got calls from Fatehi in the small blind and PokerStars Championship Macau 2017 High Roller champ Sosia Jiang in the big blind. They both checked the 8♠7♦4♣ flop to Cohen, who bet 5,500. Back to Fatehi, who jammed all-in. Jiang got out of the way but Cohen called for the rest of his roughly 45,000 chips.
Cohen: Q♣Q♥
Fatehi: 7♠4♠
Cohen was behind but drawing live, though the 4♥ turn cut his outs down considerably by making fours full of sevens for Fatehi. The 5♠ river was no help, though, sending Cohen for the exits.
Ali Reza Fatehi: Stacking
Fatehi is now up to around 335,000. –JK
1:50pm: Nanonoko chips up
Level 11 – Blinds 800/1,600 (BB ante 1,600)
Having dodged bullets in an earlier post, Randy "Nanonoko" Lew has just picked up a nice pot with around five minutes left on the tournament clock for Level 11.
The hand began with a 3,500 open from Andreas Eiler under the gun, which was called by Saar Wilf in the lojack. Lew came along from the small blind, and it went three-handed to a Q♥J♦4♦ flop. With no c-bets or stabs, it checked through.
That brought the 8♦ on the turn, and when both Lew and Eiler checked Wilf took a shot for 6,500. Lew made the call, but Eiler got out of the way before the 10♠ river. Lew would check once more, before calling Wilf's 20,000 river bet.
Wilf turned over 10♦10♣ for a rivered set, but with four to a straight out there, Lew only needed the nine in his J♥9♥ to have the winner. He's up to 135,000 now, while Eiler has 55,000 and Wilf is still healthiest with 168,000. –JS
1:45pm: There's Toma!
Level 11 – Blinds 800/1,600 (BB ante 1,600)
We've enjoyed covering Japanese player Tsugunari Toma here at PokerStars Blog over the years, starting with his appearances on the APPT years ago and more recently on the EPT where he's become a regular participant, most recently making a run to 12th place in the Main Event in Barcelona late last summer.
That prior knowledge, coupled with Toma having started the day with a top 10 stack, means we would have noticed him today even if he weren't wearing a stylish gray, fuzzy sweater, mirrored glasses, and surprisingly sparkly shoes. You scan the room, glossing over the other, mostly similar fashions, then boom…! There's Toma!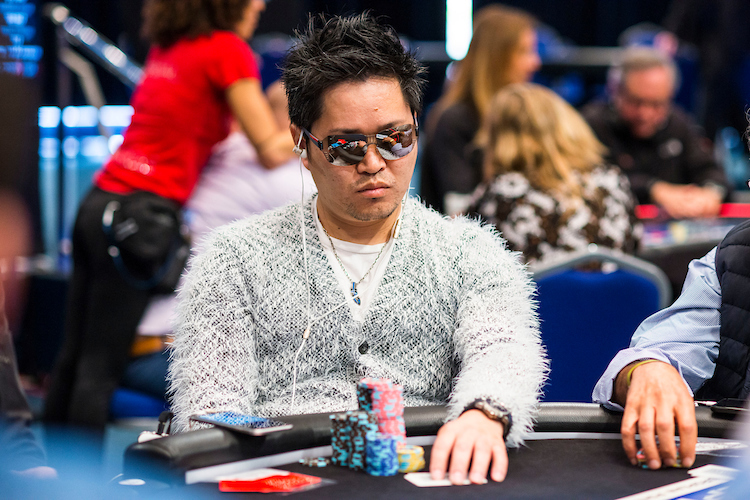 Tsugunari Toma: That's Toma! to you
Just now we saw Toma open a hand for 3,600 and watch his neighbor Ghassan Bitar three-bet to 9,600. It folded back around and Toma called. The flop came 7♦J♣4♣. Toma checked, Bitar bet 10,000, and Toma called. Both then checked the 8♠ turn.
The river brought the 7♦. Toma sat quietly for a moment, then boom…! An all-in from Toma!
Bitar spent the first half of his allotted 30 seconds turning toward Toma and looking up and down, taking in the aforementioned sweater and the rest. He turned back to the board for the latter half, then folded just before the clock expired to preserve his last 50,000.
Toma has slipped a bit in the early going today, but he's still quite comfortable — and cool — with 155,000. –MH
1:40pm: Busto
Level 11 – Blinds 800/1,600 (BB ante 1,600)
Patrick Bruel has crooned his last (at least in this tournament). Bruel is among the recent fallers, taking us down to 255 players.
Other recent eliminations include: Michael Hosenbux, James Hoeppner, Ajay Chabra, Jan-Eric Schwippert, Alexandre Le Vaillant, Alan Mutschlechner, Mete Ustuay, Luke Haward, Kilian Loeffler, Oshri Lahmani, Bruno Lopes, Wei Lin, Nicolas Borlot, Yichuan Ye, Javier Gomez, Ronny Kaiser, Lars Bonding, Philipp Kaempf, Johan Guilbert, Adrian Tulbure, Felix Bleiker, Elie Ghazal, Jonathan Concepcion, Tuomo Niskanen, Samir Moukawem, Tibor Nagygyorgy, Robbie Schiffbauer, Arseniy Meshcheryakov, Paul Hoefer, Ondrej Drozd, Amjad Mustafa, Antoine Labat, Bryn Kenney, Christophe Larquemin and Bahram Chobineh.
Igor Kurganov is also now free to go bowling. He is out. — HS
1:35pm: Can't put it past Lew
Level 11 – Blinds 800/1,600 (BB ante 1,600)
Team PokerStars Online Pro Randy Lew is up to about 110,000. He's risen a bit since the start of day, but we recently saw him not lose some chips. Potentially.
Lew Raised to 3,500 from under the gun that hand and Carlos Ibarra re-raised to 9,600 from the big blind and Lew peeked over at his stack. Ibarra showed him about 16,000 and waved his hand forward towards the pot. Lew thought for a bit and and then went for the fold. It turned out to be a good one since a shaky-handed Ibarra turned over A♠A♥.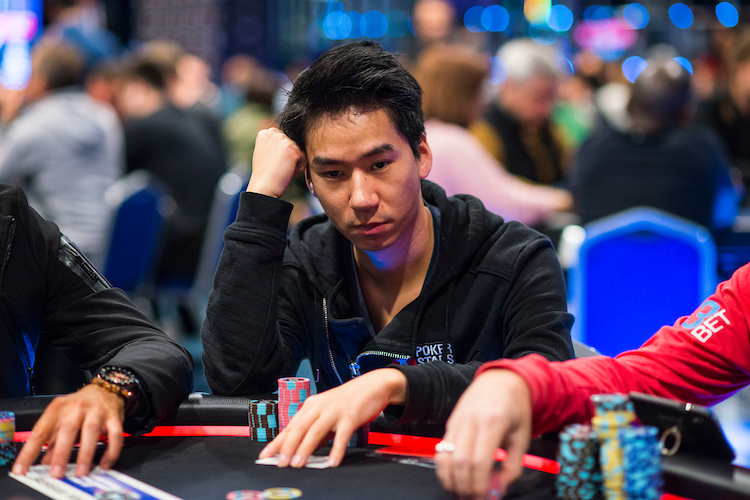 Randy Lew: No getting past him
"Nice hand," Lew said. –AV
1:30pm: Not all short stacks
Level 11 – Blinds 800/1,600 (BB ante 1,600)
Not all the short stacks have been busting. David Eggenberger was down to just 22,900 and moved it all-in from the small blind after action folded to him. Christoph Strehl was on the big blind and the only player left to act.
Call.
Strehl turned over K♣10♥ while Eggenberger showed A♣2♣. The board ran 8♣8♦7♥6♦2♥ and Eggenberger got the double up to 48,000 while Strehl dipped to 30,000. While Eggenberger survived, others have not as we're down to about 260 players. –AV
1:25pm: Baumann halts Seidel's progress
Level 11 – Blinds 800/1,600 (BB ante 1,600)
Last time we strolled by Erik Seidel's table he had around 80,000. Well, he's been doing work since then and is now sitting with 120,000, even after losing this pot to Gaelle Baumann.
First, Matthias Tikerpe opened to 3,200 in the UTG+1 seat and Ivo Bartoletti called from the cutoff. Seidel popped it up to 18,800 from the small blind, and that cleared everyone.
Then Seidel was on the button and with no action in front of him he opened to 3,500. Baumann defended her big blind to see a 5♦J♣10♥ flop, on which Seidel continued for 2,500 after Baumann checked. She'd call to see the 8♣ turn, then check-called a 10,000 bet from Seidel.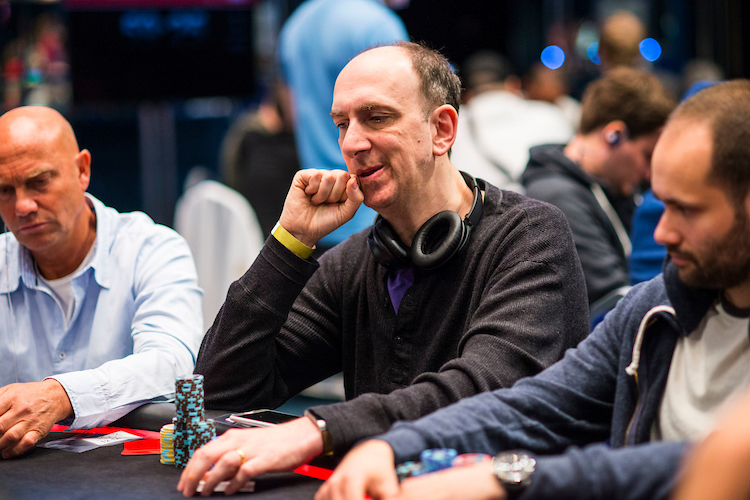 Erik Seidel: Going well, until Baumann intervened
The 6♥ completed the board after Baumann checked once more Seidel slowed down. She showed Q♥8♦ for third pair on board, and Seidel couldn't beat it so he mucked.
Baumann is up to around 50,000 now. –JS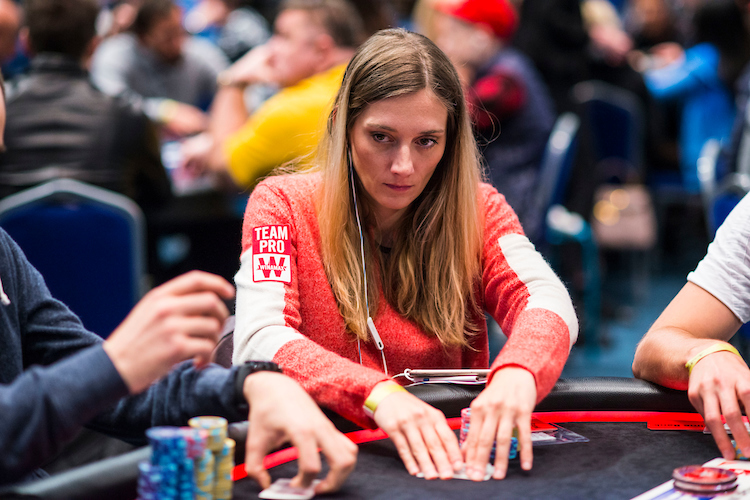 Gaelle Baumann: Besting Seidel
1:22pm: Igor rolls in
Level 11 – Blinds 800/1,600 (BB ante 1,600)
Team PokerStars Pro Igor Kurganov is another of the late joiners here on Day 2. He's lost a bit from his starting stack, but just won a few chips back after a preflop all-in went uncalled. He has 17,000 now.
While that hand was playing out, Kurganov and his tablemates were discussing various late-night extracurricular activities, characterized at one point by Colin Robinson as "balling."
"Bowling?" asked Kurganov, not quite hearing what Robinson said from the other side of the table. "I would like to go bowling, actually," Kurganov added.
There is, in fact, an inexpensive bowling alley within walking distance of the venue [Don't tell everyone! — ed], in fact, if Kurganov or others had the time to spare. Or strike. –MH
1:20pm: Fernandez on fire
Level 11 – Blinds 800/1,600 (BB ante 1,600)
The super-hot start of Javier Fernandez continues here at the beginning of Day 2. He just knocked out another player to push his now-most-certainly-leading-stack up to 415,000. That's a nice boost from the 139,000 with which the Spaniard began the day. –MH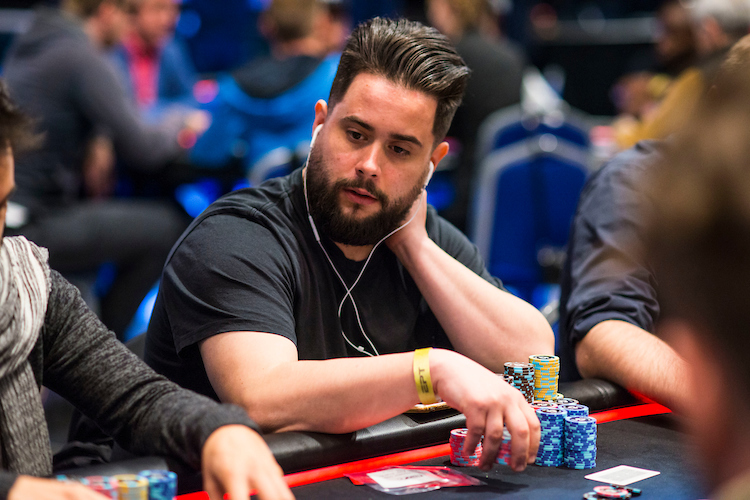 Javier Fernandez: Hot start
1:15pm: Straight shooting for Gruissem
Level 11 – Blinds 800/1,600 (BB ante 1,600)
Philipp Gruissem has just found a double up.
Picking up the action on a Q♥9♦8♠ flop, Gruissem led for 7,500 and the action was on Turkey's Ekrem Sanioglu. He asked the German for a count ("About 45,000," came the reply), before making a raise to what looked like 30,000. We didn't catch it exactly, as Gruissem quickly shoved (for what turned out to be 40,700) and was quickly called.
Gruissem – J♥10♦
Sanioglu – Q♣J♦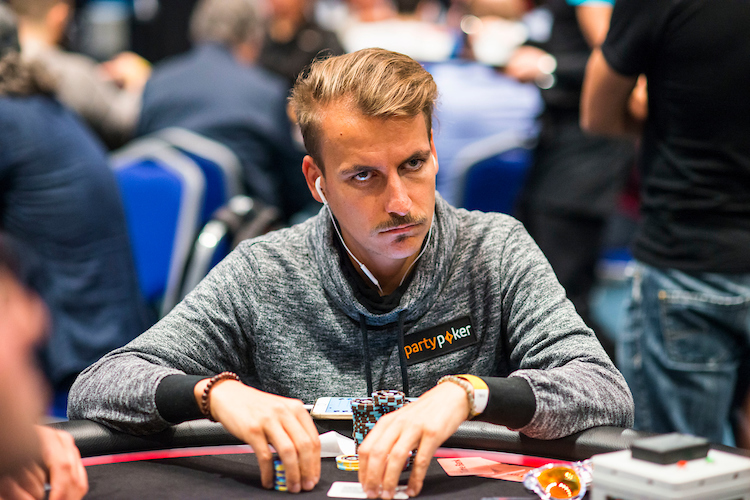 Philipp Gruissem: At the double
Gruissem had flopped the nuts, while Sanioglu held top pair and a gutshot. The 7♦ turn and 8♦ river changed nothing, and the pot shipped Gruissem's way.
He's up to 85,400, while Sanioglu dips to 110,000. –JS
1:10pm: Wheeler's set eliminates Drozd
Level 11 – Blinds 800/1,600 (BB ante 1,600)
Jason Wheeler just stacked up big at Ondrej Drozd's expense.
Wheeler opened the action for 3,500 before the flop and Drozd re-raised in position to 8,000 with about 70,000 chips behind. Wheeler check-called another 7,000 on the 2♥5♥10♣ flop and then check-raised all-in when the Q♠ fell on the turn. Drozd called with pocket kings only to find himself up against Wheeler's flopped set of deuces. The 3♣ fell on the river and Drozd headed for the exits.
With that win, Wheeler is now sitting at a very comfortable 315,000 chips. –JK
1:08pm: All the poker-playing people/Where do they all come from?
Level 11 – Blinds 800/1,600 (BB ante 1,600)
EPT Media Co-ordinator Jan Kores has crunched the numbers and furnished us with the following information:
There were 777 entries to the tournament:
574 unique players
201 re-entries
2 no-shows
Here's the nationality breakdown, in piechart form: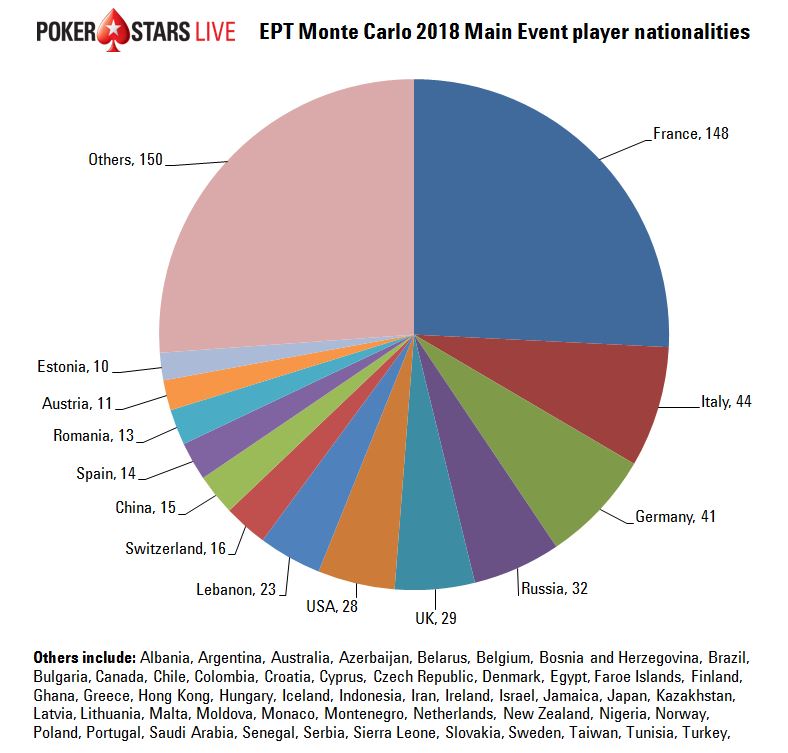 EPT Monte Carlo Main Event nationalities
Tournament staff tell us that there will be 111 places paid (full schedule tbc). We'll play five levels today or until 120 players remain. — HS
1:05pm: Au revoir former champs
Level 11 – Blinds 800/1,600 (BB ante 1,600)
Jake Cody has joined Steve O'Dwyer among the big-name eliminations in the first level of the day. Both are also former EPT Main Event champions. Other departees include: Dario Talio, Andreas Freund, Ricardo Graells, Andrey Ivlev, Paraschos Stavridis and Julien Stuer. — HS
1:05pm: Kenney cut down
Level 11 – Blinds 800/1,600 (BB ante 1,600)
Bryn Kenney is out.
He got his last 14,000 or so in before the flop with A♦6♣ and was a marginal favorite to win against Brian Altman's K♣J♠. And Kenney was in more than marginal shape after the 4♥3♣9♠ flop and 5♦ turn. But the river was the K♠, and Altman's kings were best. –MH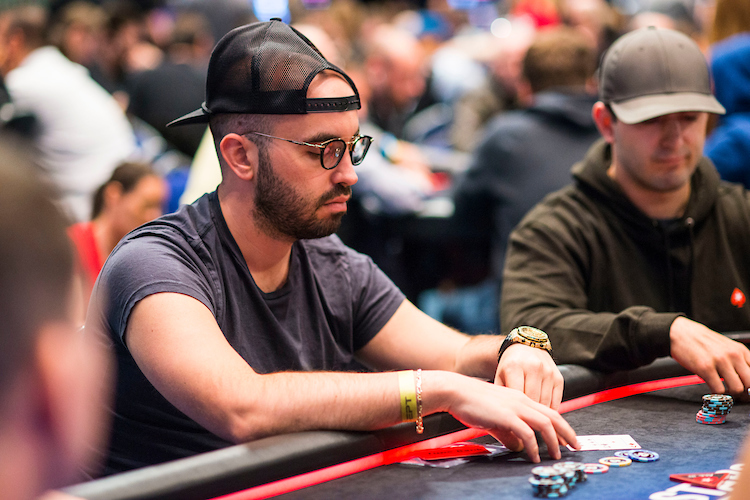 Bryn Kenney: Short Day 2
1pm: Bonomo's sticking around
Level 11 – Blinds 800/1,600 (BB ante 1,600)
As we've already Steve O'Dwyer and Sam Greenwood, two of the final table six from last night's €50K Single Day High Roller, let's bring you an update of the fourth-place finisher in that one: Justin Bonomo.
He's just doubled up, with a little help from the deck. Michel Abecassis opened to 3,500 from the cutoff and Bonomo shoved over the top for 19,400 out of the big blind. He was called by A♠J♥, which had his K♥J♦ in bad shape.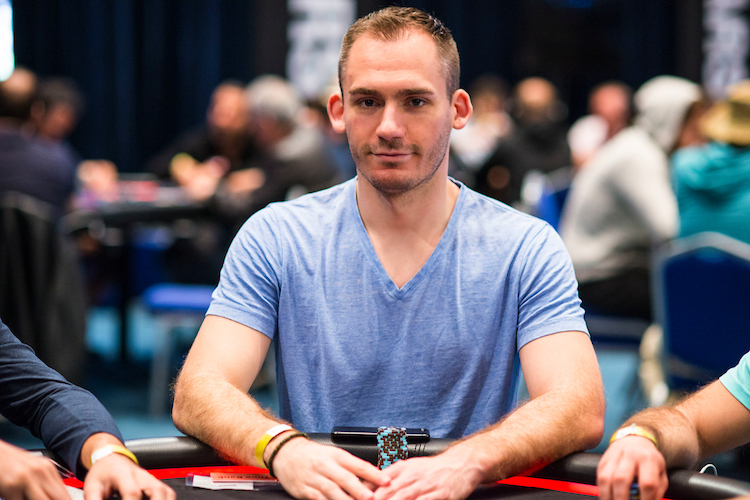 Justin Bonomo: Sitting pretty
Luckily for Bonomo, a king on the flop of the 9♦K♦10♠4♥5♠ board ensured he'll be sticking around a bit longer. Bonomo has 42,800 now. –JS
12:55pm: Not much equity, cut in half
Level 11 – Blinds 800/1,600 (BB ante 1,600)
Kilian Loeffler pushed his short stack all in and got one caller in Andrei Boghean. But when it folded back around to Javier Fernandez in the blinds he reshoved and Boghean stepped aside.
Loeffler turned over J♦J♥ and Fernandez K♦K♥, then another player said he'd folded king-jack. "Don't say that!" said Loeffler with a grin. The board didn't provide the case jack for him, coming 2♣Q♠3♠7♣7♠, and Loeffler is out.
Fernandez jumps up to 340,000 with that pot, while Boghean has slipped a little in the early going to 165,000. –MH
12:52pm: Seidel stacking
Level 11 – Blinds 800/1,600 (BB ante 1,600)
How do the top pros handle playing against unconventional styles? Here's a lesson from one of the very best, Erik Seidel.
Italy's Ivo Bartoletti limped under the gun, which prompted a raise to 6,000 from Seidel two seats over. It folded back to Bartoletti and he made the call to see the 6♦9♥7♠ flop.
Bartoletti now opted to lead straight out for 12,000. Undeterred, Seidel jammed pretty quickly for 52,800, and although Bartoletti got a count, he laid it down.
Seidel is up to 80,800, while Bartoletti dips to 118,000. –JS
12:50pm: Troyanovskiy doubles through Sammartino
Level 11 – Blinds 800/1,600 (BB ante 1,600)
Vladimir Troyanovskiy was just all-in for his last 17,100 with A♦J♦ and needing to hold against Dario Sammartino's Q♠10♣. The board came nine-high — 9♥6♥2♣4♦6♦ — and Troyanovskiy kept his seat.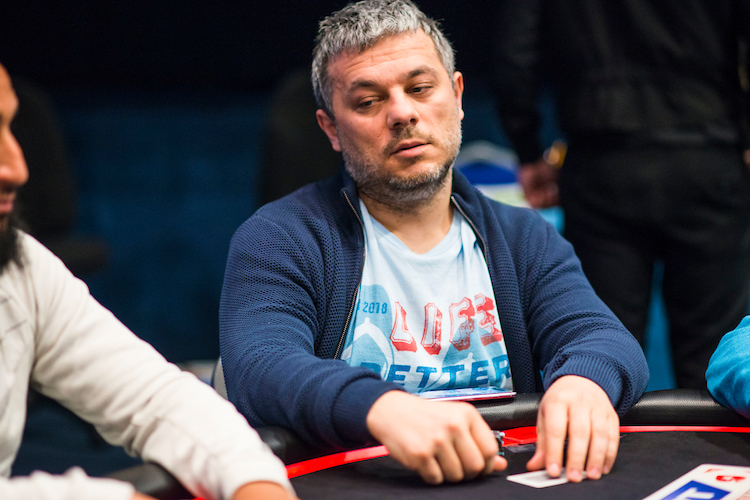 Vladimir Troyanovskiy: Sticking around
Troyanovskiy is at about 38,000 after that double-up, while Sammartino is still with around 110,000. –MH
12:45pm: Then Greenwood gets one
Level 11 – Blinds 800/1,600 (BB ante 1,600)
"I got an idea, let's give this guy all the chips," said Jeffrey Colpitts. "Not who I would've chosen though."
Colpitts was talking about none other than Sam Greenwood, who knocked out a player after doubling up early on. Soon after the double up, Greenwood got dealt 6♥[s] and called Alexandre Le Vaillant's all-in. Le Vaillant showed A♦2♦ and couldn't improve on the Q♠9♥4♦Q♥3♥ board.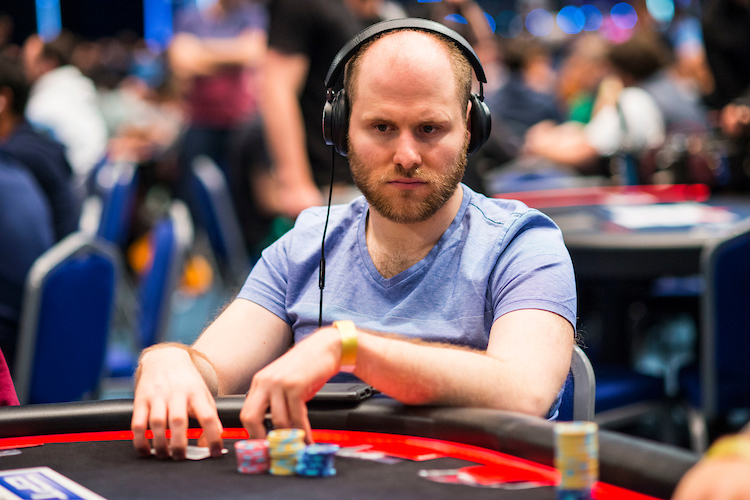 Sam Greenwood: The Danger
Greenwood is up 65,000 and is an even bigger threat to his table. –AV
Paul Tedeschi wins flipout tournament for a $30,000 PSPC Platinum Pass
They call it a "flipout" because of the nature of the game, but it could just as easily be because of the reactions in the room while the quickfire tournament is running. The Salle des Étoiles is rarely abuzz the way it is when there's a $30,000 Platinum Pass on the line. The players who win their first table are all laughs on their way to the second round. There's conversation in almost as many languages as there are players. And of course there are the followers waiting to see if their friends make it through.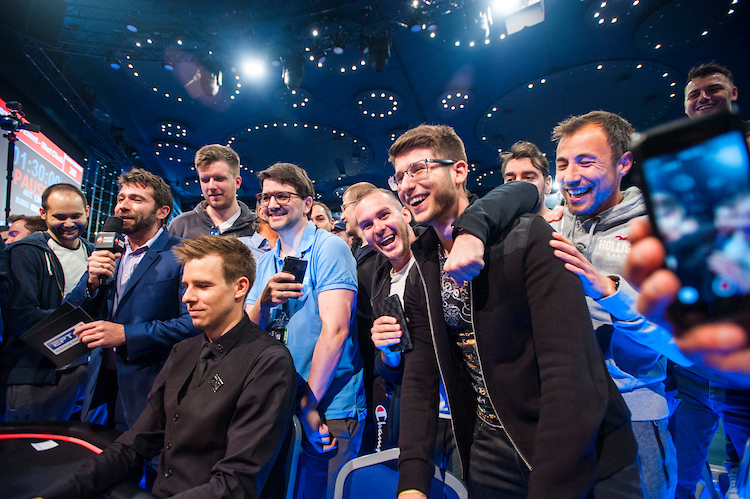 Paul Tedeschi: Latest Platinum Pass winner
Team Pros Andre Akkari and Celina Lin both advanced through the first round. Akkari busted in the second. Lin did as well, though not without a bit of excitement first. She was dealt an offsuit 4-2 and Randy Lew told her, "You're going to need a straight." She got it, too — though not the way she might have expected. The board fell J♥K♣Q♠A♠10♥, giving all 10 players a Broadway straight and sending the onlookers and players alike into roaring cheers.
No luck for Lin on the second run, though, and the final was set without a Team Pro in sight.
The final four players made their way to the center of the room, where the TV cameras captured the final action. A veritable mob of friends and curious onlookers surrounded by them. Joe Stapleton arrived to announce the action. And when it was all done, France's Paul Tedeschi laid claim to the coveted Platinum Pass.
The roar quieted down. "And the lucky get luckier," said one player walking away. And Paul Tedeschi took his winner's photo before heading back to the table for Day 2 of the Main Event.
Be sure to check back for the full story later today on the blog. –JK
12:35pm: O'Dwyer Late to arrive, early to exit
Level 11 – Blinds 800/1,600 (BB ante 1,600)
Steve O'Dwyer was busy yesterday winning the €50K Single-Day High Roller. He had a good reason, then, to be among the last-minute entrants who joined the Main Event just prior to late registration closing at the start of Day 2.
Alas for O'Dwyer, he's a late entrant and an early exit here today, going out right at the start of play after a preflop all-in.
Andre Haneberg won the hand with A♠A♥ to knock out O'Dwyer. It appeared O'Dwyer had Q♥Q♠, and a 2♣A♣9♥4♣7♣ runout didn't help the queens. A short-stacked Andraes Freund was also eliminated on the hand, reducing the field by two.
Haneberg is up around 180,000 now. –MH
12:30pm: Early double for Greenwood
Level 11 – Blinds 800/1,600 (BB ante 1,600)
It has been an action-packed few days for Sam Greenwood. On Saturday night, he took down the €100K Super High Roller for €1.52 million. Less than 24 hours later, he bubbled yesterday's €50K Single Day High Roller, before immediately hopping into the Main Event late on Day 1B.
He returned today with just 17,700, but after a couple of hands he's managed to double up. China's Yong Wang opened to 3,200 in the UTG+1 seat, and Greenwood shoved one seat over. Back to Wang, he made the call with 8♦9♦, up against Greenwood's A♥Q♠.
The 4♠K♣J♣ flop didn't help Wang's hand, nor did the 4♥ turn or 6♠ river. That brings Greenwood up to 39,400, and takes Wang down to 64,000. –JS
12:25pm: And we're off…
Level 11 – Blind 800/1,600 (BB ante 1,600)
All the Platinum Pass shenanigans are now over (full details to follow) and we're back to Main Event action for the next five 90-minute levels. — HS
12pm: Play due to start
Level 11 – Blind 800/1,600 (BB ante 1,600)
Play is due to begin, but there's the small matter of the Platinum Pass flipout to get through first. They're going through those exciting motions right now, and we'll soon be able to give you details of the first winner, before cracking on into Level 11.
11:45am: A very, very busy day
Morning all, and welcome back to Monte Carlo. This is going to be a very, very busy day.
At time of writing, players are filtering into the tournament room for the resumption of the Main Event. This is Day 2, with the 286 survivors from Days 1A and 1B returning, plus anybody else sitting down for a €5,000 crack.
When everyone is seated, there's going to be a random draw for a $30,000 Platinum Pass. Yep, one player is going to get their seat in next January's PokerStars Players Championship (PSPC) in the Bahamas just for being involved in this event. That's going to be a little crazy and we'll have full details of who is joining this Hall of Fame, plus video coverage of the big moment, on the blog.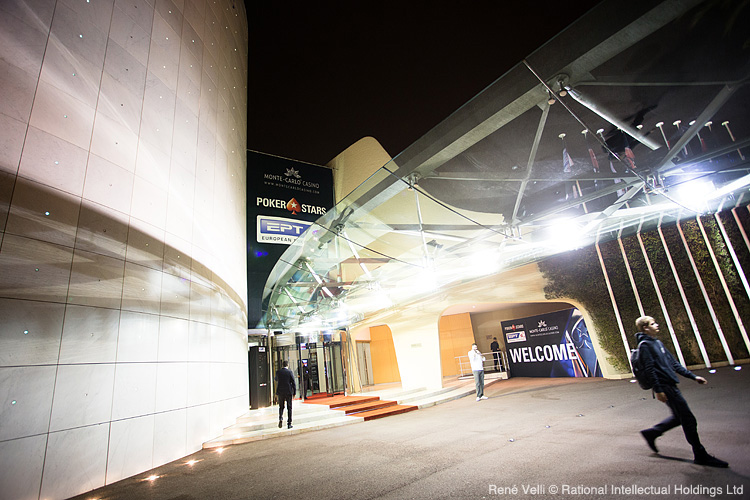 After that, we're going to resume the Main Event. There's a shot clock in play for the first time, and the idea is to play either five levels of to within one table of the bubble bursting. The payout schedule is not yet confirmed so we don't know precisely how many players will be paid. But this is important: the bubble will not burst today.
That's the plan, and this is going to be the right place to follow it all. There's chip counts on the chip-count page, there's a live stream on the live stream page, payouts will be on the payouts page and, oh, the seat draw. That's on the seat draw page.
Now settle in for a great day. — HS
Download the PokerStars LIVE! app with all tournament information. Available for IOS and Android.
PokerStars Blog reporting team on the €5,000 Main Event: Stephen Bartley, Marc Convey, Jason Kirk, Martin Harris, Jack Stanton, Howard Swains and Alex Villegas. Photography by Joe Giron/PokerPhotoArchive.