The starting flights are done and your EPT Monte Carlo Main Event field is nearly set.
Players can still buy in until the start of tomorrow, but our chip leaders are already decided. While no one was able to top Mark Demirdjian's 350,500 here on Day 1B, Ali Reza Fatehi came pretty close with 279,300.
Fatehi has had a busy couple of days. Fatehi made the final table of the €100K Super High Roller yesterday, but finished third after Christoph Vogelsang hit a straight-flush to beat his straight. Fatehi got a €669,920 payday for that finish and then he hopped into the €50K Single-Day High Roller earlier today.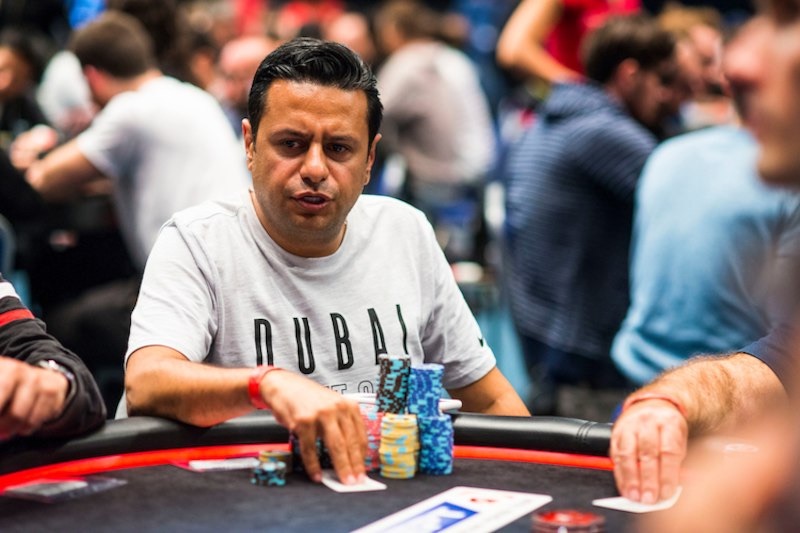 Ali Reza Fatehi
Fatehi wasn't able to get much going there and was eliminated before the money. Then Fatehi burned through his first Main Event bullet in a couple of hands. He did a bit better on his second one. Hitting quads helped to knock out two players really.
Fatehi leads the Day 1B survivors, but several players are in hot pursuit. Alexandros Kolonias (238,000), Maxim Panyak (219,400), Denis Timofeev (210,000), Tsugunari Toma (204,500), and Andrei Boghean (200,000) were among those who bagged big stacks at the end of the night. Team PokerStars Pro Andre Akkari, Leo Fernandez, and Fatima Moreira de Melo also made it through the day. Akkari finished the day with 119,000, Fernandez 66,700, and De Melo 48,700.
But all those chips had to come from somewhere. Today saw 480 entries altogether with 186 players surviving through 10 levels of play. Some of the players among the hundreds of fallen include Maria Konnikova, Dominik Nitsche, Kalidou Sow and Jose Ignacio Barbero.
If you want more details on the rise of some players and the fall of others, scroll down for today's live updates.
Click here for full chip counts for everyone who made it through Day 1B.
Click here for the full start of Day 2 chip counts for all 286 players who made it through the two Day 1 flights. And here is a look at the Day 2 seat draw.
Meanwhile, if you're looking for more Main Event action, just hold tight for about 12 hours. We'll be back tomorrow at 12:00pm CEST for Day 2 of the 2018 EPT Monte Carlo Main Event action to follow the fortunes of those still with a chance to win the next EPT Main Event title — the 285 still in, plus anyone else late registering before the start of play tomorrow.
You won't want to miss the start, either. We'll be having a random draw for a Platinum Pass at the start of the day and the 30-second shot clock will also come into play. See you back here then. –AV
*Guess what, Steve O'Dwyer took down another high roller title today. Click here to see how he took down the €50K Single Day High Roller.
Main Event Day 1B Coverage Archive
• DAY 1B PLAYERS: 186 of 480 entries (with 61 re-entries)
• CHIP COUNTS | SEAT DRAW | LIVE STREAM
• ALL EPT INFO | TOURNAMENT SCHEDULE
• DOWNLOAD POKERSTARS | Follow @PokerStarsBlog

---
12:10am: Day 1B concludes
That's it. It appears Ali Reza Fatehi is well clear of everyone to be crowned end-of-Day-1B leader. Back shortly with a recap of an exciting day of poker. –MH
12:05am: Five more hands
Level 10 – Blinds 600/1,200 (BB ante 1,200)
The end is nigh. –MH
12am: Barbero busts to Fleur
Level 10 – Blinds 600/1,200 (BB ante 1,200)
With just 15 minutes left in the day, Nacho Barbero was all in and at risk with 10♣10♦ versus Alexis Fleur who held A♥K♠.
The board came 3♦A♦Q♠5♦J♥, the ace giving Fleur the hand and the pot and sending Barbero to the exits just a bit ahead of everyone else. Fleur has 110,000 now. –MH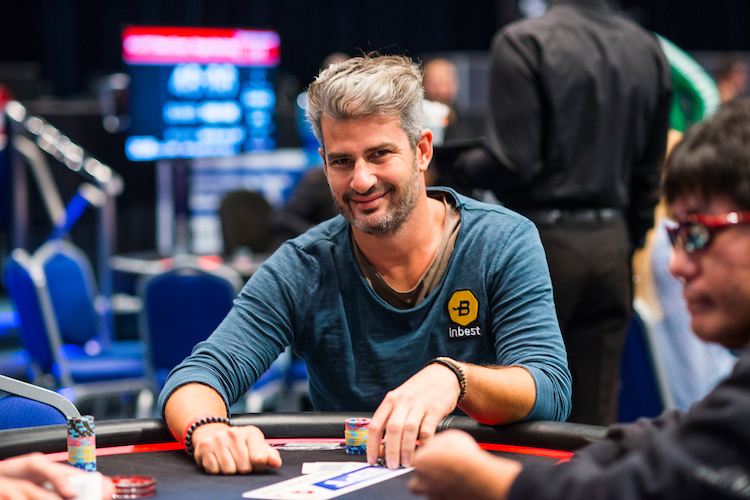 No more Nacho
11:50pm: Big bluff fail and a lost race
Level 10 – Blinds 600/1,200 (BB ante 1,200)
Ranno Sootla made a great call on the river after Pierre Calamusa tried to pull off a huge bluff.
The two players made it to the river of a 7♦3♥5♥2♣10♠ board where Calamusa (LJ) check-raised all-in for 83,000 after Sootla bet 18,600 (CO). Sootla thought for so long that the clock was called on him and he let it run down to two seconds before he flicked in the call. Calamusa opened 3♣4♣ and lost out to the Estonian's K♠10♠, who moved up to 195,000.
While Sootla was thinking, we had time to run over to Beatrice Alisauskaite's table to watch her bust to Patrick Bruel. She was down to 21,500 and all the chips went in preflop.
Bruel: 7♣7♥
Alisauskaite: A♦Q♣
The board ran 9♥6♣9♠5♣5♥ and Bruel moved up to 115,000. –MC
11:35pm: Vogelsang shoves, collects
Level 10 – Blinds 600/1,200 (BB ante 1,200)
Firas Nassar raised to 2,000 from under the gun, then Christoph Vogelsang three-bet all in for 19,100 total and it folded back around.
Nassar smiled and looked at Vogelsang on his left, saying "hmmmm" as he did in a kind of endearing way. He looked at his stack of 17,000 and thought for a short while, but finally folded. Perhaps because of the "hmmmm," Vogelsang decided to show — A♦K♦ — and Nassar was clearly relieved about it.
Vogelsang chips to about 23,000 with that one. –MH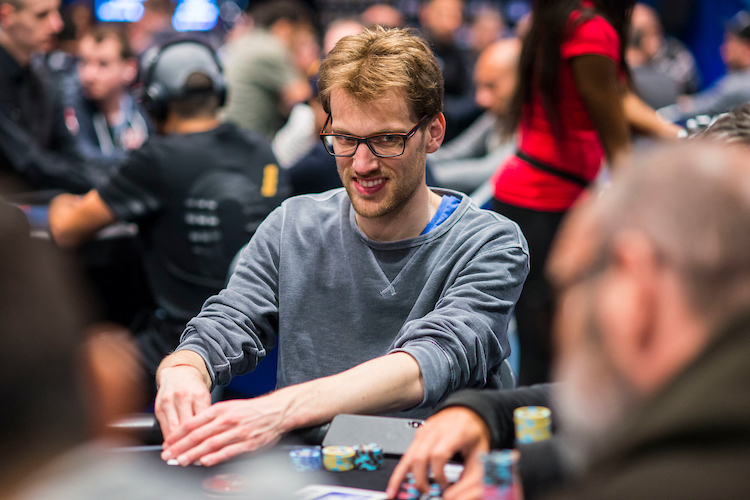 Christoph Vogelsang
11:25pm: Hilarious end to Level 9
Level 9 – Blinds 500/1,000 (BB ante 1,000)
The last level of the day has gotten underway but not before some hilarity at Guillaume Diaz's table.
Diaz, who won a Platinum Pass last night when he took down the EPT Monte Carlo National, continued to run well in very funny fashion.
He was in the big blind and down to his last few thousand chips. He had A♥5♣ in the hole, easily strong enough to call all-in if the action got folded around to the blinds. It did and Oshri Lahmani (seemingly) allowed himself to be talked into shoving. Diaz slammed in the call and proudly opened his hand only for the whole table to erupt in laughter when Lahmani opened A♠A♣!
The story, and the laughter for that matter, didn't end there as when you're hot, you're hot. The board ran 4♥K♠2♥7♥K♥ to make Diaz a flush. Lahmani dropped to 53,000. –MC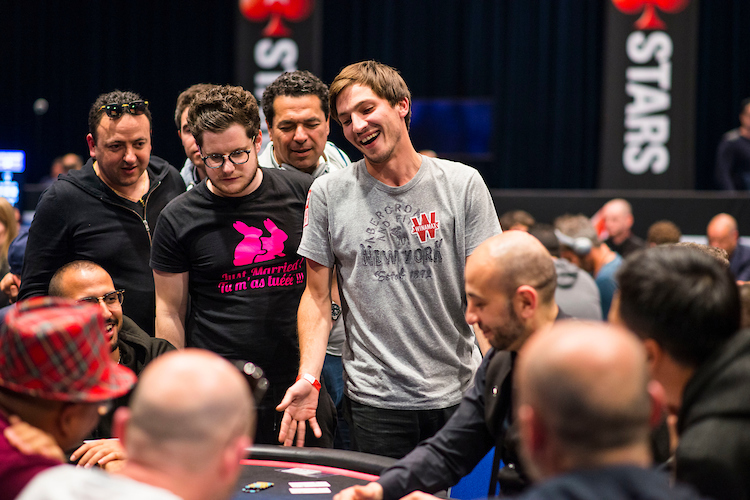 Guillaume Diaz: man of the moment
11:20pm: Simunic sinks Konnikova
Level 9 – Blinds 500/1,000 (BB ante 1,000)
Maria Konnikova is out for a second and last time today. I can pass along a few details, gathered second-hand.
It sounds as though Josip Simunic had three-bet to 7,000 over a Konnikova open, then the latter jammed for 17,000 and Simunic called. Konnikova had pocket jacks, Simunic ace-ten, and, well, the story gets less focused from that point other than to conclude with Simunic getting there. He's now at 110,000. –MH
11:10pm: Greenwood gathers
Level 9 – Blinds 500/1,000 (BB ante 1,000)
Marchetti Luca opened for 2,500 from the hijack seat and got a caller in Andrey Ivlev on the button. Sam Greenwood was next to act, and he shoved his stack all in for a total reraise of 20,100.
It folded back to Luca who tossed his hand away, but after a bit of thought Ivlev called and showed K♠Q♦. Both of Ivlev's cards were live as Greenwood showed 10♥10♣, but the board came eight-high — 3♥8♠7♠3♦8♦ — and Greenwood more-than-doubled.
Greenwood's up to 44,000 now, while Ivlev still has about 50,000 and Luca has 25,000. –MH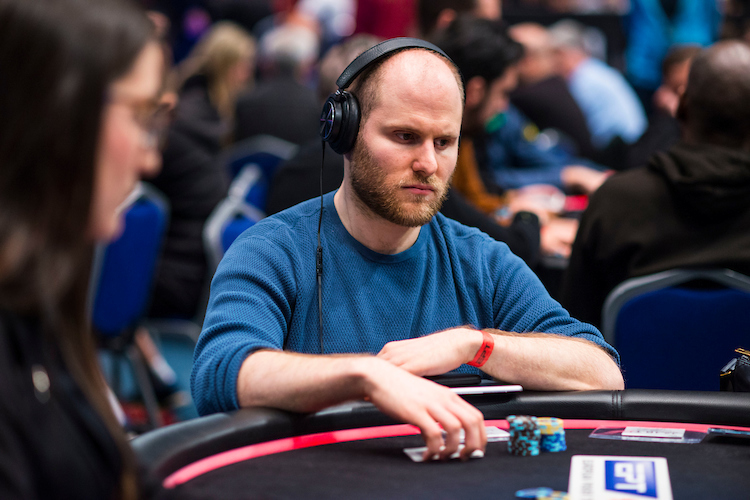 Give one to Greenwood
11:08pm: Doubles, triples, sidepots and gambles
Level 9 – Blinds 500/1,000 (BB ante 1,000)
It's all going off at Pierre Barthelemy and Chen An Lin's table with these two players in the thick of it. It seems we arrived part-way through a series of action hands but we picked up the following two.
Barthelemy was in second position and moved all-in for 7,100. Lin was in the hijack and moved all-in for a few thousand more. Philipp Gruissem was in the big blind and was thinking about calling (the dealer was attempting to stop Barthelemy talk Gruissem into it) but he folded.
Barthelemy: 10♣9♠
Lin: A♥8♦
The board ran 5♠8♥9♥3♣5♥ to double Barthelemy up.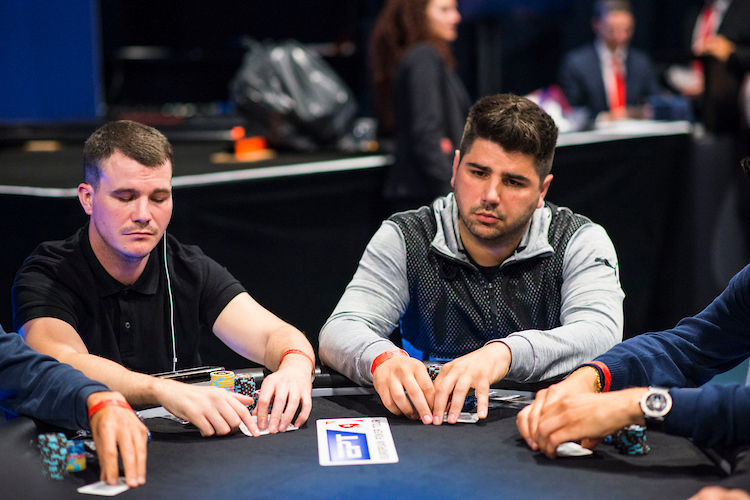 Gary Miller (L) & Pierre Barthelemy (R)
The very next hand, Barthelemy moved all-in again and Lin called all-in for 3,400. The big-stacked Gary Miller was in the big blind and said he felt like a gamble, so called as well.
Miller: 10♣5♣
Barthelemy: Q♣J♣
Lin: 9♣9♥
The board ran 5♦Q♦K♣9♦3♥ to make Lin a tripling-up set. Barthelemy took the side pot and Miller dropped to 105,000. –MC
10:59pm: Bruel gets some off Greenwood
Level 9: Blinds 500/1,000 (BB ante 1,000)
It looked like Sam Greenwood had doubled up since he joined earlier this level, but now he's dipped back down to less than starting stack.
A chunk of those chips went to Patrick Bruel. Bruel and Greenwood were faced with a K♠2♥J♣A♠ board and Greenwood bet 6,000 into a pot of about 15,000. Bruel then raised to 21,000 and Greenwood called. Both players then checked the 3♥ on the river and Bruel turned over K♦K♥ for a set of kings.
Greenwood mucked and dipped to 25,500 while the pot put Bruel up to 82,500. –AV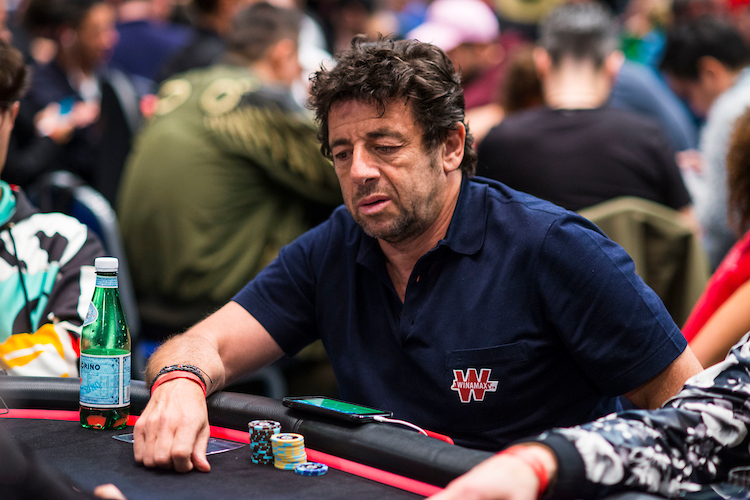 Patrick Bruel
10:54pm: Akkari over 100k
Level 9: Blinds 500/1,000 (BB ante 1,000)
There was about 28,000 in the pot and Salvatore Iaquinangelo and Team PokerStars Pro Andre Akkari were on the river of a 8♥10♣5♣6♥5♦ board. Iaquinangelo moved all-in for 33,500 and Akkari thought for a bit and then called.
The call was good.
Iaquinangelo turned over Q♣7♥ for a busted straight draw and Akkari turned over a pair of eights with 9♠8♠. Iaquinangelo was eliminated while Akkari chipped up to just over 100,000. –AV
10:50pm: Mateos moves Garassi off hand
Level 9 – Blinds 500/1,000 (BB ante 1,000)
Adrian Mateos just put Sebastien Garrasi to the test for his tournament life, and Garrasi chose to back away from the challenge.
The board read K♦6♣3♠ and Garrasi had bet a heft 15,100 — an amount representing about two-thirds of the pot and nearly half his stack. But Mateos responded with a big reraise that would put Garrasi all in if he called, and after a long think — including the calling of the clock — Garrasi got out. (It happened quickly, but Garrasi showed as he folded and it appeared he had a king.)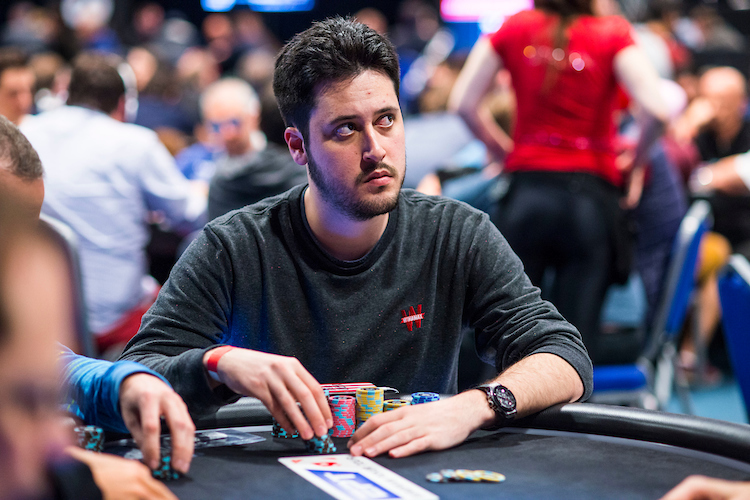 Adrian Mateos
Mateos is up to 87,000 now, Garassi down to 16,000. –MH
10:47pm: Big stack sampler
Level 9 – Blinds 500/1,000 (BB ante 1,000)
Took a stroll all the way around the tournament room just now to get an idea who's doing more than just surviving, but thriving.
Laurent Patroni appeared to boast the biggest stack at the moment, with Aleksandr Sheshukov — discussed below knocking out a couple of players (take a look, 10:25pm) — with nearly as much.
Laurent Patroni – 180,000
Aleksandr Sheshukov – 170,000
Maxim Panyak – 170,000
Andrei Boghean – 155,000
Alan Smurfit – 150,000
Jason Wheeler – 145,000
Dario Sammartino – 145,000
Said Butba – 140,000
Ghassan Bitar – 140,000
–MH
10:45pm: Who's the biggest winner here, Rose or Dino?
Level 9 – Blinds 500/1,000 (BB ante 1,000)
Aryeh Leon Rose doubled up in the following hand, but the table dealer – known as Dino – put in a fine perforce, too.
Jan Bendik opened to 2,500 from under the gun and was called by Honglin Jiang on the button before Rose squeezed all-in from the small blind. Bendik folded and Jiang asked for a count. Dino snap responded saying it was 22,500 before counting down to confirm he was indeed correct. "Good form!" said another player not in the hand and gave Dino a fist pump. Back to the action where Jiang called.
Rose: A♣10♥
Jiang: K♥Q♦
The board ran 5♦A♠J♦]Q♥7♣ to see Rose double. Jiang dropped to a still healthy 125,000. –MC
10:40pm: Kolonias KO's Postel
Level 9 – Blinds 500/1,000 (BB ante 1,000)
Alexandros Kolonias just knocked out Dick Postel. I arrived to see Kolonias tabling K♦8♦ and Post J♦J♥, and it looked likely everything got in on a 7♦6♦9♦ flop that had made a flush for Kolonias. In any case the board finished out 10♣ then 4♣, and Post hit the exits.
Kolonias is at 115,000 now. –MH
10:37pm: Bubbling over
Level 9: Blinds 500/1,000 (BB ante 1,000)
While it's late in the night and the field is shrinking quickly, we're still getting a few more entries in the field. Some of them just can't get enough poker.
After winning the Super High Roller late last night, Sam Greenwood hopped into the €50K Single-Day High Roller today and bubbled just about an hour ago. Now he bought into the main event and just took his seat. Do you ever sleep Sam? –AV
10:31pm: Salter sacked
Level 9: Blinds 500/1,000 (BB ante 1,000)
Jack Salter was down to just 8,500 and moved all-in from under the gun. Alexandros Kolonias called from the cutoff and then Dick Postel rejammed for 40,000 from the big blind. That was most of Kolonias's chips and he decided to fold instead.
Salter turned over A♠3♥ and Postel tabled 6♥6♣. The board ran 4♣J♥10♥3♠8♠ and Salter hit the rail while Postel chipped up to about 65,000. (We're seeing Salter buy back in, though.) –AV
10:25pm: Too far to travel to fold
Level 9 – Blinds 500/1,000 (BB ante 1,000)
"Why would you come to Monte Carlo and fold ace-seven to two big all-in?" voiced Vicky Coren Mitchell.
Can you guess which table mate she was referring to? If you read our 9:30pm post you'll already know it was Aleksandr Sheshukov. The Russian player took out both Gunther Hornung and Karim Abdelmoumene in one hand to see his stack rise to around 170,000 (It's hard to tell exactly as this maverick doesn't stack in 20s).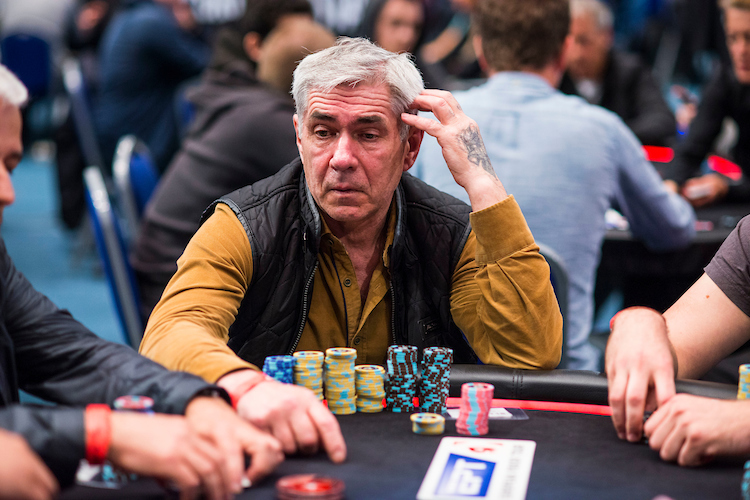 Aleksandr Sheshukov
Coren Mitchell recounted that Sheshukov made a biggish raise with ace-seven before Hornung and Abdelmoumene both moved all-in for around 22,000 with jacks and eights respectively (not sure who had what hand). He called and spiked an ace to take them both out.
Sheshukov, who doesn't seem to speak a word of English, could tell Coren Mitchell was talking about him and smiled while signing that he has a screw loose. –MC
10:20pm: Back to business
Level 9 – Blinds 500/1,000 (BB ante 1,000)
Players are back. Two hours left in Day 1B. Stay tuned to see if anyone tonight can challenge Day 1A chip leader Mark Demirdjian's whopping total of 350,000 from last night. –MH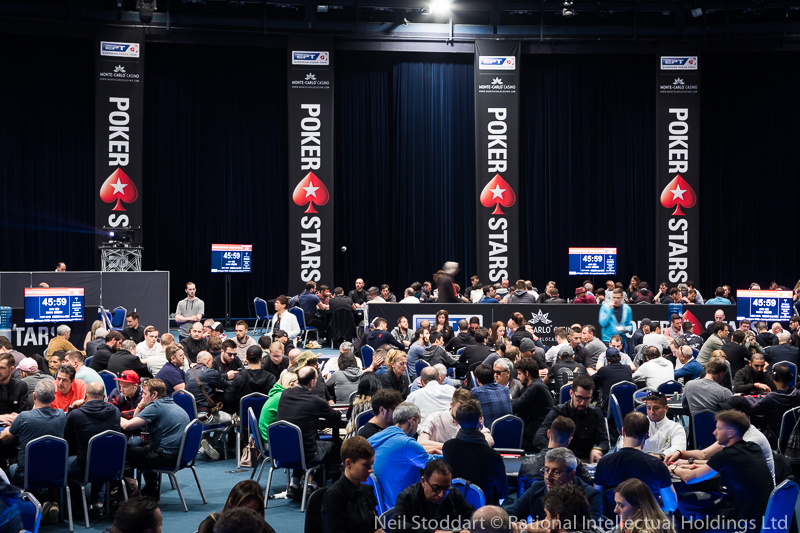 Day 1B, evening session
---
Don't have a PokerStars account? Getting one couldn't be easier and could mean a trip to the next big PokerStars series. Click here to get started.
---
10pm: Break
Players are on their final 20-minute break of the day. –AV
9:58pm: Gandini gets Kamar
Level 8 – Blinds 400/800 (BB ante 800)
Filippo Gandini opened for 2,000 from early position, and it folded around to Fady Kamar in the big blind who reraised all in for what looked like his last 8,800. Gandini called, tabling J♠10♥, while Kamar held A♠8♣.
The 8♠5♦5♣ flop hit Kamar's lesser card, but the J♣ turn paired Gandini's better one. The K♥ completed the board, and Kamar exited. Put Gandini up to 54,000 after that one. –MH
9:55pm: Seidel calls with middle pair to bust Muradov
Level 8: Blinds 400/800 (BB ante 800)
We're not sure if you've heard this before, but this Erik Seidel is kind of good at poker.
In his most recent elimination, Seidel started things off with a raise to 1,800 from the hijack and Sara Nassar called from the cutoff. Shakhabiddin Muradov was on the big blind and he three-bet to 4,500. Seidel called, Nassar folded and a J♥5♥2♠ flop hit the board.
Muradov moved all-in for 11,300 and Seidel thought for a little bit before calling. Muradov showed A♣10♥ for ace-high and Seidel turned over A♥5♣ for a pair of fives. The 2♦ came on the turn and a 7♦ completed the board.
Muradov hit the rail while Seidel chipped up to 57,000. –AV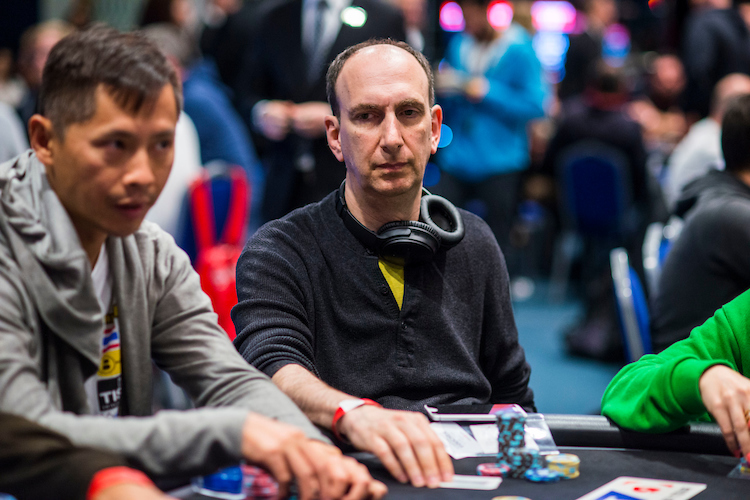 That Erik Seidel. He's going places.
9:50pm: Short stack blind cooler
Level 8 – Blinds 400/800 (BB ante 800)
Ace-king versus ace-queen in the blinds is a cooler, especially if both opponents are short-stacked. That set-up just happened to Kamel Amrane and Jens Vinther. The chips went in preflop and the cards flipped up.
Amrane: A♣K♥
Vinther: A♦Q♥
The board ran 8♥3♣5♥9♦6♠ to see the blg-slick hold. After a countdown, Vinther was left with 8,400 chips once he'd paid his 9,100 debt. –MC
9:40pm: Sammartino dares to stare at Sun
Level 8 – Blinds 400/800 (BB ante 800)
I arrived at some point after the back-and-forthing had begun between small blind Dario Sammartino and big blind Liwei Sun. However they'd gotten to that point, Sammartino had 7,300 sitting in front of him to indicate his last raise, and Sun had all of his chips out in front, something in the neighborhood of 28,000.
The pair engaged each other in a bit of chat, with both laughing as Sammartino looked at Sun while trying to decide what to do. Eventually Sun was leaned over to his left with a big grin on his face, almost as though he were bracing himself while Sammartino rubbed his forehead as if trying to massage the answer into his thoughts.
Finally with mock drama Sammartino set a stack out to call, and Sun showed his A♦K♠. Sammartino had 9♥9♠, which remained best through the 3♦10♣2♥ flop. But the K♣ turn gave the lead to Sun, and the 5♠ river ensured him the double-up.
The pair continued to grin afterwards, although Sun's was just a bit wider as he is now over 60,000. Sammartino was still very fine chip-wise, and after winning the next small pot is way up over 180,000 himself. –MH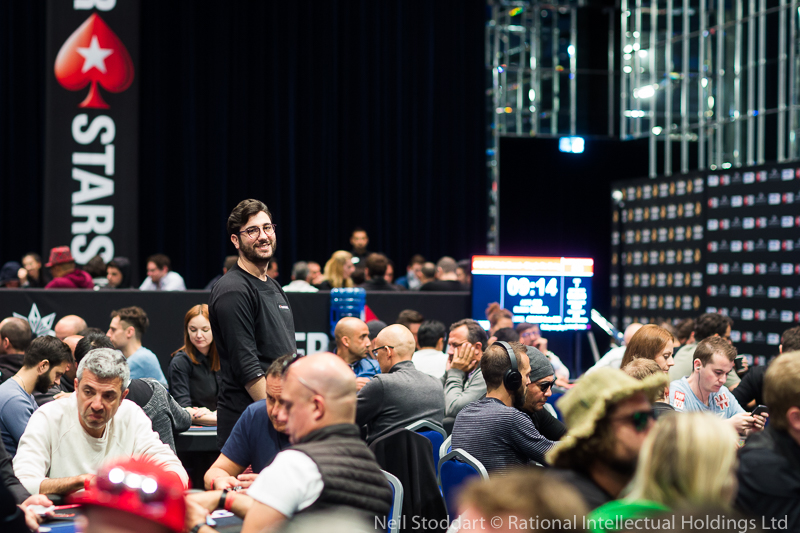 Big-stacked Sammartino standing out from the crowd
9:30pm: Macho macho man
Level 8 – Blinds 400/800 (BB ante 800)
"He's literally the most macho player in the tournament," was Vicky Coren Mitchell's assessment of Aleksandr Sheshukov's style of poker.
The latest evidence to back this theory up was in Albert Daher's elimination hand. He was all in for pennies and called Sheshukov and one other player. A 9♣9♠4♥ flop came down and Sheshukov bet 30,000 into a few thousand and successfully isolated Daher.
He opened 8♥8♦ and survived a 7♥6♠ runout to beat Daher's A♥Q♠. Sheshukov's macho style has brought him a stack worth 130,000. –MC
9:22pm: Ticking down
Level 8: Blinds 400/800 (BB ante 800)
Players keep flipping for their tournament lives, running pairs into bigger pairs and either doubling up or busting.
One of the players that recently landed in the middle of the busting and running a pair into a bigger pair category was Abdelkader Benhalima. Benhalima was down to 24,000 and moved it all-in with 7♣7♥.
Kent Roed had slightly more chips and a slightly better hand with K♥K♣. The 10♥10♦9♠K♦9♦ board then filled Roed up and counterfeited Benhalima's pocket sevens to add insult to injury. Benhalima busted, Roed chipped up to 55,000 and we're down to about 280 players. –AV
9:15pm: Mateos arrives, Mateos defeats
Level 8: Blinds 400/800 (BB ante 800)
Adrian Mateos has arrived. He made it just in time to start level 8 and started things by folding the first few hands.
Then the 23-year-old three-time WSOP bracelet winner with nearly $14 million in live tournament earnings knocked out a player in the first hand he raised. Mateos raised from early position that hand and then Karl-Joonatan Mets moved all-in for 21,300. Action folded back around to Mateos and he called.
Mets turned over 10♥10♦ and Mateos showed J♥J♠ for a better pocket pair. The 7♦6♥6♣3♥7♠ board didn't help Mets and he hit the rail while Mateos chipped up to 55,000. –AV
9:10pm: Patient Patroni picking his spots
Level 8 – Blinds 400/800 (BB ante 800)
Laurent Patroni of France has been relatively quiet lately. Or at least that's the impression I've gotten after walking past his table a few times and seeing him fold hands.
But he was busy before that, to be sure. Patroni has been hovering around 155,000 for some time now, putting him in big-stacked territory compared to most everyone else in the room. –MH
9:05pm: New level, as the short stacks note
Level 8 – Blinds 400/800 (BB ante 800)
With the new level having begun, the short stacks are getting shorter, relatively speaking. That's something both Paul Tedeschi and Matous Houzvicek are aware of at the moment, as are many others.
Tedeschi just open-pushed from under the gun and got it through, but still sits with just 12,000. On the next hand it was Houzvicek watching a player raise and another call, and he jammed-squeezed over the top and likewise earned folds all around. Houzvicek is on 21,000 at the moment. –MH
9:00pm: If you can't smile when you double up…
Level 7 – Blinds 300/600 (BB ante 600)
"If you can't smile when you double up, when can you?" asked a smiling Philipp Gruissem after he cracked aces to double up near the end of Level 7.
He was heads-up to the river of a 3♣J♦4♣4♦Q♣ board with Pierre Barthelemy and 7,500 lay in the middle. Gruissem (UTG) checked to face a 2,600 bet that eh treated to a raise all-in for 15,400. He opened J♠J♣ for a full house when called, beating his opponent's A♠A♣. –MC
8:55pm: Nines work for Margets
Level 7 – Blinds 300/600 (BB ante 600)
Patrick Bruel opened for 1,500 from the hijack seat and got three callers including Leo Margets in the cutoff seat and Marchetti Luca on the button.
The flop fell 8♣2♣3♠, and when checked to Bruel made a continuation bet of 2,700. Margets called that, then Luca raised to 7,500 which cleared the fourth player as well as Bruel.
Margets sat in thought for a while, then announced she was reraising all in for 24,400 total. Luca didn't act right away, taking a half-minute before eventually cutting out chips and then making the call.
Margets: 9♠9♣
Luca: 4♣3♣
Margets had the lead with her overpair, but wasn't feeling too comfortable about Luca's smaller pair and a flush draw. But the turn was the J♠ and the river the 8♦, and Margets was able to relax.
She's up to 60,000 now, while Luca slips to 42,000. –MH
8:50pm: One out, two in
Level 7 – Blinds 300/600 (BB ante 600)
Maria Konnikova and Andre Akkari have bought back in for their second and final attempt. Will Jean Zaffran join them after busting?
His exit was a case of unfortunate timing. Down to 3,600 and a chance to open from the hijack with K♥J♣ means only one thing: all-in!
Philippe Narboni was sat in the next seat and did a bit off Hollwooding with A♥A♦ to try and entice the blinds in before he called. They didn't fall for the trap and a 5♣K♣10♠2♦J♣ board sealed Zaffran's fate. –MC
8:40pm: Badem bags some with aces
Level 7: Blinds 300/600 (BB ante 600)
Martin Finger raised to 1,400 from the cutoff and Hayg Badem three-bet it up to 4,500 from the small blind. The big blind folded, Finger called and we got a 9♦6♠6♦ flop.
Badem bet 3,000 and Finger called, bringing a 7♠ on the turn. Badem then check-called a bet of 7,500 and a K♠ completed the board. Badem checked again and his time Finger checked behind. Badem turned over A♣A♠ and Finger mucked. The pot put Badem up to 77,000 while Finger fell to 37,500. –AV
Martin Finger
8:35pm: Boghean busts Mitchell, soars up counts
Level 7 – Blinds 300/600 (BB ante 600)
Andrei Boghean just took the last of James Mitchell's initial stack here in Level 7, catapulting Boghean into what might well be the chip lead at the moment.
There were three players in the hand on the turn, but betting there eliminated one to leave Mitchell and Boghean to contemplate a board showing 7♠6♠4♦K♠. The river was the 4♣, and after Boghean checked Mitchell jammed all in for his last 14,400. Boghean tanked long enough for the clock to be called, and he took it all of the way down to one final second before tossing in a call.
Mitchell nodded as he showed his A♠Q♣ to reveal a busted flush draw, while Boghean tabled J♠9♠ for a flush to win the pot.
Bohgean bounding upward
Boghean is up to 161,000 now — the biggest stack around, as far as we've seen. Meanwhile Mitchell is buying back in to try again. –MH
8:30pm: River phil-abort from Alisauskaite
Level 7 – Blinds 300/600 (BB ante 600)
Phil Gruissem interrupted a conversation with neighbour and French superstar Patrick Bruel to win a pot off Beatrice Alisauskaite that saw him move up to 53,000.
He opened to 1,400 from the hijack and Alisauskaite defended her big blind to see a K♣A♥9♥ flop where she check-called a 1,800 bet. The 8♦ turn was checked through to the 10♣ river where Gruissem fired again, for 4,200. Alisauskaite didn't have the good and check-folded to drop to 41,000. –MC
8:20pm: Konnikova KO'd
Level 7: Blinds 300/600 (BB ante 600)
Soon after play resumed, Maria Konnikova became the latest player to lose a stack here on Day 1B, something that has happened more than 140 times so far today.
The board is showing 442 total entries on Day 1B to this point (including 45 re-entries), with 289 players currently in action. Yesterday on Day 1A there were 100 players who advanced from a 282-entry turnout. –MH
8:15pm: Dessert?
Level 7: Blinds 300/600 (BB ante 600)
Is everything that comes after dinner automatically dessert? Or is that only for sweet things? What about poker players?
We've had a few more additions to the field after the dinner break. Some of most notable are Mustapha Kanit and Erik Seidel. Rumor has it that both these players are also sweet, so does that officially make them dessert? –AV
8:05pm: Marquez mucks
Level 7: Blinds 300/600 (BB ante 600)
Kamel Amrane raised to 1,600 on his first button back from dinner and Ana Marquez called from the big blind. The flop came down J♣Q♦Q♣ and Marquez check-called a bet of 3,000. Both players then checked the Q♥ on the turn and an 8♠ completed the board.
Amrane upped the bet to 6,000 that street and Marquez called again. Amrane turned over Q♦J♠ and Marquez mucked. The pot put Amrane up to 32,500 while Marquez is at 40,000. –AV
8pm: Play resumes
Level 7: Blinds 300/600 (BB ante 600)
Players have returned from their dinner break and now face the challenge of building or maintaining their stacks four more one-hour levels. Remember, those who bust who haven't entered a second time yet can do so, if they like — right up until the start of play tomorrow. –MH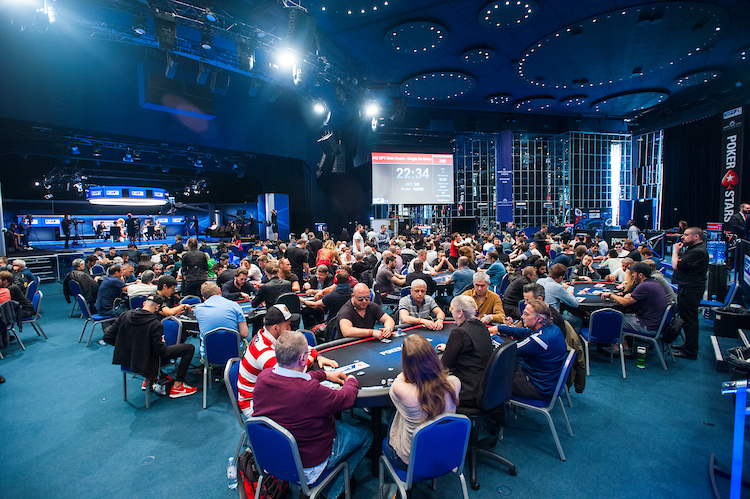 Day 1B continues
---
Don't have a PokerStars account? Getting one couldn't be easier and could mean a trip to the next big PokerStars series. Click here to get started.
---
6:45pm: Dinner break
Players are now on a 75-minute dinner break. Play resumes at 8pm local time.
6:40pm: VCM meets WAD
Level 6: Blinds 200/500 (BB ante 500)
Earlier on (at 1:25pm to be precise), we reported on the table featuring two former EPT Monte Carlo champions. Well now we have a table featuring two former EPT London champions as Joseph Mouawad has been moved alongside Vicky Coren Mitchell. For good measure, Nicolas Chouity is also on that table, having been separated from Jan Bendik.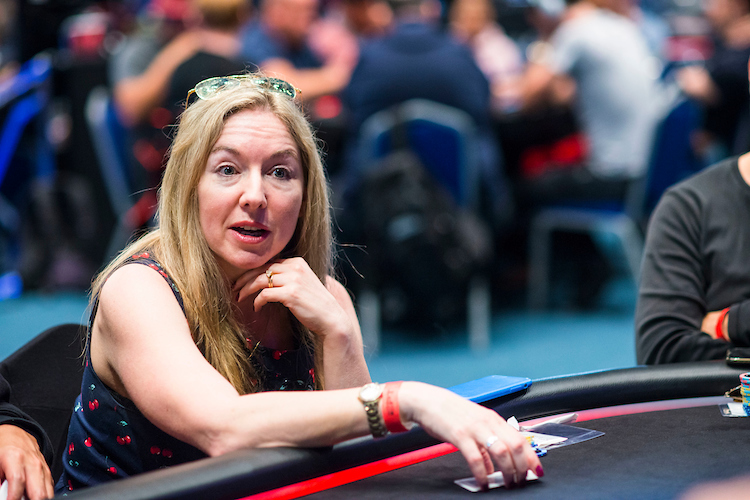 Victoria Coren Mitchell
Mouawad and Coren Mitchell don't have too long to get acquainted, however. Not only are we about to head to dinner, but also their table is next to break. So the London champs pass like boats in the night. — HS
6:35pm: Schemion nicks some off Niskanen before dinner
Level 6 – Blinds 200/500 (BB ante 500)
Ole Schemion is getting ready for dinner by snacking on some chips. Some of them recently came from Tuomo Niskanen, who started the pot off with a raise to 1,300 from early position.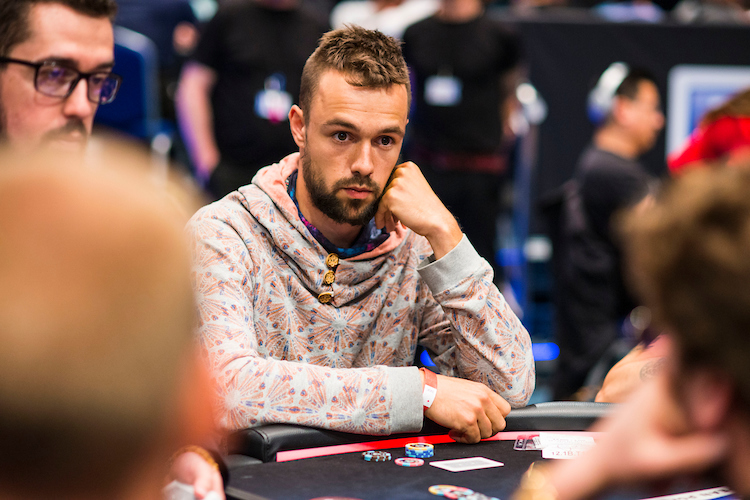 Ole Schemion
Schemion called from middle position and the flop came 4♦7♣3♠. Niskanen made it 2,600 and then Schemion told him it would actually be 5,600 to see the turn. Niskanen called and the 9♣ came on the turn. Schemion put the price at 8,500 and Niskanen let it go.
Schemion is up to 43,000 while the pot left Niskanen with 35,000. –AV
6:30pm: Zaffran's jam takes the sugar
Level 6: Blinds 200/500 (BB ante 500)
Guillaume Diaz won a Platinum Pass yesterday after taking down the EPT Monte Carlo National Championship. But he didn't win this pot in the Main Event.
He opened with a raise to 1,200 from early position and Jean Zaffran three-bet to 3,500 from the big blind. Diaz called, leading to the J♦7♦7♠ flop.
Zaffran checked, Diaz bet 5,500 and Zaffran called. That took them to the 10♥ on the turn. A couple of checks later and we were looking at the K♣ river. Zaffran had a look at his remaining chip stack and ripped it in. It was about 9,000.
Diaz shook his head and folded. See you at the PSPC. — HS
6:27pm: Yan runs eights into aces
Level 6 – Blinds 200/500 (BB ante 500)
David Yan has busted. In his last hand he held 8♦8♣ and got it all in preflop, but unfortunately for him had run into the A♥A♣ of Tuomo Niskanen. The board ran out 4♣5♦2♠K♥10♠, and Yan hits the rail while Niskanen moves to 39,000. –MH
6:25pm: Baumann bosses Son
Level 6 – Blinds 200/500 (BB ante 500)
Gaelle Baumann has risen to around 44,000 after she took a no nonsense line versus Arianna Son.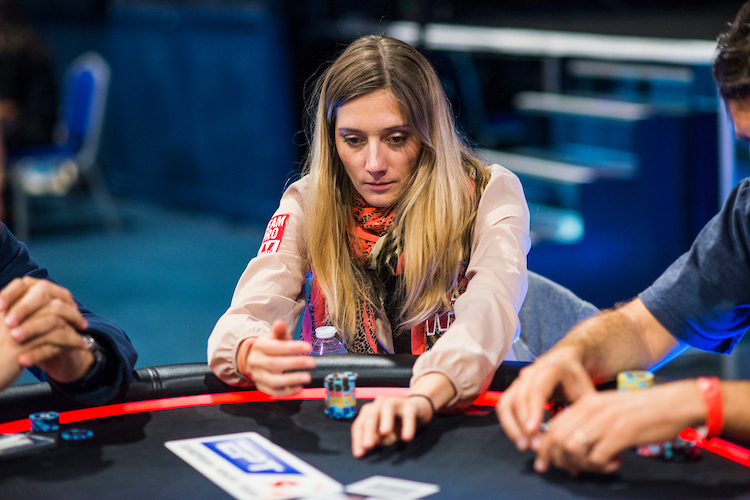 Gaelle Baumann
Son opened to 1,100 from second position and was called in one spot before Baumann squeezed to 4,000 in the cutoff.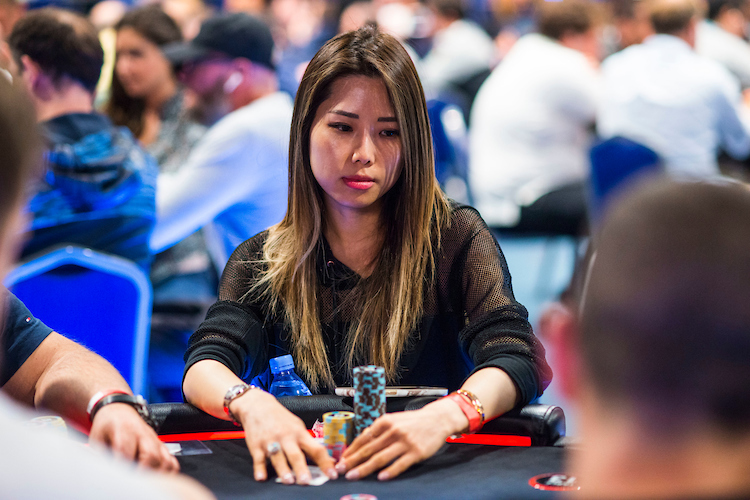 Arianna Son
Son was the only caller and the two went heads-up to a 3♥9♥6♦ flop. Son check-called 3,800 before she checked over the 7♣ turn. Baumann took her time and then jammed for 26,900. It did the job as Son folded to preserve her 44,000 remaining chips. –MC
6:20pm: Good bet, good fold, good hit
Level 6: Blinds 200/500 (BB ante 500)
Benny Glaser is known as a mixed-game specialist, whose three WSOP bracelets have all come in the tournaments with long names–$10,000 Omaha Hi-Low Split-8 or Better Championship, $1,500 Omaha Hi-Low Split-8 or Better and $1,500 2-7 Triple Draw Lowball Limit–where you get a whole handful of cards. But Glaser is no slouch in the two-card game, and knows when to hold 'em and when to fold 'em.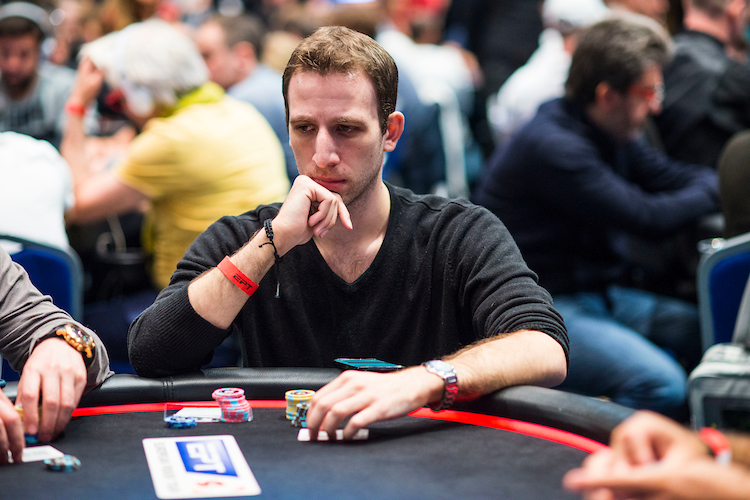 Benny Glaser
Case in point: this hand.
Ekrem Sanioglu opened to 1,500 from early position and Glaser three-bet the button, making it 5,300 to go. Enrico Coppola then moved all-in from the small blind for 8,700.
When the decision got back to Sanioglu he chose to four-bet, making it 21,500. That put the action back on Glaser, and he had a few things to weigh up. Glaser had about 60,000 still in his stack, while Sanioglu had about 75,000 even after putting in the four bet. After a while to think about it, Glaser said, "Call."
That gave the dealer a bit of work to do as she calculated what Coppola stood to win. With side pot sorted out, she put the A♦10♦5♥ flop on the table.
Sanioglu wasted little time in betting 25,000, and Glaser only thought for about 10 seconds before tossing away the Q♣Q♥ face up. He knew he was going to see Sanioglu's hand and, sure enough, Glaser had made a good fold. Sanioglu showed A♣K♥ and had hit the flop.
But Coppola was also still involved and his J♠10♠, though behind, had outs. The 5♦ wasn't any good for him, but the 10♣ river was great. That secured him the triple-up, and earned a kiss from a friend who had come over to watch.
All three therefore battle on and, to be honest, all three played that hand quite well. — HS
6:15pm: Barber sends Sow packing
Level 6: Blinds 200/500 (BB ante 500)
Kalidou Sow's second entry came to an abrupt halt just now thanks to Jose Ignacio "Nacho" Barbero's bigger two pair.
Action folded to Barbero's small blind that hand and he simply called. Sow then raised to 1,600 and Barbero called. The flop came A♦4♣4♥ and Sow bet 1,700. Barbero called and then both players checked the J♣ on the turn. A 2♦ completed the board and Sow bet 5,100. Barbero then moved all-in for about 20,000, which was more than what Sow had behind.
Sow called all-in and turned over A♥7♠ for aces and fours, but Barbero showed A♠J♦ for aces and jacks. Sow hit the rail while Barbero chipped up to 40,000. –AV
6:10pm: If at first you don't succeed, try again, and if you don't succeed again, well, you tried
Level 6 – Blinds 200/500 (BB ante 500)
Back in Level 3 we told you how Kalidou Sow, winner of the PokerStars Championship Prague Main Event last December and the PokerStars Festival London Main Event in January, had busted this one and re-entered. We're sorry to report he's busted a second time here before the dinner break (hand details to follow), meaning Sow won't be adding another title to his collection here in Monaco.
Other players who have busted the maximum two times already this afternoon include defending champion Raffaele Sorrentino, Dominik Nitsche, Oleksii Khoroshenin, Andrey Andreev, and Hady El Asmar. –MH
6:05pm: Sitbon only had two bullets loaded
Level 6 – Blinds 200/500 (BB ante 500)
It looked as if Julien Sitbon was going to empty the clip on neighbour Paul Tedeschi. But he couldn't pull the trigger on the river, and the pot went to the latter with a pocket pair.
Sitbon opened to 1,200 from middle position and Tedeschi called in the next seat. Sitbon continued for 1,200 on a 4♦2♣Q♣ flop and Tedeschi called. He tank-called another 1,800 on the 10♠ turn before both players checked the 3♥ river. Tedeschi opened 7♥7♠ and took the pot to rise to 30,500 as Sitbon mucked to drop to 11,200. –MC
6:02pm: Bitar knocks out Ahoor
Level 6 – Blinds 200/500 (BB ante 500)
Parham Ahoor was just knocked out after losing a preflop all-in battle with A♠K♠ versus Ghassan Bitar's Q♠Q♦. The board went 7♣Q♣4♣2♠2♥ to improve Bitar to a full house and cause Ahoor to lose all of his chips.
With that pot, Bitar is now up around the 100,000-chip mark. –MH
6pm: The two Marias in Monaco
Level 6 – Blinds 200/500 (BB ante 500)
At the 2018 PokerStars Caribbean Adventure back in January, two Marias dominated the headlines from the Bahamas.
First it was bestselling author Maria Konnikova winning the PCA National title, topping a 230-entry field to earn $84,600 first prize. Then Maria Lampropulos captured the top spot in the PCA Main Event, besting 582 players to win a $1.081 million payday.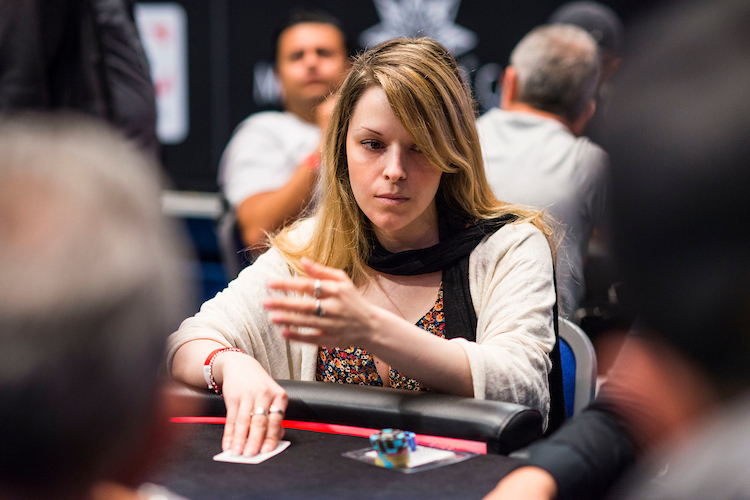 New arrival Maria Lampropoulos
Both Marias will be going back to Paradise Island next January, too, thanks to having also each won a Platinum Pass to the PokerStars Players No-Limit Hold'em Championship to go along with their trophies.
You knew already that Konnikova was in today's field here in Monaco. Just now she pushed all in on the river with the board showing 5♥4♠K♣10♦A♦ and was called, and when she showed K♦10♣ for two pair, she saw that was better than her opponent's K♥6♣. With that pot, Konnikova is back to the 30,000-chip starting stack.
Meanwhile Lampropulos is a new arrival, having just taken her seat here on Day 1B and setting to work to try to spin up the 30,000 with which she starts. –MH
5:50pm: Define suckout
Level 5: Blinds 200/400 (BB ante 400)
It's not a suck out when you're flipping for your tournament life and you hit a set on the flop. Right? Ok, but how about when, after you hit your set, your opponent hits a flush on the turn? Still no? Ok, then a suckout definitely has to be when you hit a full house on the river after your opponent hit a flush on the turn after you flopped a set.
That's exactly what happened between Leo Margets and Siarhei Ahapau. Ahapau was all-in with J♠J♥ and hit a set on the 6♦J♦4♥ flop. Margets was holding A♦K♦ and hit a flush after the 5♦ came on the turn. But then a 5♥ completed board and Ahapau hit a full house to double up.
Ahapau doubled to 25,000 while Margets dipped to 13,000. –AV
5:45pm: Eiler makes Ivan feel terrible
Level 5 – Blinds 200/400 (BB ante 400)
Andreas Eiler has moved up to around 50,000 after a cooler saw him take out Ivan Sheptytskyi.
The latter raised to 1,100 from under the gun and was called in one spot before Eiler squeezed to 4,100 off the button. Sheptytskyi came back by moving all-in for 12,000 and Eiler called.
Sheptytskyi: A♠K♠
Eiler: K♦K♥
The board ran a blank 9♥3♥10♠5♣Q♦. –MC
5:40pm: Drama queen
Level 5: Blinds 200/400 (BB ante 400)
Hani El Assaad just put on one of the most spectacular performances of the year in the Salle des Etoiles, convincing at least this reporter that he must have an absolute monster of a hand. It was a classic of the form: a long period of apparent agony as he pondered whether to check or bet the river–a full head-clutcher of a decision, accompanied by sighs and long-winded counting and re-counting of chips.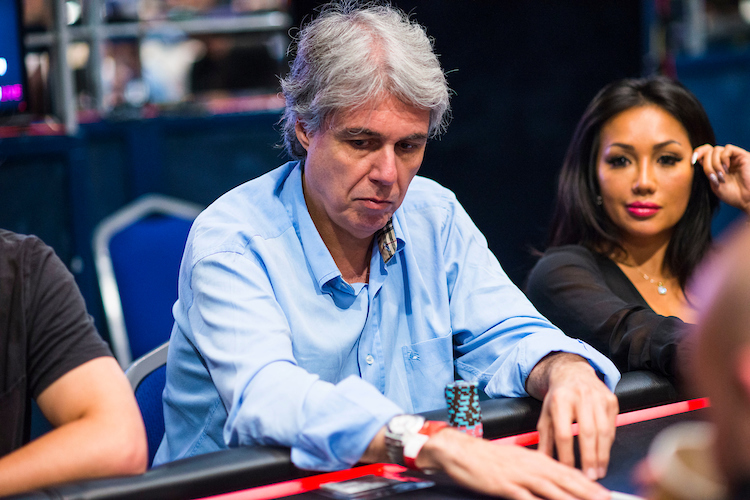 Academy Award nominee Hani El Assaad
He then stabbed out a big bet, as though he'd only just thought of the idea. All this Hollywooding could only mean one thing, and I genuinely put him on quads. But, well, I'm writing this rather than playing this €5K tournament and there's a reason for that.
There were three players at a flop when I arrived. Lily Kiletto, under the gun, was one of them and she had probably raised pre-flop and picked up calls from Nicola Grieco on the button and El Assaad in the big blind. The dealer put the J♠2♠9♥ on the table and El Assaad checked. Kiletto bet 3,000 and Grieco folded.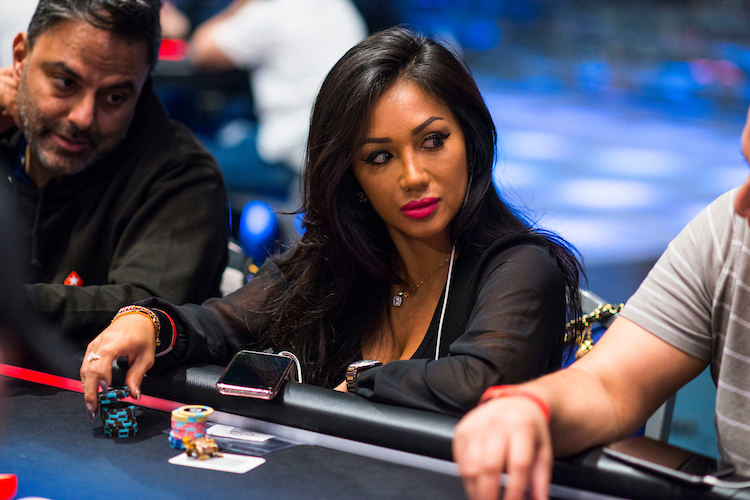 Lily Kiletto
El Assaad made a quick call at this point, taking them to the K♣ turn. El Assaad checked, Kiletto bet 4,500 and El Assaad called.
The 9♠ completed the board and then the performance began.
As a rule, when someone takes a long, long time before then betting, they're putting on a show to appear weak when they're hugely strong. As El Assaad was going through these motions, Kiletto had to double-check with the dealer. "Did he check?" Kiletto said. The dealer confirmed that El Assaad had not yet acted.
Then, quick as a flash, he pinged 8,000 into the middle. [Reporter's internal monologue: "This. Is. A. Monster."]
Kiletto was momentarily bemused, but she then threw out calling chips. [Reporter's internal monologue: "This. Is. A. Mistake."]
But El Assaad rapped the table with his knuckles and through his hand face down into the muck. Kiletto did the same.
[Reporter's internal monologue: "Don't. Give. Up. The. Day. Job."] — HS
5:30pm: Akkari doubles
Level 5: Blinds 200/400 (BB ante 400)
Team PokerStars Pro Andre Akkari was down to just about 12,000 and moved it all-in from the big blind. There had been a raise to 1,000 from late position and Said Butba called the initial raise from the small blind.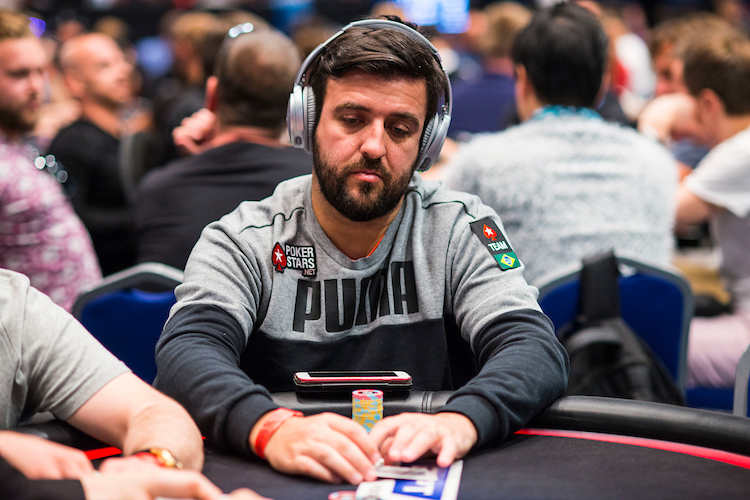 Andre Akkari
The he called Akkari's all-in as well. Akkari turned over 10♥10♠ and was ahead of Butba's 6♣6♣. The K♦8♥3♥A♥K♥ board brought a pair of kings and kept Akkari in the lead. The Brazilian Team Pro doubled to 25,000 while Butba is still standing strong with 80,000. –AV
5:20pm: Chips move from "A" to "Z"
Level 5 – Blinds 200/400 (BB ante 400)
Arriving during preflop action, from the looks of things Jean-Jacques Zeitoun had picked up a hand he liked under the gun and decided to move all in right then and there with his 15,000 or so. It folded around to Team PokerStars Pro Andre Akkari in the hijack seat who reshoved over the top, and everyone else got out the way.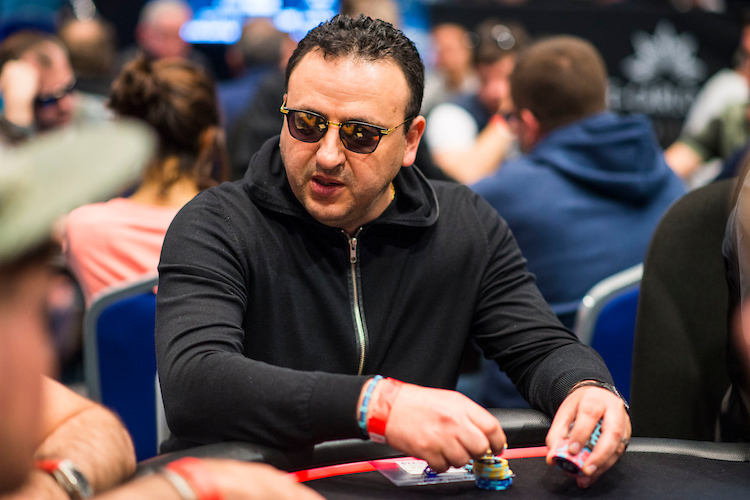 Jean-Jacques Zeitoun
Zeitoun: A♦K♣
Akkari: Q♥Q♠
Zeitoun stood while Akkari remained seated, and the 4♦2♠3♣ flop and 6♦ turn added a touch of extra suspense to the situation.
Then came the river… the A♥! The player whose name starts with "Z" was glad to see the "A," while the one named "A" was stoic about the failure of his two "Q"'s.
Zeitoun gets back up around 31,000 with that, while Akkari slips to 10,000. –MH
5:15pm: Golden snippets
Level 5 – Blinds 200/400 (BB ante 400)
– Ali Reza Fatehi has been having a "nice" tour of the Monte Carlo Bay Hotel today. He stated off in the Salle des Americas room where he played, and busted, the €50K Single Day High Roller. Then he jumped in the Main Event and lasted 15 minutes by all accounts. The Iranian, who came third in the Super High Roller yesterday, has sat back down for his second and final chance.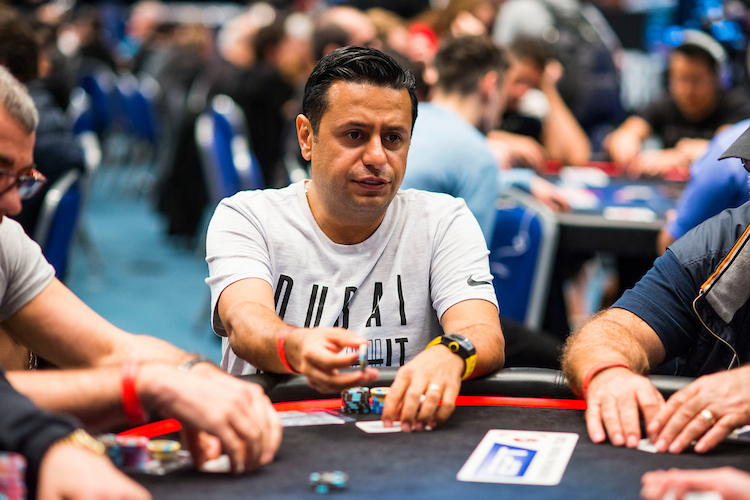 Ali Reza Fetehi
– Joe Giron lookalike Andrei Konopelko found a novel way to get an opponent to fold: expose your hand. Christophe Panetti limped in before Konopelko shoved for just 2,900. Konopelko thought everyone had folded and opened K♥K♦ before quickly trying to hide his cards when he realised his mistake. After showing a monster he was unlikely to get any action and Panetti did indeed fold.
– Harry Lodge's early action saw him getting Silma Macalou to fold on a straight flush board (see 12:55pm post) and it ended with him busting to the Frenchman. No details of the hand I'm afraid but Macalou's stack has swelled to 110,000. Lodge busted on Day 1A as well so that's all she wrote for the Brit in this Main Event. –MC
5:10pm: Goings on with Gruissem
Level 5: Blinds 200/400 (BB ante 400)
There's been some things going on at Philipp Gruissem's table. Mostly poker tournament poker things.
Andrey Ivlev recently raised to 800 from the cutoff and Gruissem called from the big blind. The flop came down 8♣Q♣6♦ and Ivlev bet 1,000 when checked to. Gruissem raised it up to 2,100 and Ivlev called. The turn brought a 7♥ and a bet of 4,500 from Gruissem.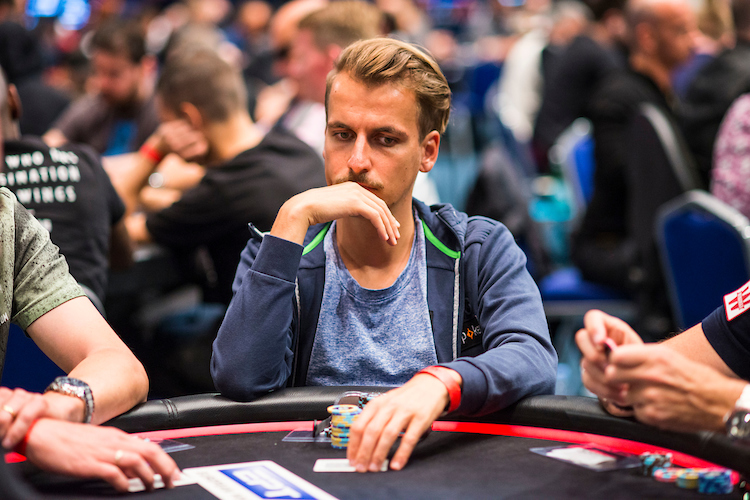 Philipp Gruissem
That was good enough to take down the pot and then both players got involved in the following hand as well. Mikail Soltanov raised to 900 from under the gun that hand and Ivlev called from the hijack. Gruissem did the same from the small blind and then Patrick Bruel three-bet to 3,500 from the big blind.
Only Ivlev folded and the three players went to the monotone 8♥3♥J♥ flop. Bruel bet 2,700 when checked to, and then Soltanov moved all-in for a smooth 18,000. Gruissem quickly folded but Bruel thought for some time before letting his hand go. Bruel is still at 40,000 while Gruissem took down the following hand preflop with a three bet and is up to 35,000. –AV
5:05pm: One hand, a myriad of possibilities
Level 5 – Blinds 200/400 (BB ante 400)
Here's one of those "butterfly effect"-type hands in which one teeny tiny little mistake appeared to have made a lot of difference.
The mistake came right away when Nicolas Dumont, sitting under the gun, intended to raise but only put out a single 1,000 chip. He was already nodding when the dealer pointed out he had only called, aware just a moment too late of what he'd done.
Isabel Baltazar was next to act, and seeing the limp she did exactly what she meant to do — raise to 1,700. It folded around to Shakhabiddin Muradov who called, and Dumont called as well.
All three checked the 7♣8♣A♦ flop, then Muradov fired 4,200 on the 8♥ turn. Dumont called the bet, and a less-than-enthused-looking Baltazar folded. (More on that in a moment.)
The river was the 6♠, and when Muradov bet again — 6,200 — Dumont finally let his hand go. He showed he was folding A♣4♣, and Baltazar made it known she had folded pocket kings. "Okay, one time," said Muradov, understandably happy about how things had turned out, and he showed his A♠K♦.
Baltazar light-heartedly noted how she would have been reraising had Dumont raised as he meant to do. Then again, what would Muradov had done? Who knows.
In this, the only possible world in which the hand was played, all three players coincidentally were sitting with about 28,000 as the next hand was dealt. –MH
5pm: Hot Sinclair vs. Kool Shen
Level 5: Blinds 200/400 (BB ante 400)
We were talking about heaters a lot yesterday, while covering Justin Bonomo and Sam Greenwood in the Super High Roller. We should maybe include Jack Sinclair in those kind of conversations as the British player's winnings database has progressed from a fat zero one year ago to more than $2 million at time of writing. He made the WSOP Main Event final table, then won a €25,000 title in Rozvadov and another biggie at the Aussie Millions in January.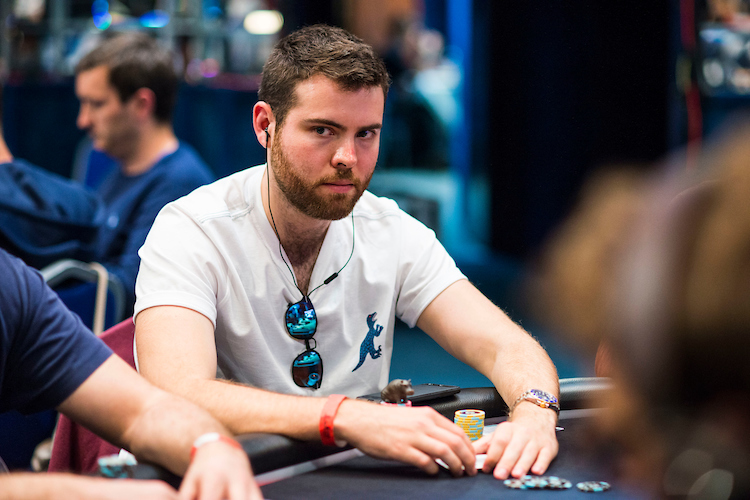 Jack Sinclair
Sinclair is now sitting with about 70,000 in this Main Event, and just took a small pot from Bruno "Kool Shen" Lopes.
Sinclair opened to 900 from late position and Lopes called in the big blind. Lopes, in case you didn't know, is a French rapper (hence the "Kool Shen") and also an actor. He puts in a fine performance in a recent film Heal The Living, for instance, playing a grieving father. It's genuinely excellent.
The two looked at a flop of Q♣J♣K♥ and Lopes checked. Sinclair bet 800 and Lopes called.
The 7♦ came on the turn and Lopes checked again. Sinclair bet 4,000 and Lopes seemed very interested. He thought and thought and thought but then folded.
"You have a good stare," Sinclair told him.
"I had something," Lopes said.
"So you only stare when you have something?" Sinclair asked. Lopes was done with the conversation and the next cards quickly arrived. — HS
4:50pm: Mrakes shaken
Level 5: Blinds 200/400 (BB ante 400)
Michal Mrakes, who came third in Prague in December last year and made the final table of the National Championship here in Monaco last week, is out of the Main Event. He shoved his last 3,500 over Toby Boas's 900 chip open and that set up a race.
Boas: A♥J♠
Mrakes: 7♦7♠
The dealer gave Mrakes hope through the 4♠10♣3♠ flop and then the 3♦ turn, but the A♣ river snuffed it out. Boas won that small pot and forced Mrakes to ponder firing again. — HS
4:45pm: Play resumes
Level 5: Blinds 200/400 (BB ante 400)
We're into the fifth level of play today. Players will take a 75-minute dinner break after level 6. — SB
4:30pm: Peeking at the €50K
There's a single-day high roller tournament playing out in the America's Room today and we have two ace reporters down there watching it. Find out how that's going right here.
---
Don't have a PokerStars account? Getting one couldn't be easier and could mean a trip to the next big PokerStars series. Click here to get started.
---
4:25pm: Break time
Level 4 comes to a close. Players are now on a 20-minute break.
4:25pm: Cooler, plus
Level 4: Blinds 100/300 (BB ante 300)
Giuliano Bendinelli just scored a full double through Daniel Montagnolli in a pot that was described as a "cooler plus" by someone else at the table. That was a perfect assessment.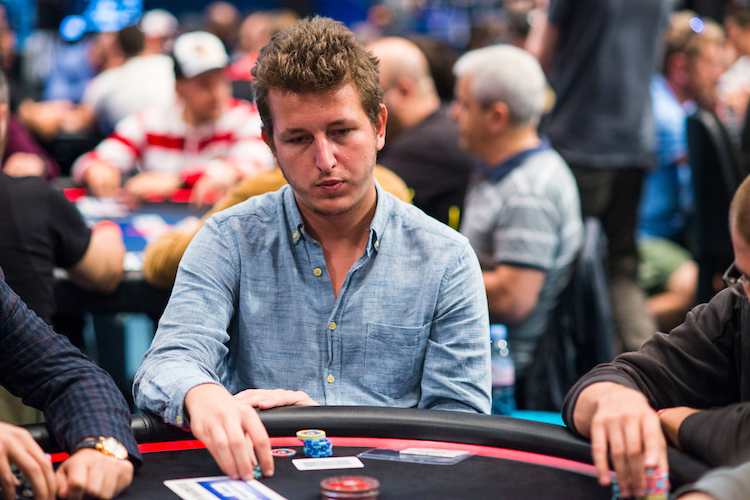 Giuliano Bendinelli
Here's why. The pot began with a raise to 700 from Lucien Cohen under the gun, then a three-bet to 2,100 by Montagnolli one seat to his left. Bendinelli called in the hijack and Cohen also came along for the ride.
The dealer put the 10♣K♦6♣ out there and Cohen checked. Montagnolli bet 3,800 and Bendinelli called, with Cohen now stepping aside.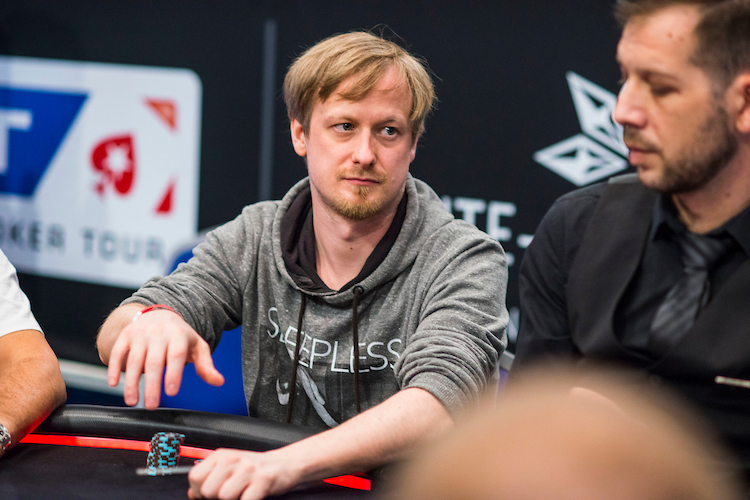 Daniel Montagnolli
The turn was the 6♠ and Montagnolli asked for a count of Bendinelli's chips. This bit is important because it affected what happened a minute or so later. Bendinelli said he had 13,300.
Montagnolli, with the covering stack, put a small pile of blue 5,000-denomination chips forward. There were definitely more than three of them, which would have been enough to cover Bendinelli's stack, and maybe as many as six. But this vagueness is also quite important to the story.
Bendinelli called instantly and Montagnolli turned over his K♠10♠ for a flopped two pair, now looking a little shaky. Bendinelli however was always ahead as he had flopped even better with his 10♥10♦.
The J♦ river was irrelevant and this pot was going to Bendinelli. The problem was that the dealer now swept all the chips in the middle towards Bendinelli and gave Montagnolli 1,700 "change". That's what he would have been expecting had he only put three blue chips out there to cover Bendinell's 13,300 stack. But when Montagnolli looked at his sub 10,000 stack, he realised something was wrong.
"I had a 40K stack at the start of the hand," he said. He said he should still have more than 10,000 even after losing the pot. This was now the case of the missing blue chips.
After much to-ing and fro-ing, with nobody blaming anyone else for what was an honest mistake, a tournament supervisor arrived to sort out the imbroglio. With the help of an iPhone calculator, the supervisor calculated the full size of the pot, which should be the full extent of Bendinelli's stack too.
It was quickly established that he had precisely 10,000 too much. Aha. The missing blue chips. They went back to Montagnolli and we all got on with our lives.
The "cooler" bit was obvious enough, and that's the explanation of the "plus".– HS
4:20pm: Precision reporting
Level 4 – Blinds 100/300 (bb ante 300)
Near the end of the level, the board showed 6♣8♥K♣K♠2♦ and there was exactly 10,100 in the middle. I say exactly because the pot had been consolidated into just three chips (two 5,000s and a 100) for easy counting.
Mamouni Smain checked, then Sonny Franco went all in for exactly 7,600. Again, I can say exactly because there weren't that many chips to count, and besides the dealer confirmed the amount by calling it out.
Smain took exactly 22 seconds to decide what to do. Actually I just made that up. It wasn't exactly. In any case, at the end of that undetermined amount of time, he folded.
That moves Franco up to 18,700, but you already knew that because you can do math. Smain, meanwhile has just over 20,000 heading to the break. –MH
4:15pm: Djorno holds on
Level 4 – Blinds 100/300 (bb ante 300)
Following a 7♠Q♠8♥ flop, Dan Djorno put the last of his short stack all in. Then Felix Schulze reraised all in over the top, causing the third player in the hand, Cataldo Valletta, to fold.
Djorno had top pair with Q♣10♣ while Schulze was drawing with J♠9♠. The 4♦ turn kept Djorno ahead as did the J♦ river, and Djorno bounces back to 22,000. Valletta has 28,000, and Schulze slips to 12,000. –MH
4:05pm: Nitsche now in it
Level 4 – Blinds 100/300 (bb ante 300)
We're now up to about 380 players and one of the most recent additions is Dominik Nitsche.
Nitsche took a seat at his new table and started things off with a few folds, but then he kicked things of for 700 when he was under the gun.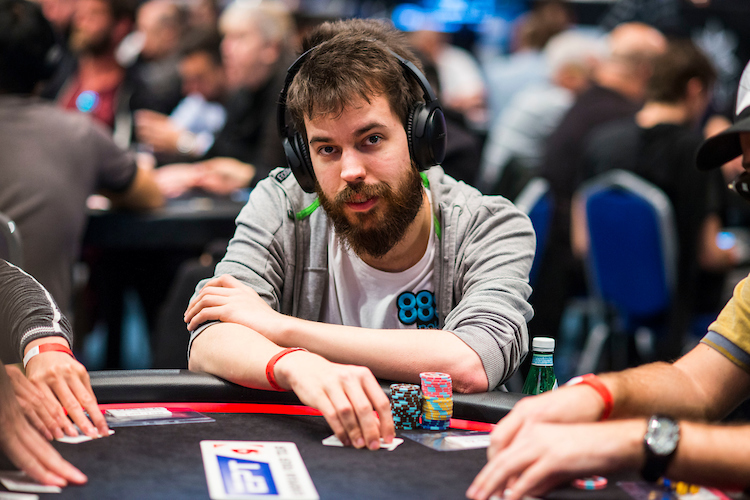 Dominik Nitsche
Gerard Ohresser then re-raised to 2,000 from the hijack and Nitsche called when action folded back around to him. The flop came down 9♠10♣6♥ and Ohresser bet 2,000 when checked to. Nitsche let it go, but then he took down the following hand.
Jonathan Concepcion started that hand with a raise to 800 from the hijack and Nitsche called from the big blind. The flop came down 8♥6♦Q♠ and Concepcion continued for 900. Nitsche called and then both players checked the 9♦ on the turn. A 6♠ completed the board and Nitsche checked gain. Concepcion bet 3,600 and Nitsche thought for a good while before raising to 15,000.
Concepcion quickly folded and Nitsche took down the pot. Table, meet Dominik Nitsche. –AV
4pm: Tuna hooks one
Level 4 – Blinds 100/300 (bb ante 300)
Nature fact: The shark is a natural predator of tuna.
Poker fact: Germany's Akin Tuna is a natural predator of other poker players. Another bit of trivia: Tuna uses a small stuffed shark as a card protector, as if to signal to others that tendency.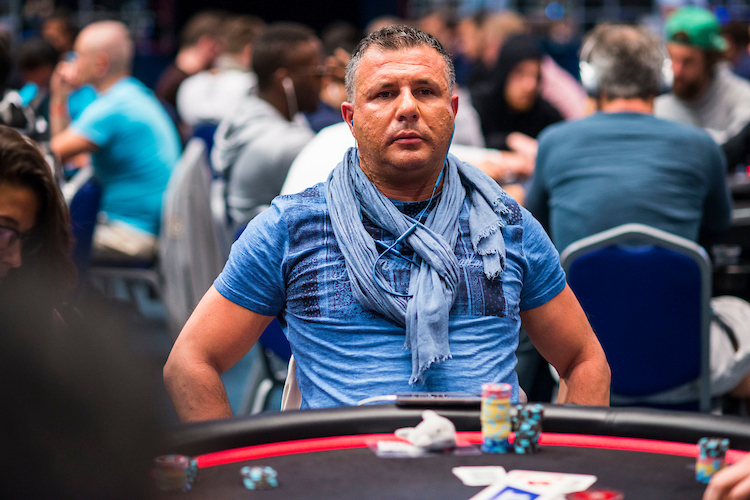 Shark fishing with Akin Tuna
With around 8,000 in the middle and the board showing 7♥9♦7♦, Beatrice Alisauskaite of Lithuania checked from the blinds, then Mikhail Soltanov of Russia bet 2,000 from early position.
Next to act was Tuna, and after a moment he tossed out a raise to 5,500. That chased Alisauskaite, but Soltanov responded with a reraise of his own to 12,300. Tuna studied for a moment then called.
The 9♥ turn put a second pair on the board, as well as a second flush draw. Soltanov checked this time, and when Tuna tossed out a bet, Soltanov folded. Tuna's bet looked like 11,000, but he reeled it in quickly when Soltanov conceded.
Having only lately dove into the Main Event waters, Tuna is at 50,000 already. –MH
3:50pm: Latest fallers
Level 4: Blinds 100/300 (BB ante 300)
The list of casualties grows. It now includes Joseph Mouawad (though he's re-entered), Mauricio Salazar, Leonardo Patacconi, Andreas Ioakimides, Andrei Konopelko, Yann Pineau, Stefan Fabian, Nikolay Arzumanyan, Fabio Freitas, Mikael Guenni, Georges Ghrayeb, David Dayan, Andrey Andreev, Serge Candin, Davoudi, Sergei Galaktionov, Nikolay Blinov, Giuseppe Zarbo, Alexis Fleur, Martin Weiemann, Upeshka Desilva, Marius-Catalin Pertea, Patrick Nakache, Imad Khoury. — HS
3:40pm: Marquez making moves
Level 4: Blinds 100/300 (BB ante 300)
Ana Marquez has this tournament right where she wants it. She's at a table with what looks like a predominantly local line-up, the kind of players who possibly won't know that Marquez is a fearless competitor both online and off and may have her pegged for someone more meek.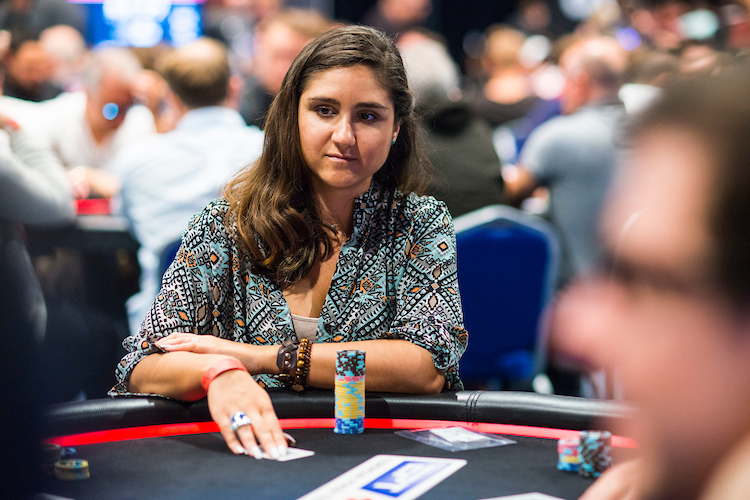 Ana Marquez
She just won a pot from France's David Lascar in which Lascar went through the motions to suggest he was making a big fold. It was for his tournament life and he obviously felt Marquez had him beat.
There was 7,200 in the pot when we picked up the action, with the 8♠K♠K♦ flop and A♥ turn out there. Jack Bryant checked and Marquez bet 4,800. Lascar, on the button, called and Bryant folded.
The 3♦ appeared on the river and Marquez moved all-in. She had about 40,000 in her stack, but it was Lascar's 15,400 that was effective. Lascar pondered, rubbed his chin, looked at his cards, etc., all the while likely wondering whether the diminutive Spanish woman at the other end of the table would be doing this light.
In the end, he didn't want to pay to find out. Lascar folded and Marquez built her stack to around 55,000. — HS
3:30pm: Level up
Level 4 – Blinds 100/300 (BB ante 300)
They move onward into Level 4, where the small blind stays the same and the big blind (and big blind ante) increases. –MH
3:25pm: Margets moves all in, collects
Level 3 – Blinds 100/200 (bb ante 200)
In the last hand of the level, the board read K♠A♦J♥6♦2♥ and Siarhei Ahapau led with a bet of 2,600, an amount that appeared about one-third of the pot. His opponent, Leo Margets, then pushed all in for her last 10,700, sending Ahapau into the tank.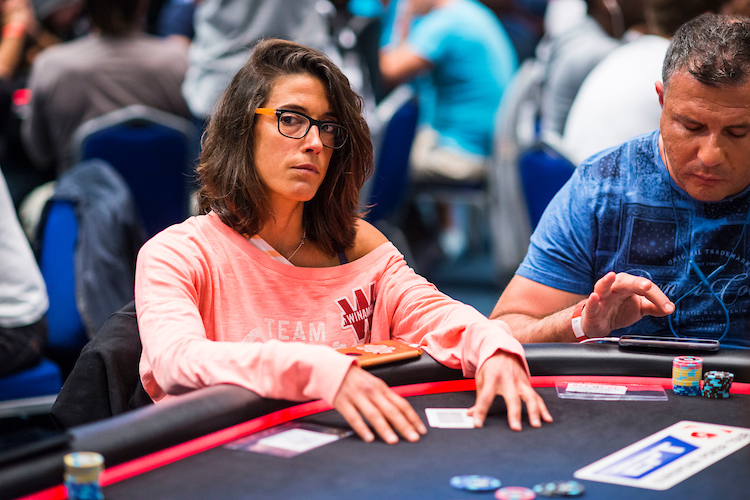 Leo Margets
After a long think, Ahapau emerged to fold and preserve his stack of 25,000. Margets, meanwhile, is at 22,000 now. –MH
3:20pm: Lucky river saves all-in Kiourktchian
Level 3 – Blinds 100/200 (BB ante 200)
Samuel Kiourktchian looked to be in a tight spot. Caught between a rock and hard place, you could say.
With the board showing 3♥K♥9♦, Kiourktchian had put his last 12,500 forward and gotten not one but two callers on either side of him, both of whom then checked the 2♥ turn.
The 10♣ completed the river, and first-to-act Nikoki Cheplov accidentally flipped over his hand — K♣Q♥ — before acting at all, perhaps thinking they'd already checked down that street, too. The floor was called over and it was explained that Cheplov's hand would stay face-up, action would play, and he'd subsequently face a one-round penalty.
Cheplov said he was checking, and when Karim Abdelmoumene, the other player in the hand, bet 10,000, Cheplov had to let his top pair of kings go.
Abdelmoumene showed he'd flopped two pair with K♠9♠, but Kiourktchian happily turned over K♦10♠ to reveal he'd rivered a better two pair to keep his seat and win the pot.
Kiourktchian is up to 34,000 now, Abdelmoumene down to 18,000, and Cheplov (currently serving his penalty) is down to 14,000. –MH
3:15pm: Pineau popped
Level 4: Blinds 100/300 (BB ante 300)
Yann Pineau is among the latest casualties and told his erstwhile table-mates that he had rivered a set. They admitted that they didn't necessarily believe him, but it didn't matter anyhow. His cards were in the muck and his chips were with Matous Houzvicek, who showed a straight.
They were three players to the river, with the 5♣9♠3♥6♠7♣ showing. Hubert Matuszewski checked, Pineau bet 3,300 and Houzvicek raised to 9,000. Matuszewski, who had them both covered, folded, but Pineau called all-in for his last 5,000 or so.
Houzvicek tabled his 8♣8♠, which was what he needed for the straight. That's when Pineau stormed away, muttering about pocket sevens. Houzvicek is now up to 38,000. — HS
3pm: Yan clings on
Level 3 – Blinds 100/200 (bb ante 200)
David Yan quietly slipped into this tournament a little while ago, and he very nearly quietly slipped away soon after. However the Kiwi superstar got his last 5,700 in good against France's Richard Dromzee and picked up a double.
The two of them had built a pot of 3,300 by the time the turn card was out. The board read 7♦2♣8♥5♣ and they both checked. The 8♦ completed the board and Dromzee checked again. Yan then flicked in his small handful of chips and Dromzee called pretty quickly.
Yan tabled his K♠8♠ which had flopped better than Dromzee's A♠7♣ and stayed that way. Yan is now back to around 15,000.
More good news for Yan: Dermot Blain, who was to Yan's immediate left, got balanced off the table. — HS
2:50pm: Season's greetings
Level 3 – Blinds 100/200 (BB ante 200)
More players are filing in, including Patrick Bruel and Jeff Hakim. There's also a second go for Kalidou Sow who has re-entered.
Meanwhile Mikael Guenni is at Bruel's table and just sent a player to the rail.
Patrick Bruel joining the Main Event field today
His pocket queens had made a set on the flop, just as his opponent's pocket nines did the same.
The money went in with predictable results.
"Merry Christmas" said Bruel, turning to Guenni on his immediate right. – SB
2:40pm: Eliminations
Level 3 – Blinds 100/200 (BB ante 200)
The option for a re-entry here seems to have increased the early action. By the start of Level 3, we have lost at least 12 players. They are:
Tamer Kamel, Federico Petruzzelli, Terence Plummer, Yorane Kerignard, Jason Wheeler, Alexis Ibarrola, Matthias Eibinger, Kalidou Sow, Isabel Baltazar, Rasmus Roider, Abdullatif Attia and Ahmed El Fatah.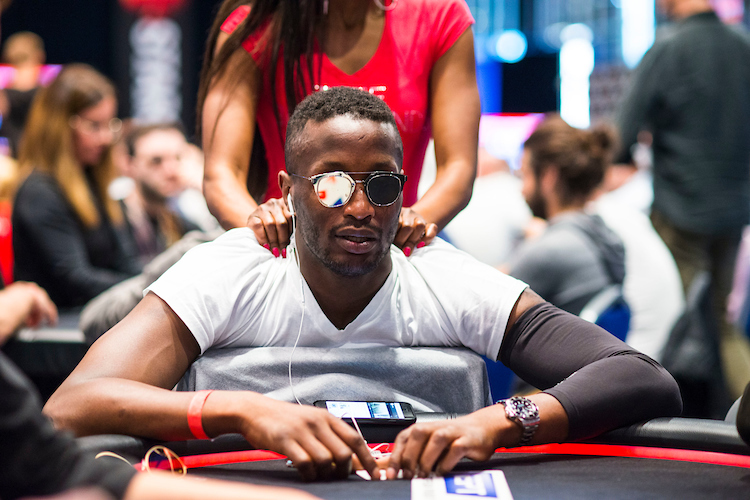 Kalidou Sow
Their options include a second entry in this one, or the €50,000 single-day High Roller, which is under way down in the America's Room. We'll pick up live coverage of that at around 4pm. — HS
2:35pm: Kamel's cookie jar. Crumbs
Level 3 – Blinds 100/200 (BB ante 200)
Tamer Kamel has dropped down to 7,000 chips after leaving most of his stack in the middle due to a failed bluff attempt.
He and neighbour Julien Sitbon were heads-up to a 3♣6♥5♦ flop where Kamel bet 1,200 from under the gun. Sitbon then check-raised to 3,200 and then led for 3,100 on the K♦ turn after he was called.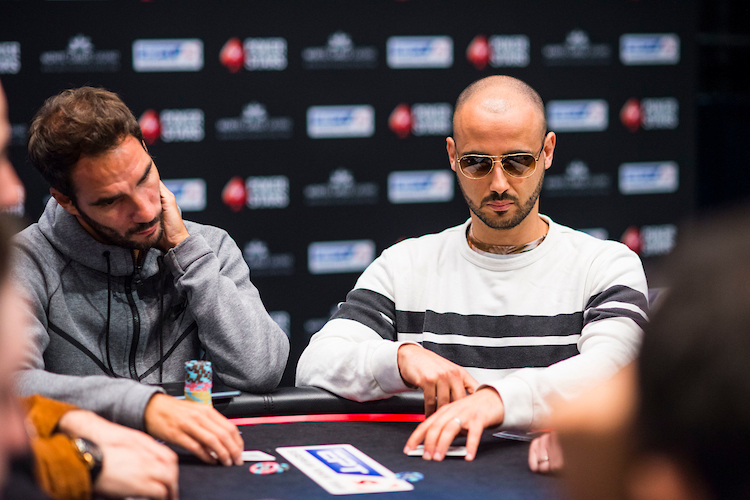 Julien Sitbon and Tamer Kamel
The raising wasn't over as Kamel raised to 7,900, leaving himself just 7,000 back. Sitbon studied his opponent at very close quarters before moving all-in. Kamel folded and Sitbon rose to 49,000. –MC
2:25pm: Back into the breach
Level 3 – Blinds 100/200 (BB ante 200)
Off they go again. The latest player list shows 308 entries so far for today. — HS
---
Don't have a PokerStars account? Getting one couldn't be easier and could mean a trip to the next big PokerStars series. Click here to get started.
---
2:05pm: Break time
Congratulations readers, you've reached the end of Level 2. There will now be a 20-minute intermission and then we'll return for Level 3.
1:45pm: Bahram-baa
Level 2 – Blinds 100/100 (BB ante 100)
Bahram Chobineh has emerged as an early chip leader with 117,000 after busting Yorane Kerignard who held aces.
Chobineh (BB) led out for 2,300 on a 6♦J♥8♠ flop before Kerignard raised to 8,000 off the button. Kerignard had 18,200 behind and called them off when Chobineh three-bet jammed on him.
Chobineh: 6♥8♥ for two pair
Kerignard: A♦A♥ for an overpair
The board ran out 6♠ and 7♠ to fill Chobineh's hand up. Kerignard made a quick dash for the exit.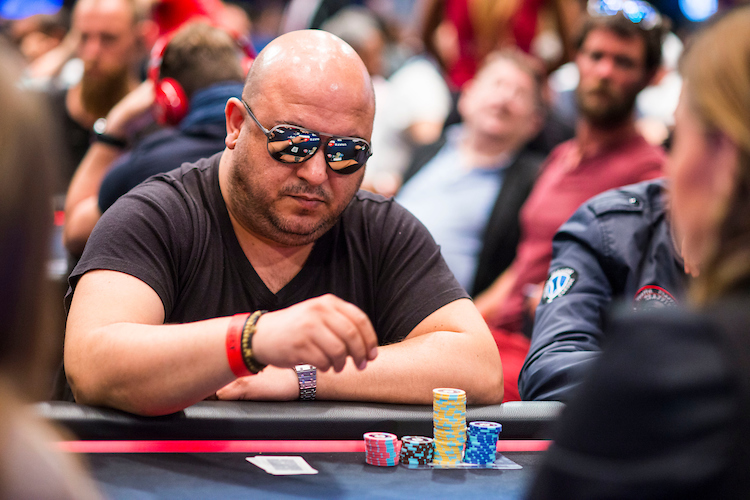 Bahram Chobineh: Early lead
Maria Konnikova was giggling along with Chobineh and said to him, "You've had some run good!" –MC
1:35pm: Shove from Konnikova
Level 2: Blinds 100/100 (BB ante 100)
Maria Konnikova called for the all-in triangle. Although we were now in Level 2, that's still an early deployment. Konnikova was already at the turn with the board showing 10♥6♥4♠7♥. There was 10,800 in the pot and Paul Guichard was her sole opponent.
Konnikova shoved for 17,000 and Guichard put his head in his hands. He didn't pause long enough to be cast in a Rodin sculpture, however, and tossed his cards away after a moment or two. That got Konnikova back to her starting stack. — HS
1:30pm: Lodge walks away after Guinand river bluff
Level 2 – Blinds 100/100 (BB ante 100)
Harry Lodge had to take a moment away from the table after he was bluffed off his hand on the river by Sebastien Guinand.
The two players had made to the river of a 2♣2♦8♣5♣J♠ board with 6,500 in the middle. Guinand led for 4,500 from under the gun and watched as Lodge raised to 12,800 from the hijack. Guinand went into the tank and then it looked as if a switch went off in head. He piled the 40,000 he had behind into one tower and moved all-in.
Lodge had 14,800 back and bemoaned, "Oh, why didn't I just call?"
Guinand verbally pounced: "I know you have nothing! It's too easy to bluff you – such a nit!"
Lodge thought for another minute before adding, "You're probably good but I probably have to call."
Another minute passed before Guinand piped up again, "I sleep." Then, "If I show you a bluff…."
"Then I'd be upset," Lodge said.
Eventually Guinand called the clock and Lodge folded with 2 seconds remaining only to be shown A♦10♣ by Guinand. Lodge said it was a nice play before removing himself from the table. –MC
1:25pm: All the Monte Carlo heroes
Level 2: Blinds 100/100 (BB ante 100)
Only 11 people have won an EPT Main Event in Monte Carlo, and two of them are today sitting on the same table in the room where they each hit the highest point of their careers. Nicolas Chouity–he's one of them–was the champion here in April 2010, when he won €1.7 million for beating 848 players. Jan Bendik, the other, won €962,000 in 2016. What are the chances?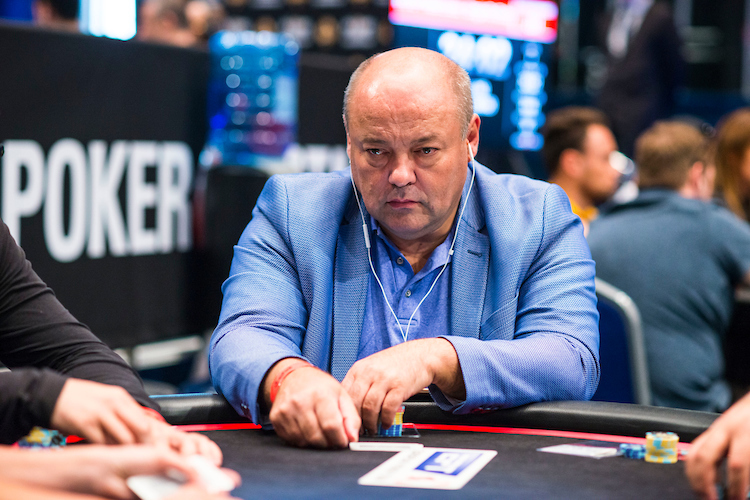 Jan Bendik: Former champ No 1
Unfortunately they didn't make this short story perfect by playing a pot against one another during the brief time I stood by their table, but Chouity did get involved in a hand against Sebastian Von Toperczer. And this is neat: Von Toperczer has also made an EPT Monte Carlo Main Event final table, having finished sixth here in 2014.
This pot was small and went to Von Toperczer. Chouity opened to 300 from early position and Von Toperczer three-bet to 1,200 on the button. (Bendik folded in the cutoff.) Both remaining players checked the Q♠3♦J♦ flop and Chouity also checked the 2♣ turn. Von Toperczer bet 1,500 and Chouity called.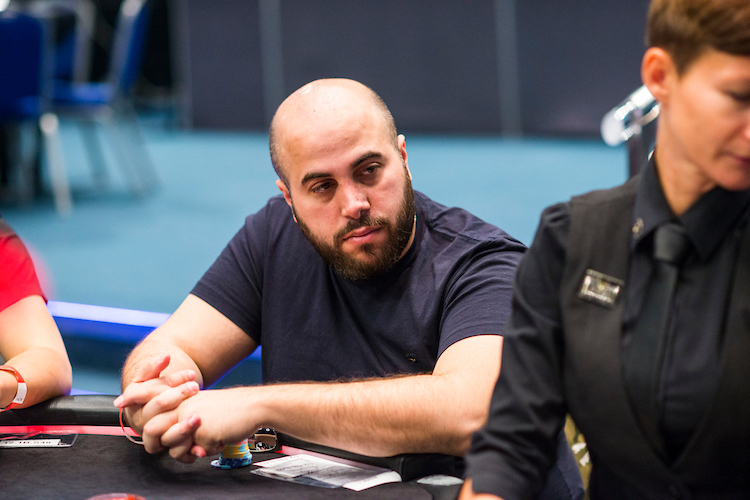 Nicolas Chouity: Former champ No 2
The J♣ hit the river and Chouity checked again. This time Von Toperczer's 3,500 bet was enough to shake off his opponent. — HS
1:15pm: River folds aid Kamel and Akkari
Level 1 – Blinds 100/100
Tamer Kamel and Andre Akkari have moved up to 34,500 and 20,000 respectively (Akkari must have already lost a chunk) after betting their opponents off hands on the river just as the first level of the day was coming to an end.
Alexandros Kolonias (button), Julien Sitbon (sb) and Kamel (bb) had all made it to a 3♦A♥J♣ flop where Kolonias bet 300 when the action was checked to him. Sitbon called but Kamel raised to 800. Both opponents called to the 2♣ turn where Kamel bet another 2,400. Only Kolonias called that time but he also folded when faced with a 3,500 bet on the J♠ river and dropped to 27,700.
A few moments later, Akkari raised to 300 off the button and was called by both blinds. The flop spread Q♣6♠10♠ and Akkari's 600 c-bet was only check-called by EPT4 London champion Joseph Mouawad.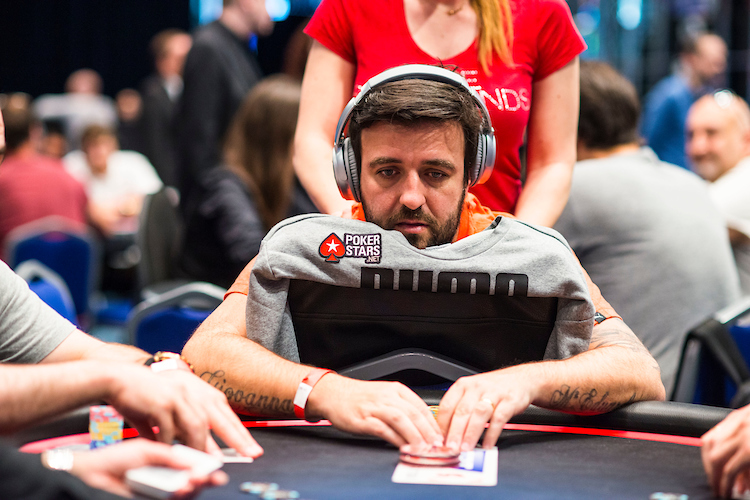 Andre Akkari: Besting Mouawad
The Lebanese player called another 1,500 on the 4♦ turn before he folded to a 5,000 bet on the 2♣ river to drop to 28,500. –MC
1:10pm: Balthazar busts
Level 1: Blinds 100/100
It looks like Isabel Baltazar is an early casualty here. According to sources on the floor, she got her last 16,000 in and lost a queens vs. ace-king race. There's a single re-entry, should she wish to take advantage of that. — HS
12:55pm: How to fold a straight flush
Level 1: Blinds 100/100
"Wow," Silma Macalou said, breaking protocol somewhat by greeting the river with audible amazement. He was one of two players still with cards after the dealer had deposited the 9♥J♥10♥Q♥8♥ board on to the table. That's a straight flush. A straight flush! Macalou had made a straight flush!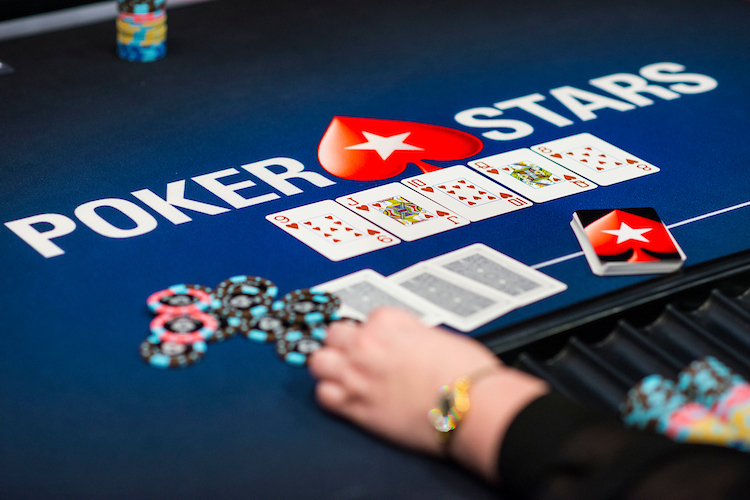 Straight flush!
The problem is that Harry Lodge had also made the same hand…at least. And when Lodge then bet out 2,600 (with only about 2,000 in the pot), Lodge was telling Macalou that he had the top end of it.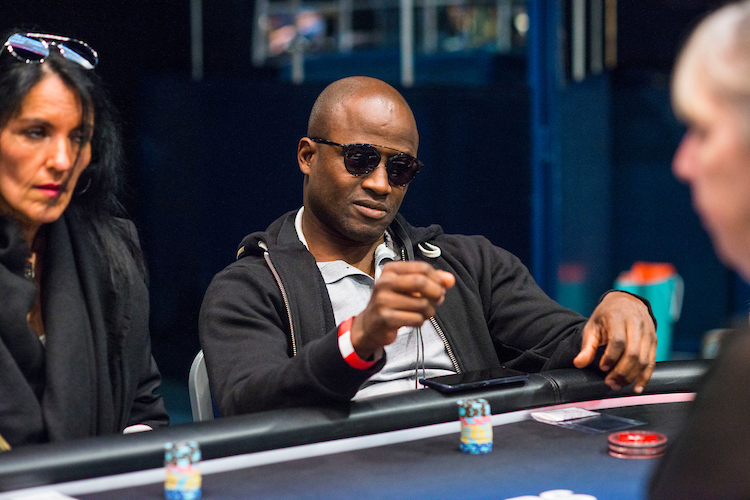 Silma Macalou: Folds a straight flush
Macalou didn't like the bet and eventually folded. Folded! Macalou folded a straight flush! Lodge didn't show whether he was at it. He merely slipped his cards away and took the small pot.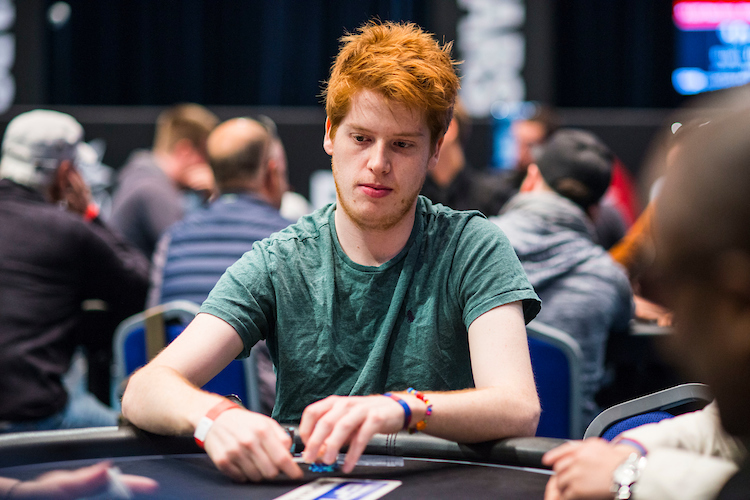 Harry Lodge: Did he have it?
But both of them can now say they had a straight flush in Level 1 at an EPT Main Event. Rigged. — HS
12:45pm: Not a squeak out of Hiroyuki Noda
Level 1 – Blinds 100/200
Hiroyuki Noda showed a jack to win a hand against Beatrice Alisauskaite. That was the good news. Then came the bad news, albeit from a completely different table.
Noda, from Japan, had his headphones in, so it took a second for him to realise that Jeffrey Colpitts was talking to him from an adjacent table. Colpitts had a complaint about the noise.
It's not unusual for people's music to get a little loud. Even conversations. But I'm not sure I've ever heard a complaint lodged about the squeak coming from someone's shoes.
And Colpitts wasn't holding back.
"It's wildly annoying!"
All of which came as a surprise to Noda, who put on a display of good manners worthy of the Hall of Fame. In the old days this kind of conversation would naturally have resulted in a shootout on the street. But the game has come a long way.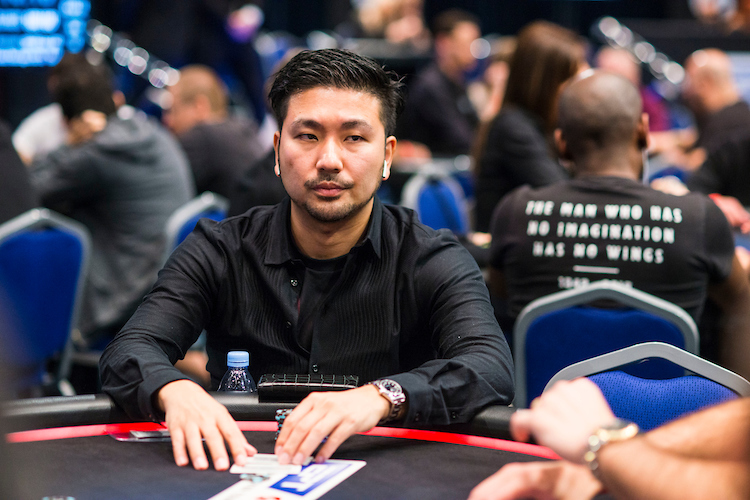 Hiroyuki Noda: Feet still
"Sorry… my bad habit," replied Noda, consciously straightening himself out, and keeping his feet together and firmly on the ground.
This kept Colpitts happy, who said he'd sat through eight minutes of this noise while Noda had been in a hand, before saying something. Attention finally returned to poker. Peace was restored.
Hat tip: Hiroyuki Noda. – SB
12:40pm: News in brief
Level 1 – Blinds 100/100
– Maria Konnikova didn't like the runout of a board in a hand where she raised. She made it 300 to go from under the gun and was called by Ahmed Abd El Fatah in the big blind. The flop came J♠Q♦A♦ and Konnikova c-bet for 300. El Fatah check-called to the 10♥ turn that was checked. He then led for 1,300 on the J♦ river and Konnikova folded.
– Former champion here Jan Bendik has joined the field. He's also a former EPT Player of the Season. Thi Xoa Nguyen came 14th here two years ago and is back for another try after busting yesterday. Platinum Pass winner Chen An Lin has also been spotted. Remember his winner's story? Refresh your memory. –MC
12:35pm: Early boost for Lam
Level 1: Blinds 100/100
There's a lot of talk about the six Platinum Passes being given away this week in Monte Carlo, but Kalidou Sow is not eligible to win one. It's for the best reason, though. It's because Sow already has one, having won the PSF London Main Event in January, only a few weeks after his PokerStars Championship Prague success.
Perhaps that's why Sow decided his participation in the following pot should end at the turn, although it may also be because he reasoned he had the worst hand out of three still active, or maybe even because he saw a massage therapist wandering past and decided he fancied one of those instead. As it was, Sow stepped aside and let Aaron Shtainer and Benoit Lam do battle, with Lam picking up a nice early boost.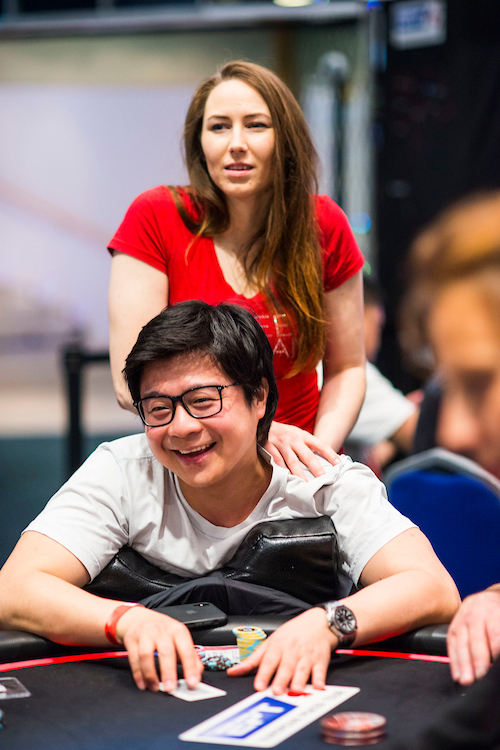 Benoit Lam: Early profit
I arrived on the turn, with the J♠10♥9♥6♠ on the table. It took a while to figure out what must have happened because there was only about 1,000 in the pot (probably a raise and two calls pre-flop), but 4,300 now in front of Shtainer (BB seat), 1,300 in front of Sow (UTG) and 1,500 in front of Lam (BTN).
My guess: after limited action on the flop, Shtainer checked the turn, Sow bet 1,300, Lam called (using bigger chips, expecting change) and then Shtainer check-raised. Sow thought for a while, but folded. Lam thought for a while, then called.
The 2♥ completed the board and that did not seem to be the card Shtainer wanted to see. He checked. Lam sensed his opportunity to represent the flush, whether he had it or not, and bet 6,700.
Shtainer then made what can only be described as a crying call, but mucked when Lam showed J♥7♥. Lam flopped top pair, a flush draw and a gutshot, then hit it on the river.
Sow got his massage, Lam got some chips and Shtainer got what looked like a beat of a bad beat. — HS
12:30pm: Checking the nuts
Level 1 – Blinds 100/200
There are a few things to adapt to as a live poker player, as opposed to an online one. Sara Nasser just got a crash course.
The board featured a king, queen and a jack. Nicolas Borlot had caught some of that by the river, by Nasser's ace-ten gave her the nuts.
Which she checked on the river.
There was no intention to put game integrity at risk, but the rule was broken. If you're the last to act, and you have the best hand, you must bet.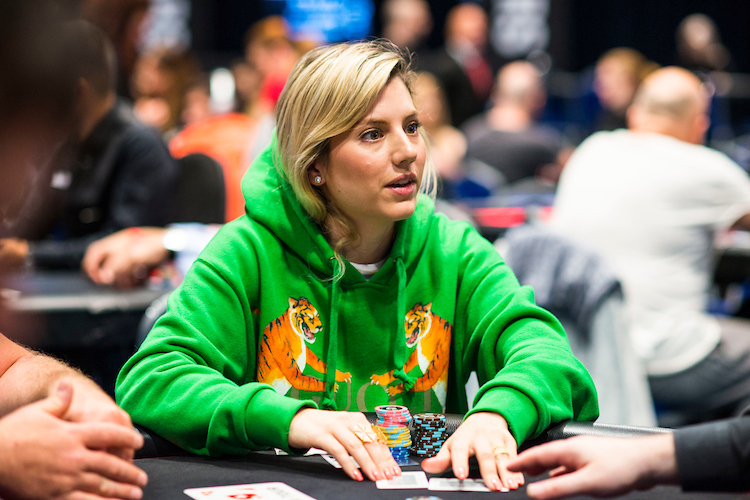 Sara Nassar: Checking the nuts
The floor was called and lenience was the plan.
No need for a penalty, just a helpful warning for a new player.
A good start for Nasser though. – SB
12:25pm: 170 already registered
Level 1: Blinds 100/100
Level 1 entries are looking good already, with 170 already registered. Many more are expected to turn up though so those players are spread over a lot of tables, meaning most are playing three, four or five handed.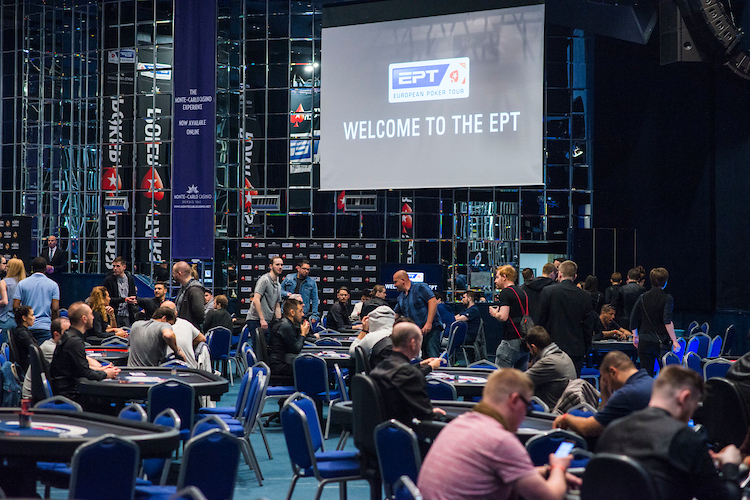 Tournament room gradually filling
Nacho Barbero, like Harry Lodge, failed to make Day 2 yesterday so is back for another crack today. Other familiar faces to go with those already mentioned include Team PokerStars Pro Andre Akkari, James Mitchell and Martin Finger. –MC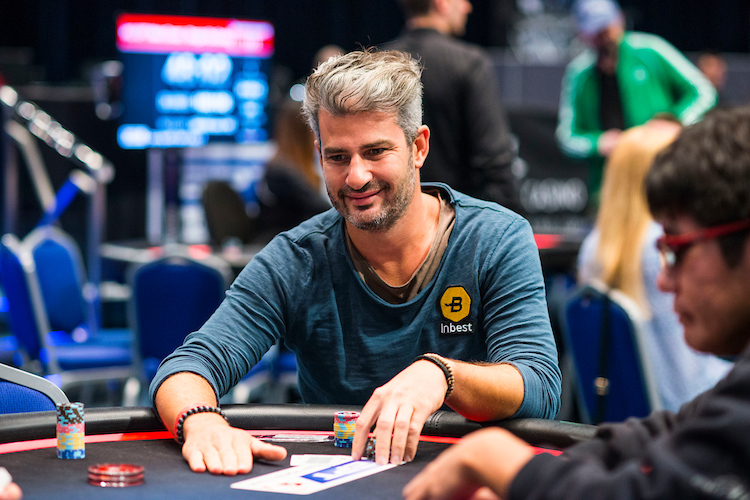 Nacho Barbero: Second try
12:05pm: Cards in the air
Level 1: Blinds 100/100
After a spine-tingling video introduction to the day, reliving Monte Carlo events of the past and looking forward to the Platinum Pass shebang of the near future, cards are in the air for Day 1B.
Special mentions to Maria Konnikova, Tom Hall, Dermot Blain, Alexandros Kolonias and Jimmy Guerro for being seated at the very start, and an honourable mention to Harry Lodge, who got there for the second hand of the day.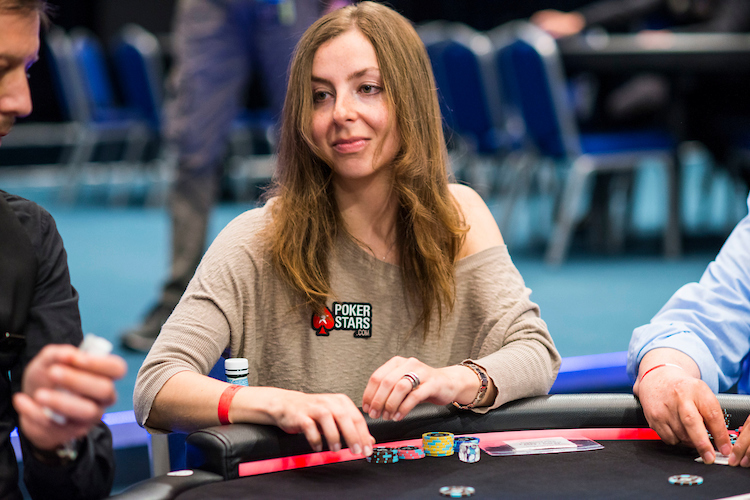 Maria Konnikova: Early arrival
Alan Smurfit is also in the tournament building, though the WSOP bracelet winner said he might take an hour or so before he sits down. He confirmed with the tournament staff that his stack won't be blinded away in his absence, and will then make up his mind as to whether to play these early levels.
12pm: Something special coming up on the webcast
From 12:30pm local time (11:30am UK, 6:30am ET) we're streaming a Twitch Special – an 8-Max Sit & Go between PokerStars ambassadors, live from EPT Monte Carlo.
And here's the line-up:
Fintan Hand
Ben "Spraggy" Spragg
Lex Veldhuis
Randy "Nanonoko" Lew
Celina Lin
Liv Boeree
Fatima Moreira de Melo
Jake Cody
It'll be winner takes all with a twist.
The winner gets two SCOOP Main Event tickets, each worth $5,000. That's one for them, but also one for their Twitch community.
That makes this a good time to start following these guys.
They'll be some great poker, but also a few things to keep the pros on their toes.
The first two players to get knocked out will be given a chance to re-enter, provided they can complete a special challenge.
What kind of challenge?
That's up to the Twitch community watching.
They get to vote one what that challenge will be. To keep things fair we'll be employing an impartial judge to handle the serious business at hand.
Obviously there was only one man for the job: Joe Stapleton.
Meanwhile James Hartigan will be in the booth providing commentary, alongside a few guests, including the defeated.
It all starts at 12:30pm, with the webcast on nothing longer than a one-minute delay.
It should be fun, and something different between the seriousness of the Super High Roller and Main Events. And what's more, it will send one viewer all the way to the SCOOP Main Event next month.
Click here to watch from 12:30pm. — SB
12pm: Let's get this show on the road
Level 1: Blinds 100/100
Players are now just mingling in the room and preparing to see their first cards of the day. For the first time in a Main Event, they're playing with a big blind ante, although it doesn't appear until Level 2. It means that right now the small blind and big blind are the same size (100 chips) and that 200 is all there is to play for for the next hour.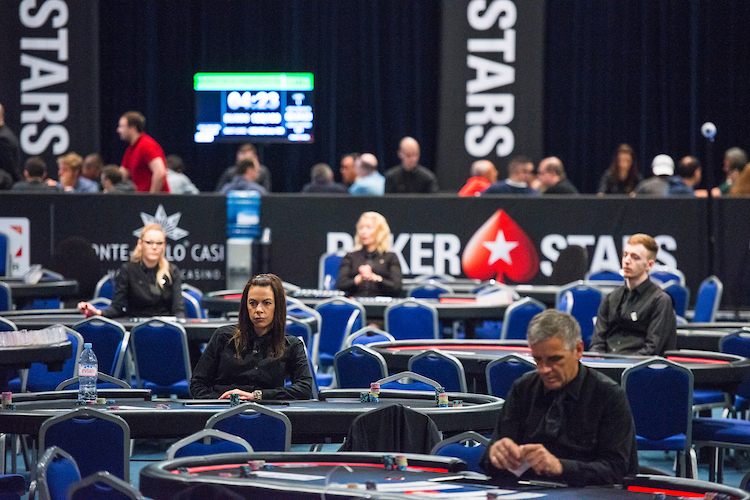 Day 1B tournament area
Still, if that hasn't whetted your appetite for the coming coverage, I don't know what will. Here we go!– HS
11:30am: Generic introduction
Good afternoon readers, wherever you are, and welcome back to a sunny French Riviera for another 10 hours sitting indoors. Such is life on the European Poker Tour, and specifically the PokerStars and Monte Carlo Casino EPT Monte Carlo Main Event, which plays through Day 1B today.
This, the second of the two starting flights, is always bigger in terms of player numbers, but it seems highly unlikely that our chip leader will get close to Mark Demirdijan's extraordinary total from yesterday. He finished with 350,500, a ten-fold increase on the 30,000 starting stack, ending one of the best opening day performances we can remember.
LISTEN: Mark Demirdjian talks chips, and how he got 350,000 of them on Day 1A
Chip counts from all of yesterday's 245 survivors, from 282 entries (inc. 37 re-entries) are on the chip-count page.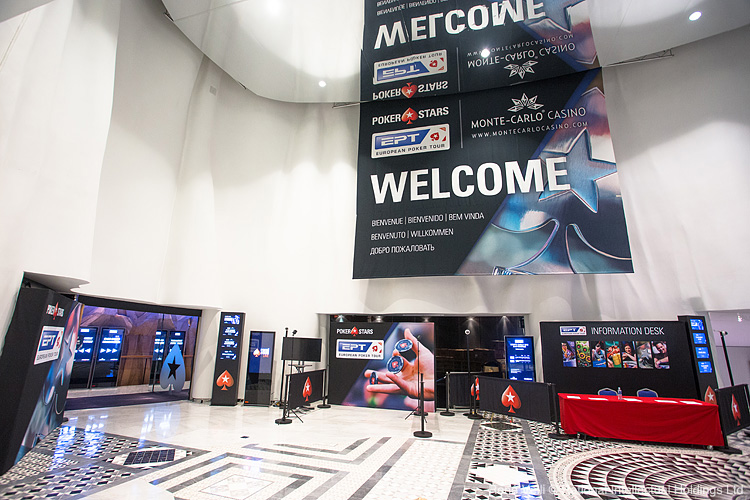 Welcome to Monte Carlo
The clock gets wound all the way back to the beginning for the noon start today. Everyone gets 30,000 chips, blinds are 100/100 and everyone is on their first entry. For the first time, this is a re-entry event, allowing everyone the chance to fire again if things go awry. It all helps to build the prize pool and boost the winner's share to be awarded on Friday.
---
Fancy joining us on the EPT? Sign up for PokerStars and begin your journey. Click here to get an account.
---
All the information you need should be available by clicking the links above, or in the fact-box below. Play begins at noon, and we'll have coverage through all of the 10 levels. There's also a €50,000 Single-Day High Roller playing out today (we'll have coverage of that from about 4pm) and, if that's still not enough, read about Sam Greenwood's dramatic €1.5 million win in the €100,000 Super High Roller, which wrapped late last night.
Today's action:
Main Event – Day 1B
Buy-in: €5,300 (inc. €300 fee)
Re-entry: Single re-entry allowed
Registration: Entry open until 12pm Monday (start Day 2)
Starting stack: 30,000
Starting blinds: 100/100 (BB ante starts Level 2)
Schedule of play: Ten one-hour levels
Shot-clock: 30-second shot clock from Day 2
Defending champion: Raffaele Sorrentino
Download the PokerStars LIVE! app with all tournament information. Available for IOS and Android.
PokerStars Blog reporting team on the €5,000 Main Event: Stephen Bartley, Marc Convey, Martin Harris, Howard Swains and Alex Villegas. Photography by Neil Stoddart and Joe Giron/PokerPhotoArchive.