There are busy days of poker, and then there are Day 2s at the EPT Barcelona Main Event.
Through 15 years of European Poker Tour action here in the Catalan capital, the opening flights have always been about watching a field swell until records are broken. And then what follows the next day is a tsunami as they're all washed back out to sea.
This tournament attracted 1,474 players (amassing 1,931 €5,000 entries), but there were only 259 left when bags came out tonight. Not only that, but we had also burst the money bubble, with Guillaume Diaz leaving in 297th place, one shy of the €8,150 min-cash.
The others go to bed tonight dreaming of a €1.6 million first prize payday. Full details of the payout structure, announced today, is on the payouts page.
The man with the most at this stage is Ben Wilinofsky, who is enjoying this tournament like it's 2011. That was the year that Wilinofsky put on a dominant show in Germany to win the EPT Berlin Main Event and, having led here at the end of Day 1A, he is back out in front tonight too.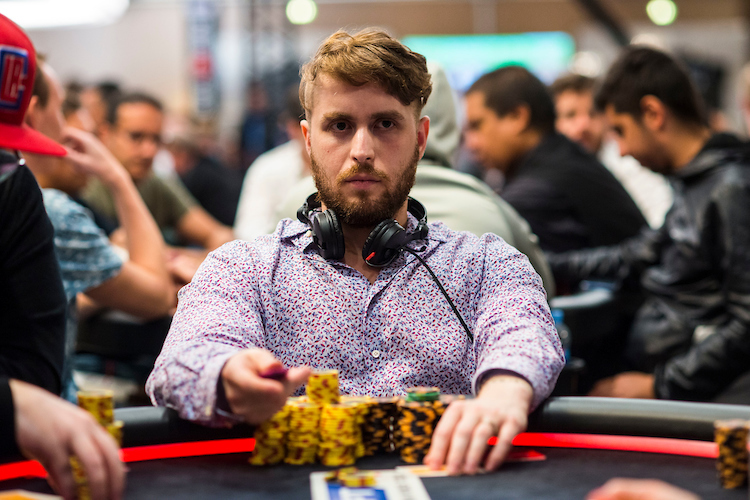 Ben Wilinofsky: Back to the top
Wilinofsky squeezed 850,000 into his bag, which put him ahead of Almedin Imsirovic. Updates came thick and fast today about the man from Vancouver, Washington, who prospered despite being seated at a table with Patrik Antonius and Viktor Blom for several hours. Imsirovic would have been the runaway leader had Antonius not his a three outer in the last orbit to trim Imsirovic back.
---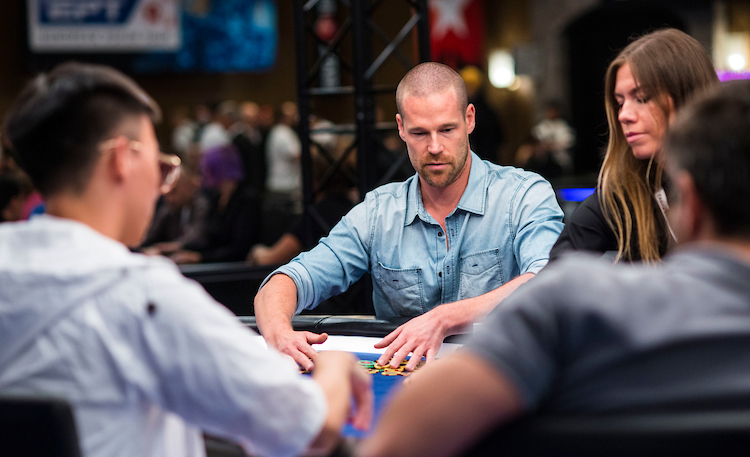 Patrik Antonius: A role to play in the final shakeup
---
It also allowed David Petrzelka to sneak into second place. But that's poker, and Imsirovic still had 723,000 chips at the end of play.
---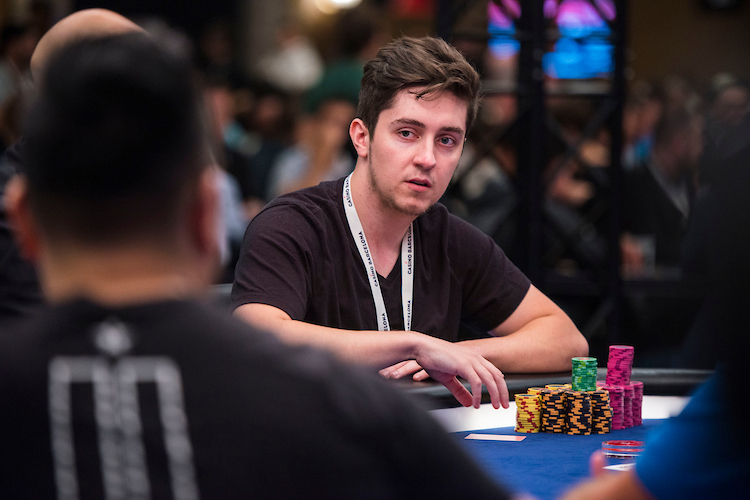 Almedin Imsirovic: Leading all the way, until he wasn't
---
Our top five at this stage seems to be as follows:
| Name | Country | Chips |
| --- | --- | --- |
| Ben Wilinofsky | Canada | 850,000 |
| David Petrzelka | Czech Republic | 771,000 |
| Almedin Imsirovic | USA | 723,000 |
| Michal Lubas | Poland | 712,000 |
| Tony Broekhof | Netherlands | 703,500 |
The highest ranking Team PokerStars Pro still alive is Jaime Staples, whose 196,000 has him in the middle of the pack. But it was an easy elevation to top of the Red Flag pile, given there are no other members of Team Pro left. You win some, you lose most.
---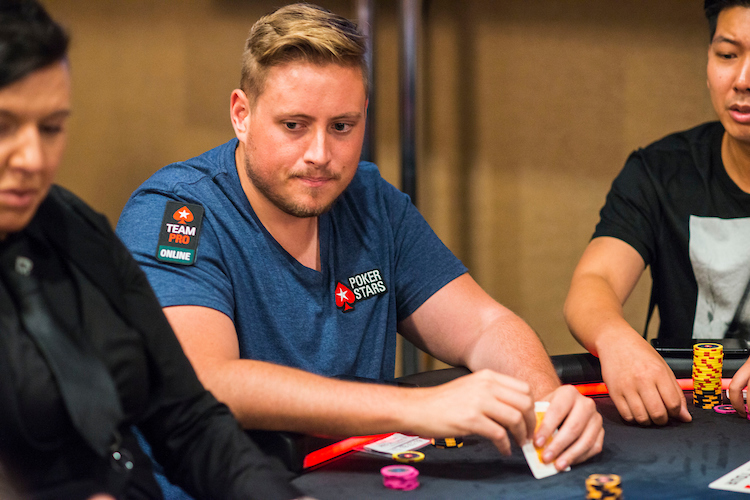 Jaime Staples: Flying the Red Spade solo
---
Red hot Benjamin Pollak leads a host of top stars still also in with a shout, including Shaun Deeb, Mustapha Kanit, Chris Moorman, Jack Sinclair, John Juanda and the aforementioned Antonius and Blom, among others.
We will have full counts on the chip-count page just as soon as all the counting is done.
There is, alas, no room for the unfortunate Diaz, whose tournament came to an end as Day 2's embers were dying and a tortuous bubble period concluded. Organisers toyed with the introduction of the shot clock during the last break in play, with each player given six time-bank cards with which to extend their 30-second allocation. A measure designed to speed things up ended up having the reverse effect, and one doubts the experiment will be repeated.
But after the all-too-familiar bubble faff–stalling, crowds flocking, clock pausing, cameras battling to tables, etc.–we finally lost Diaz whose Q♠4♣ could not beat Adrian State's A♦K♥. Diaz only had one big blind at the time, so it was always looking bleak. But no mind: he is a Platinum Pass winner already, so will be looking to make amends for this disaster at the PokerStars Players Championship (PSPC), where the prize pool will be even bigger than this.
---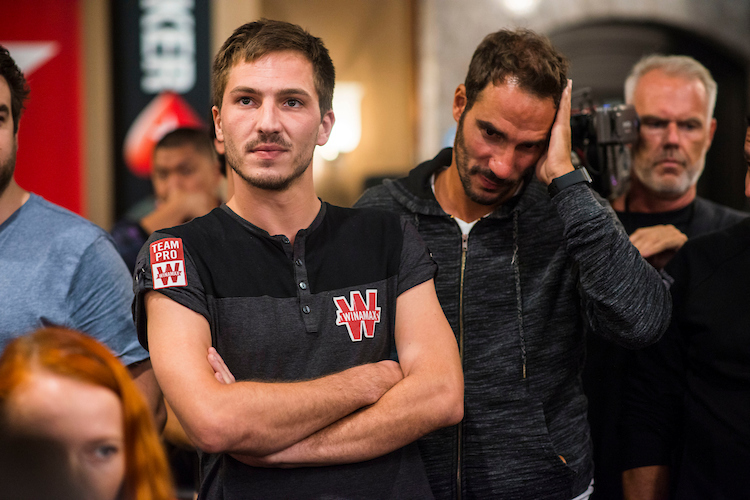 The end of the ride for Guillaume Diaz
---
So we'll come back tomorrow with around 270 and a certain early rush to the exits once again. And then it begins to get serious as we play on into the deep stages of this monster tournament.
Have a look through all the archive of coverage below. Enjoy, and then come back at noon tomorrow for more of the same. — HS
---
DAY 2 COVERAGE ARCHIVE
---

• PLAYERS: 259 of 1,931 entries (inc. 457 re-entries)
• CHIP COUNTS | PAYOUTS | LIVE STREAM
• ALL EPT BARCELONA INFO | TOURNAMENT SCHEDULE
• DOWNLOAD POKERSTARS | Follow @PokerStarsBlog on Twitter

---
9:55pm: Four more hands
Level 15 – Blinds 2,000/4,000 (BB ante 4,000)
The tournament clock is now paused and they're playing four more hands before bagging for the night. — HS
9:50pm: Sboev shove knocks out two
Level 15 – Blinds 2,000/4,000 (BB ante 4,000)
The all-ins keep on happening, with another three-way affair to share as the last level of Day 2 winds down.
In this one, Dmitrii Grinenko was the worst off with J♦10♠, Diego Dos Santos was next with 10♣10♦, and Evgenii Sboev was in the best spot with K♥K♦ and having both opponents covered.
After an exciting preflop round, postflop was less so as the five cards rolled out 6♠3♠9♥9♠K♠ to give Sboev a full house and the whole pot while reducing the size of the field by two. Combine all those stacks and Sboev has about 410,000 now. –MH
9:45pm: Double time
Level 15 – Blinds 2,000/4,000 (BB ante 4,000)
We're through with bubble time. Now it's double time.
At least that's probably what Rui Ferreira was thinking when he got in his last 35,000 with J♠10♠ versus Ben Wilinofsky's Q♠2♥ in a blind vs blind hand. The board ran J♣7♥10♦4♠J♦ to double him up, while Wilinofsky is still one of the chip leaders with more than 800,000.
On another table Victor Chong enjoyed a treble up, when his K♠Q♥ survived on a K♥5♦6♠4♥8♥ board over K♦10♦ and another lesser hand. Chong now has around 330,000. –JS
9:40pm: Another triple for Domjan
Level 15 – Blinds 2,000/4,000 (BB ante 4,000)
David Domjan was one of the extreme short stacks on the bubble, and after surviving a three-way all-in he made it into the cash. That didn't mean he wasn't still on edge when going all in for his last 14,000 just now from early position shortly after the bubble bursting.
It fodled to Rene Kuehlman who reraised to 34,000, then Teun Mulder reraise-jammed for 74,500 and Kuehlman called that, too. It was another three-way all-in, involving both Domjan and Kuehlman again.
Domjan: A♠9♠
Keuhlman: J♠J♥
Mulder: Q♦Q♣
The 2♠10♣3♠ flop excited Domjan, and he continued to look on urgently after the 8♥ didn't complete his flush draw. The Q♠ river did give Domjan what he needed, while also improving Mulder even further to a set.
"Interesting river," said Kuehlman, even it if weren't the best finish for him. He still has about 600,000, though, while Mulder has about 150,000 and Domjan still survives with 42,000. –MH
9:30pm: Open the floodgates
Level 15 – Blinds 2,000/4,000 (BB ante 4,000)
Now that players are guaranteed €8,150, they're flipping very flippantly and getting their stacks in quick.
The first elimination was Anton Dmitriev, who got his short stack in against Hady El Asmar. It was an old-fashioned flip after Dmitriev showed J♠J♦ to El Asmar's A♠K♣.
El Asmar then filled up on the K♦6♥K♥2♠2♥ board and took out Dmitriev. While Dmitriev was collecting his pay ticket, a few more players were already trickling towards the payout table. The floodgates have opened. — AV
9:25pm: Guillaume Diaz bubbles, everyone else cashes
Level 15 – Blinds 2,000/4,000 (BB ante 4,000)
Guillaume Diaz just had a very momentous half-hour on the bubble of this tournament. Settle in for a tale we're calling Le long voyage étrange de Guillaume Diaz.
Diaz, who won the EPT National in Monte Carlo back in May to earn a Platinum Pass, was down to a single 5,000 chip as hand-for-hand play began with two players left before the money. Diaz folded, hoping for some help from the rest of the field with three hands before he was due to pay the big blind.
The first hand saw three different players at risk around the room, and when this was announced Diaz let out a hearty "VAMOOOOOOOOO!!!" Alas, the help did not come: two of those players tripled up, and the other doubled.
Diaz folded his next hand, leaving him one more hand before the moment of truth approached. Fellow players and French media began to visit him at his table as the story of his short stack began to get around. There was only one bustout on this round, leaving Diaz with hope of avoiding the bubble.
The following hand saw Diaz fold again. His tablemates Niall Farrell and Simon Mattsson got into it, but Farrell folded to an all-in move from Mattsson. Nobody else busted, either, and Diaz was closer to danger than ever: he was now set to be forced all-in from the big blind.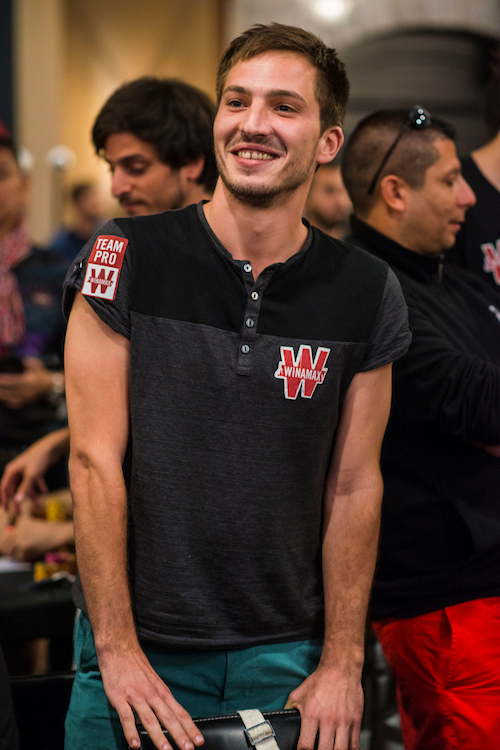 Guillaume Diaz rises from his seat fearing the worst
The moment of truth had arrived, and it started badly for Diaz when Adrian State raised to 10,000 in the hijack seat. Niall Farrell called the raise and took the 8♠A♣9♦ flop but folded to State's 13,000-chip bet, which paused play until the tournament director and camera crew could make their way to the table. Once they were there, Diaz and State turned over their cards:
State: A♦K♥
Diaz: Q♠4♣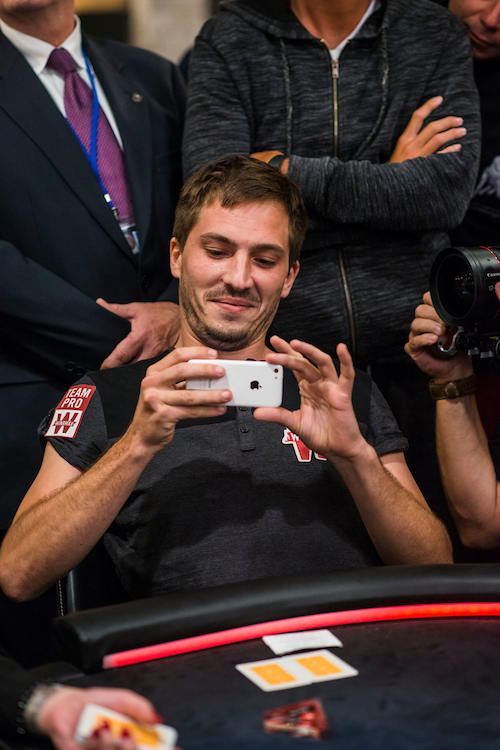 Photographic evidence of a bubble moment
The turn card was the 10♠, keeping hope alive for Diaz with a gutshot straight draw. But the river was the 8♣, locking up the win for State's pair of aces. Monsieur Diaz, il était le bubble boy.
Diaz took it in stride, all smiles — it had been a long, strange journey indeed, but with a Platinum Pass and an EPT National title already in his pocket there was less to worry about than there would be for many other players.
---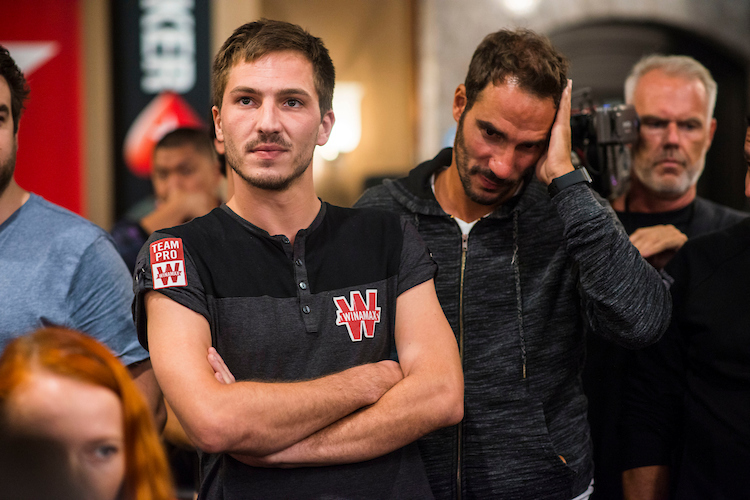 The end of the ride
---
With that, we're officially in the money here at Casino Barcelona. –JK
9:15pm: Zorlucan sent to the ER as he soft bubbles
Level 15 – Blinds 2,000/4,000 (BB ante 4,000)
Zorlucan Er has finished two places off the money, meaning the tournament had moved onto the pure bubble stage.
The Turkish player was made to wait a long time as the busy, chaotic room full of players made it hard for all the cameras to get into place quickly. He had committed his last 99,000 and found a customer in the shape of Ming Xi. All the chips went in preflop.
Xi: A♦A♠
Er: Q♦Q♠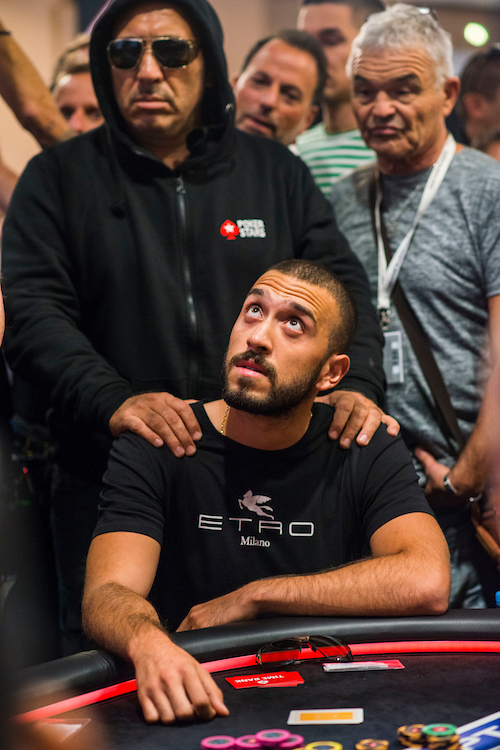 No help from the heavens for Zorlucan Er
The board ran J♠8♦K♠6♦2♥ offering no help to Er. Xi quickly took a photo of the scene and then stacked up chips to the value of 580,000. –MC
9:05pm: Two double-ups keep bubble intact
Level 15 – Blinds 2,000/4,000 (BB ante 4,000)
Two more double-ups to report here during hand-for-hand play. In one the all-in player probably felt somewhat good about his hand before the showdown, while in the other the at-risk player had to be feeling pessimistic, but was gladly surprised.
In the first, Volodymyr Drokin was all-in on a board of 10♠Q♣Q♥7♦4♠ against Adrian Constantin. They had to wait for the camera crew and tournament director to come over, as they were the second of three all-ins to be announced. While waiting, Drokin thought about his 10♦10♥ for tens full of queens, knowing there were only a few combos of hands out there that could beat him.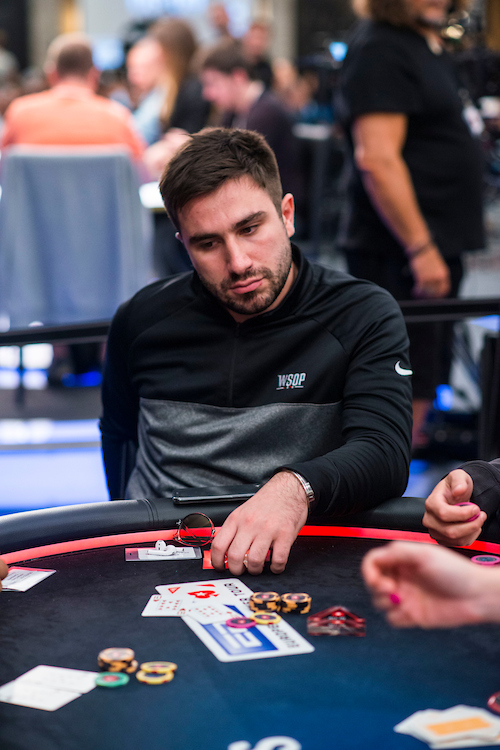 Volodymyr Drokin: Survival
Constantin didn't have any of those combos, only showing up with 9♣9♠, and Drokin doubled to about 200,000 while Constantin dropped ot 380,000.
Finally the last of the all-ins was completed. It was a three-way affair, with David Domjan all in from the small blind for a pittance, vying for a 16,000-chip main pot against Rene Kuehlman and Andrey Novak who had a tiny bit invested in a side pot. The latter two had checked down a board of A♥2♠10♣8♣6♦, and after a long wait they finally were able to show:
Domjan: Q♦6♠
Kuehlman: Q♠9♥
Novak: 4♥3♥
The table all cheered at the sight of Domjan's six that made him a pair to survive.
---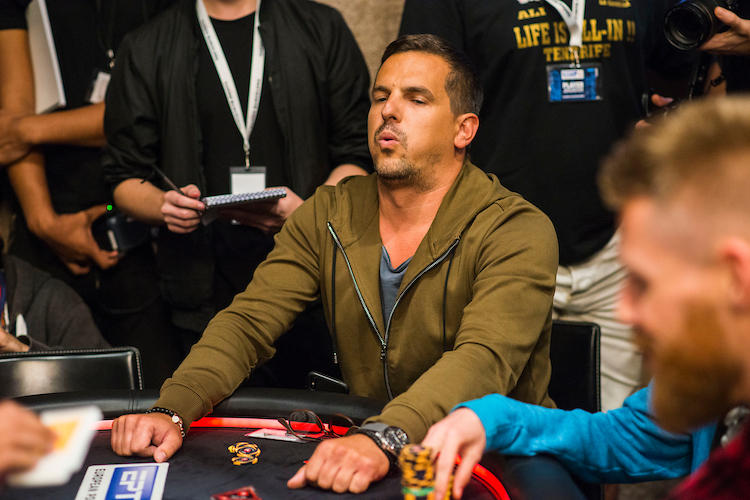 Close shave for David Domjan
---
"You didn't know you were winning, did you?" asked a smiling Kuehlamn of Domjan who shook his head. "We knew we weren't winning," laughed Kuehlman in response.
They are still two eliminations from the cash. –MH
9pm: All for nothing
Level 15 – Blinds 2,000/4,000 (BB ante 4,000)
When Mohammed Ifzail opened to 10,000 and Dimitri Steinfeuer called, I definitely didn't expect to see Ilya Etko call off his last 10,500 all-in in a three-way pot. But that's what happened.
Ifzail and Steinfeuer then checked the 3♦4♦6♣A♦5♦ board down all the way, and the waiting for the other hands to finish began. It felt like we were waiting an age for this roughly eight big blind pot to get to showdown.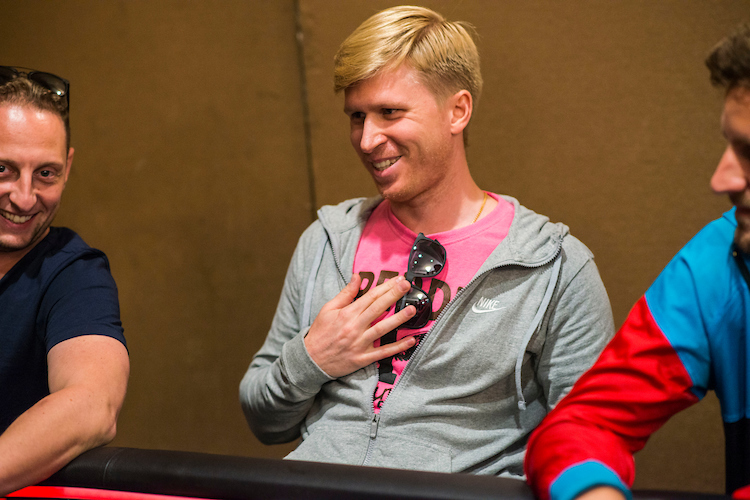 Ilya Etko: Big bubble moment
"Fold! Please!" pleaded Etko to Ifzail who laughed off the proposal. But Etko looked pretty confident. As Lawrence Bayley pointed out, he hadn't walked away so must like his hand.
When the showdowns finally came, it felt like any diamond would take it. Ifzail showed A♥9♥ for top pair, no diamond. Then Steinfeuer showed A♣Q♠ for a better top pair, no diamond.
Etko finally revealed his A♠K♣, for the best top pair. No diamond was needed after all, and he trebled up.
We'll be back in another age with one more hand as the bubble continues. –JS
8:55pm: A different kind of bubble abuse
Level 15 – Blinds 2,000/4,000 (BB ante 4,000)
The 30-second shot clock and six time bank chips were introduced to try and stop the bubble abuse by players with short stacks trying to stall to better their chances of getting into the money. To be honest, it hasn't worked in its current state.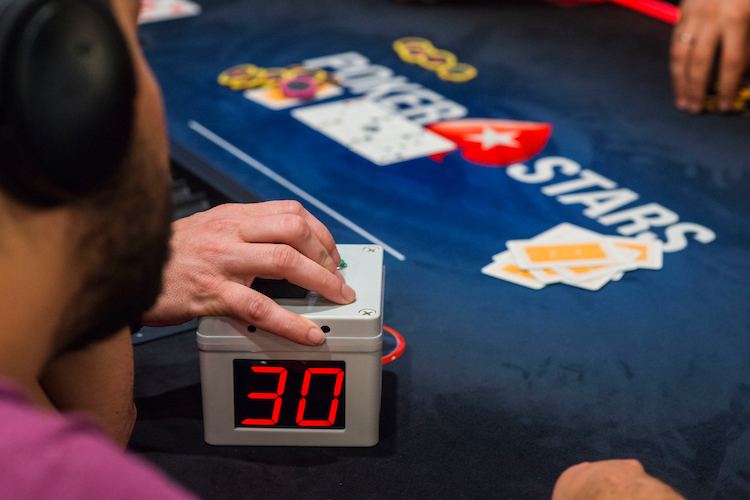 The shot clock appears
The floor staff introduced the changes with the best intentions, but certain players are using the new circumstances to find a different way of stalling. Historically, the way it used to be, the percentage of players obviously stalling without a playable hand was small and could be managed. Now, the shot clock and time-bank chips seem to have given licence to a greater percentage of players to use them to stall, and it's become impossible for the floor staff to manage fairly – there's just too much of it going on.
The tournament director will soon be forced to bring in hand-for-hand play earlier than was intended, meaning there will be no benefit to stalling. In future, the players will probably only be given two time-bank chips (rather than six) and then receive additional chips once the bubble had burst, or at the start of Day 3.
The good thing is that organisers are willing to try things to improve the flow and enjoyment of the game, then if it doesn't work, adjust and try something slightly different. –MC
8:45pm: One down
Level 15 – Blinds 2,000/4,000 (BB ante 4,000)
We did manage to lose some players despite the waiting.
Jonas Hagstrom was the latest casualty. He went all-in with A♠Q♦ against Rene Kuehlman's mighty stack and pocket pair: K♦K♠.
Hagstrom was hoping for an ace, but the K♣8♠7♥10♠10♥ board brought Kuehlman another king instead. Hagstrom hit the rail while Kuehlman chipped up to 610,000. –AV
8:35pm: Ready, set, wait
Level 15 – Blinds 2,000/4,000 (BB ante 4,000)
The introduction of the 30-second shot clock, along with the six red time bank cards each of which give players six additional half-minute to act, has added a new twist here as the bubble looms.
Like your brother or sister who eats all the Halloween candy the first night, three players have already used all six of their time bank cards.
Lazlo Molnar just opened with an all-in push for 59,000 from under the gun, then watched most of his table take their time — and some time bank cards — before folding.
It started with Enrico Camosci who jokingly offered all six of his cards to the dealer while saying he needed to go to the restroom. He then took enough time thinking to spend four of his cards before letting his hand go. Others took their time acting, too, including Marcin Chmielewski and Vojtech Skalak who each used one card, before they folded.
Molnar didn't mind all the waiting, glad to win the blinds and big blind ante and keep his seat as play continues. –MH
8:30pm: Big bubble? No sweat for Hanna
Level 15 – Blinds 2,000/4,000 (BB ante 4,000)
Georges Hanna came back from the break ready to play, that's for sure.
He opened to 10,00 under the gun, and was three-bet to 30,100 by the big stack of Fernando Pons. Back to Hanna, he made the call to see the 5♠3♠4♦ flop.
It checked to Pons and he made it 30,000 to go, which Hanna called quickly, bringing the 8♣ on the turn. Hanna checked once more, and now Pons made it 70,000. Hanna didn't take long before announcing he was all-in for 320,000, and Pons laid it down.
"Show the ten of clubs," said tablemate Lawrence Bayley. Hanna instead showed the 7♠, which got a few "oohs" from the table. Was he bluffing? Did he have a flush draw? Or did he have a straight already?
We'll never know, but we do know that Hanna's play has brought his stack up to 530,000. Pons is down to 560,000 now. –JS
8:25pm: Rimestad eliminates Sootla
Level 15 – Blinds 2,000/4,000 (BB ante 4,000)
The format has changed to include a 30-second shot clock as the money bubble nears, and it just came into major play in the hand that sent Ranno Sootla to the rail without a cash.
Sootla opened the action under the gun for 11,000. Johan Rimestad called on the button, bringing a 4♠3♥6♣ flop. Sootla led for 19,500 and Rimestad quickly set a bet of 100,000 forward. That put Sootla into the tank, and he didn't emerge for a while.
"Do you have nines?" he asked Rimestad.
"No," Rimestad said firmly.
Pause. "Eights?"
Rimestad smiled. "Perhaps."
Sootla used the first of his six 30-second time bank cards here. "You don't have a set, right?" he asked. Rimestad merely smiled again.
Big hand for Johan Rimestad
Another time bank card. "Jacks?" asked Sootla.
"No, I'm not going to say," said Rimestad.
"I don't see how I can fold this," said Sootla, tossing in another time bank card. Those 30 seconds ran down and he used his fourth 30 seconds. As that was running out he made the call for his tournament life and found that his 10♠10♣ was ahead of Rimestad's 8♥5♥, though he'd need to dodge an open-ended straight draw to survive.
That wasn't in the cards, though. The K♠ turn was safe, but the 2♣ river completed Rimestad's straight to end Sootla's tournament.
Rimestad is now on 530,000 with the money bubble in sight. –JK
8:20pm: Bubble up for Vaskaboinikau
Level 15 – Blinds 2,000/4,000 (BB ante 4,000)
"Hey Benj! I just double!"
So called Mikalai Vaskaboinikau to Benjamin Pollak from one table to another just now. The pair made friends while making the final table together at last night's €50,000 Single Day High Roller where Vaskaboinikau took fifth and Pollak won for nearly a million euros.
"Get lucky?" asked Pollak in response. "Nah nah," said Vaskaboinikau. "Eights against ace-king."
Vaskaboinikau was the one with 8♥8♣, having jammed for about 68,000 and gotten called by Felipe Costa who held A♦K♦. The board came 6♥9♣10♦9♦2♣, and Vaskaboinikau survives with a little over 140,000 while Costa drops to 145,000.
They are still six eliminations from the money, as 302 remain. –MH
8:15pm: Goad Palevic at your peril
Level 15 – Blinds 2,000/4,000 (BB ante 4,000)
Rifat Palevic was in the the tank as he obviously had a big decision to make. Then he was goaded by his opponent, Pauli Ayras, and that didn't work out well.
The two players had reached the turn where the board read A♠4♥7♥2♠. Ayars (hijack) checked and Palevic bet 26,000 from the next seat. Ayars jammed and we're back at the point where Palevic went into the tank. After thinking for a few minutes, Palevic turned to Ayars who said, "This is why you shouldn't play hands on the bubble."
Palevic looked into Ayars' face and responded in a very direct tone, "My friend, I call!"
Ayars opened A♥2♦ for turned two pair but Palevic had that beat with A♦4♦ for a bigger two pair. The river was the Q♣ and Ayays then seemed a little shocked when he found out he had to hand over 308,500. It left the former big stack with 210,000. Palevic moved up to 670,000. –MC
8:10pm: Okada out as the clock stops
Level 15 – Blinds 2,000/4,000 (BB ante 4,000)
Upeshka Desilva raised to 8,000 from early position and Julien Pieffet called from the hijack. Action folded to Ken Okada's big blind and the Japanese player three-bet it up to 32,000. Desilva quickly folded and the floor told dealers to pause after the hand was done.
The bubble approacheth. Shot clocks were coming into action too.
Pieffet wasn't done playing this hand though and called. The flop came 3♣9♦J♠ and Okada bet 40,000. Pieffet raised all-in and Okada snap-called. Okada turned over A♥A♠ and Pieffet, who had the bigger stack, showed 9♥9♣ for a set of nines. The turn brought a 7♣ and a K♦ on the river spelt elimination for Okada.
Pieffet, on the other hand, is entering the bubble with about 435,000. –AV
8:05pm: Tense times for the short stacks
Level 15 – Blinds 2,000/4,000 (BB ante 4,000)
Lots of all-ins happening here just a handful of eliminations away from the bubble bursting.
Just now Tomasz Pajak of Poland ripped his stack all-in before the flop and got a round of folds. Then it was Sergey Aristov of Russia getting all in behind pocket nines against ace-king and getting to fist pump and keep his seat as the nines held.
Soon after across the room it was Alexander Ivanov of Russia also pushing his last 50,500 forward and winning the blinds and big blind ante.
Right now 304 players remain — eight from the cash. –MH
8pm: Bubble time
Level 15 – Blinds 2,000/4,000 (BB ante 4,000)
We're back, and the bubble is set to burst.
Here's a look at some big stacks returning from the break. –JS
Almedin Imsirovic – 920,000
Rene Kuehlmann 530,000
Piotr Nurzynski 440,000
Joel Lehtinen 460,000
Fernando Pons 680,000
Javier Fernandez 460000
Renjun Yang 550,000
---
TOURNAMENT BREAK: 30 MINUTES
---
7:30pm: Only a few to go
Level 14 – Blinds 1,500/3,000 (BB ante 3,000)
With the final break of the day imminent, and 304 players still remaining, it seems certain we're going to hit the money before the end of Day 2. A shot clock is now coming into play to speed up the action and in an attempt to preclude stalling, but 90 minutes to get rid of seven players should be doable regardless.
This little handful of players have fallen a few shots short of the money:
Tomasz Gluszko, Patrik Hansen, Luc Greenwood, Carlos Diaz, Sean Prendiville, Jimmy Guerrero, Giulio Mascolo, Mikhail Sokolovskiy, Tom Hall, Francois Evard, Erik Friberg, Ion Tabacaru, Andras Nemeth and Luigi Shehadeh. — HS
---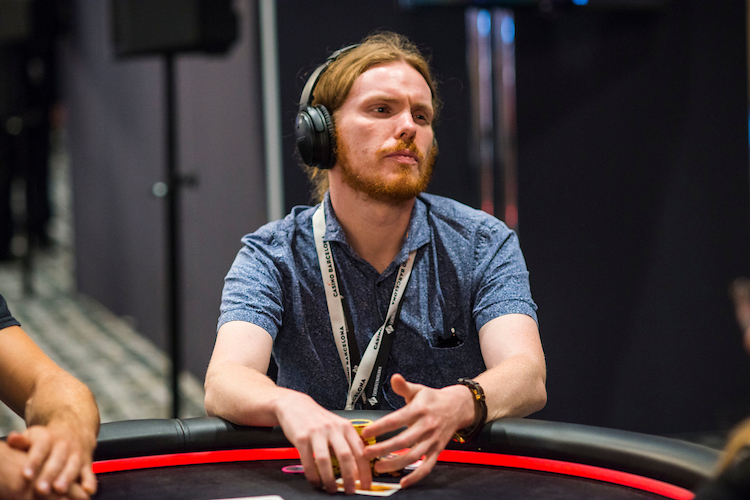 Tom Hall: Short of the cash
---
7:29pm: Small ball with Farrell
Level 14 – Blinds 1,500/3,000 (BB ante 3,000)
Niall Farrell won some and lost some right before break and is hanging steady with about 300,000.
Richard Kirsch raised to 9,000 from early position one hand and Farrell called from the small blind. Justin Nicola Ligeri went along from the big blind and players checked down to the river of a 6♥J♦A♣K♠4♦ board. Farrell then took a 20,000 stab at the pot and it was good enough to take it down.
Then Ligeri took some back from Farrell.
Farrell raised to 6,500 from the cutoff that hand and Ligeri called from the button. Kirsch called from the big blind and the same three players went to a K♦Q♠7♠ flop. Farrell bet out earlier this time and made it 11,000 on the flop. Ligeri called, Kirsch folded and a 4♣ came on the turn.
They checked that street and checked again after a Q♥ landed on the river. Ligeri showed 9♥9♣ and Farrell mucked. –AV
7:28pm: Imsirovic eliminates O'Neill
Level 14 – Blinds 1,500/3,000 (BB ante 3,000)
Almedin Imsirovic is on the kind of heater that most poker players can only dream about, and Jack O'Neill is his latest victim.
We arrived to the table with a 10♣A♣3♥ board showing and 60,000 chips already in the pot. Imsirovic checked in the cutoff seat and O'Neill bet 13,000 on the button. Imsirovic called and the turn was the A♠. Both players checked and the 6♠ fell on the river. Imsirovic took his time and then placed a stack of green 25K chips in front of him.
O'Neill, with the EPT cameras trained on him, took about a minute and then announced his call. He had A♥4♥ for trip aces, the same hand that Imsirovic's A♦8♦ had made, but Imsirovic's kicker played to take down the pot.
O'Neill heads for the exits, while Imsirovic climbs to 920,000. –JK
7:27pm: Come on!
Level 14 – Blinds 1,500/3,000 (BB ante 3,000)
Tigran Harutyunyan didn't like being three-outed versus Roberto Rodriguez just now, even though it was a relatively small loss.
He opened to 7,000 off the button and saw Rodriguez three-bet all-in for 30,500 in the big blind. Harutyunyan tanked and then called with 8♣8♠. Rodriguez opened K♦7♠ and hit as the board ran K♠5♠J♠A♣3♥.
"Come on!" Complained Harutyunyan as he shook his head. He dropped to 120,000. –MC
7:26pm: Tens work for Bayley
Level 14 – Blinds 1,500/3,000 (BB ante 3,000)
After an all-in open by Marc Trijaud, it folded to Lawrence Bayley who re-raised for just a little more and everyone else got out of the way.
Trijaud had 9♦9♠, but unfortunately for him had run into Bayley's 10♥10♠. The community cards came Q♦2♥A♠, then 3♦, then J♦, and Trijaud is out. Bayley has about 110,000 now with the next break just a couple of minutes away. –MH
7:25pm: Just like the old days
Level 14 – Blinds 1,500/3,000 (BB ante 3,000)
As we just mentioned, Patrik Antonius and Viktor "Isildur1" Blom are sat right next to each other in this Main Event as we approach the bubble, and the two clearly have a lot of history together.
---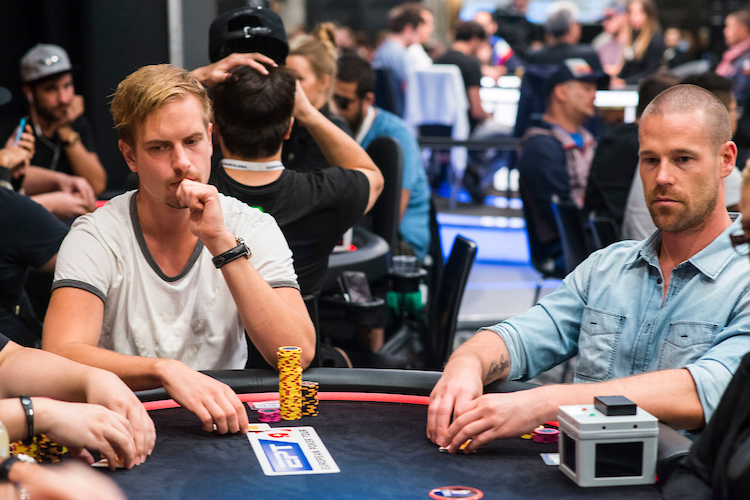 Viktor Blom and Patrik Antonius: Familiar foes
---
Countless hours spent battling in the online nosebleed cash games, together they're responsible for the biggest pot in online history: a $1.3 million PLO behemoth that you can watch below:
They just played a super speedy pot versus each other, almost as if they were clicking buttons during a 12-table session. Blom opened the cutoff, Antonius called the button, and everyone else folded.
Flop: K♣4♥J♠ check check
Turn: A♥ check check
River: 2♥ Blom bets 16,000, Antonius folds.
It all took no more than 20 seconds.
Antonius has 83,000 right now, while Blom is ahead with 103,000. –JS
7:20pm: Dimov downs Tabacaru
Level 14 – Blinds 1,500/3,000 (BB ante 3,000)
Ion Tabacaru of Romania is out of the Main Event. Blame pocket jacks.
Or you can blame pocket aces, which is what Tabacaru's opponent Ognyan Dimov of Bulgaria held in the at-risk player's final hand. The 8♠Q♣8♦K♦2♦ board made Dimov's A♠A♣ a winner and Tabacaru's J♣J♦ a loser, and the latter skedaddled.
Dimov, winner of the EPT Deauville Main Event in 2015, now has about 150,000. –MH
7:15pm: Imsirovic takes another
Level 14 – Blinds 1,500/3,000 (BB ante 3,000)
Viktor Blom and Patrik Antonius are seated side by side right now. Normally that alone would be enough reason to keep track of their table, but the presence of the red-hot Almedin Imsirovic bumps this one up to a must-watch. We just saw him take on both of the legends, splitting pots with them.
We arrived as the first pot was wrapping up. The board read K♦5♦3♦6♥3♣ and Blom, sitting in the big blind, had just showed down 6-3 offsuit for a full house. Imsirovic, in early position, mucked his hand and Blom chipped up to 100,000.
Imsirovic opened the action for 7,000 under the gun on the following hand and Antonius called in the big blind. Antonius check-called 5,000 on the K♠9♠9♣, bringing the K♣ on the turn. Both men checked there and Antonius took a 16,000-chip stab on the J♥ river. Imsirovic didn't look too happy but he eventually tossed in the chips for a call.
"You got it," Antonius said, tossing his cards into the muck. Antonius is now on just 95,000. Imsirovic is sitting on 700,000. –JK
7:12pm: Lubas loving life
Level 14 – Blinds 1,500/3,000 (BB ante 3,000)
Michal Lubas started Day 2 on 102,000 and has grown that all the way to 695,000. The most recent haul came in a four-bet pot that saw the end of Luigi Shehadeh.
---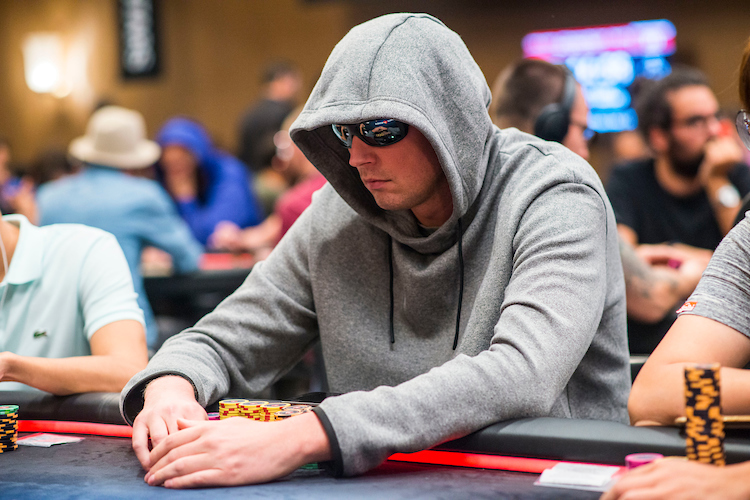 Michal Lubas: Loving life
---
Shehadeh opened from second position and then four-bet jammed for 146,000 after Lubas three-bet to 23,000 off the button. Lubas tank called.
Shehadeh: 7♠7♥
Lubas: 9♦9♥
The board ran a blank 2♠J♠2♥6♥5♦. Shehadeh picked up his stuff and made his way out of the room. –MC
7:10pm: Deeb takes a dip into Cherrati's stack
Level 14 – Blinds 1,500/3,000 (BB ante 3,000)
Salem Cherrati raised to 6,500 from the cutoff and Shaun Deeb was his only customer. Deeb called from the big blind and the two players went to a 10♣K♥K♠ flop.
Deeb checked and Cherrati continued for 6,000. Deeb called and the 4♦ came on the turn. There was another check from Deep and another bet from Cherrati. This time he put the price at 16,500. Deeb paid it again and the 10♦ completed the board.
---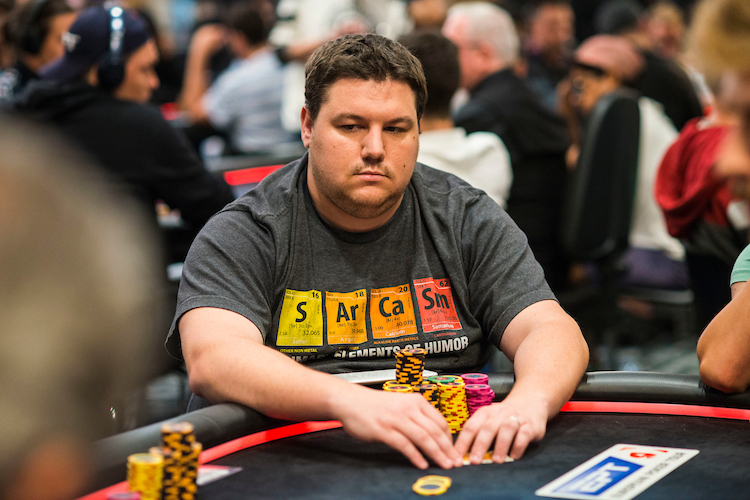 Shaun Deeb: Taking a dip
---
Deeb didn't check this time, her fired off a bet of 45,000 instead. Cherrati thought for a while and came out of the tank with a fold.
"Show?" Cherrati asked after his hand went into the muck and Deeb shook his head.
Deeb is now up to 375,000 while Cherrati fell to 340,000 after the hand. –AV
7:05pm: Clarke's at it again
Level 14 – Blinds 1,500/3,000 (BB ante 3,000)
At the end of Day 1B, Ireland's Patrick Clarke told us how he catapulted up the chip counts.
"I basically got lucky," he said, as he was bagging up his 321,000 stack. After opening with K♦5♦ and getting three-bet, he four-bet to 27,500 and was called. After an ace-three-four flop (one diamond), he c-bet for 15,000 and got called, before shoving for 70,000 on the 8♦ turn. His opponent called with ace-king, but Clarke hit a diamond on the river to complete his flush.
---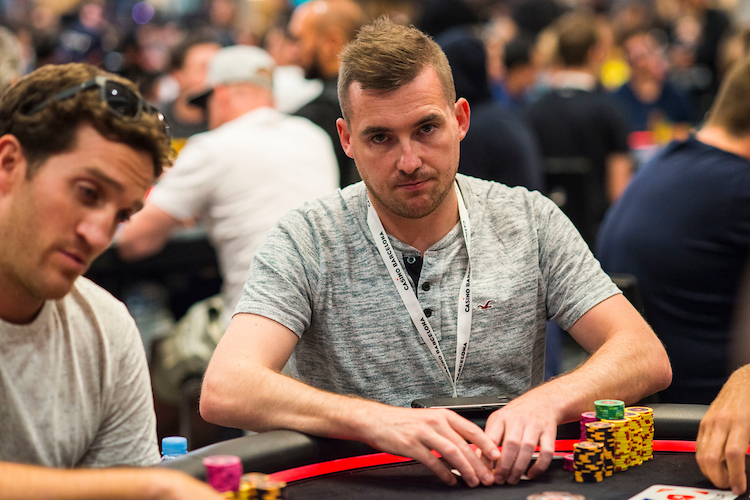 Patrick Clarke: Playing strong
---
His adventurous plays have continued into Day 2, and they're clearly working because he's now up to 450,000.
In this latest pot, Clarke opened to 7,000 from the hijack was called by Hady El Asmar in the cutoff. It was a big blind only pot, so when the button folded Luis Faria was the only player left to act, and he squeezed it to 35,000.
Back to Clarke, he took his time and counted out a four-bet, sliding 87,000 over the line. El Asmar hated this news, and made a frustrated fold. Faria eventually did the same after a minute or so of thinking, and Clarke showed the 2♣ as he stacked up.
Faria is down to 284,000, while El Asmar has 94,000. –JS
7pm: Valli deeper
Level 14 – Blinds 1,500/3,000 (BB ante 3,000)
With about 50,000 in the middle and the board showing 6♦10♠7♦3♥, Joao Valli of Brazil (playing from the big blind) pushed all-in for his last 89,000, sending Rui Ferreira of Portugal (on the button) deep into the tank.
The thinking went on long enough for someone to call the clock, then at some point Ferreira finally decided to make the call and commit with his Q♠10♦ for top pair of tens. Alas for him, Valli had J♥J♠, and after the K♦ completed the board, Valli survived and now has a deeper stack than he did before with about 230,000. Ferreira meanwhile slips to 125,000. –MH
6:55pm: Imsirovic takes another
Level 14 – Blinds 1,500/3,000 (BB ante 3,000)
Almedin Imsirovic can't do any wrong right now. He just increased his stack even further with a couple of big bets.
O'Neill opened the action for 7,000 under the gun and the action folded all the way Imsirovic in the big blind. He called and then both men checked the 2♣3♣4♠ flop.
The J♦ came on the turn and Imsirovic, after a brief think, bet 37,000 — twice the size of the pot. That threw O'Neill off for a moment but after consideration he decided to call, bringing the 9♥ on the river. Imsirovic thought for about a minute and a half and then plopped down 350,000 in green 25K chips — many times the size of the pot and more than enough to cover O'Neill's stack.
O'Neill tanked for about three minutes and then reluctantly let his hand go. That drops his stack to 145,000. Imsirovic, meanwhile, is cruising with 750,000. –JK
6:50pm: Chong doubles
Level 14 – Blinds 1,500/3,000 (BB ante 3,000)
Victor Chong was down to 63,500 and moved it all-in from the button after Mikhail Kovalyuk raised from the cutoff.
Action folded back around to Kovalyuk and he called with A♥J♥. Chong was in the lead with Q♠Q♦ and while Kovalyuk improved to a pair of jacks on the K♥J♠8♠9♥5♦ board, he couldn't beat queens.
Chong doubled to 130,000 while Kovalyuk dipped to about 140,000. –AV
6:45pm: Kanit commits
Level 14 – Blinds 1,500/3,000 (BB ante 3,000)
The "big blind special" has been a thing in poker for a while. You get to see a flop for cheap with a weak hand, and when you flop strong your range is super wide. But what Niek Minten was going for in this pot was a "button limp special", and he got it. It just didn't work out.
With no action in front of him, Minten limped the button and the small blind completed before Mustapha Kanit checked his big blind option. The flop fell 3♠8♥4♦ and it checked to Minten who led for 5,500, shaking off the small blind. But Kanit them bumped it up to 17,500, and Minten called.
---
Mustapha Kanit gets it all-in
---
Kanit continued, firing 24,000 on the 6♥ turn, and Minten called instantly. The 4♠ completed the board and Kanit jammed for 69,500. Minten had 50,000 behind so he would be the one at risk if he called, and he certainly looked like calling was a possibility.
A minute or so later he laid his hand down, telling Kanit he had two pair. Kanit stacked up 150,000 after that one, telling Minten: "I had a good hand." –JS
6:35pm: And some more heading home
Level 14 – Blinds 1,500/3,000 (BB ante 3,000)
More to the door: Fiodor Martino, Andrejs Perederejevs, Thomas Scholze, Kristo Klaassen, Lijo Lander, Miguel Capriles, Alan Garcia, Felix Kurmayr, Jacque Megreditchian, Jochanan Flink, Alexis Donay, Frank Blumlein, Guilherme Campos, Paolo Pellegrini, Andrew Rudnik, Vladimir Andjelic, Hubert "The Hube" Matuszewski, Andrew Hedley, Jesper Hansen, Levan Karamanishvili and Tom Middleton. — HS
6:30pm: Down goes Huberman, Imsirovic keeps moving up
Level 14 – Blinds 1,500/3,000 (BB ante 3,000)
Alon Huberman (not to be mistaken for "The Hube," see below 6:20pm) was just all in and at risk. But unfortunately for him, he met the same fate of Hubert Matuszewski and was eliminated by Almedin Imsirovic.
---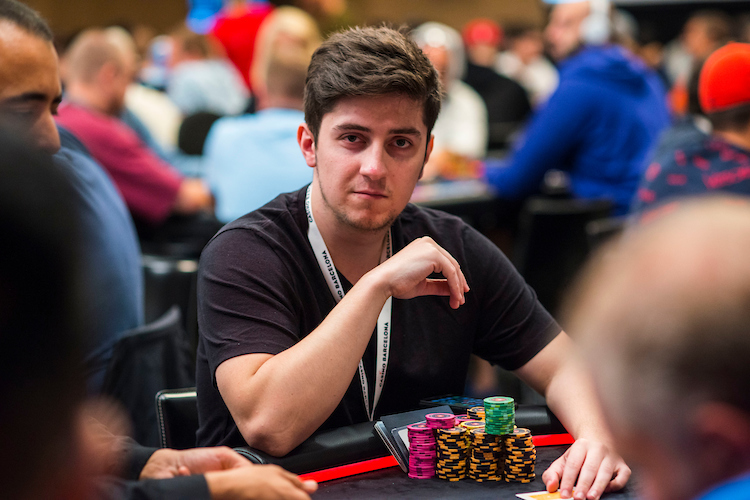 The hubist Almedin Imsirovic
---
Huberman held A♦K♣, but Imsirovic had that topped with A♥A♦. The board ran out Q♣8♥10♠K♦9♠, giving Huberman a bit of hope and a little bit of a scare for Imsirovic by the turn, but keeping the aces in front at the end. Imsirovic must have reacted, as Danny Wang joked with him about looking a bit fearful with the river still to come.
Huberman is out, while Imsirovic is now on 630,000. –MH
6:25pm: Brammer loses one, busts one
Level 14 – Blinds 1,500/3,000 (BB ante 3,000)
Christopher Brammer raised to 6,000 from the button and then Rui Ferreira three-bet things up to 22,000 from the big blind.
Brammer called and the flop came 3♠A♥5♠. Ferreira bet 14,000 and Brammer called again. The turn was an A♠ and this time Ferreira checked. Brammer made it 18,000 to go and Ferreira called.
---
Rui Ferreira: Rivered boat
---
The 9♠ completed the board and Ferreira checked again. This time Brammer checked behind and then mucked after Ferreira turned over 9♣9♦ for the rivered full house. Ferreira chipped up to 220,000 while Bramer was down to about half that.
Then he took out a player and chipped up a bit.
Frank Blumlein moved all-in for 24,000 from under the gun and Brammer reshoved from the cutoff. The rest of the table got out of the way and players tabled their hands. Brammer showed 8♥8♣ and Blumlein was flipping for his tournament life with K♠Q♥.
The 6♠2♥3♥2♣2♦ board missed both players and Brammer stayed in the lead. Blumlein busted while Brammer chipped up to about 140,000. –AV
6:20pm: Imsirovic busts Matuszewski, Tang felts Perederejevs
Level 14 – Blinds 1,500/3,000 (BB ante 3,000)
We've just seen back-to-back bust-outs on big-stack Almedin Imsirovic's table, although he was only responsible for one of them.
Action had folded to Hubert "The Hube" Matuszewski on the button and he jammed his last 41,500 with A♣10♦. Imsirovic was his only caller from the small blind with A♠7♥, but the 3♣7♣A♠2♦J♦ board paired Imsirovic for the KO.
In the next hand, Andrejs Perederejevs open-jammed for 27,000 and Danny Tang made the call. Everyone else got out of the way, and it was Tang's 6♣6♥ up against A♠9♠. The pair flopped a set on the 6♠J♥Q♣7♠9♣ board, and Perederejevs couldn't hit his flush draw on the river.
Tang's now on 198,000, while Imsirovic is up to 610,000. –JS
6:15pm: Gillis vs. Kanit
Level 14 – Blinds 1,500/3,000 (BB ante 3,000)
Mustapha Kanit has won two events here at EPT Barcelona over the years. His quest for another just took a hit from Samuel Gillis.
Kanit opened the action under the gun for 6,000. When it reached Gillis in the hijack seat he re-raised to 20,000 even, clearing out the rest of the field and putting the decision back to Kanit. He called.
Kanit checked the Q♥5♥J♦ flop and Gillis bet 25,000. Kanit considered his options before sticking out a stack of orange 5K chips that covered the rest of Gillis's stack. Gillis snap-called and we had ourselves a classic post-flop situation with a flush draw against top pair. Kanit's A♥9♥ had a few paths to victory but none of them materialized via the 2♠ turn and 2♦ river, giving Gillis and his A♣Q♠ a crucial double.
Gillis now has 135,000, a bit ahead of Kanit's 110,000. –JK
6:10pm: Margets targets, eliminates Middleton
Level 14 – Blinds 1,500/3,000 (BB ante 3,000)
There is one fewer EPT Main Event champion in the field now, as Tom Middleton — who won the EPT Barcelona Main Event here at the Casino Barcelona in 2013 — was just eliminated.
In his last hand Middleton open-raised all in for 31,500, then from a couple of spots over Leo Margets reraise-pushed to scatter any would-be competitors. Middleton had J♣10♣ and was well behind the Q♥Q♣ of Margets, although the 9♣8♠2♦ flop did give him hope to hit a winning straight. The turn was the 4♥ and river the 5♦, though, and he hit the rail.
---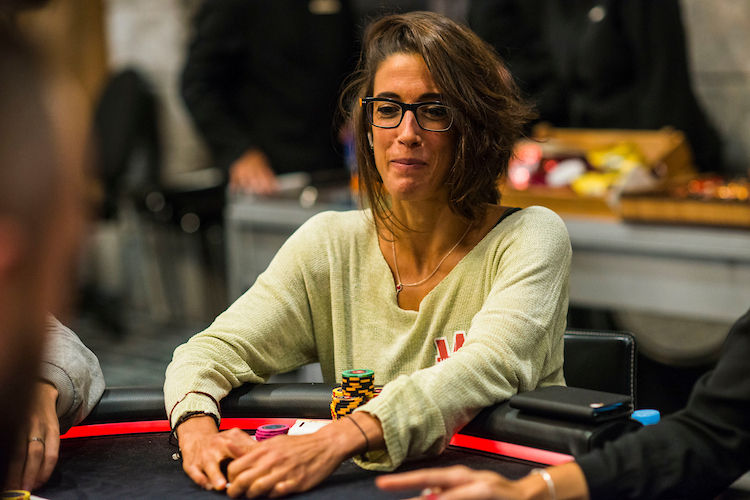 Leo Margets: Ruthless in dispatching Middleton
---
Margets is stacking up just over 215,000 now. –MH
6:05pm: Tureniec takes out Karamanishvili
Level 14 – Blinds 1,500/3,000 (BB ante 3,000)
Michael Tureniec just started the new level wiping out the stack of Levan Karamanishvili.
Karamanishvili came back from the break to put his last chips at risk behind Q♠J♠ and was racing against Tureniec's 6♦6♣. But the A♦9♠9♦2♦2♠ didn't do enough to help Karamanishvili and he is out.
Tureniec, winner of the EPT Copenhagen Main Event in 2011 and runner-up in the EPT London Main Event in 2008, is sitting in good shape here on Day 2 with 290,000. –MH
6pm: A whole load more leave penniless
Level 14 – Blinds 1,500/3,000 (BB ante 3,000)
Wow, here's a lot of typing. This is the list of the latest players to depart:
Ibrahim Ghassan, Konstantinos Piladakis, Sirzat Hissou, Dariusz Paszkiewicz, Nicolas Chouity, Miguel Monton, Hanyang Peng, Tobias Peters, Victor Parreno, Ermo Kosk, Aleksei Istomin, Johan Schmacher, Phan Duc, Henri Kasper, Steffen Sontheimer, Pasquale Braco, Bryan Van Rijsbergen, Nobert Szecsi, Alexander Ivarsson, Pengcheng Cai, Kyriakos Papadopoulos, Przemyslaw Piotrowski, Sergio Camunas, Michal Schuh, Victor Ilyukhin, Alexandru Farcasanu, Hugo Andrade, Rui Da Silva, Bernardo Soares, Pablo Harfouche, Brian Esposito, Terry Schumacher, Yang Zhang, Pasquale Grimaldi, Adil Sbai, Jackson White, Ovidiu Oprea, Dimitri Joubert, Emil Mattsson, Enio Bozzano, Camila Kons, Elvis Petcu, Maciej Rogacki, Sergio Aido, Robert Hoogeveen, Richard Montiel, Paul Leckey, Tsugunari Toma, Alain Stia, Jean-Michel Ploch, Mark Teltscher, Vladimir Shabalin, Osvaldo Naves, Sebastian Mavrostomos, Bruno Mota, Denis Strebkov, Konstantin Farber, Darie Vlad, Aliaksandr Posled, Daniel Neilson, Noah Novick, Jack Salter, Christopher Frank, Louis Nyberg, Broskij Michiel, Tatjana Zizic, Milan Simko, Jonathan Concepcion, Javier Gomez, Pedro Garagnani, Andrea De Georgio, Maria Konnikova, Xixiang Luo, Pierre Gentil, Oleg Eltsov, Timothy Adams, Atanas Pavlov, Tomas Soderstrom, Linus Loeliger, Fatima Moreira de Melo, Josep Torta, Zoltan Purak, Marti Roca, Amjad Nader Mustafa, Rustam Hajijev, Billy Chattaway, Wei Zhao, Shannon Shorr, Govert Metaal, Demenkov Vladimir, Jeremy Joseph and Ivan Deyra.
---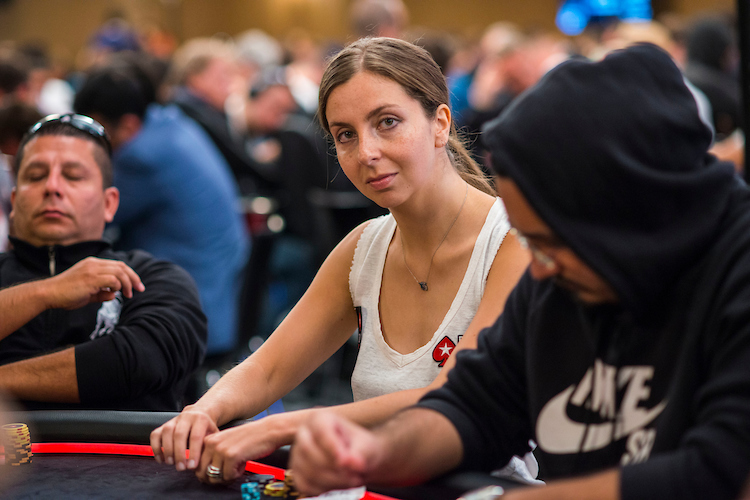 Maria Konnikova ends disappointing chapter
---
TOURNAMENT BREAK: 20 MINUTES
---
5:35pm: Fatima falls
Level 13 – Blinds 1,000/2,500 (BB ante 2,500)
Team PokerStars Pro Fatima Moreira de Melo is out of the running.
She raised to 5,500 from the hijack in her final hand and action folded to Nauvneel Shivm Kashyap on the big blind. The flop came 8♣7♣6♠ and Moreira de Melo bet 10,000 when checked to. Kashyap moved all-in and Moreira de Melo snap-called.
---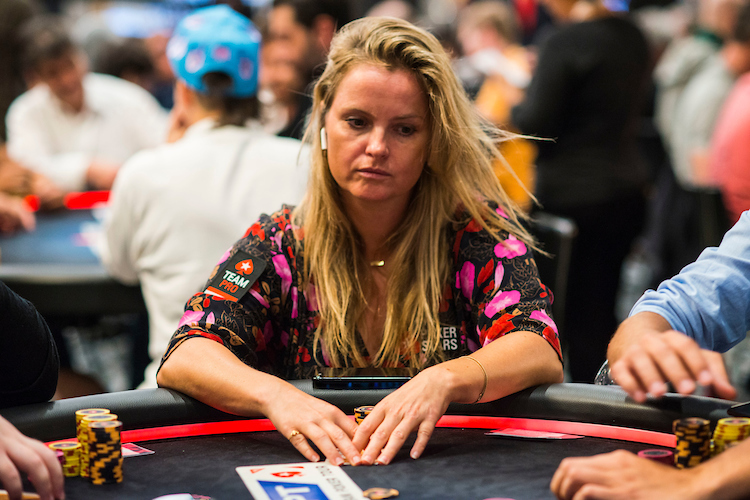 Fatima Moreira De Melo: 666 accounts for Team Pro
---
Moreira de Melo showed an overpair with 9♥9♠, but Kashyap had a set with 6♥6♣. The Q♠ on the turn and 3♦ on the river brought no help for Moreira de Melo.
The Team Pro hit the rail while Kashyap chipped up to 280,000. –AV
5:32pm: Hajiyev felted by former champ
Level 12 – Blinds 1,000/2,500 (BB ante 2,500)
Rustam Hajiyev's Main Event is over, while 2015 EPT Barcelona champ John Juanda is going from strength to strength.
After a 7,500 under-the-gun open, Juanda called one seat over and it folded to Hajiyev in the small blind. He jammed for 27,000, and when the raiser folded Juanda called instantly.
Hajiyev – A♣10♥
Juanda – 9♦9♠
The K♣6♣8♣ gave Hajiyev the nut flush draw, while the J♦ turn gave him a gutshot. The K♥ river was no help though, sending him to the rail and shipping the pot to the former champ.
Juanda is up to 165,000 now. –JS
5:30pm: Will they/won't they?
Level 12 – Blinds 1,000/2,500 (BB ante 2,500)
Level 12 is coming towards its conclusion, with about 370 players still involved. The bubble bursts at 296, so there's a pretty good chance we'll reach that stage within the two tournament levels we still have scheduled today. It'll be close either way. — HS
5:25pm: Less gold for Desilva
Level 12 – Blinds 1,000/2,500 (BB ante 2,500)
We're not sure who the major beneficiary was, but Upeshka Desilva's once chip-leading stack has dwindled throughout this level.
He's down to 125,000 now, but is still fighting for every pot. Luc Greenwood just opened on his big blind to 5,500, and he three-bet it up to 22,000 and took it down. Greenwood's playing a similar stack of 130,000. –JS
5:23pm: Antonius doubles
Level 13 – Blinds 1,000/2,500 (BB ante 2,500)
Patrick Antonius, who picked up J♠J♣, raised to 5,500 under the gun, followed by a call from Jesper Hansen with 10♠8♠ in the cutoff. Wladimir Stepanian, in the small blind, three bet his A♣K♠ to 21,000. Hansen folded and Antonius called 15,500.
The flop came 2♥K♦6♠, giving Stepanian top pair top kicker and he led out 18,500. Antonius called.
The J♦ turn was a gin card for Antonius, yet he remains as stoic as ever. Stepanian checked and Antonius replied by betting 28,000 into the 89,500 pot. Stepanian shoved all-in for 194,500 and Antonius quickly called, winning the pot, as no card could save Stepanian on the river.
Stepanian fell to 105,500 and Antonious doubled to 267,500 — OM
5:20pm: Adios Aido
Level 13 – Blinds 1,000/2,500 (BB ante 2,500)
My esteemed colleague "AV" just reported to all of you how Sergio Aido was "hanging on," as he lyrically put it before sharing details of his heroic struggle to nurse a short stack.
Both for the sake of "AV" and Aido, I'm very sorry to report that account has fallen out of date now as the Spanish pro has lost the last of his chips.
Aido's last hand began with David Petrzelka of the Czech Republic opening from the button, then Aido jammed his short stack in from the big blind behind A♣5♣. It was an easy call for Petrzelka with K♠K♣. Five cards later — 8♦3♥Q♦6♠3♦ — Aido was wishing the table well as he departed, and Petrzelka now has 260,000.
Let's agree not to tell "AV" about this. He put a lot of effort into that last update.–MH
5:16pm: Farrell's flying
Level 13 – Blinds 1,000/2,500 (BB ante 2,500)
The EPT camera crew was gathered around Niall Farrell's table a few moments ago. He'd moved all-in on the river over the top of a bet from Aaron Lim, putting Lim to a decision for his remaining 50,000 chips. Lim eventually decided against committing himself, shipping the pot to Farrell and sending the camera crew off to some other corner of the room.
And then Farrell raised the next four hands in a row.
The first was for 5,500 in the cutoff. Richard Kirsch called in the big blind and both players checked the 9♠2♥Q♥ flop and J♥ turn. Kirsch checked again on the 7♠ river and Farrell stabbed at the pot for 5,000, but Kirsch called with J♠8♥ for a pair of jacks and the win.
The next hand saw Farrell open for 5,500 in the hijack, drawing a call from Lim in the big blind. Both men checked the J♥5♥9♠ flop and Farrell called Lim's 10,000-chip lead on the 3♠ turn, but Lim's bet of 25,000 on the river was enough to take down the pot.
In the lojack on the next hand, Farrell made it 5,500 again. Kirsch called on the button and both men checked the 5♦8♦K♠ flop and 4♦ turn. Farrell bet 8,000 on the river and took it down.
Finally Farrell opened for 4,500 from UTG+1 and got a call from Joao Baumgarten in the big blind. Baumgarten check-called 5,000 on the K♦7♦10♣ flop but declined to come along for another 20,000 on the 2♠ turn.
Farrell had the chance to keep his roll going with a raise under the gun on the next hand, but he opted to take a break instead. He's now on about 200,000. –JK
5:15pm: Brammer's stack clipped
Level 13 – Blinds 1,000/2,500 (BB ante 2,500)
Chris Brammer, wearing an LA Clippers cap, has dropped down to 155,000 after he missed a big draw versus Rui Ferreira.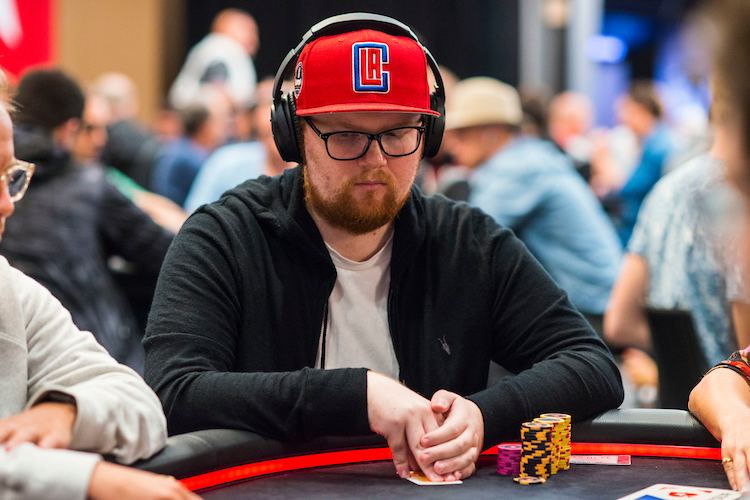 Chris Brammer: Missed draw
The Super High Roller finalist — that's Ferreira — opened to 6,000 from under the gun and Brammer was the only caller from the big blind. The board ran out 6♠A♣2♠9♣J♦ with Brammer check-calling bets of 4,500 and 9,000 before the river was checked by both.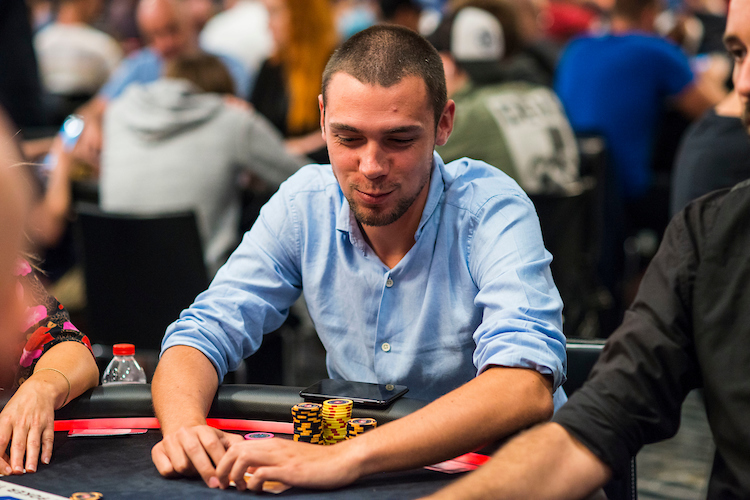 Rui Ferreira: Ace-king good
Brammer opened 8♣7♣ and lost out to Ferreira's A♦K♦. Ferreira rose to 195,000. –MC
5:10pm: Isla gets White, Aido hanging on
Level 13 – Blinds 1,000/2,500 (BB ante 2,500)
Joel Isla is now up to 450,000 after taking out Jackson White.
Sergio Aido started that hand off with a raise to 5,000 and then White moved all-in for around 60,000. Isla thought for some time and threw in chips for the call.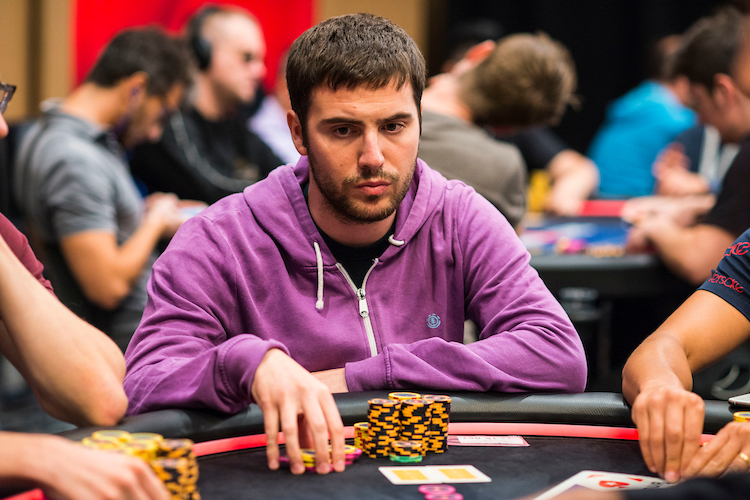 Joel Isla: Beats Aido
Aido thought as well, but came to a different conclusion. Aido folded and White turned over Q♦Q♣ to Isla's K♠K♥.
Isla improved to a set of kings on the 9♦K♣A♠7♠2♠ board and White. Isla on the other hand chipped up to 450,000.
Then Aido lost a few more the next hand.
It started with a raise to 6,000 from Marton Czuczor. Benjamin Lebor called from the cutoff and David Petrzelka did the same from the button. Aido was on the big blind with about 50,000 and called.
The flop came K♦K♠7♦ and Czuczor bet 9,000 when checked to. Only Lebor folded and three players saw the 8♦ on the turn. Action checked to Petrzelka and he bet out a hefty 32,000. Aido thought and counted his stack, he only had about 34,000 behind. Aido decided to fold and Czuczor followed suit.
The pot put Petrzelka up to 195,000 while Aido is down to about 13 big blinds. –AV
5:03pm: Chips for Cherrati
Level 13 – Blinds 1,000/2,500 (BB ante 2,500)
French player Salem Cherrati has been amassing chips here on Day 2, and now has about 445,000 of them after stacking Andrii Filon of Ukraine.
Filon's 8♦8♠ were no match for Cherrati's 10♥10♣ once the board came J♦K♥7♦2♠2♣. –MH
5pm: Lin collects from Deeb
Level 12 – Blinds 1,000/2,500 (BB ante 2,500)
Chen An Lin started the day with 88,300, but after a great day so far — and this latest pot — he's now up to 265,000.
Luke Haward opened to 5,000 from the UTG+1 seat, and Shaun Deeb called from the hijack. Lin then squeezed it up to 22,500 on the button, and Deeb was his only caller.
The dealer spread a 6♠6♥3♥ flop, on which Deeb check-called a 14,000 continuation bet. He'd then check the A♠ turn, never once taking his stare away from Lin, who fired again for 41,000. That was too much for Deeb who laid it down, seeming a little frustrated,
He's down to 195,000 now, while Haward remains the largest stack of the three with 400,000. –JS
4:55pm: Flush over flush helps Steinfeuer take from Lim
Level 13 – Blinds 1,000/2,500 (BB ante 2,500)
With the board showing 2♠A♠J♠2♦ and three players still vying for what had become a decent-sized pot, Dimitri Steinfeuer raised all in for 108,500 over a leading bet and got called by Chin Wei Lim, with the third man stepping aside.
Steinfeuer tabled K♠7♠ for the highest-possible flush, and when Lim saw that he knew his Q♠10♠ was close but not good enough. The 3♠ river was no matter, and Steinfeuer is now stacking 315,000 while Lim slips to 110,000. –MH
4:50pm: Khairallah finds a lovely spot to double
Level 13 – Blinds 1,000/2,500 (BB ante 2,500)
Faical Khairallah was down to 20,500 and in the big blind. He needed something to happen, and it did.
The action folded around to Adrian State in the small blind and he set Khairallah all-in. Khairallah looked at he cards, saw a biggie, and made the call.
State: Q♠6♣
Khairallah: A♣K♦
The board ran 9♠A♠Q♦J♠2♦ to see Khairallah's hand hold after a scary runout.
Faical Khairallah: Survived a scary runout
Khairallah turned to Niall Farrell on his left and said, "Phew, sweat on the turn, eh!"
State dropped to 170,000. –MC
4:48pm: Chilcos confirms Xi's good fold
Level 13 – Blinds 1,000/2,500 (BB ante 2,500)
We just arrived to see Constantin Chilcos and Ming Xi clashing in the blinds. It looked like Xi had opened from the small blind, been re-raised by Chilcos in the big blind, and then bumped the bet further to 25,000, promting Chilcos to move all-in for 108,000.
A call would have cost Xi more than a third of his remaining chips, leaving him with a tough decision. He thought it over for about a minute and then showed the J♦ face-up as he folded. As the dealer pushed the pot to Chilcos, he looked at his cards and then turned over the Q♣ — sort of a silent "good fold."
Xi drops to 220,000 with the loss, while Chilcos is now on 220,000. –JK
4:45pm: Pons gets paid
Level 12 – Blinds 1,000/2,500 (BB ante 2,500)
Spain's Fernando Pons has just shot up the chip counts courtesy of a huge pot versus Lawrence Bayley.
There was already a huge pile of chips in the middle when we arrived, and the 4♦7♦K♥7♠8♠ board was complete. Pons had shoved for 182,000 and Bayley was in the tank, but ultimately decided to make the call.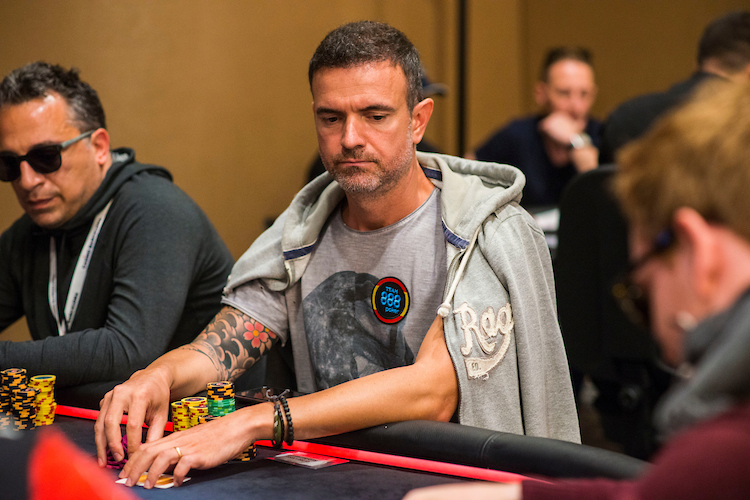 Fernando Pons: WSOP final tablist
Pons showed 4♠4♣ for a full house, while Bayley was forced to show his 10♥7♥ after mucking. He drops down to 146,000 now, while Pons sits in second currently with 591,000. –JS
4:42pm: Poterek knocks out Hoogeveen
Level 13 – Blinds 1,000/2,500 (BB ante 2,500)
It's all over for Robert Hoogeveen, who just lost the last of his chips when his pocket sixes were no match for the Patryk Poterek's pocket tens.
That pot pushes Poterek up to 220,000, well above the average of about 135,000 at the moment. –MH
4:40pm: Staples stacks Ploch
Level 13 – Blinds 1,000/2,500 (BB ante 2,500)
Happening upon Jaime Staples's table just now, he was fairly deep in the tank making a river decision after his lone opponent, Jean-Michel Ploch, had gone all in for his last 43,000.
The bet represented a decent percentage of the 55,000 or so in the middle, and the 7♣A♥A♠10♣A♦ board coupled with action to that point (I'm surmising), had narrowed ranges considerably.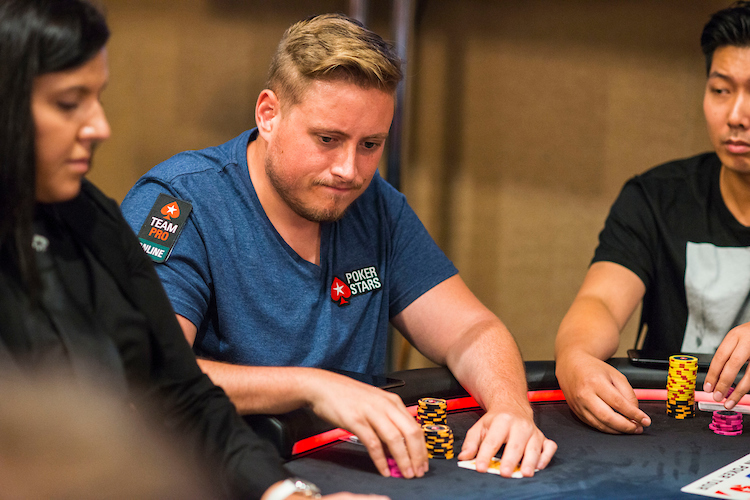 Jaime Staples: In stacking mood
At last Staples emerged with a call and showed his Q♦Q♥ for aces full of queens. Ploch showed he had a lesser full house with 10♥10♦, though he'd been well in front on the turn.
Ploch is out, while Staples stacks about 240,000 at present. –MH
4:35pm: Wilinofsky runs into quads
Level 13 – Blinds 1,000/2,500 (BB ante 2,500)
Ben Wilinofsky, the Day 1A chip leader, has taken a hit after running into quads. He's down on his start of day count (330k), but still has twice the average with just over 300,000.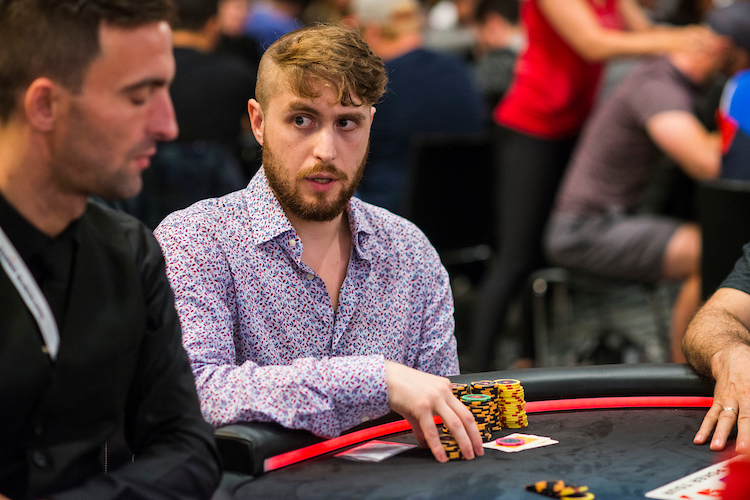 Ben Wilinofsky: Can't beat quads
He was heads up with Manuel Bardon and they had reached the river where a K♦4♥8♣K♣K♠ board lay at rest. Wilinofsky led for 27,000 before Bardon shoved for 106,500. Wilinofsky drew in a big lung full of air and then sat silent for several minutes until the clock was called on him. The former EPT Berlin winner let the clock run down to single digits and then tossed in the calling chips.
Manuel Bardon: Four kings
Bardon opened K♥J♥ for quads and Wilinofsky mucked. –MC
4:28pm: Working hard for the money
Level 12 – Blinds 1,000/2,500 (BB ante 2,500)
Steven Van Zadelhoff has just doubled up, although it wasn't easy.
Salvatore Camarda made it 6,000 to go from the hijack, and Van Zadelhoff didn't take long to move all-in for exactly 50,000 from the cutoff. Yunsheng Sun was on the button, and he was thinking for a good minute or two before just calling, and everyone else folded.
Van Zadelhoff showed 8♠8♣ and was racing against Sun's A♦Q♠, which took a nice lead on the 6♣4♣A♣ flop. The bearded dutchman slid forward his club, and made a "bing!" sound, as if he knew what was coming.
It didn't come on the 2♥ turn, but the 9♣ river completed his flush.
"Woo!" he said, as the chips slid his way. "You made me work for it."
Van Zadelhoff is up to 117,000, while Sun dips top 141,000. Camarda is healthiest of all with 177,000. –JS
4:25pm: Breaking up the party
Level 13 – Blinds 1,000/2,500 (BB ante 2,500)
Steffen Sontheimer, Timothy Adams, and Chris Brammer have been sitting and playing together all day having a grand old time.
But then tournament staff had to come and break up their fun.
Not before another classic Adams and Brammer scrap though. Brammer raised to 5,500 from the cutoff that hand and action folded to Adams's big blind. Adams three-bet it up to 26,500 and Brammer thought for a bit and then moved all-in.
Adams folded and then the tournament staff came over with a bunch of racks and broke the table. Then they all grabbed their chips and parted ways. Only about 430 players remain. — HS
4:10pm: Morjaria stands up and sits back down
Level 13 – Blinds 1,000/2,500 (BB ante 2,500)
Hamish Morjaria was all in for his last 34,500 with A♦K♣ and got called by Pasi Sormunen who had K♥K♦.
When Sormunen showed his kings, Morjaria began nodding his head as though accepting his fate already. Then after the 10♠4♦2♥ flop Morjaria showed an even greater understanding the end was near by standing from his chair.
Wait, hold on. There's the A♣ coming on the turn to give Morjaria aces, and after the 2♠ fell on the river he sat back down behind a stack of 75,000 while Sormunen has 140,000.
"The old standing up trick," said Sormunen with a grin, and Morjaria began nodding once more. "Adds an extra two percent," he responded. –MH
3:55pm: More on the scrapheap
Level 13 – Blinds 1,000/2,500 (BB ante 2,500)
There are some big names on the list of recently eliminated players. They include:
Gaelle Baumann, Lance Garcia, Max Babko, Stefan Huber, Abhinav Iyer, Jakub Michalak, Ji Zhang, Samay Parikh, Scott Margereson, Said Nadjem, Christian Grundtvig, Roberto Masullo, Ioannis Logothetis, Dimitar Yosifov, Rocco Palumbo, Stefan Schillhabel, Roberly Felicio, Kimmo Kurko, Mikael Koistinen, Sina Alamzad, Michele Perego, Lars Tungel, Jan-Eric Schwippert, Ryan Riess, Tomas Macnamara, Victor Shuchleib, Adrian Mateos, Adrien Burgiard, Alex Komaromi, Mateusz Rypulak, Davy Stephens, Andrei Chernokoz, Martins Goba, Claudio Di Giacomo, Joshua Miller, Manuel Ruivo, Mario Hofler, Robert Knight, Danilo Velasevic, Koichi Sano, Aaron Been, Alek Givotovsky, Yevgeniy Timoshenko, Jorge Cantos, Adrien Delmas, Abdelhakim Zoufri, Marcelo Cudos, Manuel Pochat, Noah Boeken, Fan Zhang, David Lasierra, Sonny Franco, Conor Beresford, Daniel Chutrov, James Rann, Adrian Gray, Simon Burns, Benjamin Philipps, Christian Sare, Ondrej Drozd, Miguel Silva, Jeff Gross, Simone Speranza, Gianluca Bernadini.
---
TOURNAMENT BREAK: 20 MINUTES
---
3:46pm: Wilinofsky wins one before break
Level 12 – Blinds 1,000/2,000 (BB ante 2,000)
Ben Wilinofsky finished the level off with a nice pot that bumped him past the 400,000-mark.
Wilinofsky raised to 5,000 from the button that hand and Manuel Bardon Oshea called from the big blind. The flop came 8♥A♠9♣ and Oshea check-called a bet of 7,000.
The 3♠ came on the turn and Wilinofsky bet again when checked to. This time he bumped it up to 25,000. Oshea called again and a Q♠ completed the board.
Wilinofsky counted out a bigger bet, 48,000, and plunked it down in the middle. Oshea thought until the clock ticked down into the final minute of the level and then he folded. Oshea was left with 105,000 while Wilinofsky chipped up to about 415,000. –AV
3:45pm: Haward climbing high
Level 12 – Blinds 1,000/2,000 (BB ante 2,000)
Luke Haward is having a pretty good day. He's increased his stack by about 50 percent since play resumed, with a nice chunk of that profit coming on a recent hand against Miguel Capriles.
Maria Konnikova opened the action for 5,000 in the lojack seat and got calls from Capriles in the cutoff and Haward in the big blind. Haward and Konnikova checked to Capriles on the 2♥J♠10♦ flop and Capriles fired 5,500. Haward cut out the chips for a call and Konnikova declined to join in.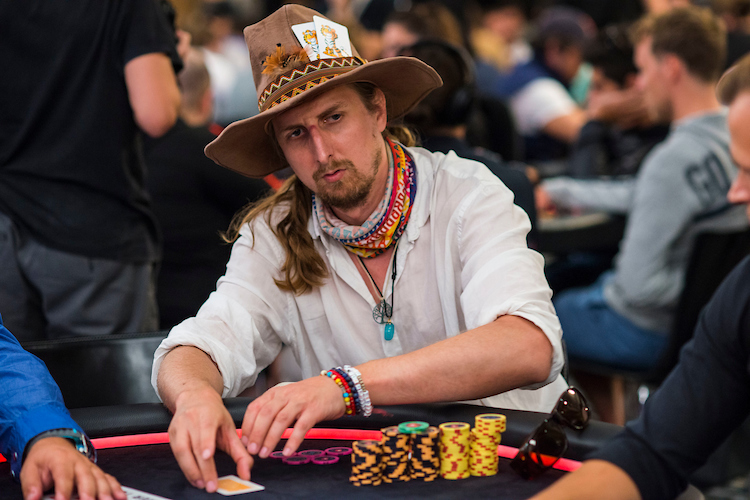 Luke Haward: A good day
The turn was the Q♦ and Haward checked again. Capriles considered his move for a moment, then bet 10,000. Haward thought for a solid minute and then made the call, bringing the J♦ on the river. The paired board slowed the action down there and it was an unfortunate development for Haward: his straight with 9♥8♣ had Capriles' two pair with Q♠10♠ crushed.
Haward is now on 305,000, with Capriles at 88,000 and Konnikova at 88,000. –JK
3:43pm: It's a good job Bonomo's not here
Level 12 – Blinds 1,000/2,000 (BB ante 2,000)
The hottest poker player in the world right now, Justin Bonomo, is not here for EPT Barcelona. That's because he's set up camp at the Burning Man festival in Nevada's Black Rock desert.
Bonomo has waxed lyrical many times about his love of Burning Man, which is said to be less a festival and more of a "Post-apocalyptic mini-city". If he heard what Justin Ligeri just said about it though, he may have to have words.
"You skipped Burning Man for this?" asked Richard Kirsch.
"Yup. It was the worst experience of my life!" replied Ligeri.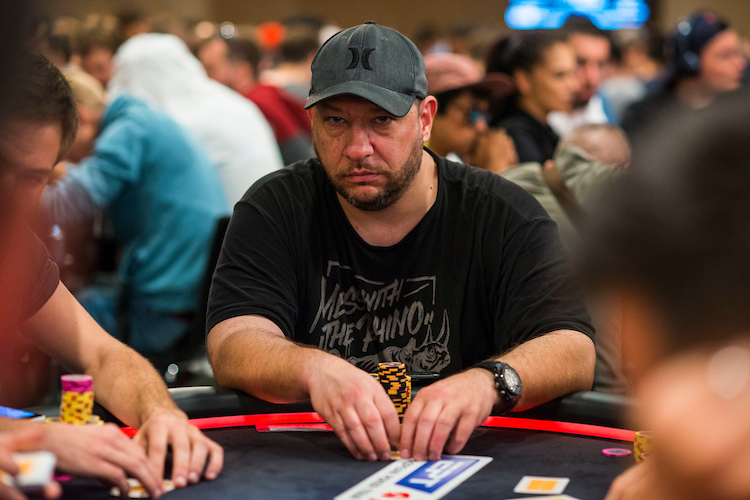 Richard Kirsch: Burning Man or EDC?
"I like EDC," said Kirsch, referring to the Las Vegas's Electric Daisy Carnival – an electronic music festival. "But only because I can stay at the Aria."
If camping out once a year without easy access to a shower is what's helped Bonomo win $25 million this year alone, then sign me up. –JS
3:40pm: Celestino felts Farber
Level 12 – Blinds 1,000/2,000 (BB ante 2,000)
A big preflop all-in with just a couple of minutes left in the level has pushed Ariel Celestino up toward the top of the leaderboard after the Brazilian knocked out Konstantin Farber from Germany.
After a series of raises, Farber had pushed all in for something like 120,000 (ish) and Celestino called right away. Farber had A♠K♦, but looked ceilingward saying "again!" when Celestino showed A♥A♦.
Five cards later — or, really, four cards later — it was over, as the board came 9♣6♠10♥A♣K♠, and Farber is out. Put Celestino at 375,000 (ish) as the next break nears. –MH
3:48pm: Spindler wins one on the feature table
Level 12 – Blinds 1,000/2,000 (BB ante 2,000)
Karam Alfonse raised to 5,500 with K♠Q♠ and Benny Spindler, holding 10♦10♣ three-bet to 17,500. The flop came 6♥4♦A♠ and both players checked.
The A♣ turn led Spindler to bet to 14,000 followed by a call from Alfonse. After a 6♦ river, both players checked and they revealed their cards, with Spindler adding 36,500 to his stack. — OM
3:35pm: Latest batch of the beaten
Level 12 – Blinds 1,000/2,000 (BB ante 2,000)
Coming to the end of Level 12 now. Here's a handful of players who won't be involved in Level 13.
Helio Neves, Lijo Lander, Cristinel Dumitru, Eder Murata, Tamer Kamel, Yichuan Ye, Radoslav Stoyanov, Theo Jorgensen, Petro Vyshynskyy, Dimitri Huley, Victorio Piturca, Antonios Paschalidis, Niklas Viljamaa, Sigurd Carlsson, Luis Dono, Andrew Christoforou, Dumitru Pora, Muskan Sethi, Simon Trumper, Bryn Kenney, Kliment Tarmakov, John Mooney, Georgios Karakousis, Andrew Chen, Thomas Huber, Mihails Morozovs, Sven Reichardt, Luigi Alterio, Hirokazu Kobayashi, Matthias De Meulder, Silver Simulask, Gediminas Kareckas, Damjan Radanov, Francisco Jimenez, Omar Lakhdari, David Yan, Francisco Benitez, Hoa Nguyen, Dan Tolppanen, Thomas Mercier, Michele Guerrini, Joseph El Khoury, Jeremy Nock, Iani Tulica, Henrik Hecklen, Leonardo Patacconi, Walid Abdi Ali, Christoph Sporri, Jan Bendik, Alfie Adam, Frederic Delval, Federico Butteroni, Georgios Vrakas, Vitaliy Gusak, Padraig O'Neill, Emin Babayev, Joao Vieira, Silma Macalou, Ernst Hermans, Kristina Holst, Michael Gathy, Kent Lundmark, Tamon Nakamura, Reino Rasmussen, Foeke Deinum, Lukas Zaskodny, Nicola Bordignon, Denis Poteras, Arseniy Meshcheryakov, Andrei Konopelko ,Gianluca Speranza, Francesco Delfoco, Rui Milhomens, Randy Lew, Felix Bleiker, Rafael Telles.
3:33pm: Wilson takes on Desilva
Level 12 – Blinds 1,000/2,000 (BB ante 2,000)
Upeshka Desilva has been putting his big stack to good use so far today, but every now and then he faces some resistance. The bump in the road in this hand was Dan Wilson.
Wilson had opened under the gun and both Luca Frigerio and Desilva came along from the small and big blind. Frigerio then led out for 6,000 on the 6♥10♦9♥ flop, and Desilva raised it up to 16,500. Wilson counted through his chips before four-betting to 31,500, and that was enough to get two folds.
Wilson's up to 116,000 now, while Desilva has 390,000 and Frigerio has 156,000. –JS
3:30pm: Miller out after being put in Tarmi's way
Level 12 – Blinds 1,000/2,000 (BB ante 2,000)
Preflop back-and-forthing between Joshua Miller (cutoff) and Roope Tarmi (big blind) resulted in the former having all 37,000 of his chips at risk behind 9♥9♣ versus the latter's K♠Q♥.
The 6♣Q♦10♣ flop was no good for Miller, giving Tarmi a better pair, and after the 2♥ turn and 8♠ river, Miller tapped out as Tarmi moved up to just under 60,000. –MH
3:28pm: Imsirovic adds to big stack with Garcia knockout
Level 12 – Blinds 1,000/2,000 (BB ante 2,000)
"American versus American," said Lance "Cord" Garcia as I approached the table.
Garcia, from Houston, Texas had pushed his entire short stack in front of him as an all-in raise, and was waiting for Almedin Imsirovic of Vancouver, Washington, to decide whether or not to call the push.
Eventually Imsirovic did, tabling 8♠8♦ while Garcia noddingly turned over A♥10♥. It was a fair fight, starting hand-wise. The 6♣Q♦10♣ first round went to Garcia, while the 2♥ turn card kept him ahead. But the 8♠ fell on the river, a knockout punch as Imsirovic's set eliminated Garcia.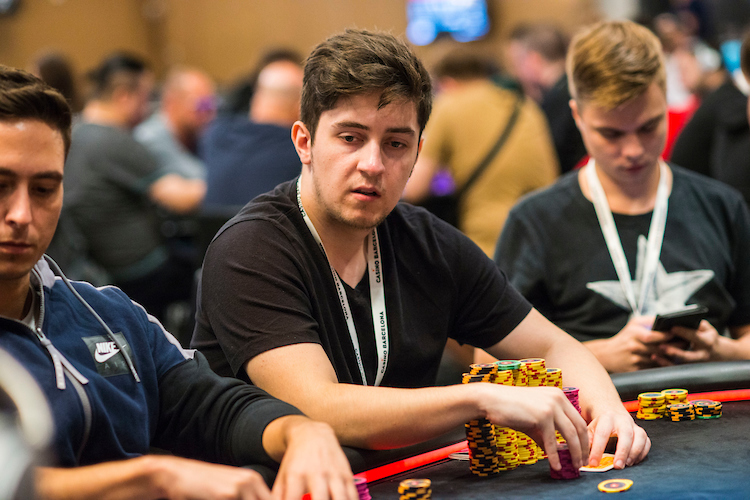 Almedin Imsirovic: Top of the charts
Garcia wished Imsirovic and the table luck as he left, and his fellow countryman stacked up his winnings. His stacks are quite tall now, and indeed the 580,000 or so he has looks to be good enough for the lead with 470 players remaining. –MH
3:25pm: Playing like your heroes
Level 12 – Blinds 1,000/2,000 (BB ante 2,000)
Haoxiang Wang took a seat at his new table and was surprised to find himself sitting to Patrik Antonius's right.
He had to get a picture. His arm wasn't long enough to fit them both in and he asked a tablemate to do it for him.
Then, perhaps, he took a cue from Antonius and pushed Wladimir Stepanian off a pot.
Antonius went first, to show him the way. He raised to 4,000 from early position and Stepanian called from the big blind. The flop came 7♠2♥4♣ and Stepanian check-called a bet of 5,000. Both players checked the Q♥ on the turn. An A♥ completed the board and then Antonius bet out 11,500.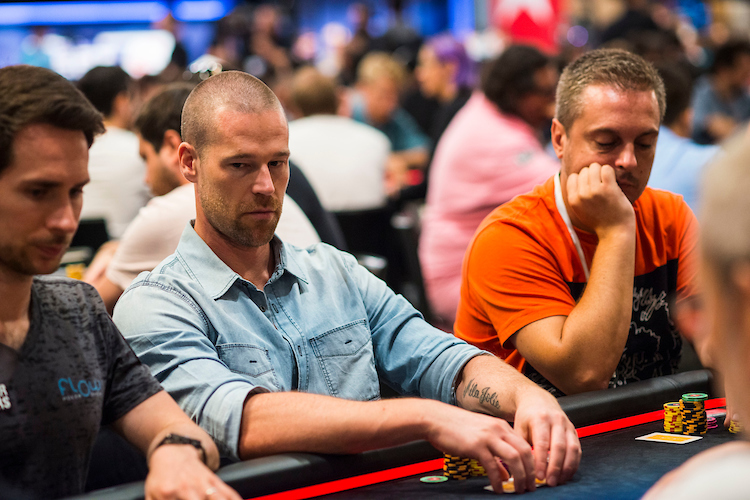 Patrik Antonius: Hero to some
Stepanian folded and then Wang took some chips off him soon after. Stepanian raised to 4,000 from the button that hand and Wang three-bet to 16,000. Antonius folded from the big blind and let his apprentice/fan sort it out.
The flop came 4♦K♣10♣ and Wang put out 20,500. Stepanian folded again and Wang took down the pot. Antonius was proud. Maybe, his face didn't really change. –AV
3:22pm: Deeb vs. Capriles, rounds one and two
Level 12 – Blinds 1,000/2,000 (BB ante 2,000)
Shaun Deeb is in his normal frequent-raise mode right now. That just led to two straight confrontations with Miguel Capriles, who's looking for a second cash here in Barcelona after making the money in the EPT National earlier this week.
In the first hand, Deeb opened for 4,500 in the hijack seat and Capriles called in the big blind. Capriles checked the 6♦8♠3♥ flop and then folded to a bet of 4,500.
On the following hand Deeb again raised to 4,500, this time from the lojack seat. Capriles called in the small blind and the flop was 3♠5♥8♣. The action was nearly identical to the previous hand — a check and a Deeb bet of 4,000 — but Capriles called this time around. He checked again on the 7♥ turn and Deeb bet 10,000. Capriles tanked for about a minute, raised to 30,000, and then called for another 16,000 when Deeb re-raised.
Deeb: K♥K♣
Capriles: 8♠7♠
Capriles had turned two pair and Deeb needed either a king or for one of the other two board cards to pair on the river. None of those came to pass with the Q♣, giving Capriles the double to 116,000. Deeb, meanwhile, still holds about 240,000. –JK
3:20pm: Playing from the big blind
Level 12 – Blinds 1,000/2,000 (BB ante 2,000)
"I'm in for four already."
So said Richard Kirsch just now after losing a small preflop all-in versus Faical Khairallah. The latter had pushed a stack worth just a handful of big blinds from middle position, and it had folded to Kirsch in the big blind.
As they are using the big blind ante, those playing from the BB sometimes have added incentive to stick around after preflop raises. That's what Kirsch thought after having committed 4,000 total for both the big blind and big blind ante. He decided to call the push with 9♦7♠ and ended up losing to Khairallah's A♠J♥ after a 8♦3♥6♠3♠Q♠ runout.
Besides the perceived pot commitment, Kirsch had chips with which to play, too, and he still does with about 180,000. Khairallah meanwhile still has limited options with 35,000. –MH
3:15pm: Big stacks
Level 12 – Blinds 1,000/2,000 (BB ante 2,000)
The chip count page has had a bit of a spruce up, and we find the following among the big stacks:
| Name | Country | Chips |
| --- | --- | --- |
| Upeshka Desilva | USA | 450,000 |
| Almedin Imsirovic | USA | 425,000 |
| Patrick Clarke | Ireland | 410,000 |
| Justin Nicola Ligeri | USA | 385,000 |
| Ben Wilinofsky | Canada | 360,000 |
| Mark Buckley | Ireland | 350,000 |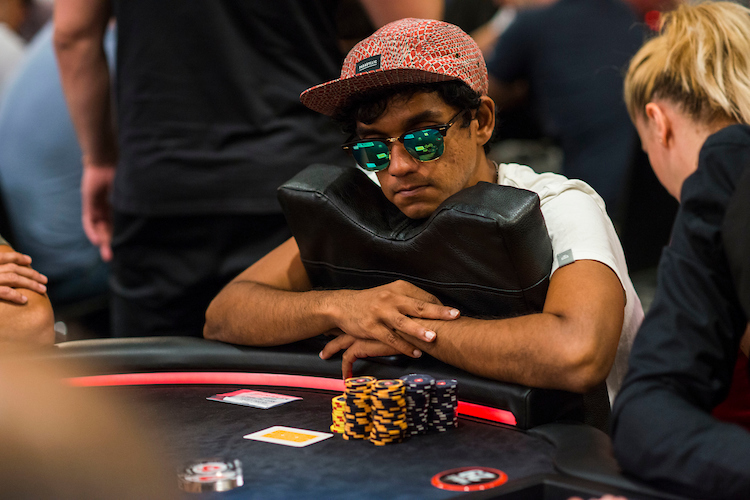 Upeshka Desilva: Our leader
3:07pm: Been and gone
Level 12 – Blinds 1,000/2,000 (BB ante 2,000)
Camila Kons opened from the button to 5,000 and it folded to a short-stacked Aaron Been in the big blind who defended with a call.
The flop fell 8♠4♦Q♣ and Been checked. Kons continued for 2,500, and after a brief pause Been check-raised to 7,000. Kons waited a few seconds and called, and the pair watched the dealer deliver the 3♠ turn card.
Been promptly pushed his chips all in — 11,300 worth — and Kons called right away. Been tabled Q♥9♦ for top pair of queens, but nodded to himself as he saw Kons turn over A♦A♣. The K♦ river sealed it, and Been is out. Kons moves up around 60,000. –MH
3pm: Prize pool announcement
Level 12 – Blinds 1,000/2,000 (BB ante 2,000)
The final numbers are in and we're looking at crowning a €1.6 million-winning champion. The total prize pool is €9,365,350 and the top 296 will be paid. Here's how the biggest bucks will be split around:
| POS | PRIZE |
| --- | --- |
| 1 | €1,611,500 |
| 2 | €859,050 |
| 3 | €590,000 |
| 4 | €424,250 |
| 5 | €354,200 |
| 6 | €287,050 |
| 7 | €220,000 |
| 8 | €155,000 |
The full breakdown is on the payouts page.
2:55pm: Poker with friends
Level 12 – Blinds 1,000/2,000 (BB ante 2,000)
It seems like Timothy Adams, Stefen Sontheimer, and Chris Brammer can't stop playing poker with each other. Maybe it's because they like each other.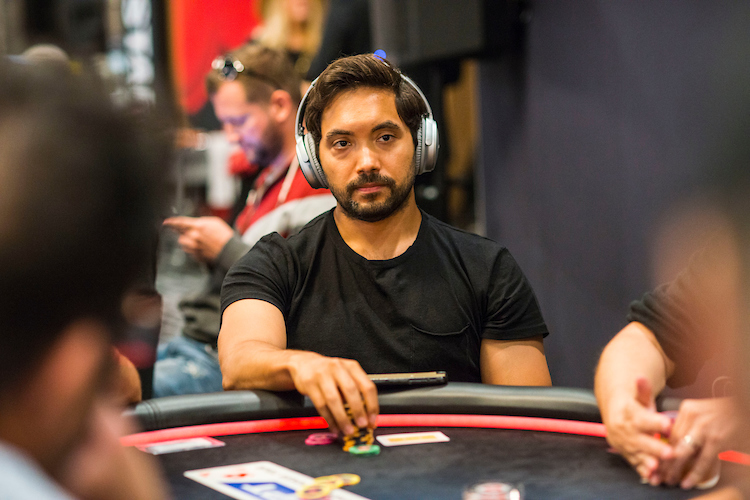 Timothy Adams: Friendly face No 1
The pots have been fairly tame, hinting at a nice friendly bout.
In one hand, Sontheimer and Adams were on the blinds and went to a flop in an unraised pot. There was a very courteous 2,000 bet from Adams on the 3♥4♣K♠ flop and then Adams took it down with another bet on the turn.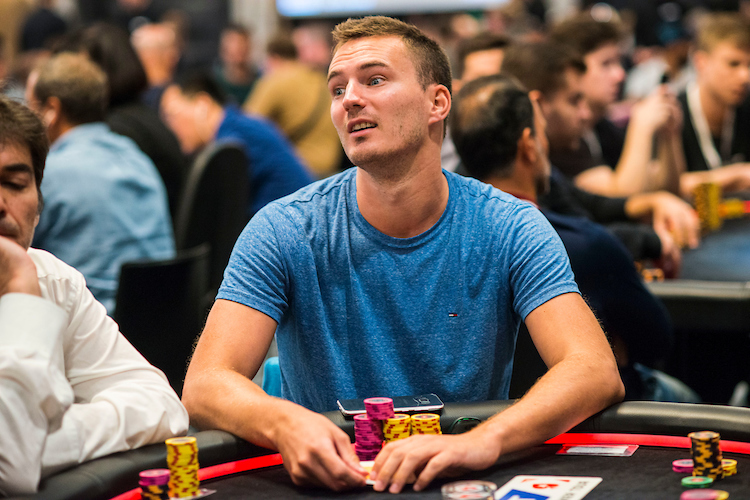 Stefen Sontheimer: Friendly face No 2
Sontheimer raised from the button following hand and Adams called, bringing a 9♠5♠3♠ flop. Sontheimer bet 4,000 when checked to and Adams called, bringing a 9♣ on the turn. There as a round of checks and a 9♦ on the river. Sontheimer checked this time and Adams bet 12,500. Sontheimer folded and then Adams decided to play with Brammer.
Brammer raised to 4,500 from middle position the following hand and Adams called. There flop came A♦7♠3♦ and Brammer bet out 4,000. Adams called and an 8♦ came on the turn. They both checked and the river brought a 10♦.
Brammer bumped things up to 18,000 and it was good enough to take down the pot. The pot left both Brammer and Adams with about 160,000. –AV
2:50pm: LLinus LLoves sixes
Level 12 – Blinds 1,000/2,000 (BB ante 2,000)
Swiss online star Linus "LLinusLLove" Loeliger just earned a double-up through one of the tournament's biggest stacks at the moment, Ireland's Patrick Clarke.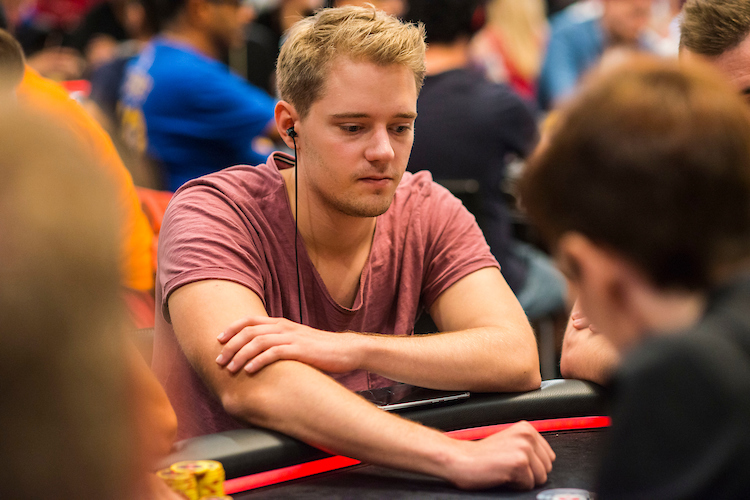 Linus Loeliger: Online star
Loeliger had 6♥6♦ and the preflop edge over Clarke's 4♥4♠, and the sixes stayed in front for him after the board came J♠7♥Q♦A♠7♦. Loeliger bumps up to 92,000 with that pot, while Clarke is still near the top of the leaderboard with 372,000. –MH
2:48pm: More for Farrell
Level 12 – Blinds 1,000/2,000 (BB ante 2,000)
Picking up the action on a 4♣5♥Q♦ flop, Niall Farrell checked from the small blind seat, and faced a bet from Aaron Lim. Farrell then check-raised to 14,500 and Lim called.
The 3♠ turn hit the felt and Farrell didn't slow down, leading for 25,000. Again Lim stuck around, and the board was completed by the 7♦. Farrell then shoved, and Lim faced a decision for his entire 42,000 stack.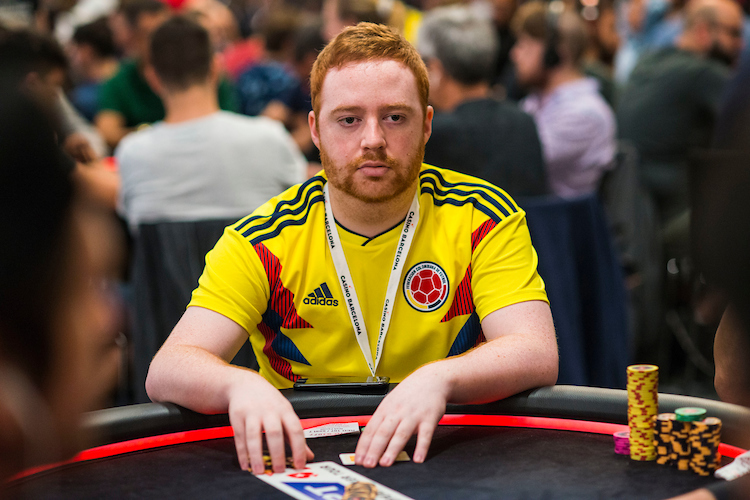 Niall Farrell: Sticking with a big stack
It was a decision he'd take his time over, but after a couple of minutes he let his hand go. The pot slid Farrell's way, and he now sits with 207,000. –JS
2:45pm: Double KO for Deeb
Level 12 – Blinds 1,000/2,000 (BB ante 2,000)
Shaun Deeb just picked off two of his table's short stacks in a single swipe.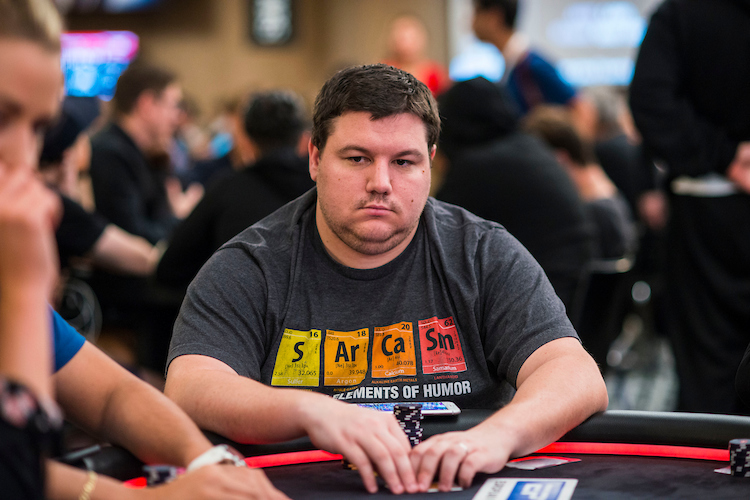 Shaun Deeb: Two down
Rafael Neves Telles opened all-in for about his last 3,500 chips, holding K♥10♥, and then Francisco Vargas immediately shoved over the top for his last 30,000 with 3♣3♠. Shaun Deeb called with A♦Q♦ and paired up to topple both players. That win boosts Deeb's stack to right about 200,000. –JK
2:40pm: Lofberg gets value from Riess
Level 12 – Blinds 1,000/2,000 (BB ante 2,000)
After a hijack limp and button call, Klas Lofberg completed the small blind and Ryan Riess checked his option. The K♠5♥4♠ flop checked to Riess who led for 3,000. The two limpers folded, and Lofberg called to bring the 5♠ turn. Both checked.
The J♠ river landed putting four spades on board, and now Lofberg led out for 9,000. Riess thought for more than a minute before calling, and when he was shown K♦10♠ he mucked.
Lofberg is up to 250,000 now, while Riess dips to just 16,500. –JS
2:30pm: No time like the present
Level 12 – Blinds 1,000/2,000 (BB ante 2,000)
It's the period of all-ins for players finding themselves at "inflection points" here in Level 12.
To start the level, Yevgeniy Timoshenko managed to double through Danilo Velasevic when Timoshenko's pocket aces held versus the latter's pocket nines. That brings Timoshenko back to 65,000, while Velasevic slips to 28,000.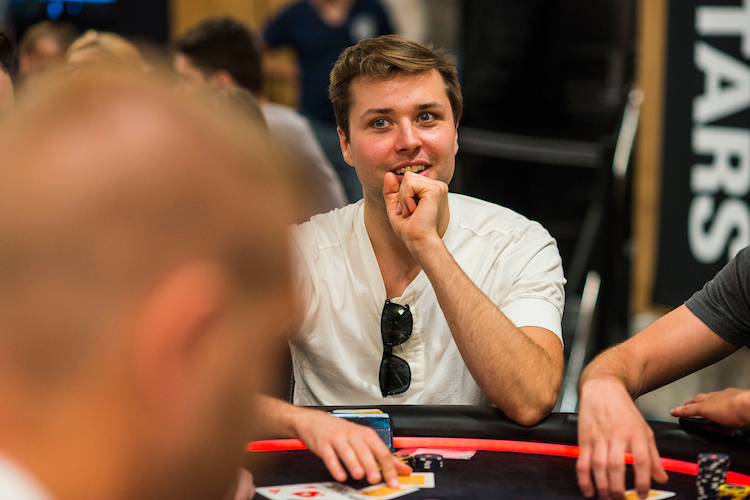 Yevgeniy Timoshenko: Doubles to stay alive
Shortly after that, Roberly Felicio opened for 8,000 from the hijack seat, then watched Javier Garcirreynaldos Barral three-bet jam from the small blind for 66,500. Felicio thought about it for a while, then finally decided to call the raise and commit most of his stack, too.
Felicio had J♣J♥ and Barral A♥K♥, and a runout of Q♣8♦A♣A♦3♣ added up to trips and a double-up to 135,000 for Barral, while Felicio now finds himself at an inflection point with just 15,000. –MH
2:20pm: Latest batch of the beaten
Level 12 – Blinds 1,000/2,000 (BB ante 2,000)
Level 12 is about to begin, but none of these are involved anymore:
Joao Brito, Koen Breed, Ramon Colillas, Gaetan Lheureux, Victor Chupeaux, Tony Miles, Preben Stokkan, Charu Kaushik, Juan Pardo, Tu Lan, Dean Nolan, Giovani Torre, Joe Mouawad, Diogo Veiga, Mihai Manole, Jean Rene Fontaine, Igancio Romera, David Marquez, Leo Fernandez, Nicolas Cardyn, Gen Nose, Samir Moukawem, Gary Hasson, Robin Ylitalo, Nichan Khorchidian, Rex Clinkscales, Michele Tocci, Maria Lampropulos, Sandor Sandor, Matas Cikinas, Joao Lopes De Oliveira, Mikhail Korotkikh, Stefan Peukert, Jose Manuel Fernandez, Ionut Voinea, Ping Lin, Juha Helppi, Dzmitry Rabotkin, Hari Bercovici, Kamil Dobosz, Florent Fhal, Michael Goossens, Michal Wywrot, Byron Kaverman, Emmanuel Lasuen, Christian Thiry, Jiayu Ruan and Yau Yen.
2:10pm: Totals
Level 12 – Blinds 1,000/2,000 (BB ante 2,000)
We have been given the accurate number of players here ahead of an imminent prize-pool announcement. There are 1,931 entries of which 1,474 were unique players and 457 re-entries. — HS
---
TOURNAMENT BREAK: 20 MINUTES
---
1:55pm: Ay-yay-yah Antonius
Level 11 – Blinds 800/1,600 (BB ante 1,600)
Samir Akhoullou opened to 3,400 from early position, and that got a call from Alek Givotovsky on the button. Patrik Antonius called from the big blind to see a 5♠5♥9♣, and it checked to Givotovsky who bet 3,000. Antonius then raised it up to 11,000, shaking off Akhoullou, but Givotovsky didn't budge.
The turn was the Q♦ and now Antonius checked it. Givotovsky jammed for 57,000, and in a rare moment of emotion from Antonius at the poker table, he gave it an "ay-yay-yah" as he weighed up his options.
He'd eventually fold, leaving himself with 81,000, while Givotovsky takes it down to increase to 90,000. –JS
1:50pm: Catching Pollak
Level 11 – Blinds 800/1,600 (BB ante 1,600)
A bunch of players have had great results so far this trip, and France's Benjamin Pollak is certainly up there. Not only did he final table the €100K Super High Roller, busting out in fifth for €445,300, but on the same evening he hopped in the Main Event and surged up the counts to end with a big stack of 219,800.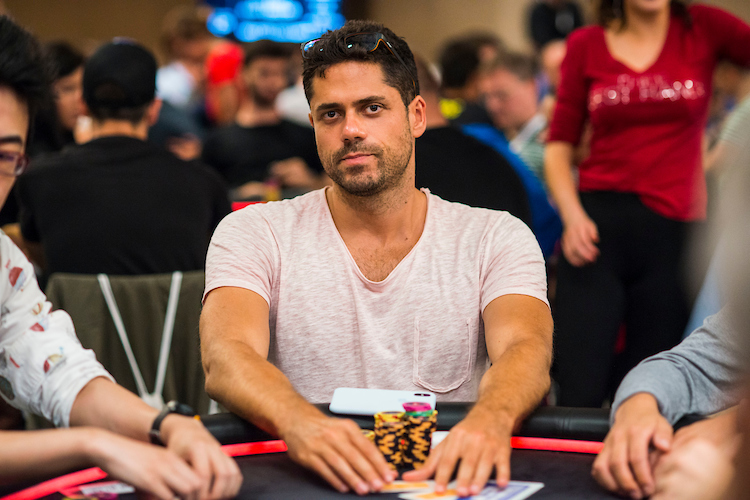 Benjamin Pollak: Hot streak
With a day off yesterday, he then entered the €50K Single Day High Roller and took it down for just shy of a million euros (€979,000 to be precise).
And now he's back in the Main, and he's increased his stack to 284,000 so far today. It'll be hard to catch Pollak results-wise, but if there's one guy as happy as him on Pollak's table it's Belgium's Eric Lenoir, who won a Platinum Pass worth $30K earlier on. –JS
1:45pm: Lew falls in double KO
Level 11 – Blinds 800/1,600 (BB ante 1,600)
That's it for Team PokerStars Pro Randy Lew.
His downfall started when Klas Lofberg opened to 3,300 from under the gun. Lew was sitting to his left and called. Luis Dono was in middle position and down to 30,400 and moved all-in.
Action folded back to Lofberg and he plunked down a pile of chips big enough to put Lew all-in. Lew thought for over a minute and finally threw in the rest of his stack.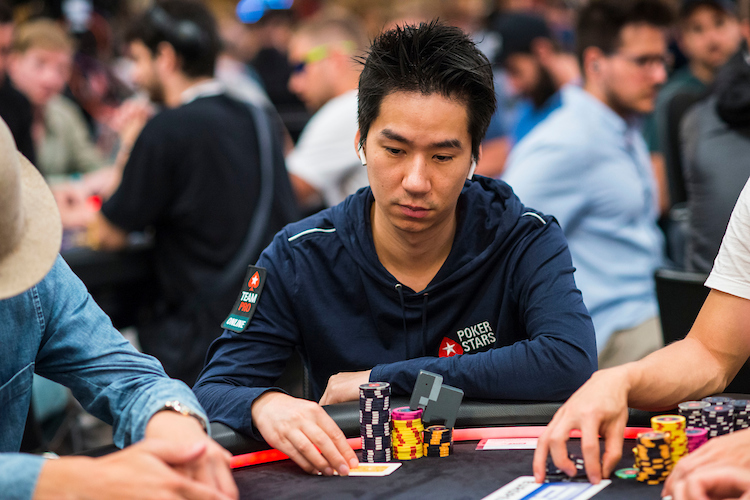 Randy Lew: Faller
Dono had the smallest stack and pocket pair with 10♠10♦. Lew was second-best with J♣J♦ and Lofberg had the leading stack and pair with K♦K♣.
The 6♠9♠3♥A♠9♥ board did nothing to affect that hierarchy and both Dono and Lew were taken out. Lofberg on the other hand chipped up to 225,000. (Word reaches us that Maria Lampropulos is also now out.) –AV
1:38pm: Antonius nixes Nadal
Level 11 – Blinds 800/1,600 (BB ante 1,600)
There are few things more dangerous in a poker tournament than allowing Patrik Antonius to accumulate chips. And while he isn't quite to Full Danger Mode yet, he just took a step closer to it.
The action opened with Santiago Nadal raising to 3,300 UTG+1. Antonius called in the cutoff seat, as did Samir Akhoullou in the big blind. Akhoullou led for 3,100 on the 7♣9♠4♥ flop and Nadal almost immediately jammed for his last 17,600. Antonius called and Akhoullou folded, leaving Antonius heads-up with Nadal.
Antonius was ahead with Q♦9♦ for a pair of nines, while Nadal needed a jack, ten, or eight to take the lead with his J♠10♣. Alas, those cards all stayed in the deck for the runout, sending Nadal to the exit.
Antonius is now up to 98,000. –JK
1:36pm: Kaverman kicked out
Level 11 – Blinds 800/1,600 (BB ante 1,600)
We've just lost the ever-dangerous Byron Kaverman. He returned today with only 26,000, and when that had whittled down to 22,700 he open-shoved the hijack holding A♠10♥. It folded to Konstantin Farber in the big blind and he made the call with K♠J♣.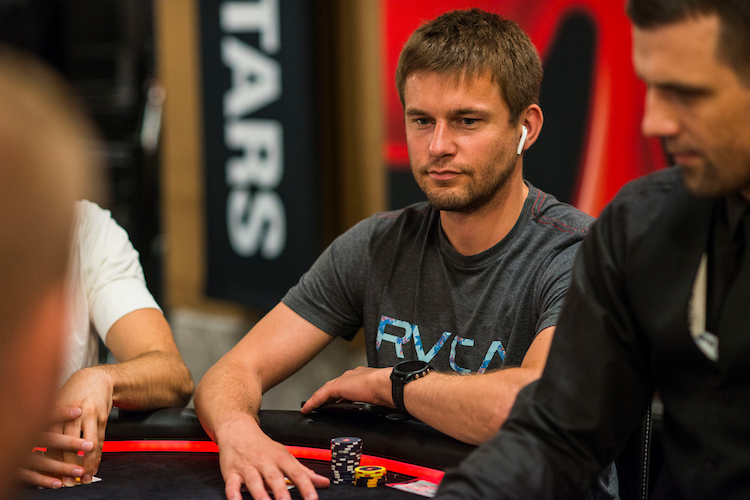 Byron Kaverman: One dangerous man down
The 2♦J♦7♠ flop paired Farber, and Kaverman couldn't hit on the 2♥ turn or K♣ river. Farber increases to 82,000, and everyone at the table – which includes Viktor Blom and Yevgeniy Timoshenko – will be relieved to see Kaverman depart. –JS
1:35pm: Adams and Sontheimer scuffle
Level 11 – Blinds 800/1,600 (BB ante 1,600)
There are some tough tables today, and Table 53 might be one of the toughest. Its seats are occupied by the likes of Timothy Adams, Steffen Sontheimer, and Christopher Brammer.
They're not shying away from tussling with each other either. Sontheimer raised to 5,500 from the cutoff one hand and Adams made it 12,800 from the button. The blinds got out of the way, but Sontheimer called and a 3♥7♦A♠ flop hit the board.
Sontheimer checked and Adams bet 7,200. Then, boom, attack of the check-raise. Sontheimer made it 18,000 and Adams couldn't continue.
The pot put Sontheimer up to 103,000 while Adams was still left with 135,000 after the hand. Then Adams took some off Brammer.
Brammer raised to 3,500 that hand and Adams called from the cutoff. The flop came 7♦J♣K♠ and Adams bet 6,500 when checked to. Brammer called and the 2♦ came on the turn. Brammer checked again and Adams put out a chunky 32,000 bet.
It was too much for Brammer and he laid it down. Adams is now up to about 160,000. –AV
1:30pm: More eliminations
Level 11 – Blinds 800/1,600 (BB ante 1,600)
Last year's runner up is among a host of familiar names who have perished in the early stages today. Here's another list of the fallen:
Jerry Ogden, Thomas Eychenne, Luiz Aurelli, Lachezar Petkov (last year's runner up), Yves Hallague, Walter Oaquim, Alex Foxen, Dan Smith, Murad Akhundov, Daniel Rezaei, Yorane Kerignard, Ivan Luca, Jacob Rasmussen, Miguel Di Pentima, Bas de Laat, Gauthier Brugnooge, Johan Van Til, Tetsuya Enoki, Rauno Kiviloo, Mikhail Surin, Christopher Lockhart, Victor Hon, Gabriele Lepore, Kitty Kuo, Franco Spitale. — HS
1:25pm: Farrell finds his way
Level 11 – Blinds 800/1,600 (BB ante 1,600)
Niall Farrell entered Day 2 with one of the larger stacks in the field and he's carried on with his winning ways since play resumed.
We walked up to his table with a 3♦3♥A♦ flop already on the board, Farrell on the button, and Cristinel Dumitru defending the big blind. Dumitru checked the flop, Farrell fired 3,000, and Dumitru called.
Both players then checked the 2♠ turn, bringing the Q♥ on the river. Dumitru took a moment and then bet 6,000 — and then auto-mucked his cards when Farrell tossed in his chips for a call. Farrell collected the pot without having to show his cards.
With that, Farrell is now on 250,000. –JK
1:20pm: No more Negreanu
Level 11 – Blinds 800/1,600 (BB ante 1,600)
Daniel Negreanu's Main Event has come to an early end, according to media room gossip. Apparently, he jammed the button (his last 20,000 or so) holding A♠10♣, and was called by Kunal Punjwani in the big blind with K♣9♣. The 3♠5♣J♣ flop meant Negreanu would need a non-club ace or ten, and he hit one on the A♦ turn. Alas, the 2♣ river gave Punjwani the flush.
Daniel Negreanu: Vigil ended early on Day 2
Negreanu now has the beautiful city of Barcelona as his oyster, while Punjwani remains right here with 43,000. –JS
1:15pm: Neilson gets trimmed
Level 11 – Blinds 800/1,600 (BB ante 1,600)
Australia's Daniel Neilson turned up to play yesterday's Day 1B looking a bit lower in the ears and stronger in the jaw than we'd seen him just a day previously. It turned out he'd had his long, shoulder length hair and thick, grizzly beard trimmed down right here in Barcelona.
His hair wasn't the only thing being cut, as his 123,700 starting stack has been trimmed so far today. In this latest pot, he opened from the cutoff and Luigi Shehadeh defended his big blind. They went to an A♣6♦J♦ flop, and Neilson continued for 3,200 when checked to. Shehadeh made the call.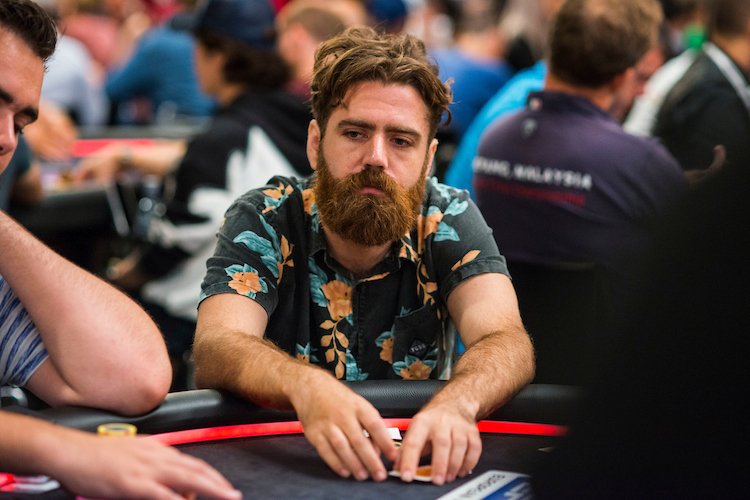 Daniel Neilson: Trimmed
The dealer laid the 10♥ turn and Shehadeh check-called 10,500 this time. Both then checked the 8♠ river, and Shehadeh confidently flipped his J♥6♣ for two pair. Neilson mucked and drops to 71,500, while Shehadeh climbs to 148,000. –JS
1:10pm: Dire straits for Lampropulos
Level 11 – Blinds 800/1,600 (BB ante 1,600)
Maria Lampropulos came into today with just 17,400 chips and she's doing everything she can to hang around. Her tablemates aren't helping with that at all, though, making this a pretty tough assignment for the 2018 PCA champ.
She opened for 3,400 in early position on one hand, only to have Cesar Garcia move all-in three spots behind her. She gave it some consideration but eventually let her hand go.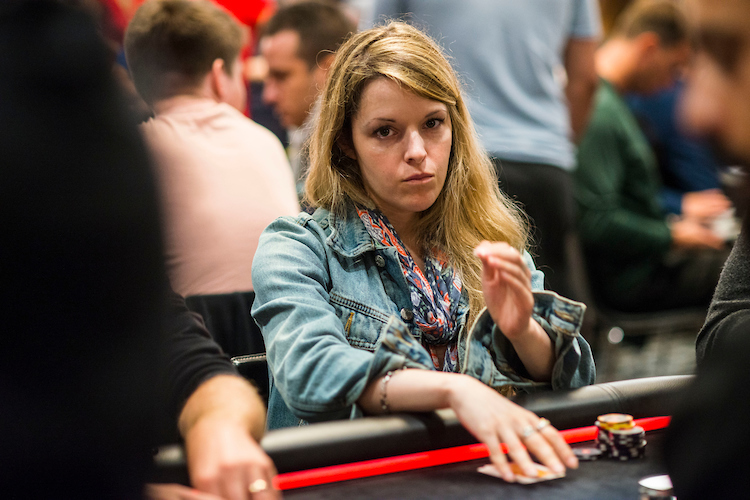 Maria Lampropulos: On the grind
The next time Lampropulos was in the big blind she faced a hijack raise to 3,600 from Mehdi Keack. Lampropulos called and both players checked the 9♠7♦J♦ flop, and after a brief think she led for 5,400 on the 2♦ turn. Keack thought for a solid minute before making the call.
Lampropulos thought for another two minutes after the K♣ fell on the river and then bet 6,000, leaving herself another 10,000 behind. Keack himself took two minutes before announcing an all-in bet — and then he promptly turned to his phone, presumably checking up on our live updates, while Lampropulos decided whether to put her tournament life on the line.
Two more minutes passed before she reluctantly slid her cards to the dealer, surrendering the pot and hanging on to her last nine big blinds to look for a better spot. –JK
1:05pm: More eliminations
Level 11 – Blinds 800/1,600 (BB ante 1,600)
Time to say goodbye to these players too:
Lukasz Cygan, Matias Ruzzi, Steve Warburton, Tuan Tran, Shyngis Satubayev, Gary Miller, Giuliano Bendinelli, Antoine Lebel, Siow Choon Tong, Valentin-Marius Cristea, Ricardo Souza, Patrice Brandt, Marta Munoz, Anthony Zinno, Chengbei Li, Julian Stuer, Pruna Catalin and Thomas Ward. — HS
1pm: Early bust-outs
Level 11 – Blinds 800/1,600 (BB ante 1,600)
It was a short Day 2 for all of the following, who have hit the rail early on: Andjelko Andrejevic, Bio Salomao, Duco Haven, Viktor Kovachev, Scott Wellenbach, Michel Dattani, Ollie Price, Ghassan Bitar, Alin Pandilica, Paul Van Oort, Thierry Gogniat, Walid Bou Habib, Andrei Boghean, Semen Kravets, Vojtech Ruzicka, Jean Ferreira, Tommi Kunnari, Paul Newey, Marcello Miniucchi, Antonio D'ascenzo, Luca Marchetti, Lingfan Chen, Dimitar Danchev, Ramiro Petrone, Nazarii Piznak Christopher Andler, Quentin Lecomte, Nick Maimone, Mark Walsh, Fernando Borges, Rok Gostisa.
12:55pm: Negreanu's action table
Level 11 – Blinds 800/1,600 (BB ante 1,600)
Daniel Negreanu was having to break his 25,000 chip (his only chip) for change just now, meaning he's sitting with 15 big blinds (good for seven orbits). He might be short, but going by the one hand we've witnessed at his table so far, he shouldn't find it hard to find action when he needs it.
Hector Gimenez limped from early position and it folded around to the blinds. Marco Regonaschi completed the small, and Negreanu checked his big to bring a 10♥8♦7♠ flop. It checked to the limper who fired 3,500, only for Regonaschi to bump it up to 10,000. Negreanu got out of the way.
Back to Gimenez, he then four-bet to 28,500, and Regonaschi shoved pretty quickly for 55,500. Gimenez had 68,500 behind and made the call with 7♥8♥ for two pair, but that was drawing thin against the flopped straight of Regonaschi (9♠6♦). The 5♥ and 5♠ completed the board, and the pot shipped Regonaschi's way.
"I beat you," said Negreanu. "I had 8♣5♣."
Negreanu has 25,000, Gimenez is down to 13,000, and Regonaschi is sitting pretty with 114,200. –JS
12:45pm: Aido axes Habib
Level 11 – Blinds 800/1,600 (BB ante 1,600)
"No queen, no queen," Walid Bou Habib said.
He'd just gone all-in with J♦J♣ and was up against Sergio Aido's K♠Q♠. They were both fairly close in chips too, Aido had 35,700 to Habib's 32,700.
If Habib's request to the poker gods was heard, it was immediately rejected. The flop came down 9♣Q♦2♦ and Aido took the lead. The 8♠ on the turn and 3♣ on the river brought no help for Habib and he hit the rail.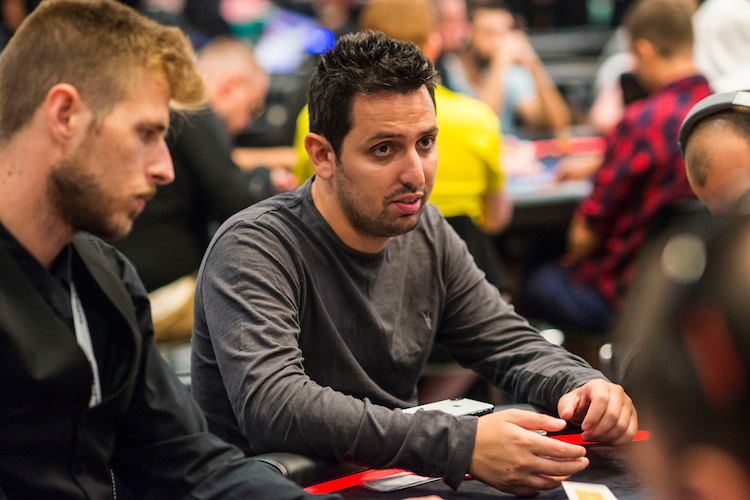 Sergio Aido: Executioner
Aido on the other hand is up to about 70,000. –AV
12:40pm: Good times on Table 43
Level 11 – Blinds 800/1,600 (BB ante 1,600)
Table 43 is all smiles right now.
Team Pro Jeff Gross just got all-in before the flop with A♣K♥ against Javier Garcirreynaldos Barral, who had A♦K♦. No diamonds on the flop meant Gross was safe and held on to his roughly 3,000 chips.
Sitting directly to Gross's left today is Finnish legend Patrik Antonius. Right as we walked up to the table he was pulling in a pile of about 110,000 chips. "I have green chips now," Antonius said with a smile. "Green is the color of the day." Looks like his win might have come at the expense of PokerStars qualifier Alek Givotovsky — after Antonius had stacked his chips, Givotovsky said, "I wasn't happy when you closed your laptop."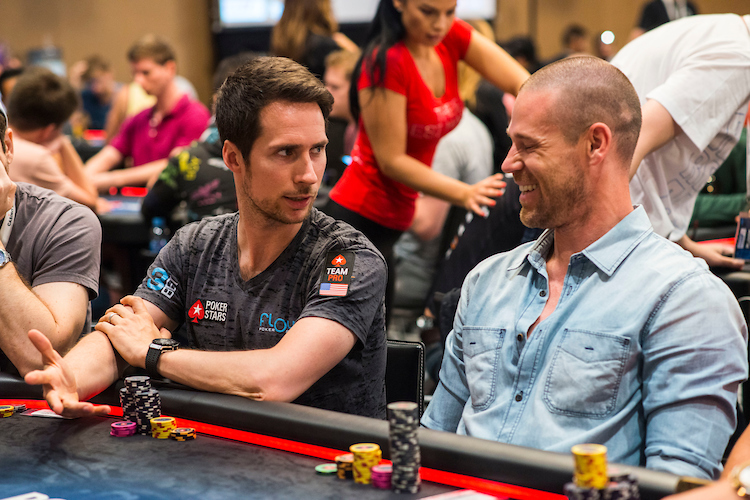 Jeff Gross and Patrik Antonius get acquainted on Day 2
That got a laugh from the whole table, keeping the atmosphere light early here on Day 2. –JK
12:30pm: Chip trailer
Level 11 – Blinds 800/1,600 (BB ante 1,600)
Anthony Chimkovitch strolled into Day 2 with the largest stack. You always hear a lot about the chip leader, but what about the player on the other side of the spectrum? The chip trailer.
Today that was Yorane Kerignard, who came in with the tiniest stack of them all. Kerignard started the day with just 5,100 and started on the small blind.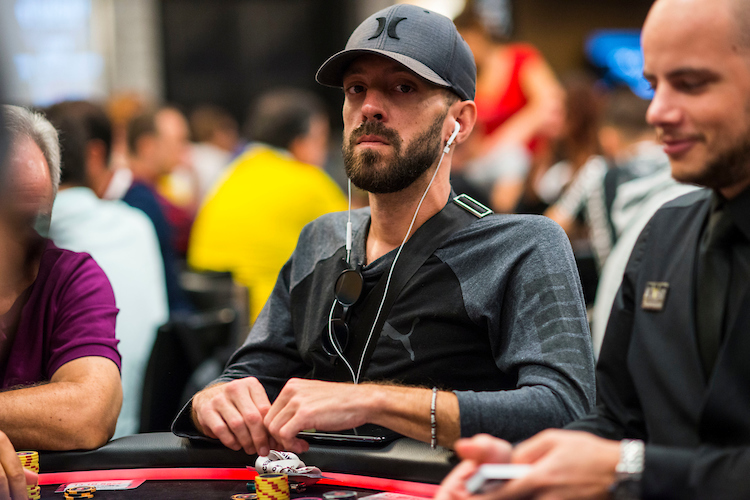 Yorane Kerignard: Chip trailer
He folded that hand and was down to 4,300. The player to his left raised the next two hands and Kerignard folded those as well. Then Mark Radoja raised to 3,500 from under the gun. Action folded around to Kerignard on the hijack and he moved his 4,300 all-in.
Radoja called and showed K♠Q♠ to Kerignard's K♣9♦. Things weren't looking good for Kerignard, but then the board came 6♦A♣K♥9♣5♦ to put him in the lead. The chip trailer stayed alive and his grind continues. –AV
12:25pm: Platinum Pass for Eric Lenoir
When 769 Day 2 players had arrived (or 768 to be accurate; Leo Fernandez couldn't get to his table in time), the crazy pineapple flip-out for a Platinum Pass to the PokerStars Players No Limit Hold'em Championship began.
This was the deal: all nine players were dealt three cards, and they then discarded one before the flop to make a hold'em hand. The flop, turn, and river were then dealt, and whoever flipped the best hand over at the end advanced to the next round.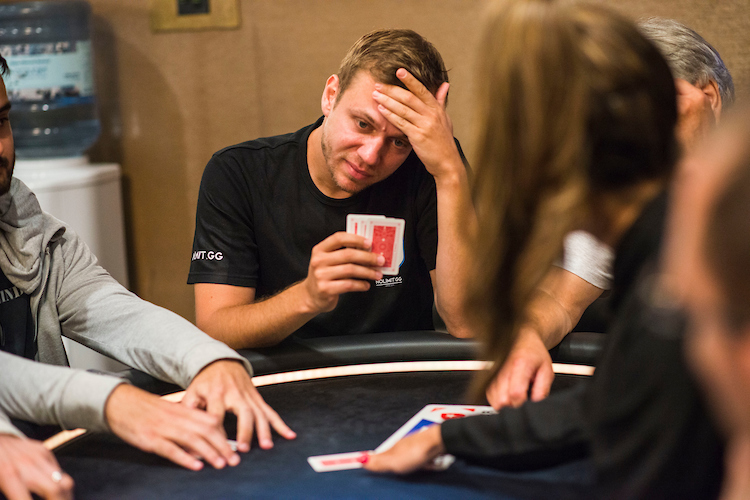 Stefan Schillhabel realises this isn't his moment
We sweated round one with Daniel Negreanu. He peeled back the 10♦J♥6♥, and opted to throw away the 10♦ leaving himself with flush possibilities. Alas, the board ran out 3♦4♠3♠7♦9♦, and Hector Gimenez took it down with A♠3♣.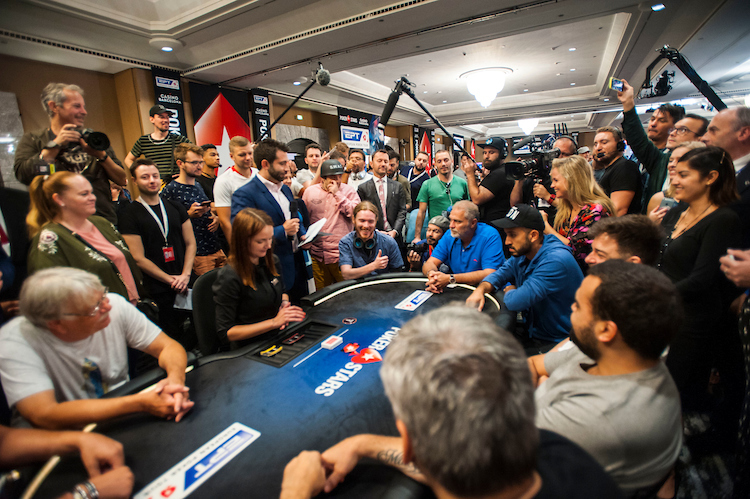 Final table for the Platinum Pass flip-out
While no Team Pros got through, there were plenty of big names through to the "semi final". Niall Farrell, Ali Reza Fatehi, Danny Tang, Stefan Schillhabel, Conor Beresford, Paul Newey, and Daniel Nielson were all in with a shot.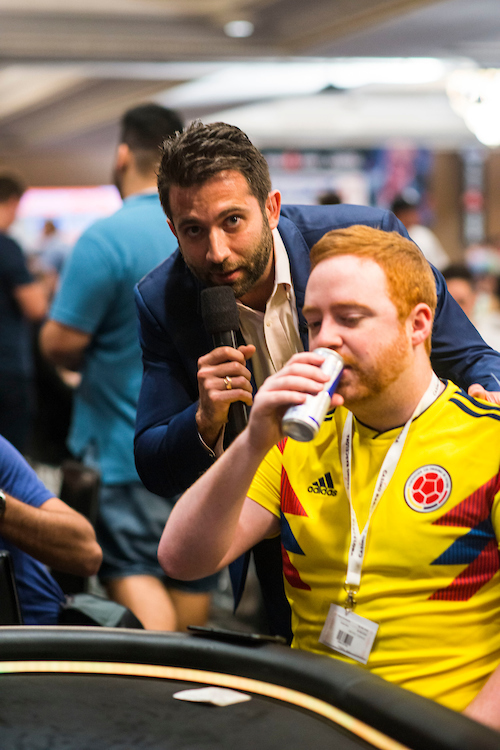 Niall Farrell and Joe Stapleton ready for the semi-final
Tom Hall was there too, and he'd headline the final table. He'd also get dealt pocket aces, in an absolute dream spot for the $30,000 Bahamas package.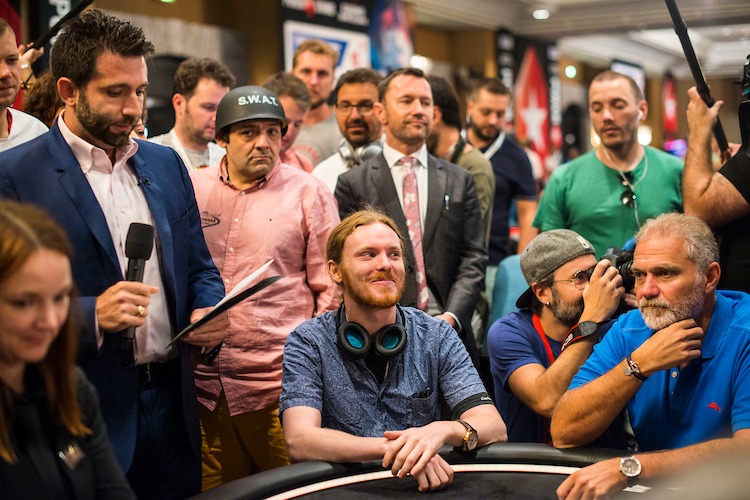 Aces no good for Tom Hall
But when the board fell J♦K♦6♥J♥7♦, anyone with a jack would take it down. One player flipped J♠8♠[ for trips. But Belgium's Eric Lenoir revealed J♣9♦ for trips with a bigger kicker.
Lenoir was our winner, and is the latest player set to join us in January 2019 for the $25,000 PSPC tournament.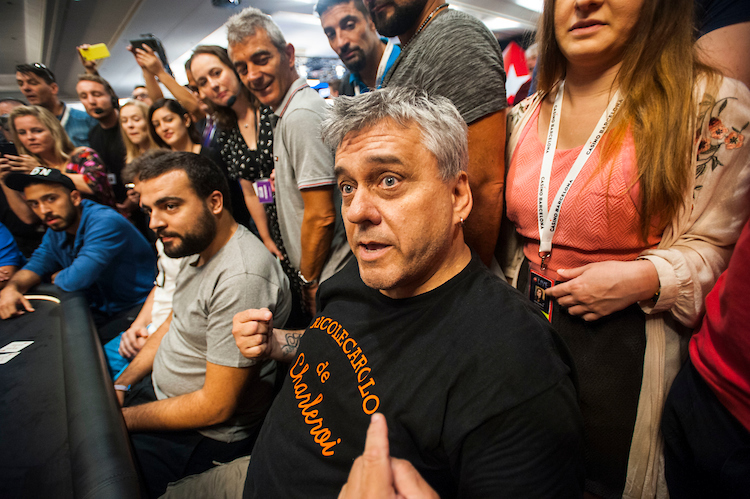 The realisation dawns on Eric Lenoir
With that announcement, the hubbub in the room settled down as players returned to their seats. Main Event play is now under way, with two cards in the hole instead of three. Normality has resumed. –JS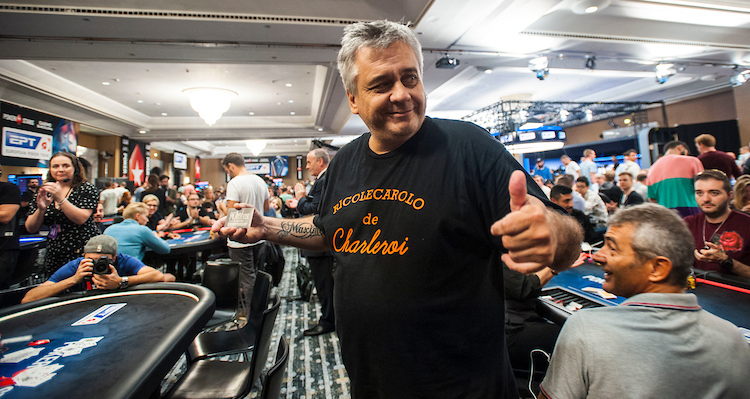 Eric Lenoir: On his way to the Bahamas
12:20pm: New arrivals
Level 11 – Blinds: 800/1,600 (BB ante 1,600)
Registration is now officially closed, but before they put the padlock on the door, this handful of players snuck in:
Jacob Reffeldt Rasmussen
Jerry Odeen
Franck Makaci
Christopher Frank
Brian Kaufman Esposito
Ibrahim Ghassan
Dean Nolan
Aleksei Gortikov
Jan Bendik
Stefan Schillhabel
William Kassouf
Yen Han Chen
Mikalai Vaskaboinikau
Koen Breed
Julian Stuer
Chris Moorman
Ghassan Bitar
Natalia Samsonova
Bryn Kenney
Yiannis Liperis
Lachezar Plamenov Petkov
Tuan Tran
John Juanda
Simone Speranza
Tournament officials will now counts the beans and crunch the numbers and we'll have all the vital stats soon as we can. — HS
12:20pm: The telltale applause
Level 11 – Blinds: 800/1,600 (BB ante 1,600)
A ripple of applause just came from the tournament room, meaning the flipout shenanigans are now over. They will presumably now play some poker. — HS
12pm: Flipout to begin the day
Level 11 – Blinds: 800/1,600 (BB ante 1,600)
Play will begin imminently, but before that we have a crazy pineapple flipout tournament to give away a Platinum Pass to the PokerStars Players Championship (PSPC). That's $30,000 worth of buy in and expenses and a trip to the Bahamas next January. All you have to do to have a chance is be seated at the start of Day 2.
There are a few players in today's field who have already picked up a Platinum Pass from previous endeavours. They are: Maria Lampropulos, Maria Konnikova, Mikita Badziakouski, Jussi Nevanlinna, Kalidou Sow, Gianluca Speranza, Guillaume Diaz, Chen An Lin, Dariuz Paszkiewicz and Mihai Manole. — HS
11:45am: Day 2 set to begin
We've had so much fun here in Barcelona the last two days. Now it's time do it all over again.
Day 2 of the EPT Barcelona Main Event is due to begin here in just a few minutes. The 769 survivors from the combined Day 1 fields — 202 from Day 1A and 567 from Day 1B — will meet today and continue the week-long struggle to relieve one another of their chips.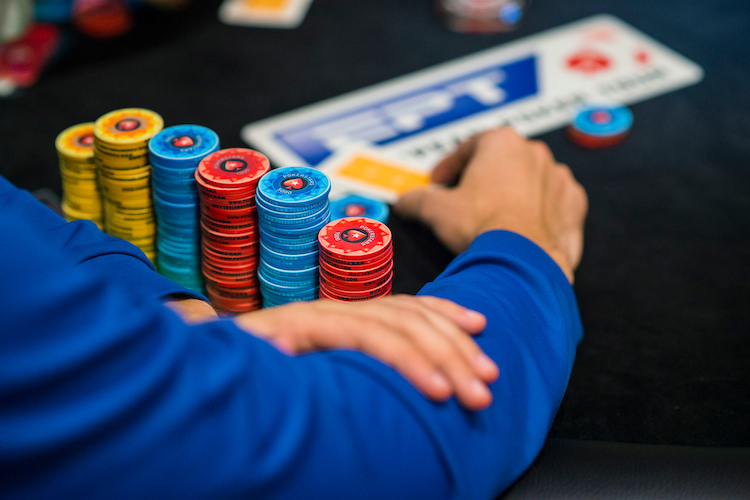 Welcome back to the EPT Barcelona Main Event!
We won't know the final tally of players or prize structure until late registration closes at the start of play today, but one thing is already sure: this field has surpassed the EPT13 Barcelona edition as the largest Main Event in EPT history.
Leading the way as play resumes is Belgium's Anthony Chimkovitch (390,000 chips), who cruised to the top of the counts late on Day 1B. He's trailed most closely by the Day 1A leader, Canada's Benjamin Wilinofsky (330,000). Other big stacks include Ireland's Patrick Clarke (321,500), China's Haoxiang Wang (239,300), France's Fabien Motte (233,000), Belgium's Miguel Use (228,900), and the UK's Lawrence Bayley (224,200).
Day 2 chip counts | Day 2 seat draw
We're going to hit cruising altitude today — the schedule calls for five 90-minute levels, four 20-minute breaks, and no pause for dinner. Play resumes at 12pm local time, so be sure to join us then for the sparkling photography to which you're accustomed and the best coverage of the action that the English language can provide.
Buy-in: €5,300 (€5,000 to prize pool, €300 fee)
Re-entry: One re-entry allowed (until start Day 2)
Starting stack: 30,000
Starting blinds: 800/1,600
Schedule: Five 90-minute levels.
Download the PokerStars LIVE! app with all tournament information. Available for IOS and Android.
PokerStars Blog reporting team on the €5,000 Main Event: Stephen Bartley, Marc Convey, Martin Harris, Jason Kirk, Oliver Martin, Jack Stanton, Howard Swains and Alex Villegas. Photography by Joe Giron/PokerPhotoArchive and Neil Stoddart.