In just a few days from now, more than 3,000 athletes from 90 countries will compete for medals in more than 100 events at the 23rd Winter Olympics in Pyeongchang, South Korea. The quadrennial event is certainly a highlight of 2018's sporting calendar and a must-watch spectacle for winter sports enthusiasts and armchair fans. However, back in 2010 for Season 6 of the European Poker Tour (EPT) organisers decided to blend poker with alpine thrills and spills with a brand-new stop: EPT Snowfest in the Austrian ski resort of Saalbach-Hinterglemm.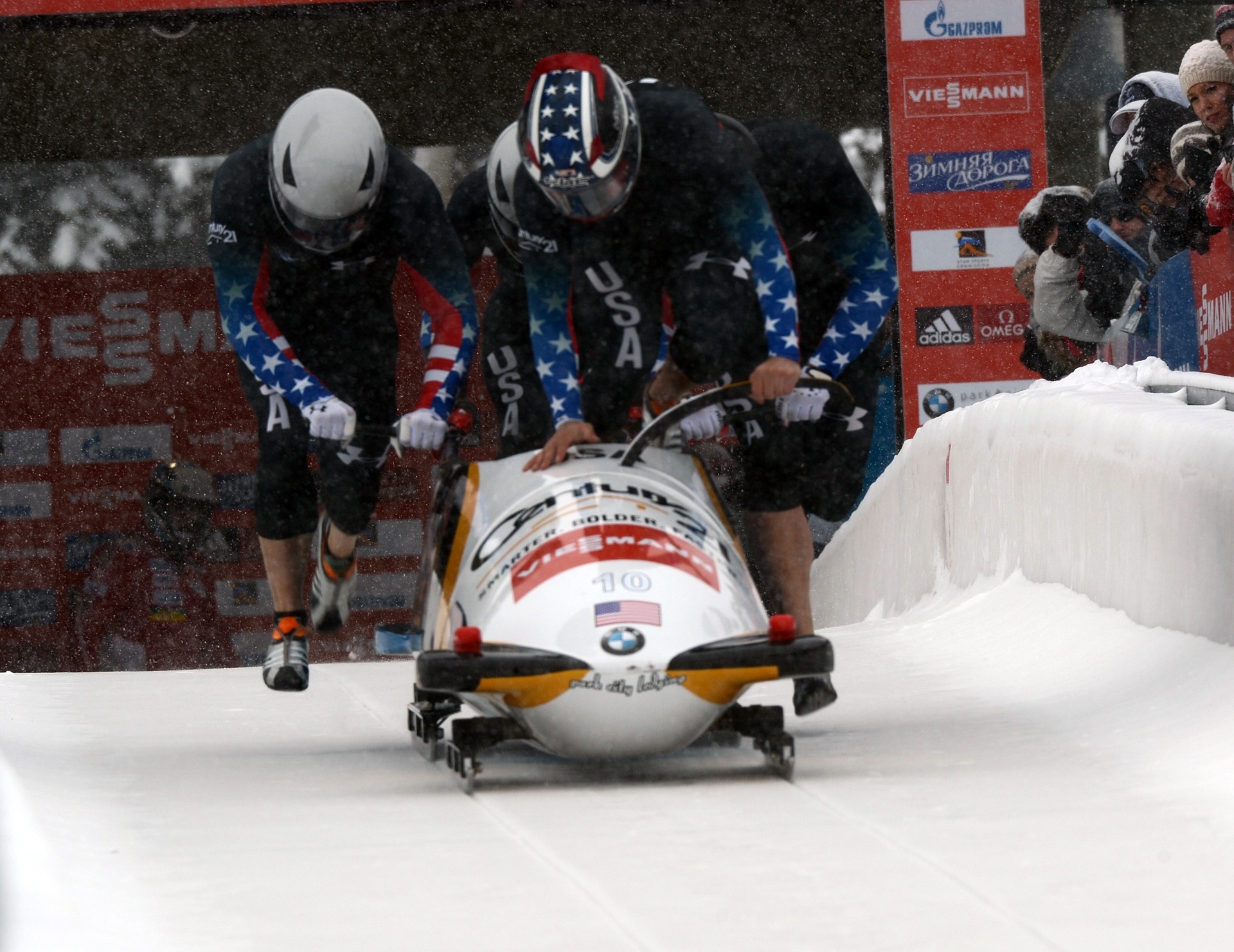 It's that time again when everybody becomes a bobsleigh expert for a few weeks
Hitherto EPT destinations included major European cities like Barcelona, London and Berlin, so staging an EPT event in a remote, snowy village with just 3,000 inhabitants was veering off-piste from the well-trodden path. However, any doubts soon melted when hundreds of poker pros and online qualifiers, as well as former tennis ace Boris Becker, flocked to the picturesque spot in a deep ravine enclosed by imposing mountains. "Excitement was the reaction when we heard about EPT Snowfest," says Hilda Ingham, department head for central event operations at PokerStars. "I thought the poker and ski element was a really good match."
Seeing as the nearest airport at Salzburg was over an hour's drive away, Ingham deployed buses to ferry players and all their ski gear from the airport to the venue, which was the Alpine Palace, a luxury spa hotel with an inviting open-log fire and a sausage stall that greeted visitors in the lobby. Most of the players stayed at more than half a dozen hotels in Saalbach-Hinterglemm, though, which made things a little tricky for event staff. "It is always easier when you have one hotel and the venue inside that hotel; one of the hardest things from my point of view was all these hotels," Ingham says. Unlike the majority of the competitors, the poker equipment travelled the entire journey by road and, fortunately, the heavily laden trucks reached the isolated location on schedule and without mishap.
For others working at EPT Snowfest, it was hard to divert their eyes from the breath-taking scenery. "It had the best press room in the world," recalls PokerStars Blog staff writer Stephen Bartley. "The view was a panoramic mountain view. You could spend all day watching people skiing." With it being a ski resort nestled 1,000 metres above sea level, most of the press corps instinctively packed winter attire for their week-long excursion. Yet the unseasonable weather that March meant the hacks soon discovered the media room overlooking the slopes was incongruously warm. "I remember having to go out one day and trying to find ice lollies for me and all the press because it was so hot," says Ingham.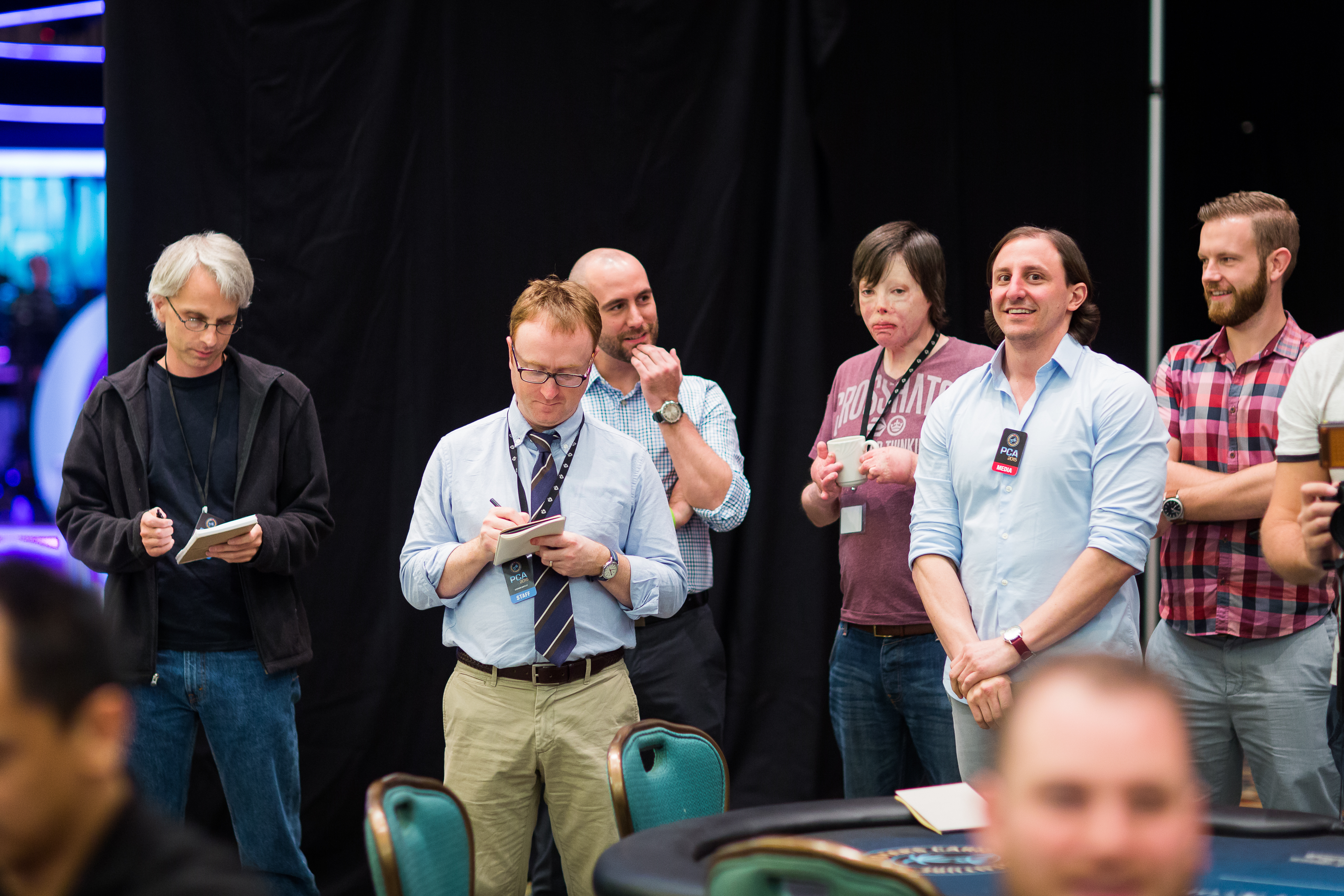 Stephen Bartley (second from left) has worked at hundreds of PokerStars live events but says nothing was quite like Snowfest
EPT Snowfest felt different from other events and, as such, had a holiday vibe with everyone seemingly enjoying the relaxed atmosphere. The only time you had to be alert was when side-stepping an improvised frozen missile after another impromptu snowball fight broke out. This happened routinely and without warning. Meanwhile, the traditional EPT welcome party was a raucous knees-up, punctuated by a firework display, at the Goat Stall, or Goaßstall as it's officially known. Yes, it's a popular bar in the village that is also home to actual goats. "PokerStars' EPT parties built a reputation of extravagance over the years, but the one at Snowfest was as memorable as any of them," says Eric Ramsey who reported on the event for PokerNews.
The next morning there were some seriously worse-for-wear partygoers clambering aboard ski lifts with bloodshot eyes obscured by tinted googles. In fact, organisers took the unusual step of pushing each day's start time for the Main Event back to 2pm to allow players time to ski or snowboard in the morning and get sprains examined before the cards were in the air. For those knocked out of the tournament or just retiring from the slopes, après-ski tended to involve decamping to the cosy hotel bar for warm alcoholic beverages and Austrian snacks. "With the Austrian ski-lodge food and Jägerbombs, I liked Snowfest and it's a place I remember quite vividly," says Denmark's Jesper Hougaard who busted out of the Main Event in 43rd place. "It was more of a social trip and I took my girlfriend at the time because a ski resort was a cool, tourist-friendly destination."
On the felt, it was fellow Dane Allan Bække who emerged triumphant from the Main Event to take down the first-place prize of €445,000. The following year (Season 7), the event returned to the same venue and this time 22-year-old Vladimir Geshkenbein traversed his way past a field of 482 players to score a €390,000 payday and the EPT trophy. Sporting a cowboy hat and accompanied by his lucky toy monkey mascot, the gregarious Russian pro became gradually more intoxicated during the latter stages of the final table. "I'm Russian so I like to drink," he explains nonchalantly, "but it also helped with my image; people don't give me that much credit because they think I make stupid plays."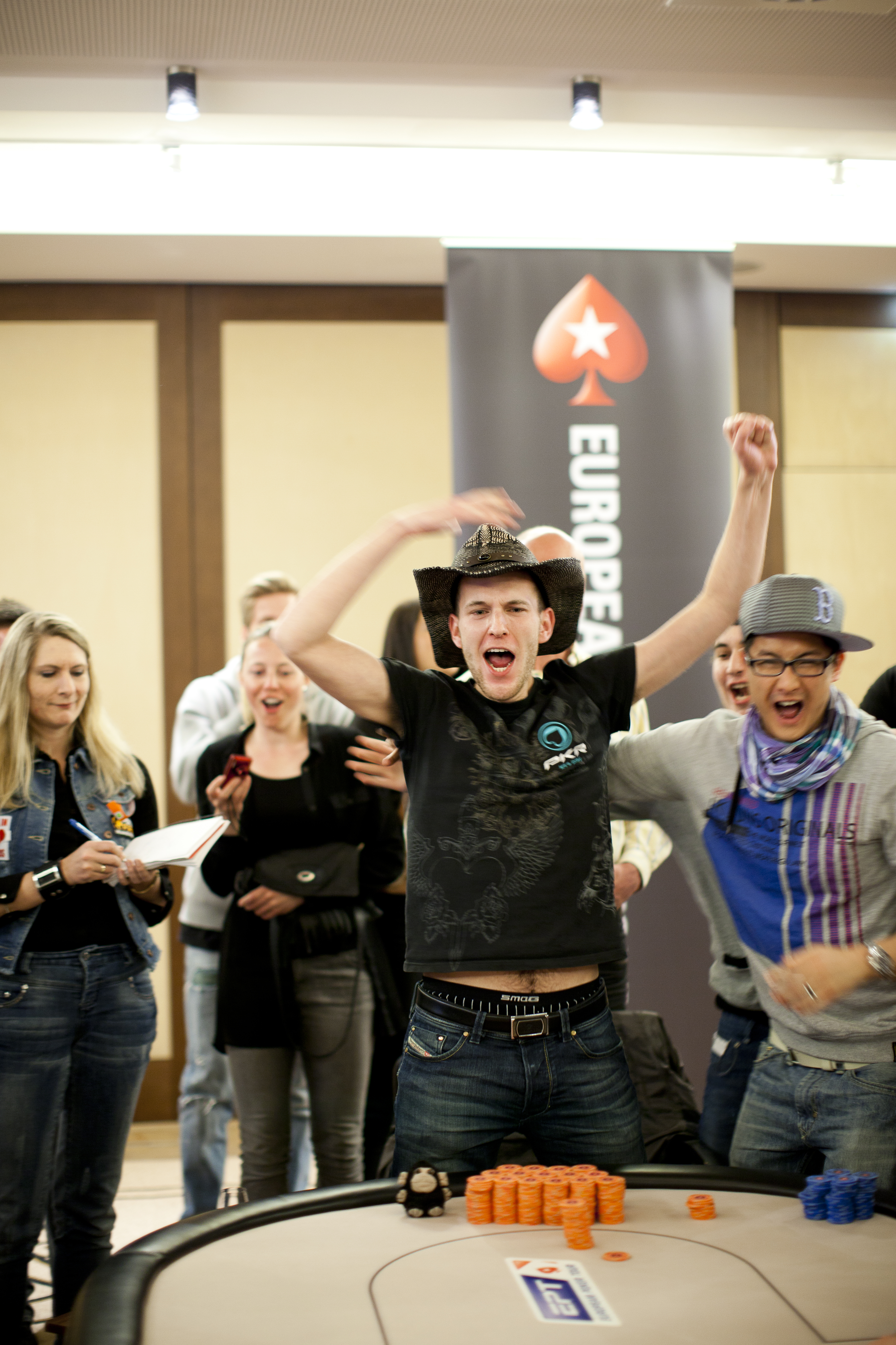 Season 7 Snowfest champ Vladimir 'Beyne' Geshkenbein knew how to celebrate his win in style
Before the event, Geshkenbein sold pieces of himself to a bunch of friends in Malta and, unbeknownst to him, they jetted in at the last minute once they discovered he had reached the final eight. It wasn't long before his rumbustious railbirds were soon guzzling alcoholic drinks and obediently supplying Geshkenbein with draught beers and vodkas with bitter lemons. "They were in party mode because they had a nice share of my winnings," he smiles. "It was quite a surprise to see them." Following his victory, the hotel supplied the newly crowned champion and his jubilant entourage with a swanky suite where they partied until the early hours before hot-footing it to Vienna to celebrate properly.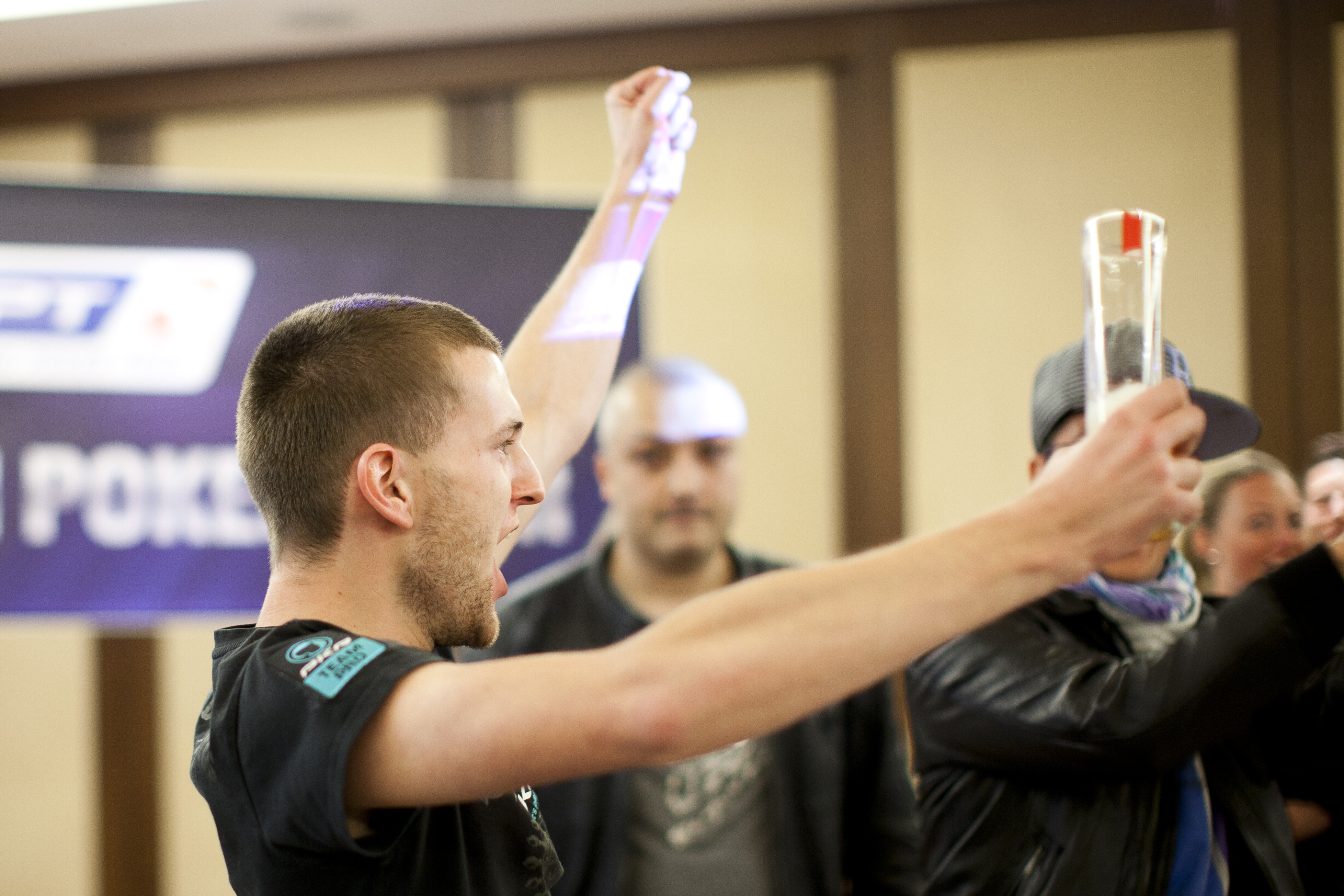 Vladimir 'Beyne' Geshkenbein
Of course, all good things usually come to an end and, partly due to the growing popularity of EPT, the decision was subsequently made to pull the plug on EPT Snowfest after a two-year stint. "It's always sad when you don't go back to an event," says Ingham, "but the problem with the venue was that it just wasn't that big and the tournament room was actually quite small. At the time, the EPT was growing so quickly in terms of player numbers that, logistically, we couldn't fit in there without running a giant tournament with multiple start days. It was sad but I completely understood why we didn't go back."
These days, Russia's Black Sea resort of Sochi (the host city for the Winter Olympics in 2014) will combine poker with a skiing and winter sports when EPT Sochi takes place from March 20-29 this year. However, most who attended EPT Snowfest in 2010 and 2011 look back fondly on a unique event that fully deserves its place in the EPT's rich history. Ingham says: "It was a great event and the venue was beautiful, although the only downside for us was that we didn't get to go skiing because we were working." It was the stunning setting that sticks most in the memory for Ramsey. "Snowfest's beauty and uniqueness made it the most memorable EPT event of the season for me," he remarks. "I've covered tournaments all over the world, and Saalbach-Hinterglemm is one of the most beautiful backdrops I've seen."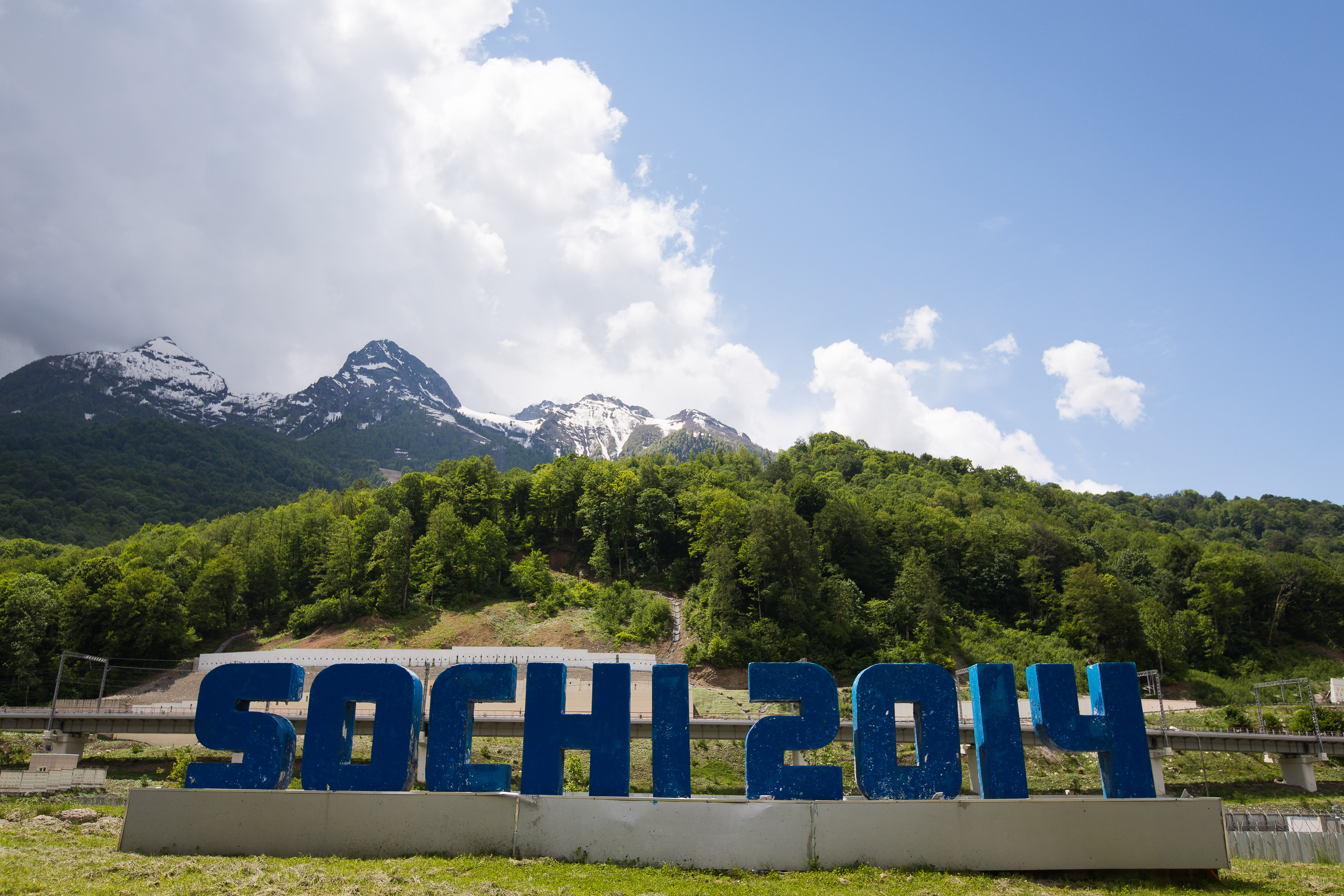 Next stop: Sochi!
Poker's weirdest locations
Besides alpine ski resorts, poker has been played in some strange locations down the years
The WSOP hits the streets
Back in 1997, WSOP organisers moved the Main Event final table outside Binion's Horseshoe and positioned it on Fremont Street in downtown Las Vegas. This was to allow crowds to gather and see if Stu Ungar could capture his third Main Event title after years of battling a drug habit. With azure-blue sunglasses resting on the tip of his cocaine-ravaged nose, Ungar went on to secure victory and become only the second player ever to record a hat-trick of titles in the big one. Beforehand, though, organisers probably questioned their choice of location as breezy conditions meant a transparent plastic protector had to be used to stop the community cards from blowing away. And temperatures nudged 100 degrees. Unsurprisingly, al fresco poker at the WSOP was knocked on the head after that.
Shark-infested waters
During the poker boom in the mid-2000s poker sites were pulling off ever-stranger marketing stunts. One brand took it to the next level by organising an underwater game of poker in 2005. Submerged 30 feet below sea level in the warm waters off St. Kitts, the likes of Phil Laak, Kenna James and Juha Helppi positioned themselves and their breathing apparatus around a poker table pinned to the seabed by anchors. Naturally, the playing cards were waterproof. In the end, it was Helppi who won, although the players were probably just glad to escape the inquisitive sea creatures and return to the surface. The event certainly brought new meaning to 'a wet board' and 'splashing the pot'.
"I think he's got air"
Poker can get the heart pounding, particularly if you're bluffing in a big pot. Well, imagine ratcheting that adrenaline 10-fold by knowing that if you bust out of the game you'll be hurled from a plane above the Las Vegas desert. That's what happened with the 'Loser's Leap Extreme Poker Challenge' in 2006 as, one-by-one, those eliminated from an airborne sit and go tournament vacated the plane at 10,000 feet, albeit with a parachute of course. The last player left sitting at the table was Nick Grudzien who, having won, decided anyway to skydive back to terra firma.