We're running a special promotion during this summer's football with streamers Ben Spragg "Spraggy", Fintan Hand "easywithaces," and Lex Veldhuis.
These guys like football very much and often discuss it on the stream with their audiences. So, we've invited them to put their money where their mouth is and we have designed a special BetStars promo for each of them, and their fans.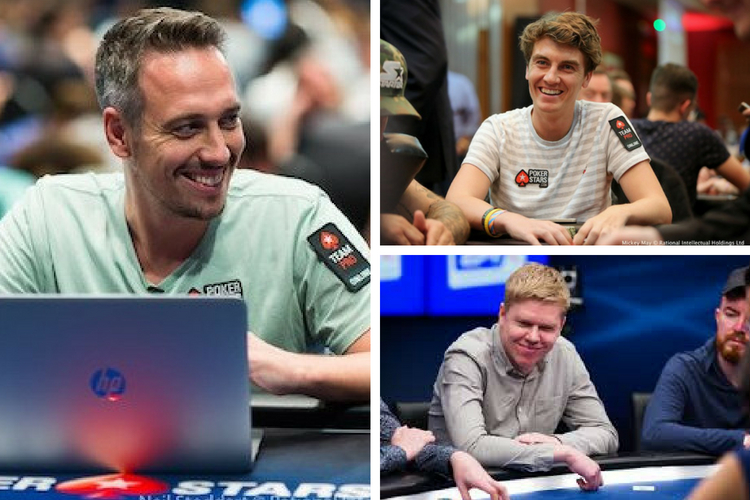 They have a mission: beat the house. And whatever they win with their bets will be added to a special restricted freeroll every week.
Now… we know they are great poker players but we are not that sure of their betting skills! So, we're guaranteeing a minimum of $2,000 on each of those weekly freerolls.
If they win more than that, then that's more money on the prize pool!
If they lose or don't win enough, then we add $2,000 to ensure a juicy freeroll anyway.
This is how it works:
They will be discussing the matches, considering different bets and strategies, and trying different approaches. They will place bets on BetStars during their regular streams.
Viewers will be able to place bets alongside them, and they will be announcing special starcodes giving access to those special freerolls for those who want to bet with them.
So, if you want to bet on the World Cup, and get access to these freerolls, make sure you do so in the company of these three guys.
And, if you participate on different days, you will win re-entry tickets for a second chance for the freeroll.
"Oh, but I don't have BetStars available in my country yet!"
We have you covered.
We want you to be able to participate on this (*), so we will have a different way for those of you who can't bet.
All you need to do is keep an eye on their streams. When you hear the special starcode either Lex, Fintan or Spraggy announces, you enter that. And if you don't have access to BetStars you will still get a special ticket to play one of the three "Match of the Day" tourneys that we'll have on the lobby.
Here's an example:
– Tourney A: Russia vs Saudi Arabia. Russia wins
– Tourney B: Russia vs Saudi Arabia. Arabia Saudi wins
– Tourney C: Russia vs Saudi Arabia. Tie
Choose wisely. Those who play the right tourney will win an entry to the Freeroll too.
And there is more!
The lads will have a special Twitch Show every Sunday, discussing events on the pitch, and their bets off it. That should add to the fun.
In the warm-up show last Sunday, Fintan Hand predicted Egypt would win the World Cup (?), Spraggy filled in his £100M predictor and gave England the victory.
We also had some special guests: goalkeeper David James, who predicted France will be one of the teams to flop, and BetStars Director of sports trading Ian Marmion who gave the guys some advice on how to choose their bets wisely.
Click the link to watch for yourself. Meanwhile you can find the Terms and Conditions below.
---
BETSTARS TWITCH CHALLENGE
1. Promotion begins 14 June – 16th of July 2018("Promotion Period").
2. Open to real money new/existing players only.
3. Players registered in the following jurisdictions are prohibited from participating – Spain, France, Italy, Portugal, New Jersey, India, and Czech Republic.
4. To play, you must enter the password either Fintan Hand, Ben Spragg and/or Lex Veldhuis. announce live on their streams and follow the instructions after.
4.1. Eligible players who have BetStars available in their countries: Minimum bet to qualify for the promotion is 5 $/€/£. Any odds and market will qualify. Free Bets are excluded.
4.2. Eligible players who doesn't have BetStars available in their countries: Tourney Buy-Ins will be $5.50
5. Freeroll will be re-entry. If you win more than one ticket you will be able to use it to re-entry.
6. Miscellaneous
6.1 You must be 18 (eighteen) years and over to take part in this Promotion.
6.2 We reserve the right to amend the terms of this Promotion as may be notified to you on our Site and/or terminate this Promotion at any time.
6.3 You must not permit or allow another person to take part in the Promotion on your behalf.
6.4 Please note that our General Promotional Terms and Conditions shall apply. In the event of any discrepancy, these Rules shall prevail.
Employees, relatives or close affiliates of employees of The Stars Group including its associated entities are not permitted to participate in the Promotion. For these purposes, the term 'relative' shall mean spouse, partner, parent, child or sibling and 'close affiliated' shall include but not be limited to mean such an employee's housemate(s).