After accepting a challenge from the Poker Gods, Arlie set about completing his first task…
By now you've probably heard the story of Arlie Shaban, who is himself following the story of Hercules.
History tells of how Hercules faced 12 Labors, set by the Gods.
Arlie's challenges meanwhile have been set by slightly different (poker) Gods. They also don't involve quite the same level of fighting and bloodshed.
But in just the same way they're full of excitement, exclamations, feats of daring, and more than one or two expletives.
---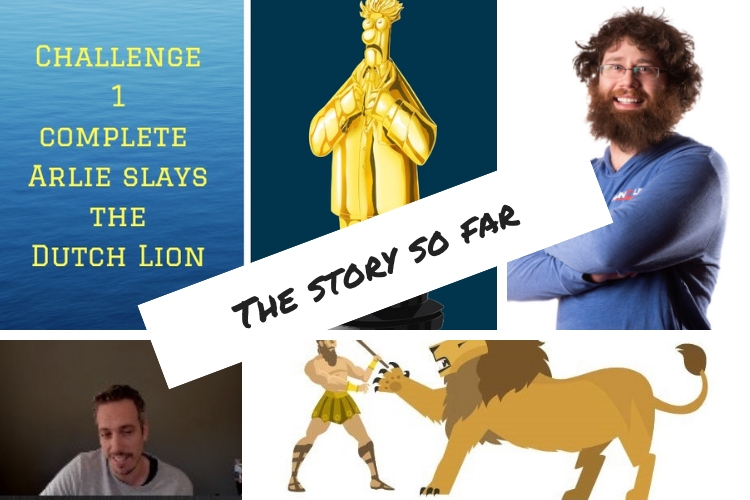 Arlie Shaban has 12 challenges to take on, set by the Poker Gods. This week: Challenge 1. Skin the Dutch Lion
---
All of which adds up to compulsive viewing. As the footage below demonstrates.
This week Arlie took on his first challenge: to Skin the Dutch Lion.
What did that mean exactly?
It's a good question, and one Arlie himself took a while to understand. But when he did the answer seemed obvious:
Defeat Team Pro Lex Veldhuis heads-up
The day came when the two players, Arlie the challenger, and Lex the Dutch Lion, would play.
Lex was waiting, passing the time playing the type of tournaments you'd expect a Dutch Lion to play if his plan was to scare the hell out of his opponent (each costing around $530).
Finally, perhaps lost looking for "Dutchland", Arlie arrived ready to play.
So, they start playing, the get chatting, talking about the challenges. They establish one thing, and one thing only: "Nobody has any idea".
First Arlie takes a two-to-one chip lead, but Lex fights back, not prepared to make life easy for Arlie.
Then he retakes the lead, leaving Arlie in pain. It's a pain you can actually hear…
That pain, which still echoes around the far reaches of the internet, soon turned to defeat. The Dutch Lion took the first match.
But even if he wasn't obliged to keep playing, Arlie was in no mood to quit.
And that was fine as far as Lex was concerned, who'd just opened a beer. It also allowed Lex and Arlie a moment to talk more about what he could expect in later challenges.
Then, finally, it all came right for Arlie.
Congratulations to Arlie. That's the first challenge complete. We'll wait and see what the next challenge will be. When we find out details of the next challenge will be posted right here on the PokerStars Blog.