Picture Damon Ferrante at 45 years old. He looks strong and younger than his doctor's notes would suggest. He feels great. He's been working out. He's fit for all of the things he wants in life as he walks into his doctor's office for some routine blood work. There is an abnormality in the results, so it's not long before he's standing in that office again with his wife. At this point in 2011, they'd been married 20 years.
Now picture that man collapsing to the floor, overcome with grief and the reality of what they doctor told him.
"I dropped to my knees in the doctor's office," Ferrante said. "I was given a death sentence."
LIFE INTERRUPTED
The diagnosis was harder to accept than it was to pronounce: Chronic Lymphocytic Leukemia. Put another way: it was blood cancer, and the prognosis was grim. There was no cure.
"They're saying four to seven years tops," Ferrante said. "I broke down. I didn't know how to handle that. I didn't know where I was going from there."
There is no easy way to understand what a man thinks when he's told he's going to die long before he gets to do everything he wants to do. There is no understanding what will trigger a breakdown. It could be anything. A look from across the room. A commercial on television. Even trying to say the name of your own disease. They're all lightning bolts charged with overwhelming grief.
"I was thinking about my two children, my wife, my marriage, my family, my business and how I could lose everything. It was so scary to me. That day my life changed forever," Ferrante said. "I'll see a couple holding hands and walking down the beach, and I want that so bad for us forever."
For Ferrante, life became a job of accepting that his forever was suddenly not nearly as long as he thought it would be.
SHELTER FROM THE STORM
Grief respects very little about a man and his ways. It will appear at any moment uninvited and overstay its welcome every time. Ferrante fought it and fought it, but eventually he realized his only reliable weapon was distraction. Ferrante chose poker.
At the table, he didn't worry about his blood counts or obsess over a loss he'd not yet fully suffered. Instead, he found himself playing cards, laughing with new and old friends, and able to fully ignore the Google results of yet another search of online medical doom. He didn't think about his cancer, his blood, or anything, save one important consideration.
"The only thing you think about at the time is your hands," he said.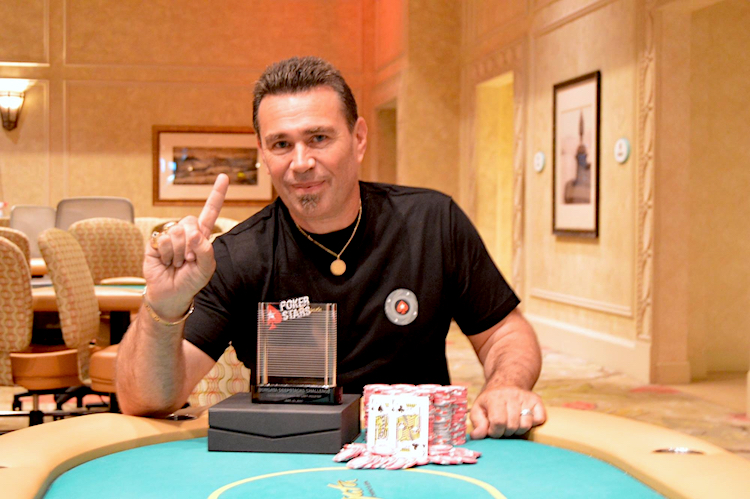 Ferrante after winning an event at the Borgata
By and by, poker became therapy and therapy turned to talent. Five years passed during which time Ferrante adopted a vegan diet and learned that his disease was bad but didn't mean imminent death. He read about people lasting 20-30 years with the same cancer he had. His blood work began to improve, and his cancer reached a manageable stage. Nevertheless, he still needed poker to fend off those dark thoughts that would jump on him out of the blue.
"There's times I still get those thoughts through my head," he said.
And so he found a way to be young again.
50-YEAR-OLD PUNK
Everybody knows about the kid who shows up at the poker table the day after his 21st birthday and owns the game. That kid is frustrating for the older folks. As Ferrante turned 50, it occurred to him that he could actually be that young punk…in a senior's event.
The day after he hit his golden birthday, Ferrante went to a PokerStars Live event as the youngest in the room.
"I wanted to be the 21 year old punk at the table," he said.
He took fourth place and suddenly found himself wanting to do something important with some of the money he won. As it happened, the next event was a charity tournament in honor of the late Team PokerStars Pro Chad Brown who had recently died of cancer.
Ferrante bought in and found himself next to one of the tournament organizers, across from Andre Akkari, and among people who brought him pure joy. It was a night everyone there remembers as one of the most fun they'd had. Ferrante even managed to win two tickets to his wife's favorite band.
It was that chance meeting that turned the next few years of his life into a dream. PokerStars asked him if he would start representing the company at charity events. Before long, Ferrante was playing charity tournaments and other events, cashing all over the place, and giving lots of what he won to charity. It amounted to tens of thousands of dollars in philanthropy.
His efforts made everyone take notice, and earlier this week, PokerStars sent Chris Moneymaker to chat with Ferrante via Skype. It was a ruse, one in which PokerStars had Moneymaker was supposed to interview Ferrante about his efforts and thank him for all his hard work and altruism. What Ferrante didn't know was that the PokerStars staff had been given an opportunity internally to nominate someone deserving of the chance of a lifetime.
So, that conversation became something else. And the next thing everyone knew, Ferrante was crying again. You can see what happened in the video below.
Later Ferrante joked that he should've said something clever about his tears. Something like, "I'm crying because I only have two weeks to get into a beach body!"
That's because Moneymaker had just told him that he had been chosen by PokerStars to receive a Platinum Pass–a $25,000 entry to the PokerStars Players No-Limit Hold'em Championship and a free trip to the Bahamas–in return for his efforts over the last several years.
"I welled up a little bit. There's no way I could take that news. That was an unbelievable surprise for me," he said.
The tears were more than his ample gratitude. They were also for what he recognizes as an opportunity to continue giving to charity…and this time, that giving could be huge. The PSPC will turn out several new millionaires.
"Honestly, it just touched my heart to where I teared up instantly because I have a chance to help so many people if things go my way," he said.
This is, in his heart–and hence, yes, in his blood stream–who Damon Ferrante is. Yes, it's a dream to play at such a high level for millions of dollars. Yes, it's about an emotional return on his investment in others. Yes, it's about everything only he can understand and we can't. But more than anything, his joy and his tears are evidence of something so pure and true that anyone can appreciate Ferrante's emotion: it's the fact that Ferrante is still alive and grateful for it.
"I usually have a smile on my face, and it's because I have another day to live. I don't take anything for granted," he said.
---
Ferrante will join hundreds of other hopefuls in the Bahamas on January 6 for the PSPC. You'll find full coverage of Ferrante's journey and the entire event right here on the PokerStars Blog.