"I have never won anything like this."
Jennifer Carter hails from Toronto, Canada, where she lives with her husband and two daughters, ages 10 and 14. When she isn't busy with her family she knits and plays a lot of poker, both in a small weekly game with regulars and for micro-stakes on PokerStars to practice and learn new games.
Carter describes her family as "very supportive of me playing — or should I say tolerant of me playing all the time?" Maybe even more supportive after all her time at the tables last month earned Carter a Platinum Pass freeroll ticket in her Stars Rewards chest. She played the entirety of the tournament on her mobile, from the first hand dealt until she won the whole thing and booked her ticket to the Bahamas.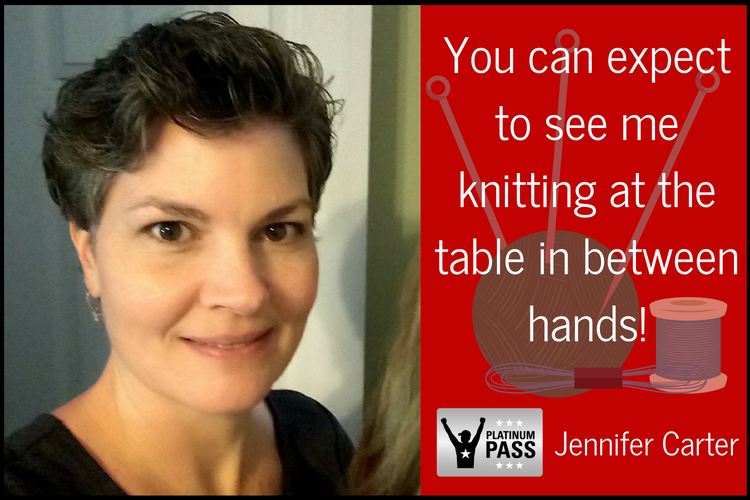 Jennifer Carter, Platinum Pass winner
"I was not expecting to go deep," she said. "I was taking care of my two kids and knitting while playing (and two-tabling with the new UNFOLD game early on). I was just hoping to make the money, but then I kept laddering up. And then made the final table. I still didn't think I would take it down, but I am thrilled!"
Carter, who says her biggest live win to date was an iPad in a charity tournament, calls the chance to play in the PSPC next January a "life-changer." That's a term that gets thrown around a lot regarding the PSPC, and usually it means "the chance to play for millions of dollars." For Carter, though, it's the entire opportunity.
She and her family have always lived simply and haven't traveled for vacation in years. After recently losing her job, she's been reassessing her career goals while working part-time at her local yarn store. ("I absolutely love it," she says. "Knitting and poker are my two favorite pastimes.")
Carter has always dreamed about attending the PCA and playing against the pros. Now, thanks to a win in a freeroll, she gets to travel to the Bahamas and play in the biggest $25,000 tournament ever held. And just like at home, she's planning on combining her two favorite hobbies. "You can expect to see me knitting at the table in between hands!"
While she'll probably do some studying before January to prepare for the tournament, Carter says she also wants to have fun and take in the experience. After all, this is her vacation.