If you caught any of the 2014 FIFA World Cup, or tuned in to watch the action from the 2016 Summer Olympic Games in Rio, you'll know how passionate Brazilians are about sport.
Their athletes are national heroes; people who in many cases have overcome economic adversity and overwhelming odds to achieve success on a global scale. Football in particular is emphatically embraced by the entire nation, with both local and national teams supported with a pride and enthusiasm that has to be seen to be believed.
Whether it's in the middle of a dense favela, on the streets and parks of Sao Paulo, or on the sandy beaches of Rio de Janeiro, Brazilian children are practicing to be their like heroes. After all, these kids are not only the next generation of fans, but the next generation of players, too.
Football doesn't get much bigger, or more important, than it is in Brazil. And right now, Brazilian heroes don't come much bigger than Neymar Jr.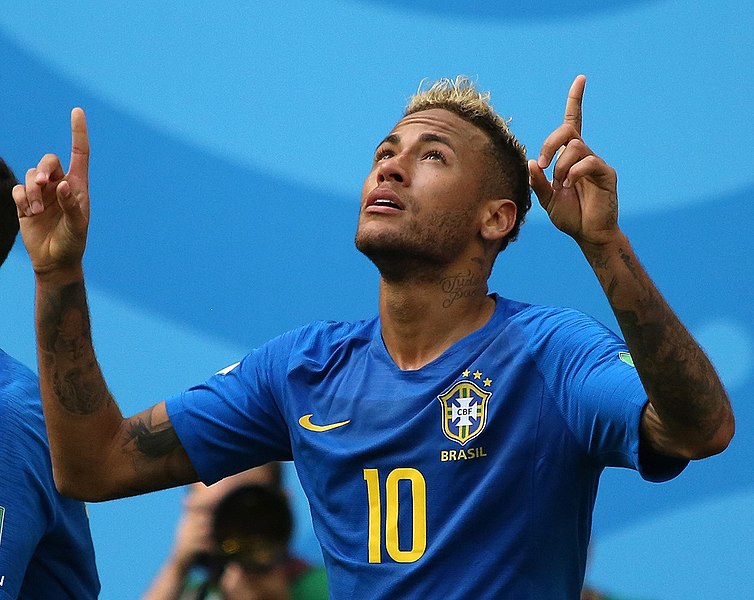 Neymar Jr. (photo by soccer.ru)
---
Poker Passion
And you know what? Our beloved game of poker is pretty darn popular in Brazil too. Seeing the support for the likes of PokerStars Team Pro Andre Akkari when he reached the EPT Barcelona Main Event final table last year, or when Bruno 'Foster' Politano made the November Nine of the World Series of Poker Main Event back in 2014, was akin to the support seen at the World Cup or the Olympics.
Football and poker make an interesting combination. So what happens when the biggest superstar in Brazilian football heads to the capital city of Brazil to play in the Brazilian Series of Poker? Luckily for us, we don't have to only imagine.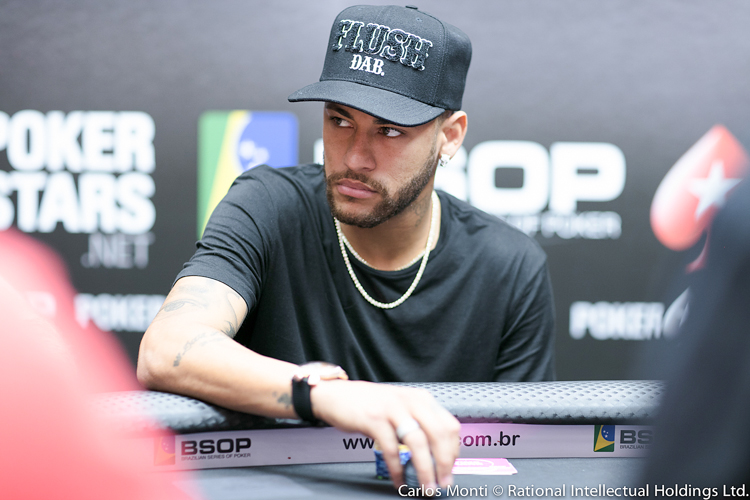 Neymar Jr. at the BSOP: From free kicks to free turn cards
Neymar Jr., the Paris Saint-Germain forward and Brazilian football icon, showed up at the BSOP in Sao Paulo yesterday like hundreds of others, and plonked down R$7,000 ($1,850) to take part in the High Roller tournament. Not only that, he brought five of his best friends with him.
When play ended some 12 hours later, there were just 19 of the 288 total entries remaining. And while the superstar's friends (Gui Pitta, Gil Ferreira, Raphael Costa, Gustavo Almeida, and Chris Guedes) all busted during the course of the day, Neymar Jr. not only survived…but thrived.
He'll return today fourth in chips, having turned his 60,000 starting stack into 1,391,000. Amazingly, Neymar Jr. did it all whilst playing on the live-streamed feature table.
He's already in the money, as the bubble burst at 39 players. The eventual winner will receive R$341,050 ($90,000), and with a prize pool of R$1,701,000 this event was the biggest BSOP High Roller of all time outside of the BSOP Millions.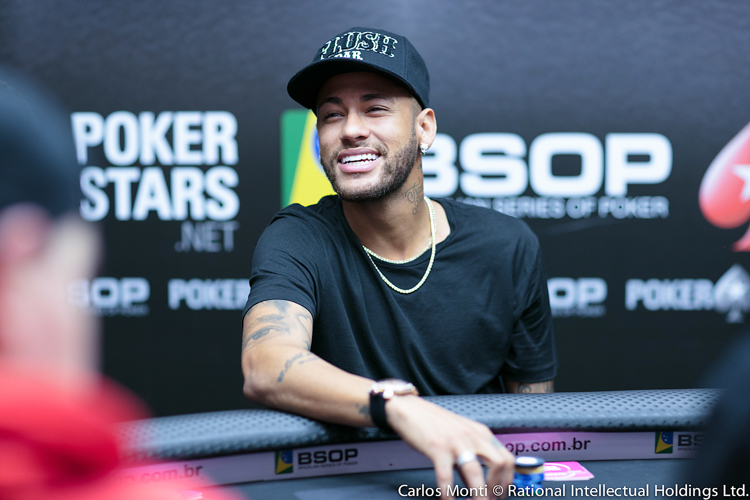 All smiles at the BSOP
"Neymar Jr.'s mood during the day was awesome!" our colleague Sérgio Prado told us, on hand to report all the BSOP action. "He played very focused and made some great plays, but he was also interacting with the other players at the table and laughing a lot. He left the table a few times, mainly to look for André Akkari, to share his plays and get some advice."
One such play saw Neymar Jr. eliminate Gilberto Amaral, rivering a full house and beating Amaral's straight to get it all.
---
Playing in a different arena
If there was ever any doubt what Neymar Jr.'s second favourite game is, then surely both his presence and his performance at this BSOP puts the debate to rest. After all, he's clearly been working hard on his poker game since making his debut at EPT12 Barcelona in 2015.
Yep, this is by no means Neymar Jr.'s first time at the felt. He joined his then-teammate at FC Barcelona and fellow passionate poker enthusiast Gerard Piqué to play the €25,000 High Roller back then, before making a successful trip to the 2016 WSOP (read about that here).
And Neymar Jr. isn't even the only footballer getting in the mix at the BSOP this week. Manchester City and Brazilian national striker Gabriel Jesus was also at the felt, entering a R$1,500 NLHE six-max event. Alas for Jesus, he busted on Day 1.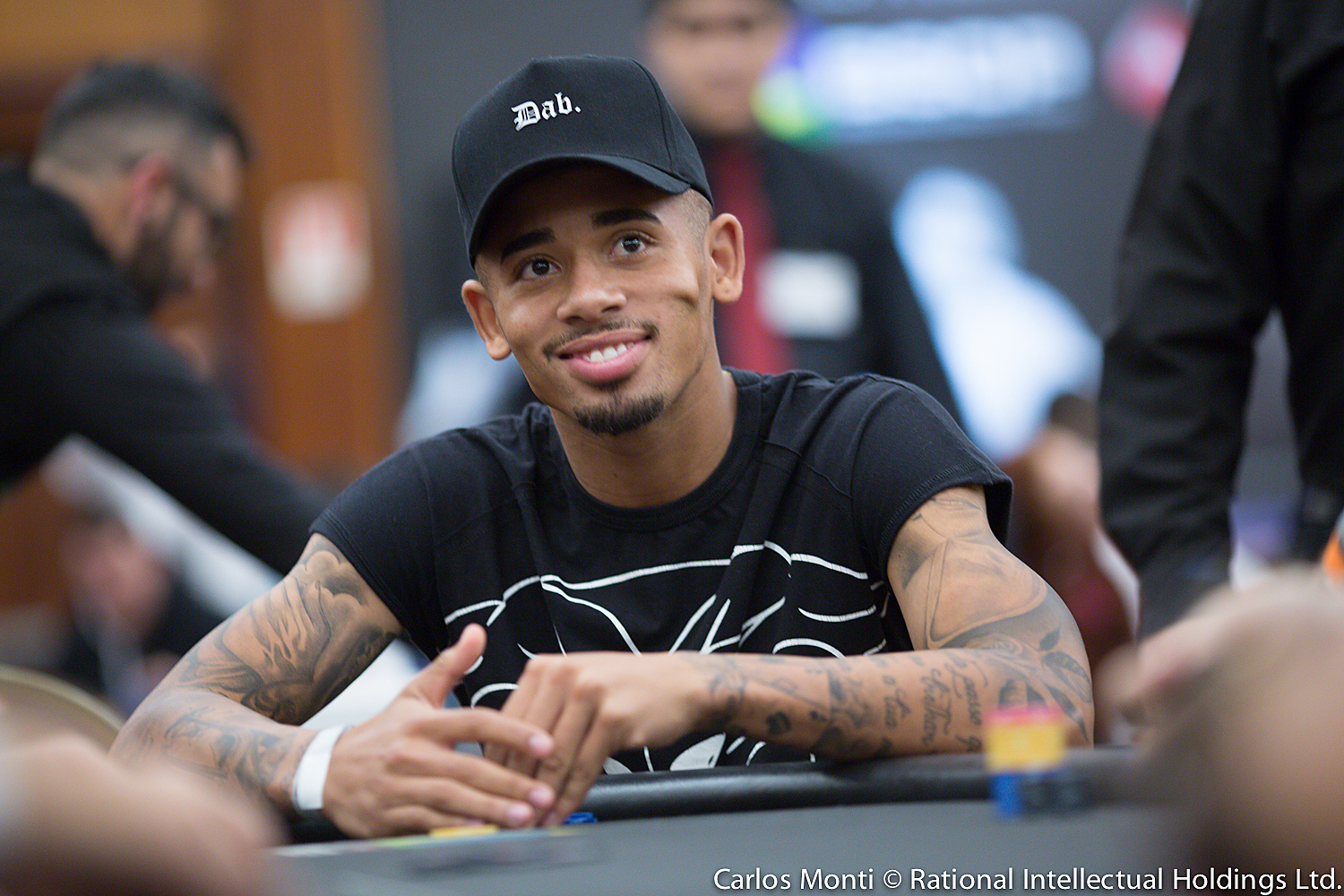 Brazil and Man City's Gabriel Jesus in action yesterday
While Neymar Jr. grinding the High Roller, another of his good friends, Jo Amancio, entered the Celebrity Invitational and finished in second place. He lost to digital influencer Bruna Unzueta (1.5 million Instagram followers, if you don't believe us), but received a PokerStars Players bag jammed full of gifts, plus a BSOP Last Chance buy-in.
Congratulations to Amancio for that result, but let's get back to Neymar Jr. and the task at hand.
Can he kick it? Can Neymar Jr. take down the BSOP High Roller?
---
How things stand
Neymar Jr. will have stiff competition tomorrow, most notably from the current chip leader. Two-time LAPT champion Oscar Alache from Chile bagged up 1.9 million, and with experience on his side looks set for a good finish.
On the other end of the chip counts, the reigning BSOP Player of the Year Affif Prado is also still alive. He's the shortest stack with 382,000.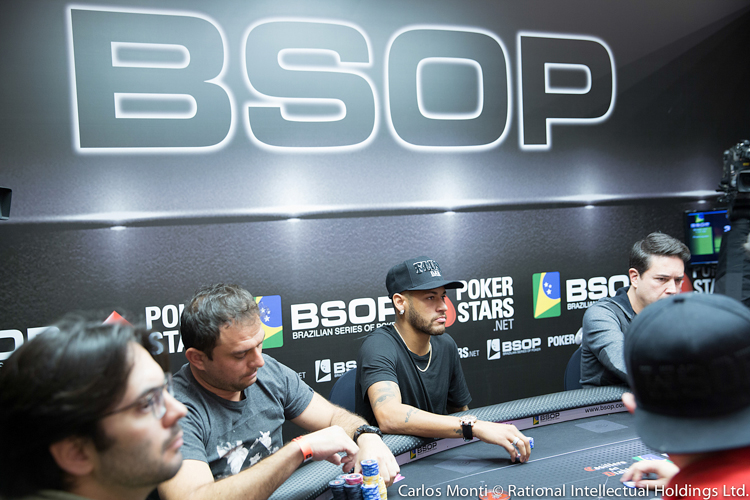 Not gonna be easy for Neymar Jr.
BSOP High Roller Day 2 chip counts:
| PLACE | Player | COUNTRY | Stack |
| --- | --- | --- | --- |
| 1 | Oscar Alache | Chile | 1,900,000 |
| 2 | Daniel Croce | Brazil | 1,543,000 |
| 3 | Alejandra Lopez | Uruguay | 1.412.000 |
| 4 | Neymar Jr. | Brazil | 1,391,000 |
| 5 | Bruno Marino | Brazil | 1,370,000 |
| 6 | Wender Cezar | Brazil | 1,144,000 |
| 7 | Nicolas Tito | Uruguay | 1,130,000 |
| 8 | Vinícius Pinheiro | Brazil | 1,069,000 |
| 9 | Alexandre Rivero | Brazil | 810,000 |
| 10 | Brunno Botteon | Brazil | 787,000 |
| 11 | Lucas Tabarin | Brazil | 705,000 |
| 12 | Adalberto Elias | Brazil | 634,000 |
| 13 | João Paulo Lopes | Brazil | 614,000 |
| 14 | Eyal Benshimon | France | 605,000 |
| 15 | Vitor Santiago | Brazil | 533,000 |
| 16 | Leonardo de Melo Vieira | Brazil | 482,000 |
| 17 | Thiago Rachadel | Brazil | 470,000 |
| 18 | About Me | Brazil | 449,000 |
| 19 | Affif Prado | Brazil | 382,000 |
When actions resumes at 2pm local time, the blinds will be at 12,000/24,000 with a 24,000 big-blind ante. It's sure to be an amazing atmosphere at the BSOP, because you know how passionate Brazilians are about poker.
---
Photos by Carlos Monti.
---
Opening a PokerStars account is easy. Click here to get an account in minutes.
---