The comedy western A Big Hand for the Little Lady opens with a scene which I like to think sums up a poker player's urge to play cards.
In the film (which features an all-star cast of Henry Fonda, Joanne Woodward, Jason Robards, and Burgess Meredith) the "five richest men in the territory" are seen leaving their jobs, their homes, even, in the case of Drummond (Robards) his daughter's wedding day ("they're holding up the "love, honor and obey" part until I get back."), to gallop at high speed into town, where their once a year high stakes poker game is about to start.
While I don't recommend leaving weddings, jobs, or anything like that, I still like to think it's something like that which sums up the days leading up to this weekend, and the anniversaries of both the Sunday Million and Sunday Storms.
And there's good reason to saddle up your virtual horse, kiss the kids goodbye, and camp out in the PokerStars tournament lobby. Actually, there are millions of reasons.
This weekend both events celebrate anniversaries, with the Storm turning seven and the Sunday Million 12. To celebrate, PokerStars is putting up the kinds of guarantees that even a daughter, abandoned by her father on her wedding day, would understand (okay, wait, we don't really think this, we're just trying to make it clear how big these guarantees are).
Here are the details:
Sunday Storm: $1,000,000 guarantee with a minimum $100,000 for first place.
Sunday Million: $10,000,000 guarantee with a minimum $1,000,000 for first place.
But unlike in the film, this isn't the exclusive domain of the high rollers. The PokerStars lobby, and the tournaments within, are open to anyone.
So, while you can buy-in directly to both events ($11 for the Sunday Storm and $215 for the Sunday Million) there is also a full schedule of satellite tournaments, presenting players with the opportunity to win their seat to each for just a few dollars or cents. You can find more details on the Anniversary homepage.
There are even more ways to win your seat.
You can play any one of our special Spin & Go's, which take a few minutes to play and which could send you straight into the Sunday Million.
And as this is a celebration, we're offering more big prizes.
If you cash in both the Sunday Storm and the Sunday Million, you'll win entry into a special freeroll to win a Platinum Pass to the PokerStars Players Championship in the Bahamas next January.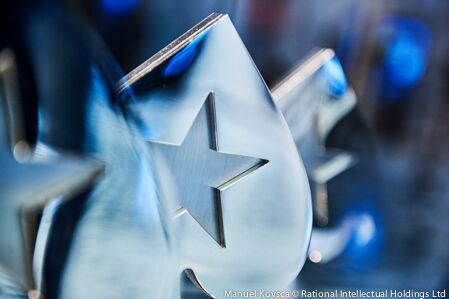 The freeroll will start shortly after both tournaments reach the money, awarding Platinum Passes worth $30,000+ to the top two players. The next 50 finishers after them will receive $11 Sunday Storm tickets.
All of which makes this weekend one worth getting on your horse for. Your friends will understand.
One last side note.
The film features what I believe is the earliest example of a tournament reporter, in the character of Sam Rhine, the laconic saloon keeper, played by James Kinney. Sam, busy preparing refreshments (and fresh poker chips) for the players, is bugged constantly by the drunkards in the saloon.
Naturally, they want to know who is winning, but Sam's not telling. At least not until the Doc (Meredith) steps forward.
"Sam…"
"Huh?"
"Who's winning?"
"Drummond's winning…"
And so, the seeds of an entire industry (and our careers) were sown. Thanks Sam.
In that spirit, we'll be reporting on the events of the weekend. You can read the full report on Monday, as well as a round-up of the results.
For everything else before that check out the Anniversary homepage. And while you're at it, remind yourself of why you might want to go after that Platinum Pass.
Watch the film too, it's a classic.