It started as the next project for the author of two best-selling books. It quickly turned into the best poker story for some time.
Maria Konnikova was just your ordinary psychologist and New Yorker writer when she began turning up at PokerStars events about 12 months ago.
The story was that she was researching a book, one that examined the role luck plays in life. Poker, it seemed, was a good place to start.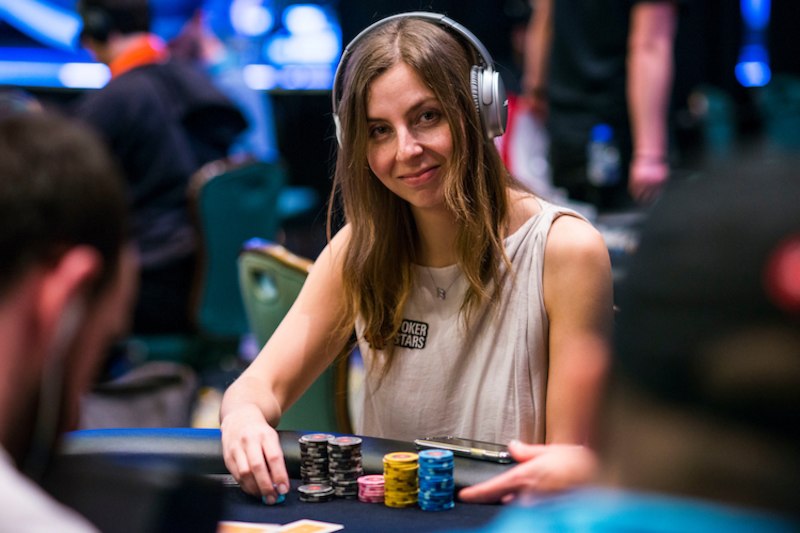 Maria Konnikova becomes PokerStars' newest ambassador
And so, inspired by game theory, and some coaching from 30-year veteran Eric Seidel, she set out to spend a year paying her own way on the live poker circuit. All without knowing anything about poker. And that did mean nothing. Including how many cards were in the deck.
A little more than a year later, and with more than $200,000 in tournament winnings to her name, Maria's story is one of the best known in the game, and beyond. And that's without a single page of her book being published yet.
And it's why we're happy to announce Maria Konnikova has become our newest PokerStars Ambassador.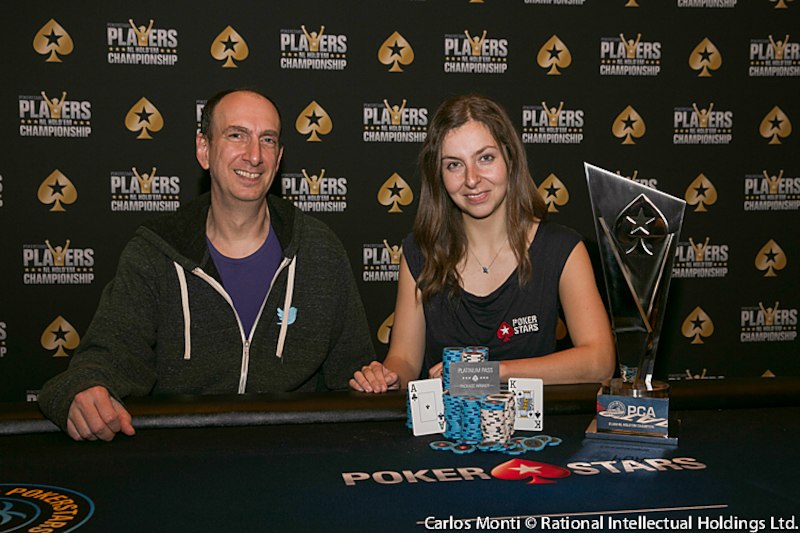 Konnikova at the PCA last January with her coach Erik Seidel
"I'm so excited to officially be joining PokerStars," said Konnikova. "I've worked really hard at learning the game but I never thought this would happen – it's been an incredible experience. I'm very lucky to be offered this opportunity and I can't wait to see what my future holds with PokerStars."
(Scroll down to read more from Maria on her incredible year in poker so far)
Lots of people set about learning the game. Few have the same success over such a short time.
For Konnikova that meant numerous cash finishes in places like Las Vegas, Monte Carlo and Macau.
That culminated with her topping a field of 290 players in the PCA National Championship back in January.
It was a win worth $84,600, and a Platinum Pass (worth $30,000) to the PokerStars Players No Limit Hold'em Championship in the Bahamas in January.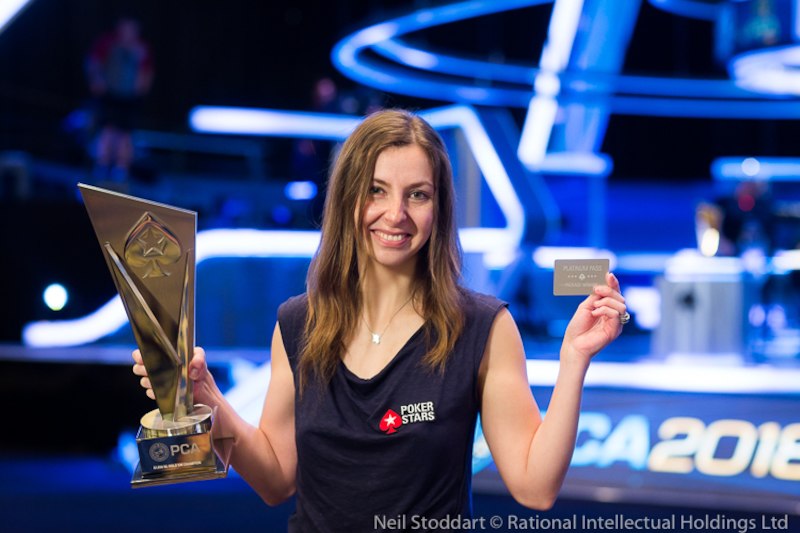 Konnikova became the first woman to win a Platinum Pass
That made Maria the first woman with win a Platinum Pass. It also created a story that is still being talked about, and written about, around the world.
Which is the kind of news that can put the publication of a book back a bit. But with a new deadline, and a new role, it should make for an even better ending.
'The Biggest Bluff' will chart her poker journey and examine the applications of poker skills in the real world. The new date for publication is late 2019, which allows time for Konnikova to play the PokerStars Players Championship in the Bahamas next January (presumably win it) and record her experiences.
Eric Hollreiser, Vice President of Corporate Communications at The Stars Group, said: "I first met Maria in early 2017. It only took a few minutes to realise that she had caught the poker bug and was genuinely a student of the game. But it was when Maria told me that her working thesis is that Poker is a metaphor for life, that I told her on the spot that we would support her project in any way we can.
"I didn't know – or frankly care – whether she would become a good enough player to turn pro. I knew from her past literary work that she'd be able to distil the essence of poker into life lessons in ways that would resonate with people. That was good enough for me.
"The fact that she's now a competitive professional player is a testament to Maria and her work ethic. And it will also make her story even more compelling."
Maria spoke to PokerStars about joining the team, and about what has been an unforgettable year.
About joining Team Pro
"I'm incredibly excited to be joining the PokerStars team. It's been wonderful to be an unofficial ambassador with PokerStars for this past year, and I feel it's a tremendous honour to be joining the team officially now.
"I never could have imagined poker becoming as big a part of my life as it has, and joining PokerStars as an official ambassador offers me an incredible opportunity to take my game to the next level and to represent a brand that I've come to admire greatly. It certainly doesn't hurt that the people I have the pleasure of working with at PokerStars are some of the nicest, smartest, and most fun I know.
"I'm thrilled to have the opportunity to share my passion for poker with the world and, hopefully, bring many new players into the game."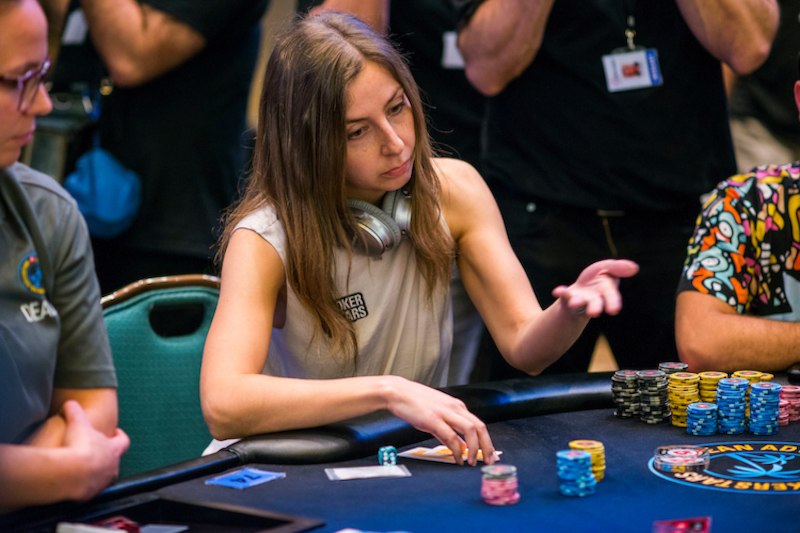 Konnikova: "It's been wonderful to be an unofficial ambassador with PokerStars for this past year, and I feel it's a tremendous honour to be joining the team officially now."
On the last 12 months playing poker
"I don't think it was possible to predict that I'd actually end up doing as well as I have. I still can't quite believe it, to be honest! I keep thinking it's some terrible mistake and that someone will tap me on the shoulder and say, "ok, the fun's up!"
"But it has inspired me to work even harder, to prove to myself that I can keep doing this and keep improving. I'm going to do everything I possibly can this year to raise my game to the highest level I possibly can.
"Today when I sit down to play, I feel like a completely different person than I was a year ago–not just a different player, a different everything. The way I'm thinking about life has evolved along with my thinking about the game.
"I'm excited about the new opportunities open to me, and eager to make the most of them. I've been tremendously fortunate — and I'll play my absolute best."
On what she credits with her success so far
"I think it's a combination of factors. First, I've completely immersed myself in poker. When I'm not playing, I'm studying–8, 9 hours a day. It's an incredibly intense regime, but one that I determined was necessary if I had any shot of ramping up and improving in a short period of time. So, hard work is definitely a huge part of it.
"That, and the fact that I do have a different background from most players, in psychology and writing; I've tried to leverage that to poker to gain an edge at the table in situations where I don't necessarily have the same level of experience as everyone else.
"And obviously, I've been lucky. You can't discount that! I've been lucky in having access to some of the best poker minds in the world to help me–and I've been lucky at key times in a few important tournaments, enabling me to do well."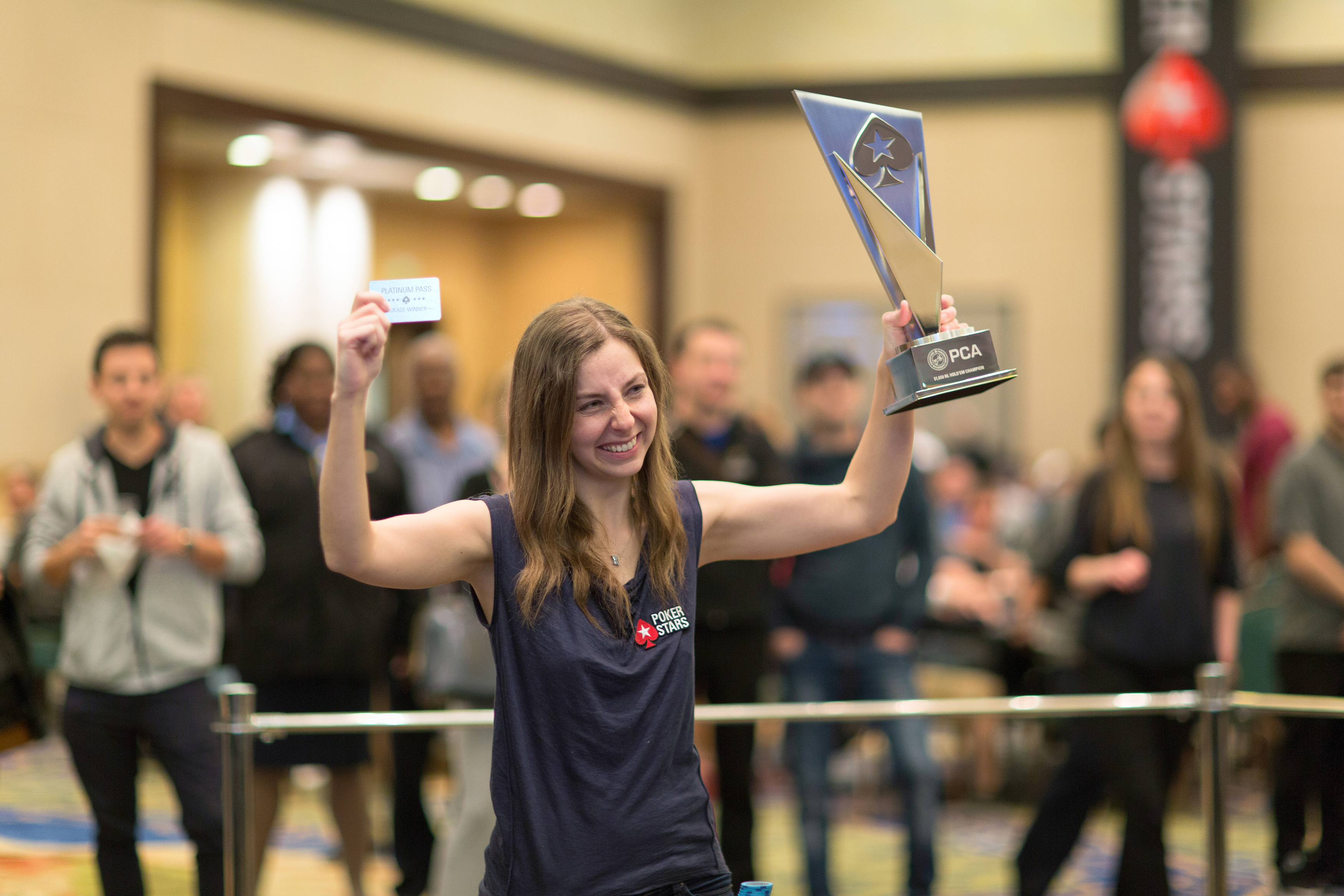 Konnikova: "I've been lucky in having access to some of the best poker minds in the world to help me."
On the importance of skill (over luck)
"I think it's far more skill than luck. Skill is essential. You will be destroyed without it in the long-term, even if you manage to survive for a bit. Luck, of course, is also a part of the equation: you have to be good and play well, but you also have to get lucky."
You can follow Maria's progress on the PokerStars blog, and find more about her here.