Poker players keep a lot of things close by when they're at the tables. A smartphone, of course. Oh, and a charger, can't forget that. But today Albert Daher had a couple of unexpected items: a white chihuahua, and a pair of expensive-looking high-heeled shoes.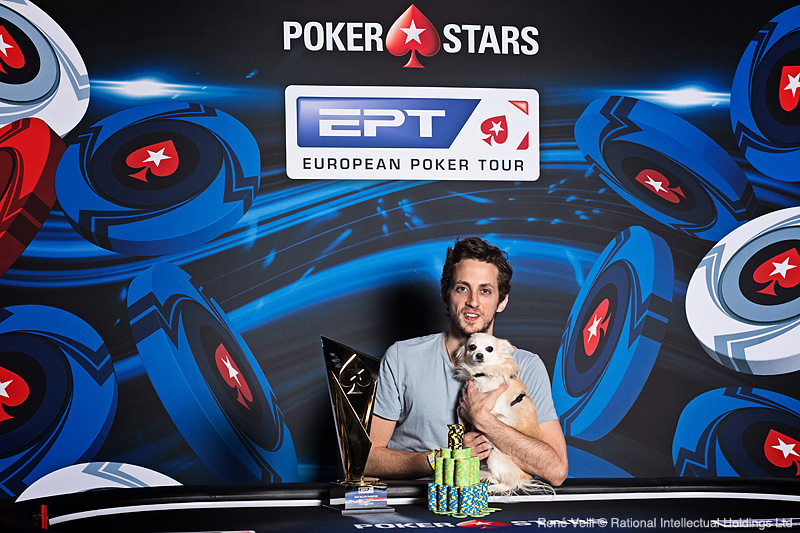 Every dog has its day…today was Daher's (and Siba's)
While Daher's chihuahua Siba seemed to be giving him coaching at the table, the shoes actually belonged to his girlfriend Aylar, who was on the rail for the entirety of this €25K High Roller. At one point Daher tried to return the shoes to her, but she refused them.
"She was too lazy to carry her shoes around so she had them under my chair," Daher told us after his victory for €595,386. "I guess they gave me luck. I went to give them back to her and she said no, keep them, they're good luck for you."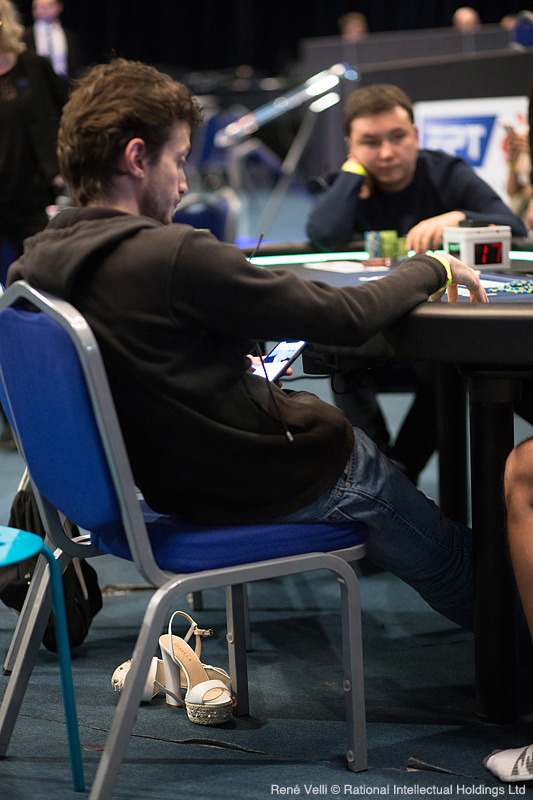 It must be the shoes
They certainly were, as for minutes after that exchange Daher eliminated two players to bring this final table three-handed. The final three (Daher, Shyngis Satubayev, and Mark Teltscher), did an ICM chop, giving Daher the lion's share, and decided to end the tournament there and then.
Daher was champion, with a little help from Siba and some shoes. It wasn't easy though; at one point he was the shortest stack with just seven big blinds.
"It was always like this all my life, always kind of swingy," he told us. "I guess I'm kind of used to it, being a short stack to being a big stack. In the end I managed to be a big stack, so that's good." If you want to read blow-by-blow coverage of Daher's swingy final table victory, you can, right here.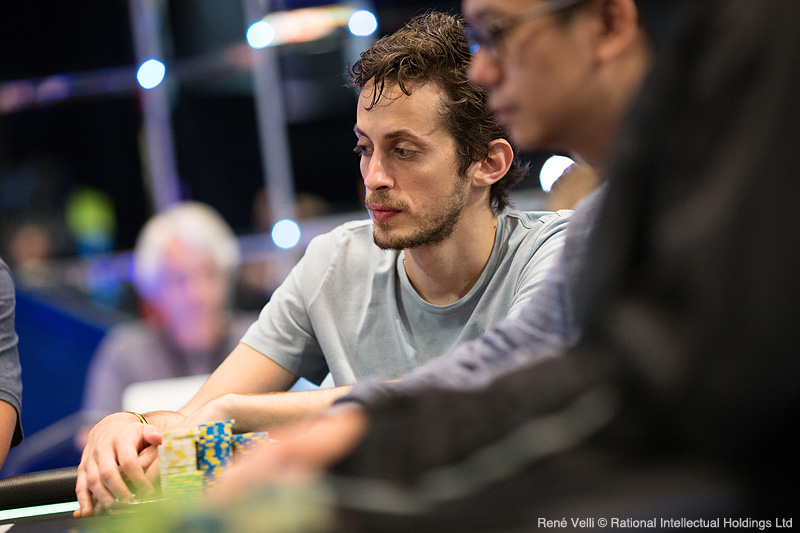 Daher in full swing
But let's rewind and bring you up to speed. This event got 119 total entries, 28 of which were re-entries. That created a €2,828,035 prize pool which would be split between the final 17 players. So spare a thought for Ryan Riess who ended up being bubble boy. He jammed over the top of a Fady Kamar raise with A♦Q♥, only to discover that Kamar had opened with A♥K♥. Already dominated, Riess watched Kamar make quad kings.
When we got down to the final eight players late last night, Oleksii Khoroshenin had bagged an enormous chip lead following a dominating day. Here's how they stacked up:
| Name | Country | Chips | BBs |
| --- | --- | --- | --- |
| Oleksii Khoroshenin | Ukraine | 1,848,000 | 92 |
| Joao Vieira | Portugal | 907,000 | 45 |
| Mark Teltscher | UK | 895,000 | 45 |
| Albert Daher | Lebanon | 744,000 | 37 |
| Yan Shing Tsang | Hong Kong | 431,000 | 22 |
| Julian Thomas | Germany | 421,000 | 21 |
| Shyngis Satubayev | Kazakhstan | 390,000 | 20 |
| Wouter Beumers | Netherlands | 315,000 | 16 |
It would be end-of-Day 1 chip leader Wouter Beumers who would be the first to leave when they returned for the final table. His A♦9♠ couldn't hold against Satubayev's K♠Q♦, and Beumers recieved €94,500 in what is only the Dutchman's fourth ever live cash.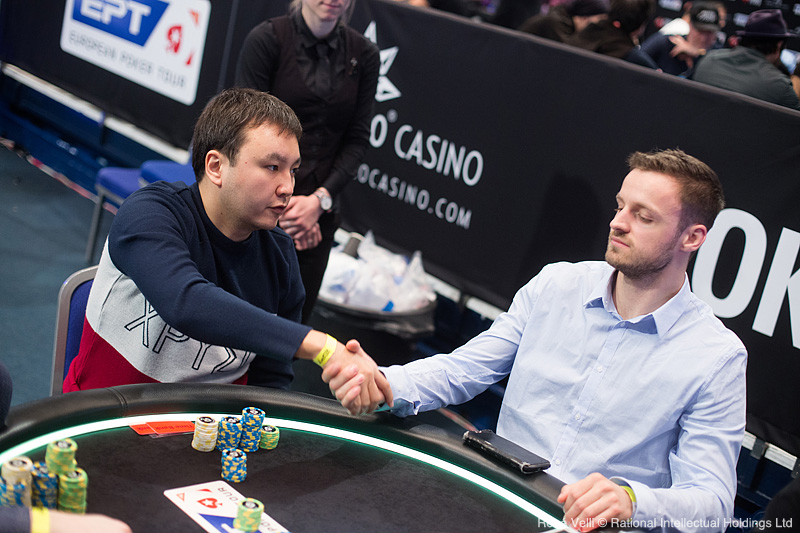 Beumers says his goodbyes
It would be more than an hour later before we would lose another player, Yan Shing Tsang in seventh (€126,000). He got his money in very good, holding Q♠Q♥ against Satubayev's A♦7♦. Alas for Tsang, the board ran out A♠4♦K♠8♣J♣, pairing Satubayev's ace and sending Tsang out the door.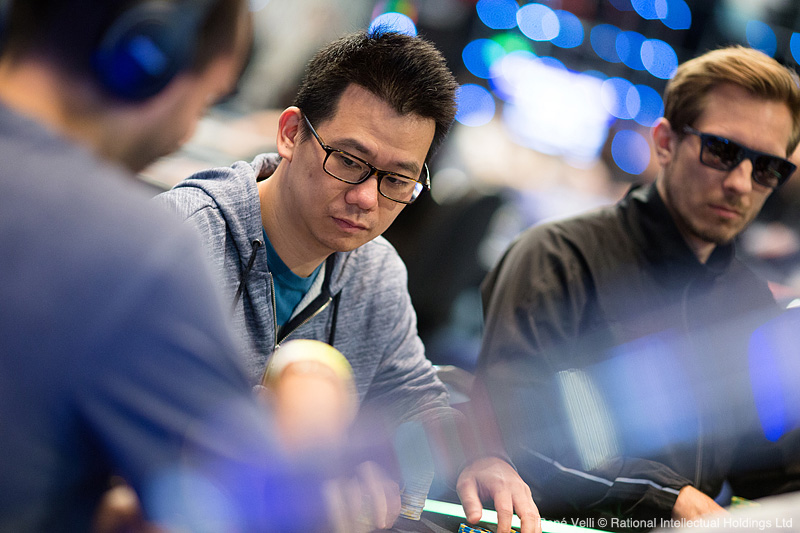 Tsang Tsout
Down to six, Daher picked up the aforementioned high-heeled shoes that had been sitting under his chair and walked over to return them to their rightful owner: his girlfriend Aylar. But she didn't want them.
"They're bringing you luck!" Aylar told him. "You've never had so much luck on a final table!"
"Maybe you're right," said Daher, who returned to his seat, alongside Siba, shoes in hand. "If I win I'm going to wear them in the winner's photo!" – a promise he sadly didn't keep.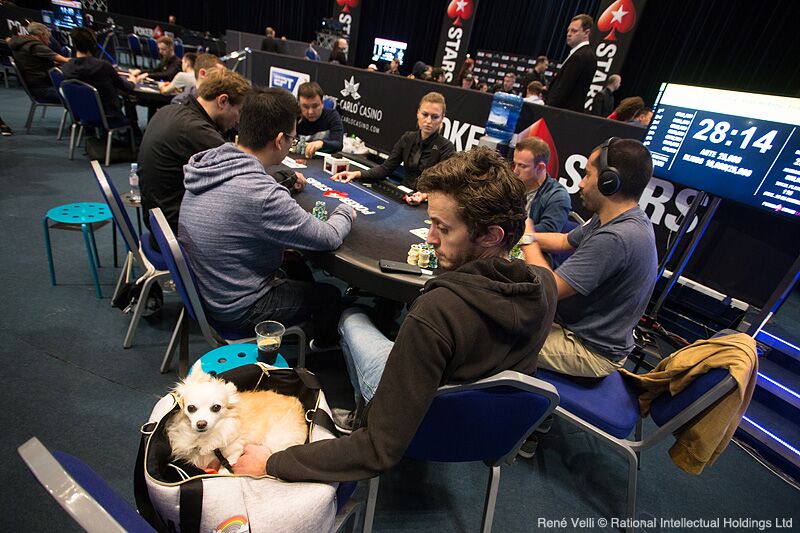 Albert Daher and his coach, Siba
It proved to be one of the many good decisions that Daher made throughout this final table. He doubled up just a minute later when his flopped two pair was called by Mark Teltscher's top pair. The two essentially swapped stacks, and Daher inherited the chip lead.
At this point Julian Thomas was down to just eight big blinds, and sitting in the big he called a small-blind shove from Daher holding pocket jacks to Daher's queen-jack suited. A queen hit the flop, and that was all she wrote for Thomas, who collected €164,535 for sixth.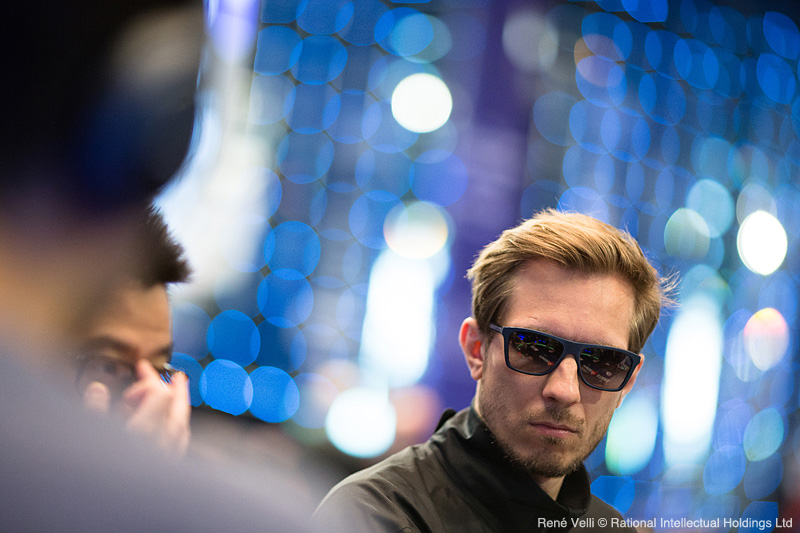 Cooler ends Thomas
Cue some maniacal busting from there. Within the space of a few minutes we lost two more players.
Joao Vieira four-bet jammed over Daher's raise with pocket jacks, but Daher had pocket queens which held up. A nice run for Vieira came to an end in fifth, good for €208,700.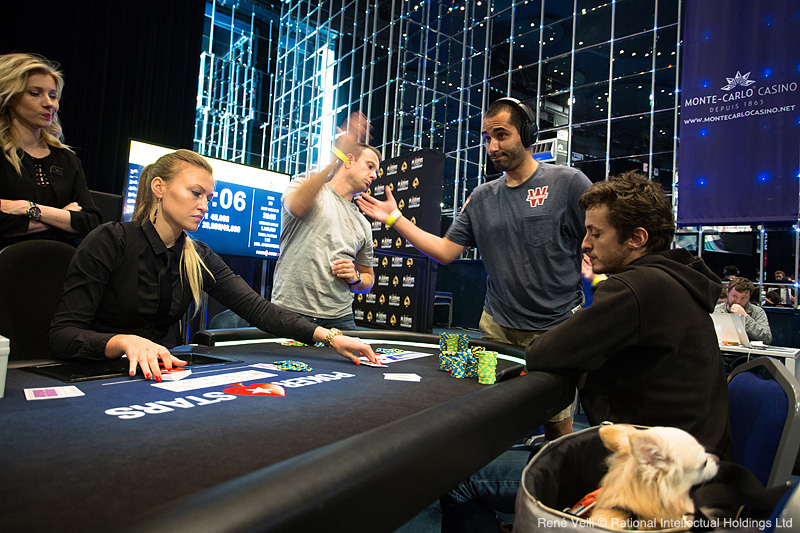 Vieira departs
And seconds later, start-of-day chip leader Oleksii Khoroshenin open-jammed for around 15 big blinds and Shyngis Satubayev isolated with a shove of his own. Khoroshenin's A♦Q♥ was dominated by Satubayev's A♣K♣, and with two kings on the flop the big slick held.
Khoroshenin absolutely dominated yesterday's Day 2, and came in to the day with a massive chip lead. But things just didn't go the Ukranian's way today, and he now has €259,000 for a consolation fourth-place prize.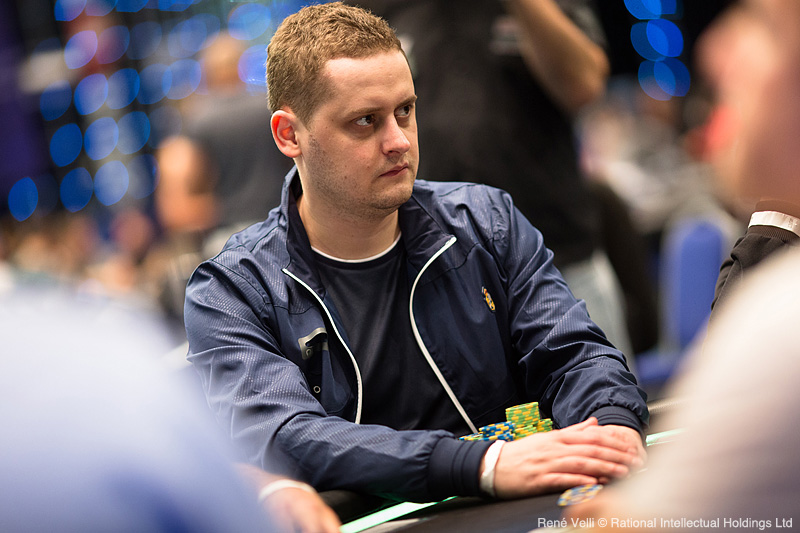 Khoroshenin out in fourth
When it got to three-handed, here's how the chip counts looked:
| Name | Country | Chips | BBs |
| --- | --- | --- | --- |
| Albert Daher | Lebanon | 3,415,000 | 85 |
| Shyngis Satubayev | Kazakhstan | 1,635,000 | 41 |
| Mark Teltscher | UK | 900,000 | 23 |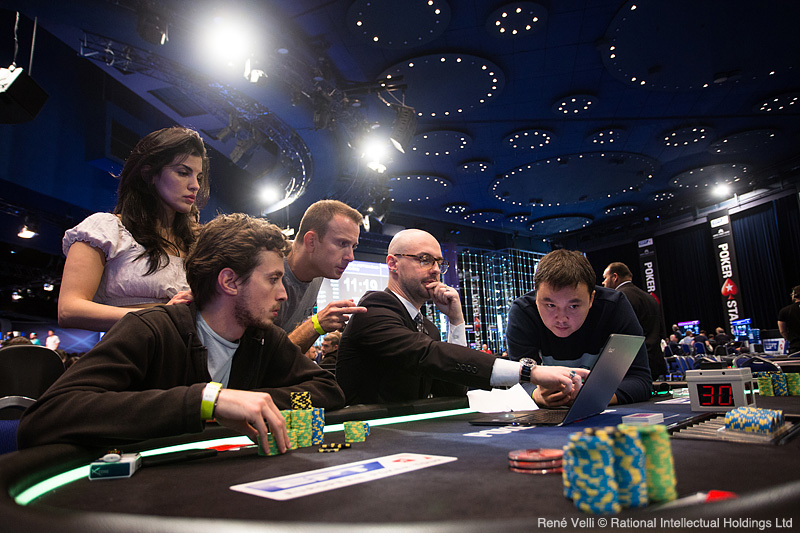 Let's make a deal
The clock was paused for some deal-talk, with Daher holding the negotiating advantage. It only took a few minutes of discussion for the three to come to an arrangement that saw the following payouts confirmed:
1st: Albert Daher – €595,386
2nd: Shyngis Satubayev – €492,768
3rd: Mark Teltscher – €416,846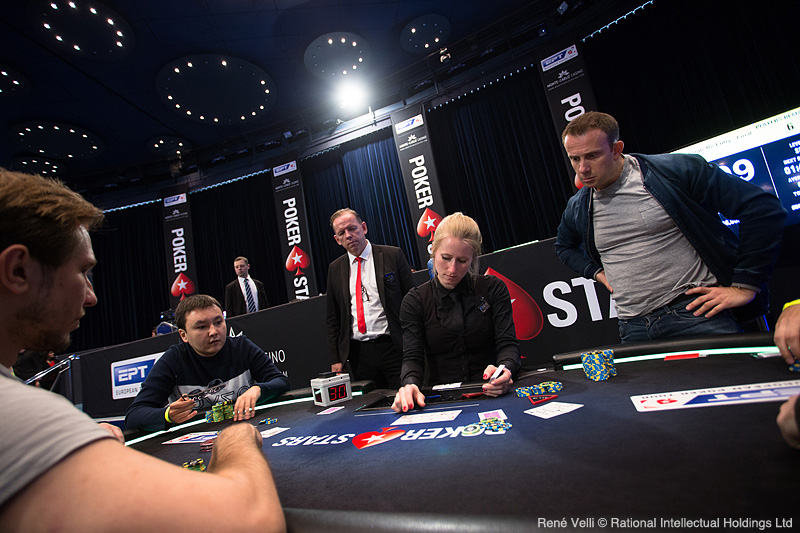 Shyngis Satubayev (left – 2nd) and Mark Teltscher (right – 3rd)
That's right! No more poker!
The three agreed to end it there and then, with Daher being crowned the 2018 PokerStars and Monte-Carlo®Casino EPT €25K High Roller champion. It was only back in December 2017 that Daher took down this €25K at the PokerStars Championship Prague. But this win marks his largest ever career cash.
"I mean, it's always a great feeling when you beat your high score, I guess. Its pretty exciting."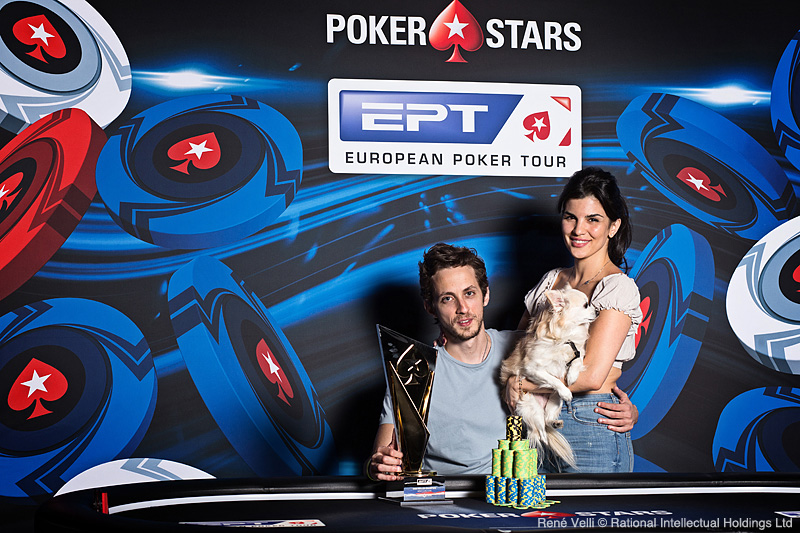 Daher, with Aylar and Siba
PokerStars and Monte-Carlo©Casino EPT €25K High Roller
Dates: May 4-6, 2018
Buy-in: €25,000
Entries: 119 (with 28 re-entries)
Prize pool: €2,828,035
*denotes three-way final table deal
| POS | NAME | COUNTRY | PRIZE |
| --- | --- | --- | --- |
| 1 | Albert Daher | | €595,386* |
| 2 | Shyngis Satubayev | Kazakhstan | €492,768* |
| 3 | Mark Teltscher | UK | €416,846* |
| 4 | Oleksii Khoroshenin | Ukraine | €259,000 |
| 5 | Joao Vieira | Portugal | €208,700 |
| 6 | Julian Thomas | Germany | €164,535 |
| 7 | Yan Shing Tsang | Hong Kong | €126,000 |
| 8 | Wouter Beumers | Netherlands | €94,500 |
Jack Stanton is a freelance contributor to the PokerStars Blog. Twitter: @J_W_Stanton.
---
Have events in Monte Carlo inspired you to start playing poker? Click here to open a PokerStars account.
---