There aren't many people who get to play a game for a living. There are even fewer who manage to successfully transition between two different games and thrive. In other words, for every Lex Veldhuis (StarCraft pro then poker pro), there's a Michael Jordan (basketball GOAT, but a pretty shoddy baseball player).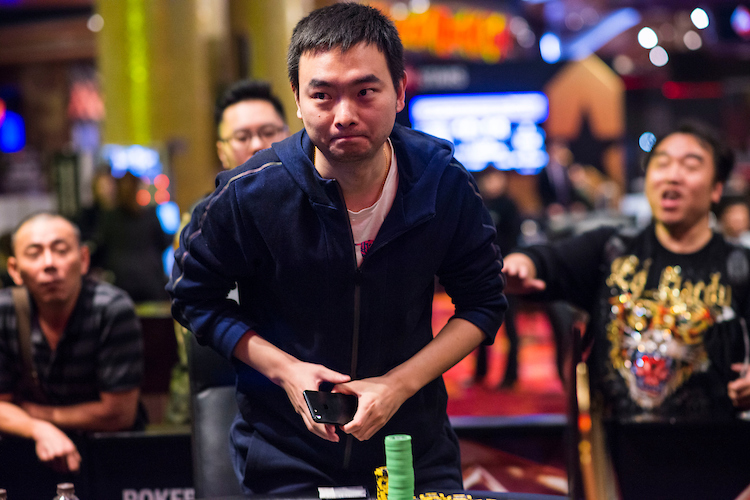 Wu's winning moment
After the past six days, Lin Wu is now clearly on the 'Veldhuis' list. The 32-year-old only had three live tournament cashes before going deep and ultimately winning the APPT Macau Main Event (and the Platinum Pass), but there are good reasons for that.
For one thing, Wu has (thus far) been more of a cash game guy, known locally to grind limits as high as HK$300/$600 (~US$40/80). In Macau, that's a game filled with some of the toughest pros. 
The other thing? Wu has only really adopted poker as his profession recently. Before that, he was a professional World of Warcraft player; and when I say professional, I mean he travelled and played the game for large amounts of money; he didn't just call it his job.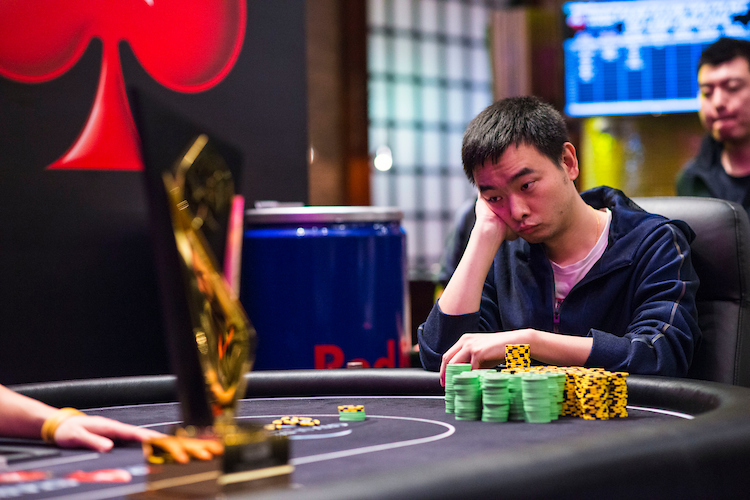 Wu in action, with trophy in sight
As Wu explained to the PokerStars Blog through a translator, poker and a game like World of Warcraft are similar insofar as in both cases the games involve personal interaction, necessarily creating a psychological challenge in each case.
Now Wu, who comes from Xi'An in North-western China, has notched his fourth career cash, and it's a big one. He outlasted a 356-strong field, defeating PokerStars Team Pro Aditya Agarwal heads up to win the Main Event and HK$3,095,000.
Wu admitted to some nerves at the final table, but in truth he appeared consistently cool throughout even amid what had to be some trying moments such as when he had eventual runner-up Agarwal all in with pocket nines against Wu's pocket jacks and Agarwal spiked a nine on the river.
Or another instance later during heads-up play when Wu was the one at risk with ace-nine against Agarwal's ace-king, watched his opponent turn a straight, then hit a lucky river card to chop and survive.
How did he feel during such moments? Calm, he explained, using his knowledge of the circumstances to help temper any undue emotional swings. Quite impressive for a player of only 15 or so poker tournaments before, although he's gathered much experience in cash games where he's thrived — and discovered poker a better potential source of revenue than WoW.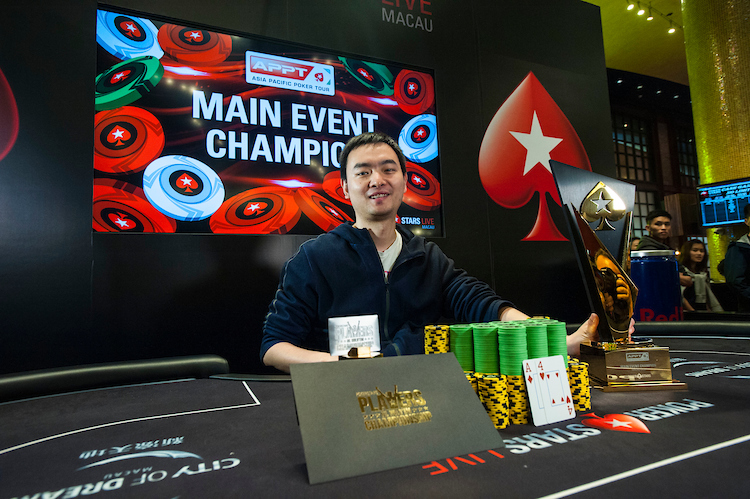 Lin Wu is off to the Bahamas next year
But there are some additional bonuses to his win too.
Included in the first place money is an entry to the Asia Championship of Poker (ACOP) Main Event worth HK$100,000. So there's that.
And then there's the little matter of the Platinum Pass, granting Wu entry into the PokerStars Players Championship (PSPC), worth $30,000 USD. That means Wu will be out in the Bahamas in January 2019 as part of the PCA, playing in a tournament with a buy-in of $25,000. He won't have to spend a penny of course, as he also gets hotel, travel and spending money sorted.
All Wu will need to do is focus on the poker. Looking ahead, Wu spoke of the first-place prize money here as now enabling him to play more. The idea of competing against many of poker's top pros excites him. Between now and then he'll be playing plenty more poker and try to improve his game even more. And — he says with a grin — work on improving his English as well.
Then who knows? If he plays as well as he did here in Macau and ends up becoming the inaugural PSPC champion, there's no telling what game or sport Lin Wu will take over next. Check out his winner's interview below:
---
You can win your seat to one of countless PokerStars live events around the world. Click here to open an account and get started.
With help from Martin Harris.
---
Lin Wu is one of more than 300 Platinum Pass winners who will be going to the PokerStars Players No-Limit Hold'em Championship. Want to see more? Meet them all on in our PSPC Platinum Pass Winners index.